In January 2014, The Mask actress Cameron Diaz was one busy lady. She fulfilled her duties as the brand ambassador for Tag Heuer by making an appearance at the opening of the luxury timepiece label's first flagship store in New York City.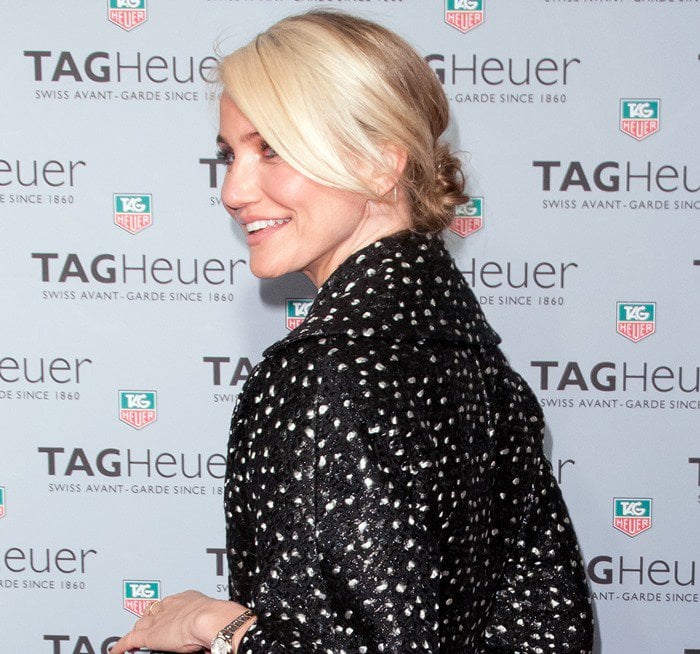 Cameron Diaz wears her hair in a messy bun at the opening of Tag Heuer's first flagship store in New York City on January 28, 2014
How old was Cameron Diaz in The Mask?
A model with Elite Model Management since high school, Cameron Diaz made her film debut opposite Jim Carrey in the 1994 American superhero comedy film The Mask.
According to Variety, she wasn't director Chuck Russell's first choice. He planned to cast the late Anna Nicole Smith for the part but changed his mind after meeting the 1993 Playmate of the Year.
Cameron Diaz made her film debut at age 21 opposite Jim Carrey in the comedy The Mask
Although she was "charming and bubbly", he didn't think Anna Nicole Smith had "other qualities needed for the role".
Casting director Fern Champion met with Diaz based on the recommendation of an agent for Elite. He felt she had "instant likability."
Once American film director Charles "Chuck" Russell saw Diaz read for the part, he decided to cast her as Tina Carlyle despite her lack of acting experience.
In addition to Anna Nicole Smith, Vanessa Williams, Caprice Bourret, and Kristy Swanson were considered for the role. The studio was convinced to cast Cameron Fiaz following a series of callbacks and improv sessions with Jim Carrey.
"I said to bring her in and let's see. [Diaz] was the only person for the part as far as I was concerned after her first reading. And then I saw the chemistry with her and Jim [Carrey]. Eight callbacks later, including improvs with Jim, I finally convinced producers," director Chuck Russell told Variety.
Cameron Diaz became a sexy symbol after starring in The Mask
The film was released on July 29, 1994, when Cameron Diaz was 21-years-old. Born on August 30, 1972, in San Diego, California, she turned 22 on August 30, 1994.
Jim Carrey was 11 years her senior at the release of the movie. Born on January 17, 1962, in Newmarket, Canada, he turned 32 on January 17, 1994.
A critical and commercial success, the film launched Diaz as a sex symbol and she was subsequently cast in a supporting role in the 1997 American romantic comedy film My Best Friend's Wedding.
Cameron Diaz as Dorian Tyrell's (Peter Greene) glamorous and beautiful girlfriend Tina Carlyle in The Mask
20 years after the release of The Mask, the American actress, producer, and former fashion model showed no signs of stress or jetlag as she stepped out on the red carpet in a chic all-black ensemble.
Her outfit consisted of a polka-dotted jacquard coat from Giambattista Valli's Pre-Fall 2014 collection, black tights, a box clutch from Hunting Season, and a pair of black ankle-wrap pumps from Celine.
Cameron Diaz shows off her neutral-toned makeup on the red carpet
Rumored to have undergone plastic surgery, Cameron finished her look with neutral-toned makeup and a messy low bun.
Cameron Diaz wears a jacquard Giambattista Valli coat on the red carpet
From filming her latest comedy flick and making guest appearances to writing and promoting her own book, the actress seemed to have a lot on her plate.
But instead of taking a breather, Cameron was working on her own designs for Pour la Victoire's Fall 2014 shoe collection as part of her stint as the brand's artistic director.
Cameron Diaz wears a pair of Celine ankle-wrap pumps over a pair of black tights
The actress learned the ropes of the business — from the industry lingo and the basics of shoe design to the movement of the production pipeline.
She maintained a close working relationship with the executive creative director and co-founder of Pour la Victoire, David Giordano, to come up with a collection that could help the brand create its own identity in the competitive world of the shoe industry.
Celine Ankle-Wrap Platform Pumps, $562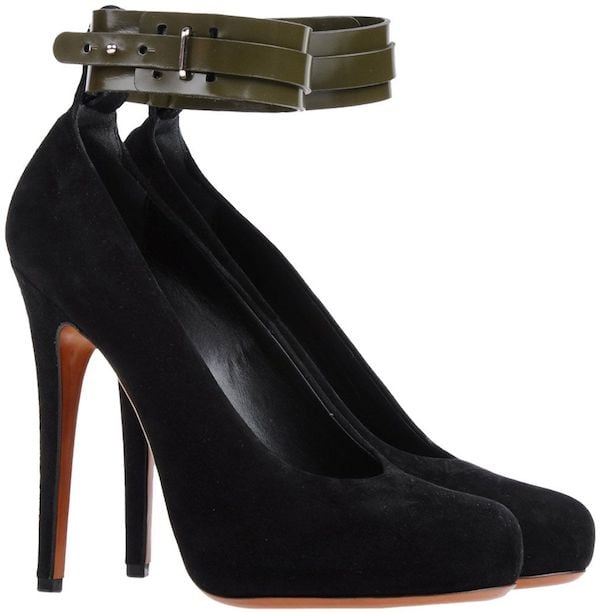 As the label's artistic director, Cameron's aim was to lead the company in a new direction and create beautiful shoes with more refined styles.
Chris Nakatani, the company's CEO, said that the actress brought "an elevated taste level and an elevated perspective to the line and its design process."
She incorporated a multitude of changes into the brand's recent collection, from clean silhouettes and lower heel heights to a neutral color palette.
Her impeccable style and meticulous eye for detail are evident in the shoes, which are as chic and classy as the actress herself.
Despite her heavy involvement in the creative process, though, Cameron's name will not be attached to the collection, nor will she be featured on any advertising campaigns. She has chosen to keep her position firmly behind the scenes to let the collection speak for itself.
Cameron commented that "I don't want girls to aspire to be me. That's not what this brand is about. It's not about wearing a shoe I would wear. I want them to see themselves in this shoe."
The result is a collection of shoes that are comfortable yet stylish, sophisticated yet edgy, and sexy yet down-to-earth.
Check out some of the shoes from Pour La Victoire's Fall 2014 collection under Cameron's direction at Amazon!
Pour La Victoire's Fall 2014 Collection Shoes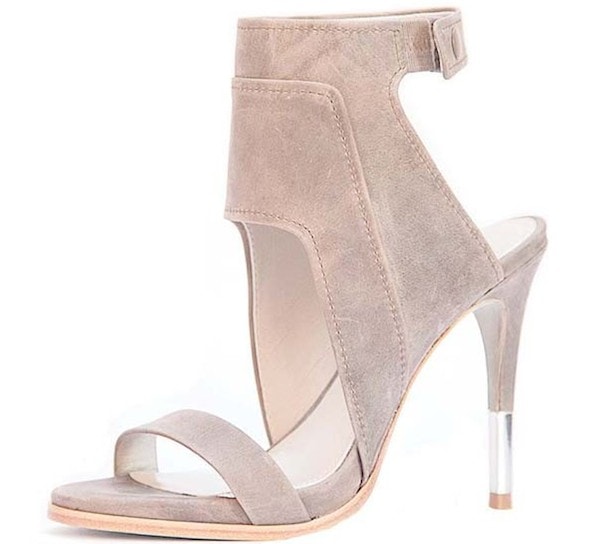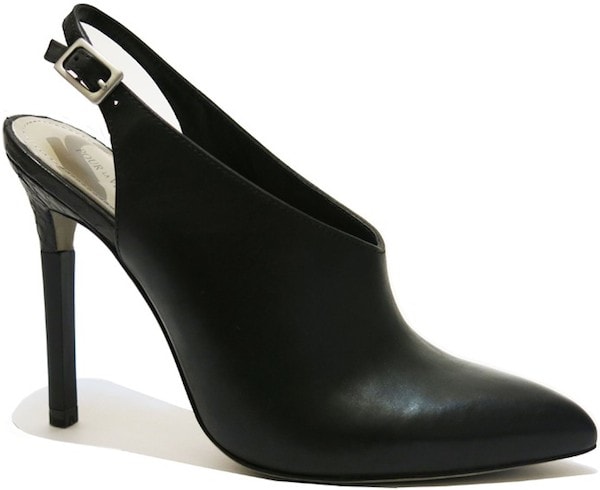 What do you think of the above heels?
Credit: Ivan Nikolov / Andres Otero / WENN