Cameron Diaz has been open about not liking the way she looked after Botox, an injectable treatment that relaxes facial muscles and smooths lines and wrinkles. It's one of the most popular plastic surgery procedures in the world.
"I've tried [Botox] before, where it was like [a] little tiny touch of something. It changed my face in such a weird way that I was like, 'No, I don't want to [be] like [that],'" Cameron told Entertainment Tonight in 2014. "I'd rather see my face aging than a face that doesn't belong to me at all."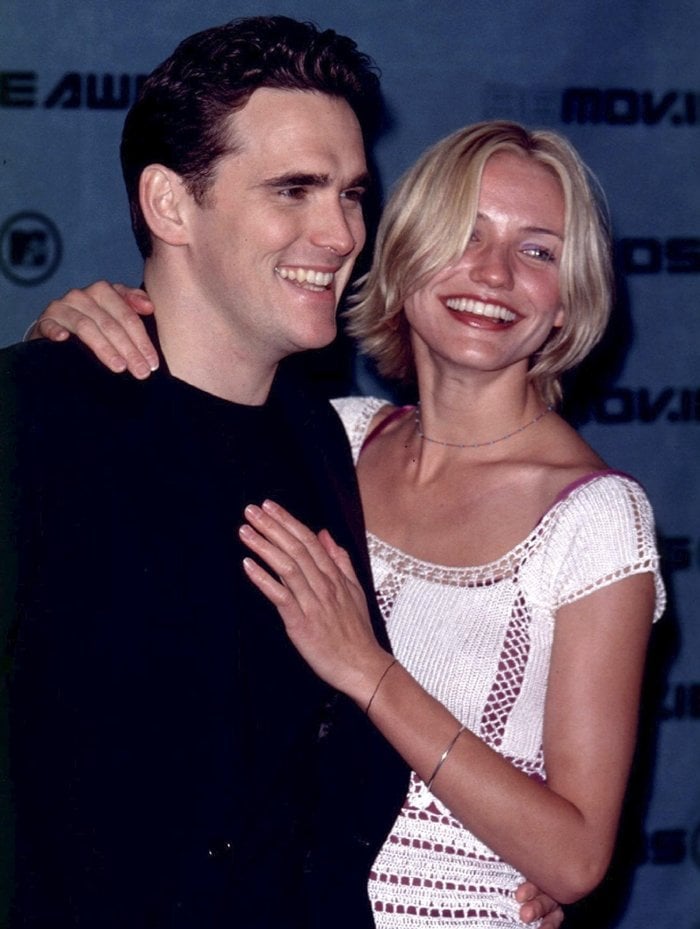 Pictured in May 1998, Matt Dillon and Cameron Diaz began dating in 1995 and broke up shortly after filming There's Something About Mary in 1998
"I love it, I don't mind. It's like, 'Guess what this means, I've smiled my whole life.' I love life. I'm happy I don't have a problem with that," Cameron added about her laugh lines.
In a May 2016 interview with HuffPost, she emphasized that she passes "no judgment on how people feel good."
"They're to help people feel a little bit better about themselves," Diaz said about Botox and plastic surgery.
"If they do feel better about themselves, then those procedures have worked. I have no problem with that. And [in] a lot of instances, it does make you look like you've taken a nap … or that you might be a little younger than you looked maybe the day before."
Face before and after plastic surgery: Cameron Diaz at the Los Angeles Premiere "What Happens In Vegas" at the Mann Village Theater on May 1, 2008, in Westwood, California, and chatting to Carly Stein Founder of Beekeepers Naturals on May 18, 2020
In September 2014, Cameron Diaz got together with her co-star Jason Segel to promote their latest film, Sex Tape, at a photocall held at the China Club in Berlin, Germany.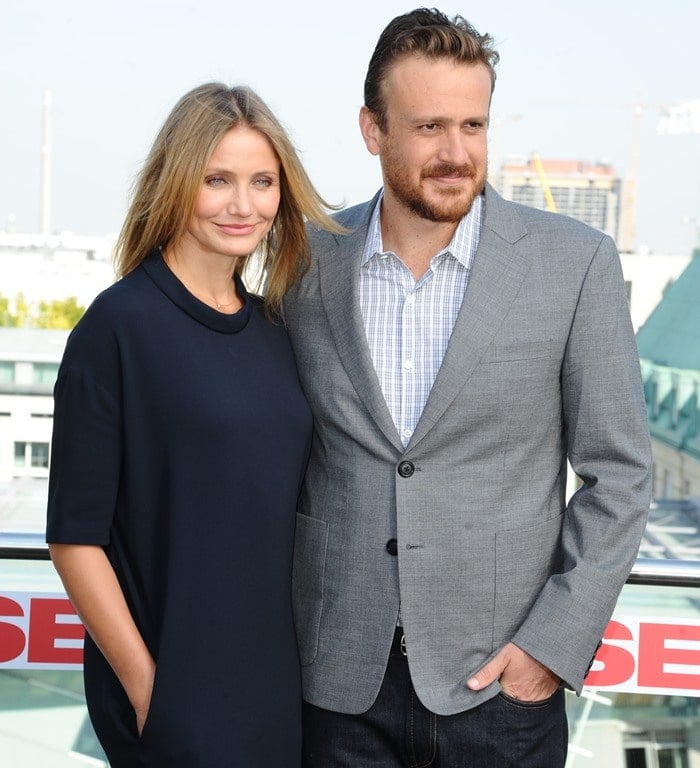 Cameron Diaz and Jason Segel promoting their movie 'Sex Tape' at China Club in Berlin, Germany, on September 5, 2014
The then 42-year-old actress donned a sporty navy blue dress by Stella McCartney with a pair of navy suede booties by Salvatore Ferragamo.
Cameron Diaz donned a sporty navy blue dress by Stella McCartney
She accessorized with bracelets by Carbon & Hyde. Do you think it was a good idea to style the navy blue dress with booties in the same color?
While the dress can be purchased at Farfetch and Net-a-Porter, we have not been able to find her Salvatore Ferragamo booties online.
Cameron Diaz says she tried Botox and that it changed her face
Here is a reasonably priced alternative from Nine West that we hope you'll like. You can buy them at Amazon, Nine West, and Zappos.
Nine West Blue Navajoe Leather or Suede Booties, $119
Credit: Patrick Hoffmann / WENN / Adriana M. Barraza / Avalon