Nothing like a futuristic movie to get some seriously futuristic designer goods on the market!
In 2011, shoe designer Jerome C. Rousseau collaborated with Disney to create a collaboration in honor of Tron: Legacy, the 2010 sequel to the 1982 American science fiction action-adventure film Tron.
The 2010 American science fiction action film directed by Joseph Kosinski starred Olivia Wilde as Quorra – which served as the inspiration for the designer's shoe.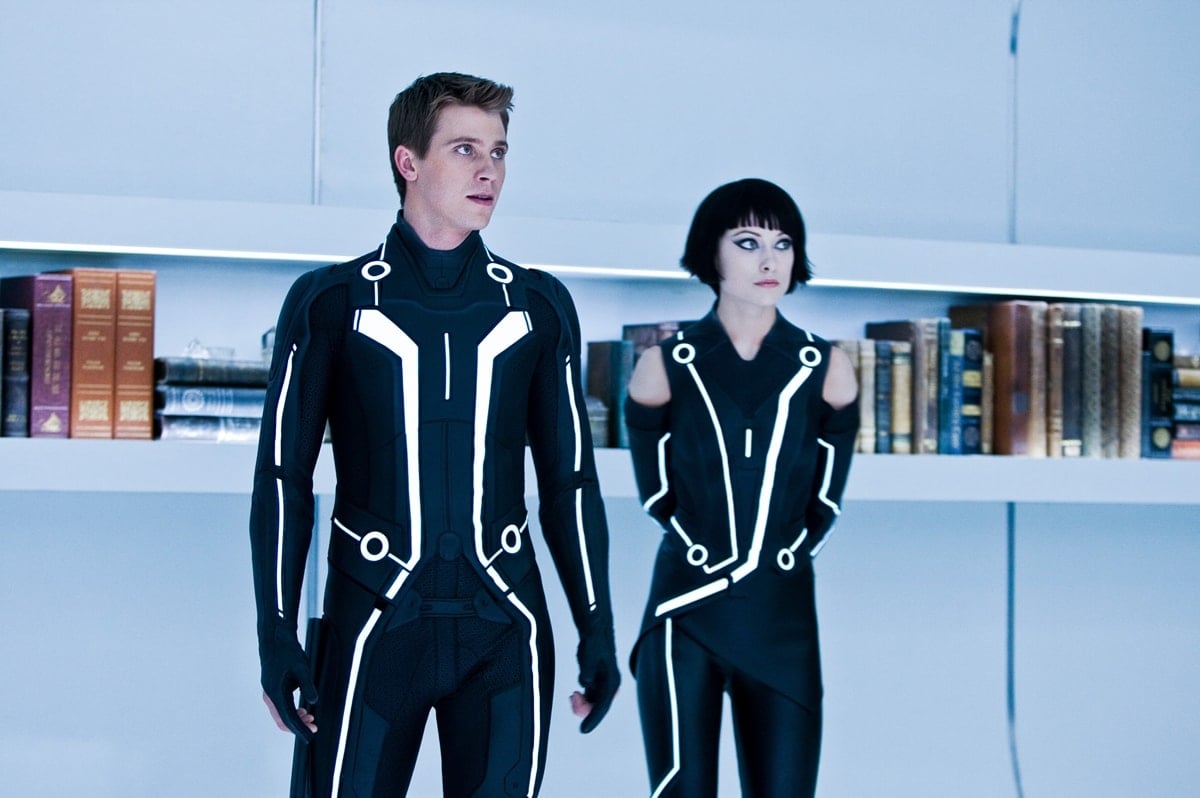 Garrett Hedlund as Samuel "Sam" Flynn and Olivia Wilde as Quorra in the 2010 American science fiction action film Tron: Legacy (Credit: Walt Disney Pictures)
When Tron: Legacy premiered in Tokyo on November 30, 2010, Garrett Hedlund and Olivia Wilde were both 26 years old. They were both born in 1984, two years after the original Tron movie was released.
Olivia Wilde said in an interview that she had to re-learn her stunts after it was revealed her character Quorra would wear high heels.
We trained in mixed martial arts for many months, and we did all sorts of training – kapoeira, Ju-Jitsu, cross training and all these types of fighting, and this was before the suits would look like in the end. I just wanted to be as strong as possible, and do as many of the fighting stunts as I could myself.

But when we arrived on set and realised we had to fight in these suits, it was quite a challenge. Running in heels isn't easy, kicking in heels isn't easy, but it made it all more bad-ass in the end.
Playing Quorra, a warrior and "isomorphic algorithm" in the film "Tron: Legacy", Olivia Wilde had to learn how to perform her action scenes while wearing high heels (Credit: Walt Disney Pictures)
On the outside, [Quorra] is this sexy creature, but I didn't want to make her, internally, very sexy and vixen-like. That was supported by our creative team. It would have been easy to just make her this temptress. She's quite childlike and naive and quirky, and because the suit itself is so sexy, you know with the heels and the rubber – though we took the shapes down a little bit from what they initially were – I didn't feel the need to make her overtly sexy.

She has these heels, but she fights like a warrior. The suit is like armour for her. One of the most influential characters in history, who I used as research for Quorra, was Joan of Arc, who of course fought in white chainmail from head to toe.
Though we have yet to see Olivia Wilde herself wear the Tron shoes, we did spot a different Olivia in them.
Olivia Munn was seen wearing the "Tron" heels when she attended a screening of the 2011 historical drama film "Snow Flower and the Secret Fan" in New York.
Olivia Munn attends the Cinema Society with Ivanka Trump Jewelry & Diane Von Furstenberg screening of "Snow Flower And The Secret Fan" held on July 13, 2011, at Tribeca Grand Hotel in New York City (Credit: WENN)
She paired them with a shimmery silver Diane von Furstenberg off-shoulder mini dress.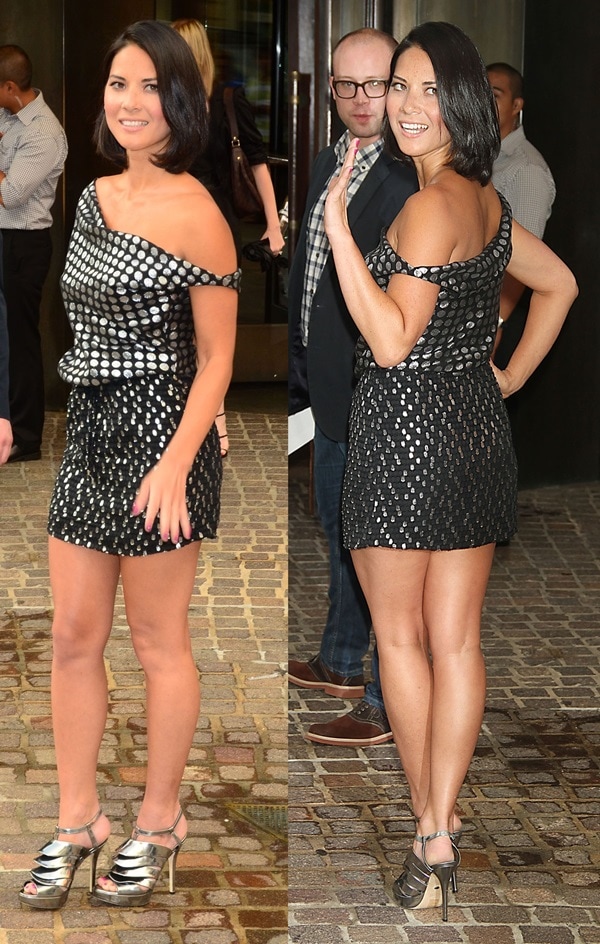 Olivia Munn wears a silver Diane von Furstenberg dress in New York City (Credit: WENN)
The mini dress, which had a black background covered in silver polka dots, featured a thigh-skimming hemline highlighting Olivia's long legs.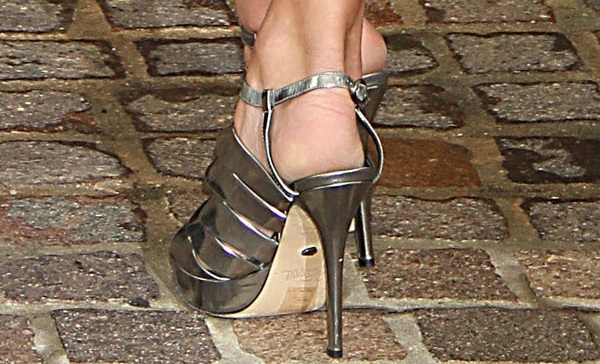 Olivia Munn's feet in silver Jerome C. Rousseau sandals
The "Tron" heels — while not actually featured in the movie — definitely look futuristic! They feature layered silver armor-like panels down the front of the shoe in addition to a small platform and an open-toed design.
Olivia Munn's feet in futuristic "Tron" sandals (Credit: WENN)
"In keeping with my label's strengths, I created a style that is distinctive and strong, like the architectural nature of 'Tron,' yet anchored in feminine lines and luxurious constructions," shoe designer Jerome Rousseau said about the futuristic-looking high heels.
Here are the "Tron" heels up close: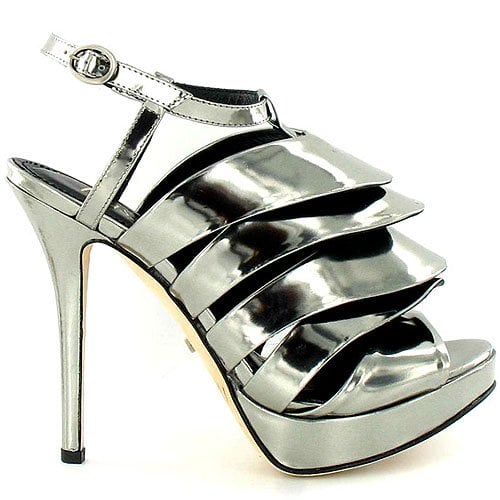 Jerome C. Rousseau Tron heels