Few actresses nail the "girl next door" ingenue roles like Kirsten Dunst. That being said, Dunst is capable of far more than the classic film trope, and she has more than proven her acting chops over the years.
39-year-old Kirsten Dunst has had an active acting career since 1989, and moviegoers may know her from a number of different roles — depending on their generation — such as Mary Jane Watson in the early 2000s Spider-Man franchise or as the forever young Claudia in the 1994 film Interview with the Vampire.
Director Sofia Coppola and Kirsten Dunst on the set of the 1999 American psychological drama film The Virgin Suicides (Credit: Paramount Pictures)
Dunst was born in 1982 and lived in Brick Township, New Jersey. The town could not be further from Hollywood, as the majority of its residents are middle and lower-middle class.
Dunst's family was no different, though they likely fared better than some of Brick Township's inhabitants. Her father, a German immigrant, worked as a medical services executive, while Dunst's mother was a flight attendant who had dabbled in the art industry.
Kirsten Dunst began her career at the ripe old age of three as a model, and made her acting debut in Oedipus Wrecks, a short film directed by none other than Woody Allen (yikes!).
Unlike many actresses in Hollywood, Kirsten Dunst did not find success due to nepotism or A-list connections. Instead, she relied on her own talent and the support of her parents, who helped get her involved in the entertainment industry at a young age.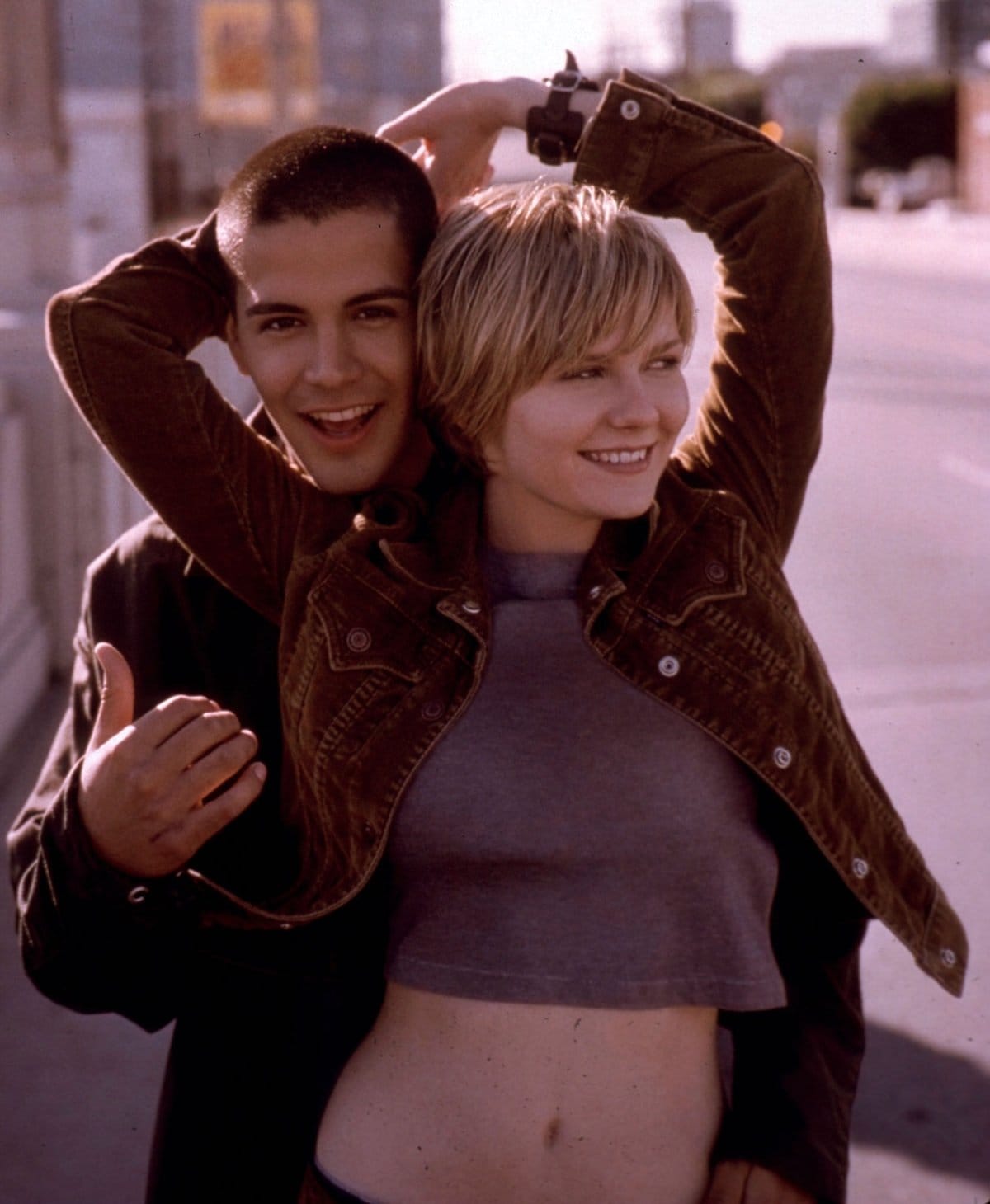 Kirsten Dunst as Nicole Oakley and Jay Hernandez as Carlos Nuñez in the 2001 American teen romantic drama film Crazy/Beautiful (Credit: WENN)
Initially, Dunst felt as if her mother acted like a stereotypical "stage mom", pushing her into acting too young. However, she no longer blames her parents for her childhood, later said that her mother "always had the best intentions".
Still, Dunst has said that she doesn't have any regrets about missing out on the normal childhood many of her peers got to have.
In a 2005 interview with The Independent, Dunst said, "Well, it's not a natural way to grow up, but it's the way I grew up and I wouldn't change it. I have my stuff to work out… I don't think anybody can sit around and say, 'My life is more screwed up than yours.' Everybody has their issues."
Billy Bob Thornton as Manual Jordan and Kirsten Dunst as Sofia Mellinger in the 2003 drama film Levity (Credit: WENN)
Since her acting debut, Kirsten Dunst has been seen in a number of titles and currently has 86 IMDB credits to her name. Like with any acting career, Dunst has had her fair share of great films and ones that have flopped (namely, Kaena: The Prophecy).
However, we won't be looking into the actress' feature film flops today. Instead, we will be celebrating her successes with a list of Kirsten Dunst's best films, according to the rankings and reviews received by critics compiled by Rotten Tomatoes.
9. Midnight Special (2016) — 83% Rating
Midnight Special is one of Kirsten Dunst's more recent films and the actress was 34 at the time of release.
The movie, written and directed by Jeff Nichols, follows Sarah (Dunst) and Roy Tomlin (Michael Shannon) in their desperate attempt to save their son Alton (Jaeden Lieberher) from a crazed cult and the U.S. Government after it is revealed that Alton has unexplainable, and often dangerous, supernatural powers.
Kirsten Dunst as Sarah Tomlin in the 2016 American science fiction film Midnight Special (Credit: Warner Bros. Pictures)
Though Midnight Special did not receive any awards from the Academy or the Golden Globes, the high-stakes sci-fi film garnered generally positive reviews from critics and audiences alike.
Rotten Tomatoes describes the film: "Midnight Special's intriguing mysteries may not resolve themselves to every viewer's liking, but the journey is ambitious, entertaining, and terrifically acted."
Like the rest of the movies on this list, Midnight Special is "certified fresh" with an 83% on the "Tomatometer" (reviews from critics) and an audience score of 73%.
8. Wag the Dog (1997) — 86% Rating
A political satire and black comedy directed by Barry Levinson, Wag the Dog is best known for its The Simpsons-like accidental future predictions.
The story takes place two weeks before a presidential election, following political publicist and spin doctor, Conrad Brean (Robert De Niro), as he and his team scramble to fabricate a war in Albania in order to distract voters after the president is caught canoodling with a minor in the Oval Office.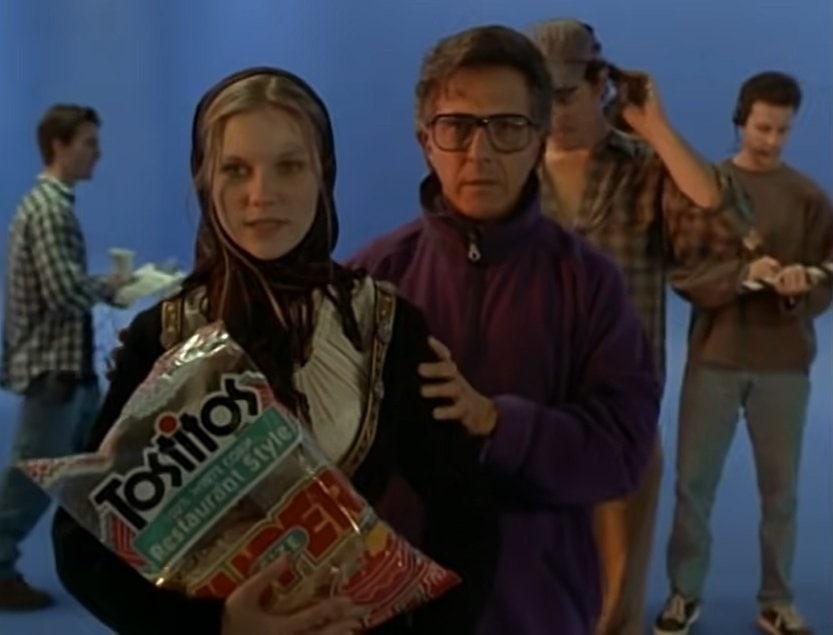 Dustin Hoffman as Stanley Motss and Kirsten Dunst as Tracy Lime in the 1997 American political satire black comedy film Wag the Dog (Credit: New Line Cinema)
Wag the Dog was released only one month before President Clinton's scandal surrounding Monica Lewinsky and the Clinton administration's decision to subsequently bomb a factory in Sudan — audiences were shocked at the connections between real life and the film.
Only 15 at the time of Wag the Dog's release, Kirsten Dunst plays Tracy Lime, a young actress hired to play an Albanian refugee. Dunst shows off her funny bone in this role, showing moviegoers that she had perfect comedic timing, even as a teenager.
Wag the Dog currently has a 86% Tomatometer score and a 76% audience score.
7. Anastasia (1997) — 86% Rating
One of the only animated films (and the only musical) on the list of Kirsten Dunst's best movies, Don Bluth and Gary Goldman's 1997 film, Anastasia, captured the hearts of 90s kids everywhere.
The film is loosely based on history, centering around a young girl with amnesia who is being groomed by two con men who want her to pretend to be the Grand Duchess Anastasia, who had allegedly died years earlier along with the rest of the Russian royal family during the Russian Revolution.
Kirsten Dunst provided the speaking voice for young Anastasia in the 1997 American animated musical drama film Anastasia (Credit: Fox Family Films)
Anastasia then takes a "what-if" approach to the original story, weaving in magic and hope into a story that was devoid of either.
Kirsten Dunst was fifteen at the time of Anastasia's release, serving as the voice of Young Anastasia in the film. The older version is played by Meg Ryan.
Anastasia is a charming film that encapsulates the style of animation during the 90s, earning it a 86% rating from critics and a 77% audience score.
6. Spider-Man (2002) — 90% Rating
Spider-Man rang in a new era of superhero movies, making way for its Avenger predecessors.
Before Tom Holland and Andrew Garfield, Tobey Maguire played the awkward yet charming Peter Parker, while then 20-year-old Kirsten Dunst acted alongside him as his love interest, the original "girl next door", Mary Jane Watson. Who could forget that upside-down kiss?
Kirsten Dunst became famous for her role as Mary Jane Watson in Sam Raimi's Spider-Man (2002) and its sequels Spider-Man 2 (2004) and Spider-Man 3 (2007) (Credit: WENN / Columbia Pictures)
According to an interview with Reuters, Dunst didn't decide to audition for Spider-Man until she found out that Tobey Macguire had been cast. She admired his work in Wonder Boys and Cider House Rules, and thought that his presence would be more like an "independent film".
We're so glad that Dunst decided to audition, and so are critics. Though the film has garnered a less than impressive 67% audience score, critics have given Spider-Man a 90% rating.
5. Little Women (1994) — 92%
Just three years after her initial film debut, Kirsten Dunst appeared in Gillian Armstrong's adaptation of Louisa May Alcott's novel, Little Women.
Dunst plays the younger Amy March, the elder version of the character being played by Samantha Mathis, the youngest March daughter (with the smallest feet) that ends up with Christian Bale's Laurie.
Kirsten Dunst as Amy March in the 1994 American coming-of-age historical drama film Little Women (Credit: Columbia Pictures)
Dunst's portrayal of Amy March was remarkable considering the actress was only twelve years old at the time of release, as she was every bit as headstrong, quick-witted, and charming as viewers expected Amy to be.
Though Florence Pugh's version of Amy March in the most recent adaptation of Little Women is one of our favorites, Dunst's portrayal of the character adds a certain element of innocence and sass that is hard to replicate.
Currently, the 1994 adaptation of Little Women holds a 92% rating and an 84% audience score.
4. Eternal Sunshine of the Spotless Mind (2004) — 92%
This cult classic film has been a repeat favorite for romance lovers and film geeks everywhere. Taking place in a world not too unlike our own, two lovers (Jim Carrey and Kate Winslet) have their memories erased after a difficult breakup in order to forget about one another and move on.
Much to the chagrin of employees of the memory-erasing company, Lacuna, the couple realize that maybe it is better to have loved and lost than forget they had ever loved at all. As expected, drama ensues.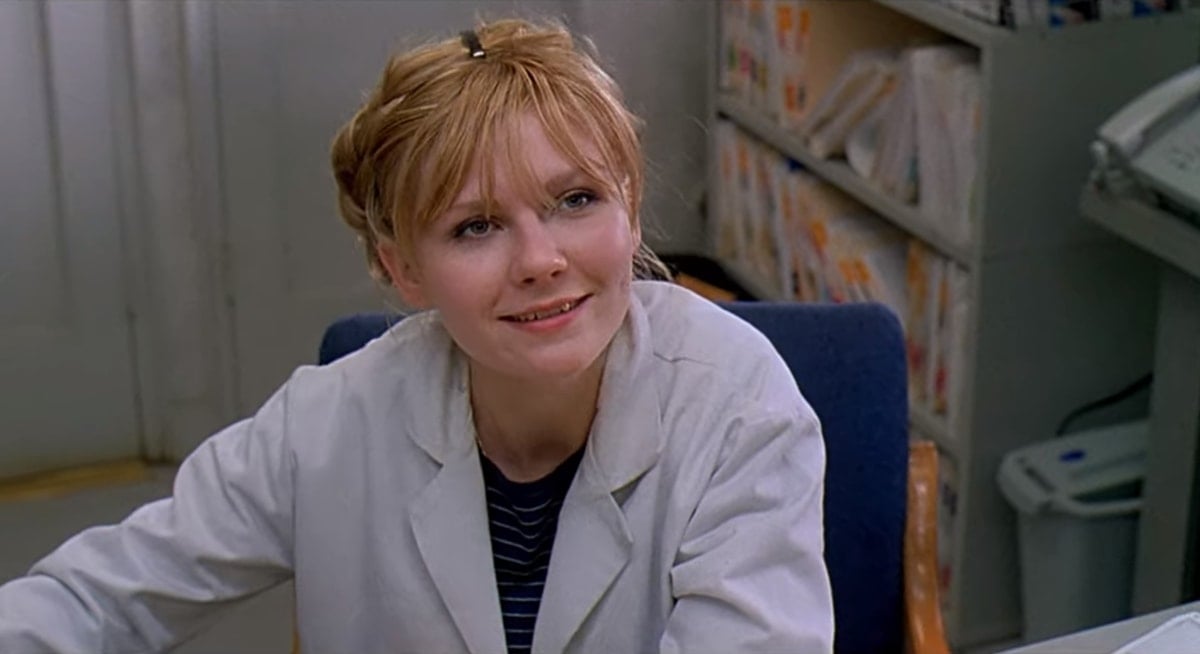 Kirsten Dunst as Lacuna receptionist Mary Svevo in the 2004 American science fiction romantic comedy-drama film Eternal Sunshine of the Spotless Mind (Credit: Focus Features)
Though Jim Carrey and Kate Winslet may be the first performers that come to mind when thinking about Michael Gondry's 2004 film, Eternal Sunshine of the Spotless Mind, Kirsten Dunst has a memorable and important role as Lacuna employee, Mary Svevo.
Eternal Sunshine of the Spotless Mind has earned a remarkable 92% rating from critics and a 94% audience score — the only film on this list where the audience liked the movie more than the critics.
3. Spider-Man 2 (2004) — 93%
2004 was a good year for Kirsten Dunst, as the then 22-year-old actress was featured in three films released that year: Spider-Man 2; Eternal Sunshine of the Spotless Mind; and Wimbledon (a film that is not featured on this list).
It is rare for sequels to outperform their predecessors, but Spider-Man 2 did. In fact, the film was the third highest-grossing film of 2004, earning upwards of $789 million at the box office on a production budget of $200 million.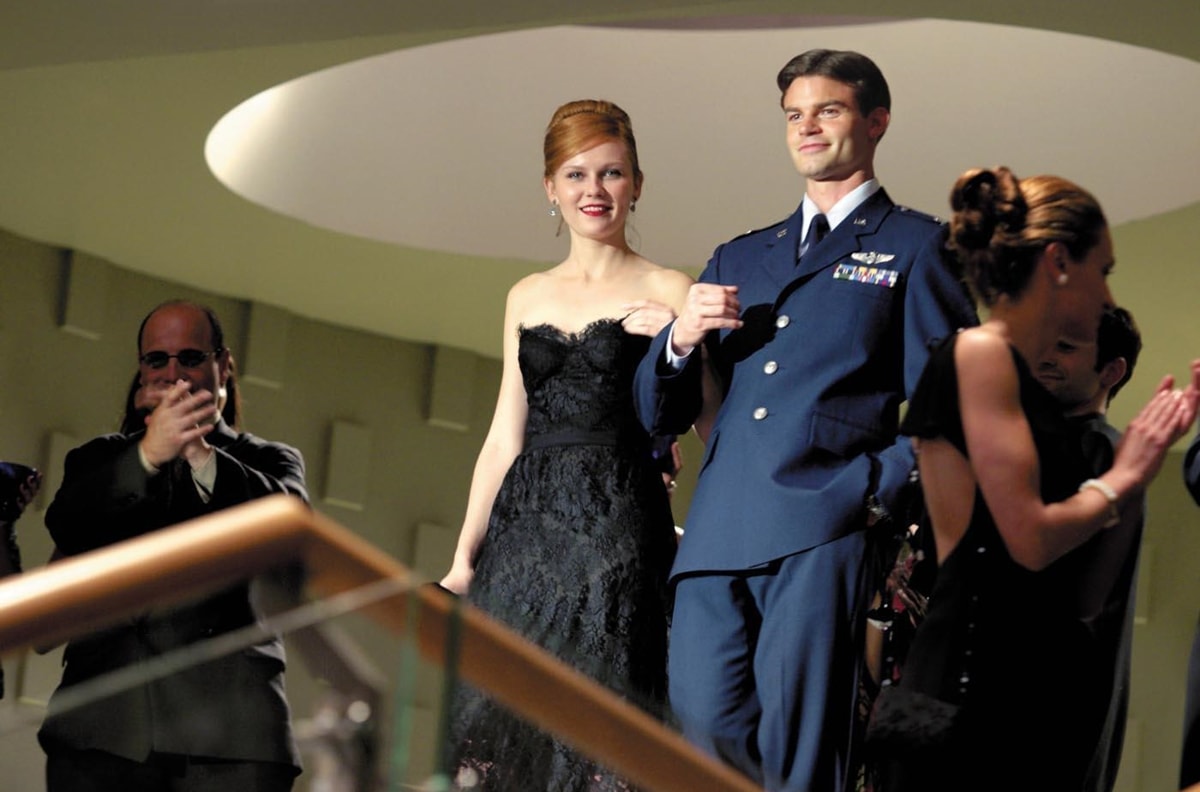 Kirsten Dunst as Mary Jane Watson and Daniel Gillies as John Jameson in the 2004 American superhero film Spider-Man 2 (Credit: Columbia Pictures)
Producers suspected that Spider-Man 2 would be a hit, and two spinoff video games — a console version geared to older players and a kid-friendly PC version — were produced, and Kirsten Dunst reprises her role as the voice of Mary Jane Watson in both of them.
Spider-Man 2 was a smash hit with critics, too, as the film earned a 93% on the Tomatometer and a slightly lower audience score of 82%.
2. Hidden Figures (2016) – 93%
Every white A-list actress has played a racist at least once, and Kirsten Dunst plays her racist-turned-reformed in Theodore Melfi's Hidden Figures.
Released the same year as Midnight Special but to a much greater reception. The film, based on Margot Lee Shetterly's novel of the same name, follows the real-life story of the Black mathematicians who worked at NASA during the space race in the 1960s.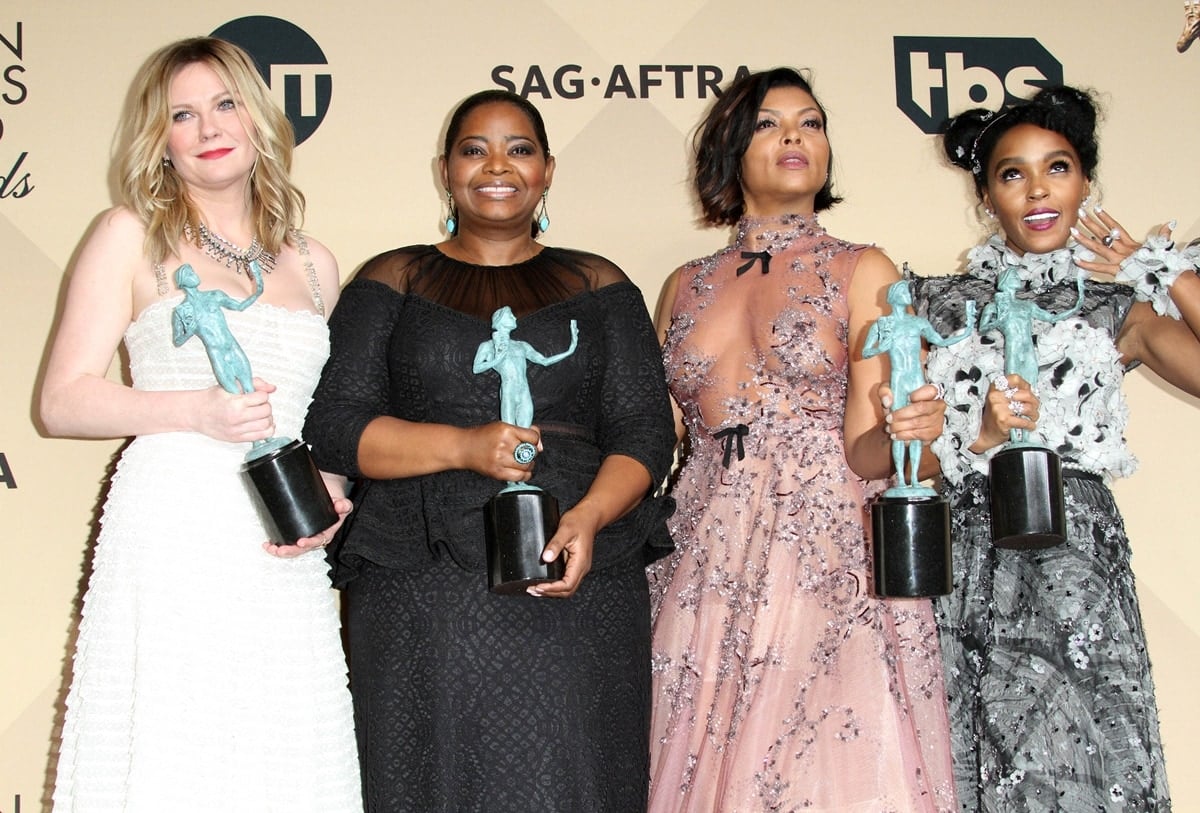 Hidden Figures actresses Kirsten Dunst, Octavia Spencer, Taraji P. Henson, and Janelle Monae celebrate their Screen Actors Guild Award for Outstanding Performance by a Cast in a Motion Picture at the 23rd Annual Screen Actors Guild Awards at The Shrine Expo Hall on January 29, 2017, in Los Angeles, California (Credit: Adriana M. Barraza / WENN)
The film stars Taraji P. Henson, Octavia Spencer, and Janelle Monae as their characters struggle with racism and segregation in the workplace, while Kirsten Dunst has a supporting role as a racist supervisor at NASA.
Unsurprisingly, viewers were taken by the tour de force performances from the cast and the gripping story that was topical for modern audiences. Hidden Figures was nominated for three Academy Awards, including the Award for Best Picture.
Hidden Figures ranks as Kirsten Dunst's second-highest-rated film and is beloved by critics and audiences alike, with a 93% rating from Rotten Tomatoes critics and a 93% audience score.
1. Kiki's Delivery Service (1997) — 98% Rating
While the placement of Studio Ghibli's Kiki's Delivery Service might be surprising to some (not to us, though), the film has absolutely earned the number one spot on the list of Kirsten Dunst's best movies.
Dunst, who was 15 at the time, serves as the voice of the titular character, Kiki. Kiki is a young witch looking to find her purpose in the world and as a witch, and she finds solace in a small town living in the attic of a bakery. With the help of her sidekick, a black cat named Jiji, Kiki navigates the world of friendship and magic.
Kirsten Dunst voices a young witch, Kiki, who moves to a new town in the 1989 Japanese animated film Kiki's Delivery Service (Credit: Toei Company)
Kirsten Dunst's performance as the voice of Kiki is truly wonderful, but the rating of Kiki's Delivery Service can mainly be attributed to director Hayao Miyazaki and his production company, Studio Ghibli.
Miyazaki and Studio Ghibli have repeatedly churned out animated masterpieces that seamlessly blend reality and the imagination to create beautiful, quirky worlds that leave an impression on audiences long after the credits roll.
Studio Ghibli has produced a number of timeless films, such as Howl's Moving Castle, Princess Mononoke, and Spirited Away, which won the 2003 Academy Award for Best Animated Feature.
Kiki's Delivery Service has earned an 88% audience score and a whopping 98% on the Tomatometer, making it Kirsten Dunst's best movie according to critics.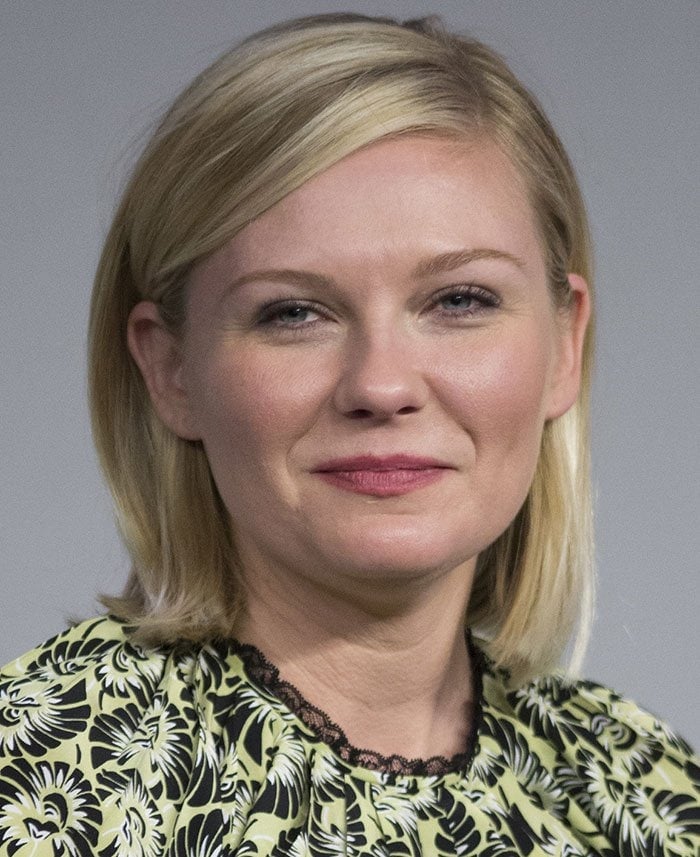 Kirsten Dunst wears her hair down during a panel discussion: "Apple Store Presents Meet the Filmmaker: 'Midnight Special'" held on March 7, 2016, at the SoHo Apple Store in New York City (Credit: WENN)
In March 2016, Kirsten Dunst was busy promoting her American science fiction film Midnight Special. The then 33-year-old actress arrived at the Apple Store in Soho for a panel discussion of the sci-fi movie.
Kirsten looked ready for spring in a lime-green-and-black dress.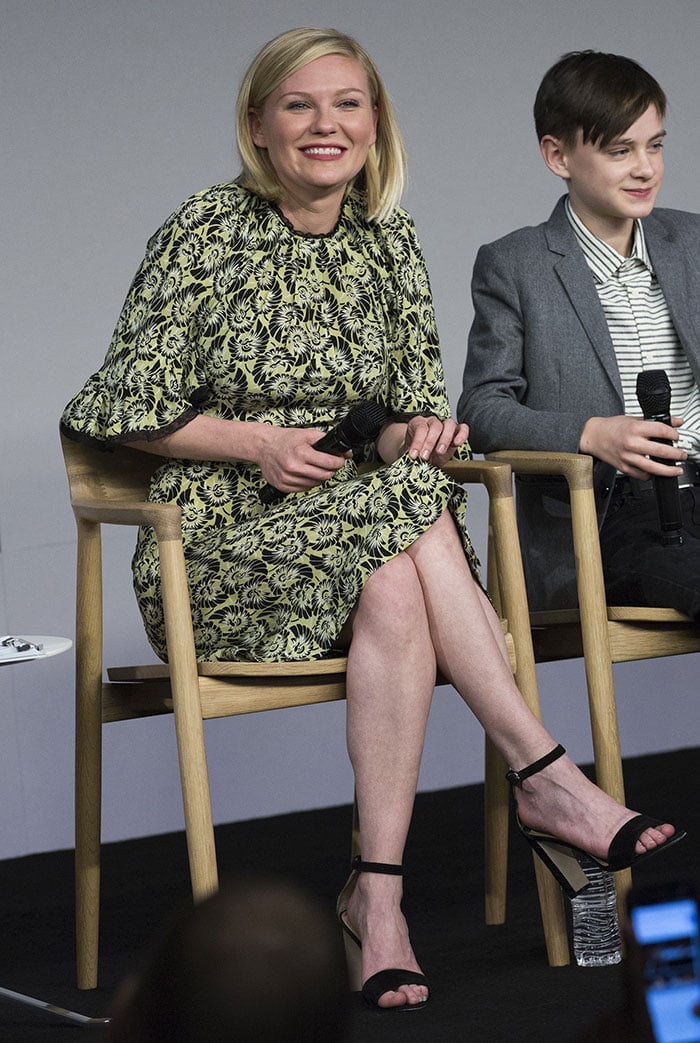 Kirsten Dunst wears a lime-green-and-black dress during an Apple Store event (Credit: WENN)
The patterned frock featured ruffle-detailed quarter sleeves and a cinched waist that highlighted her figure. She skipped the jewelry and accessorized with only a pair of black "Lauratopri" sandals by Manolo Blahnik.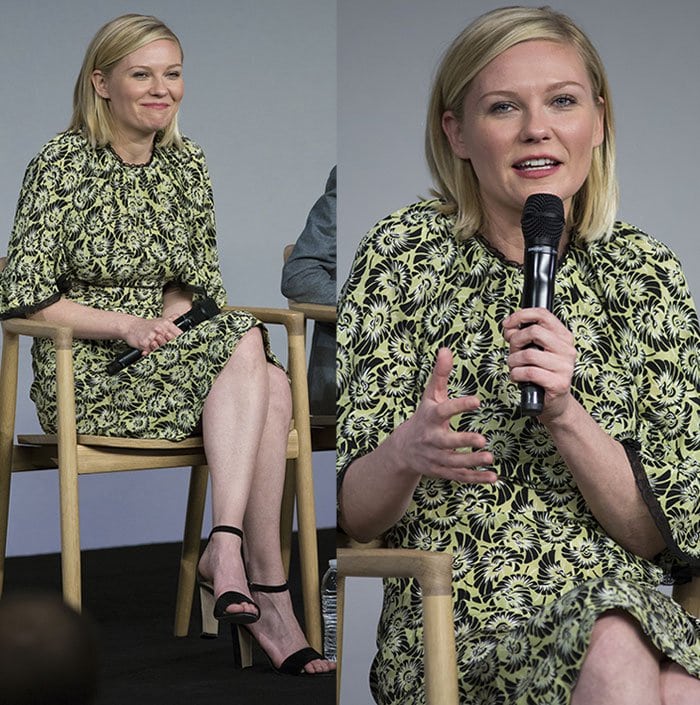 Kirsten Dunst promotes her upcoming film in a patterned dress (Credit: WENN)
Known for her crooked smile, the popular actress sported minimal makeup and wore her blonde tresses down, tucked behind her ears, and parted on the side.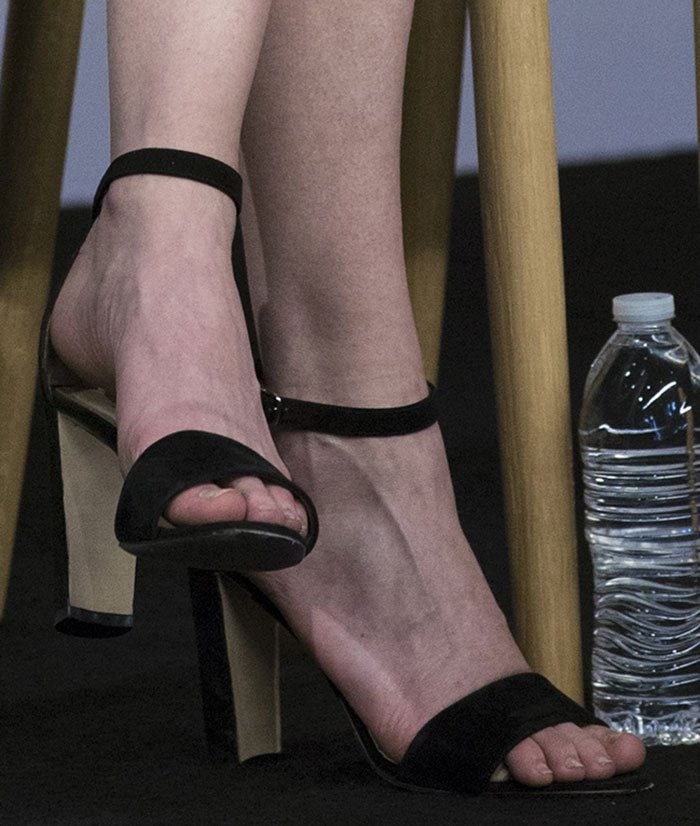 Kirsten Dunst's feet in black Manolo Blahnik sandals (Credit: WENN)
The next day, Kirsten was spotted wearing the same heels while leaving her hotel in New York City for an interview at AOL Build.
Kirsten Dunst wears a tweed dress as she heads to an AOL Build interview on March 8, 2016, in New York City (Credit: WENN)
She teamed the Manolo Blahnik sandals with a tweed dress, which had a midnight blue chiffon blouse detail and a leather belt.
The Fargo actress kept her accessories simple with a pair of sunglasses and a Louis Vuitton "Vivienne" bag slung over her shoulder.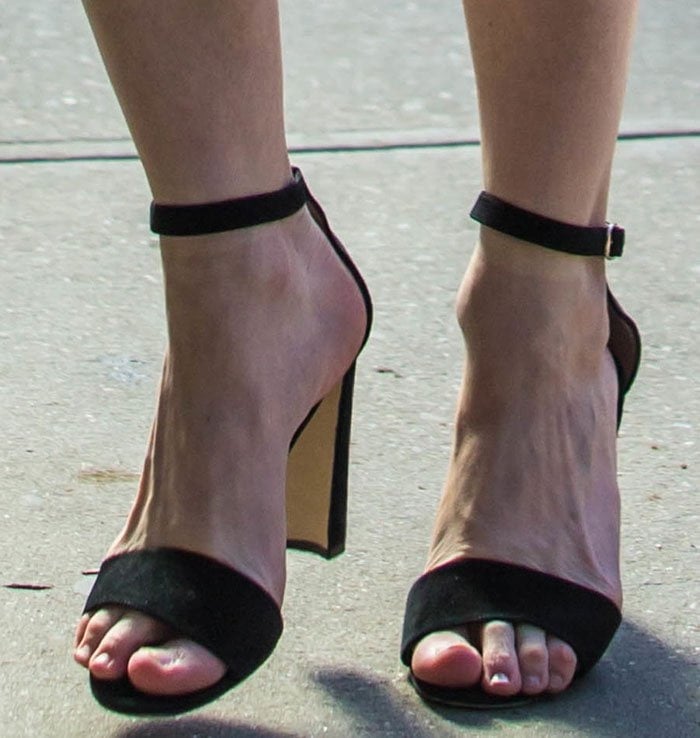 Kirsten Dunst's feet in black "Lauratopri" sandals (Credit: WENN)
The "Lauratopri" sandals from the popular Spanish shoe designer are made of black suede and feature open toes, wide toe bands, buckled ankle straps, and about four-inch heels.
You can order these sandals at Nordstrom and Farfetch.
Manolo Blahnik "Lauratopri" Ankle-Strap Sandals, $745