Casey Affleck attended the Elton John AIDS Foundation Academy Awards Viewing Party with his love Caylee Cowan.
The glamorous couple coordinated their respective outfits, looking regal as ever. Cowan stunned in a color block gown with a plunging neckline while her boyfriend looked dapper in black.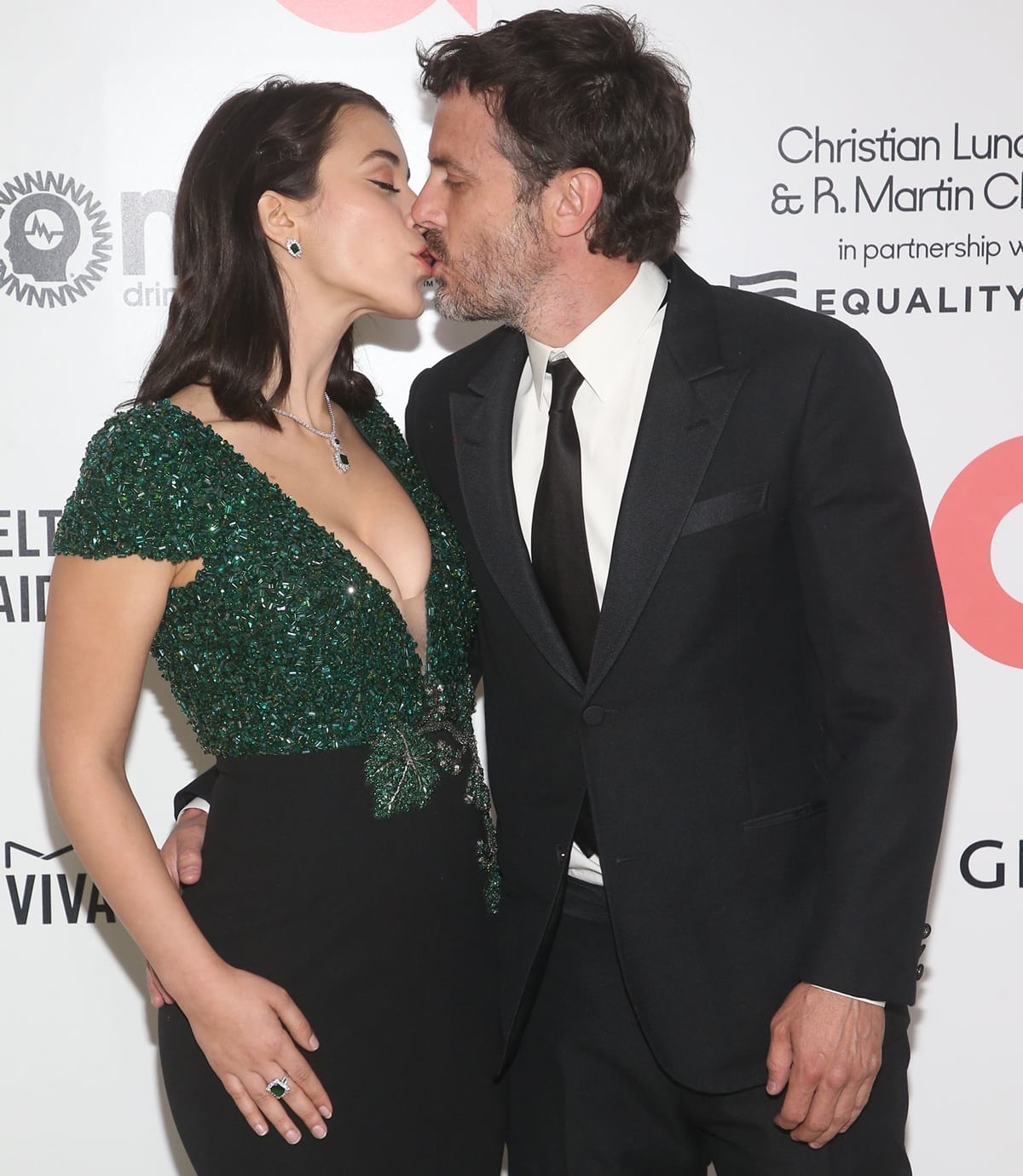 Caylee Cowan and Casey Affleck attend Elton John AIDS Foundation's 30th Annual Academy Awards Viewing Party on March 27, 2022, in West Hollywood, California (Credit: Fayes Vision / Startraksphoto)
Affleck and Cowan have been dating for just over a year now, proving to be very much a compatible couple despite their twenty-three-year age difference.
The two actors are rumored to be engaged after stepping out for a date night with a ring on Cowan's left ring finger. Neither has confirmed, but based on the rate at which their relationship has accelerated, the rumors may be true.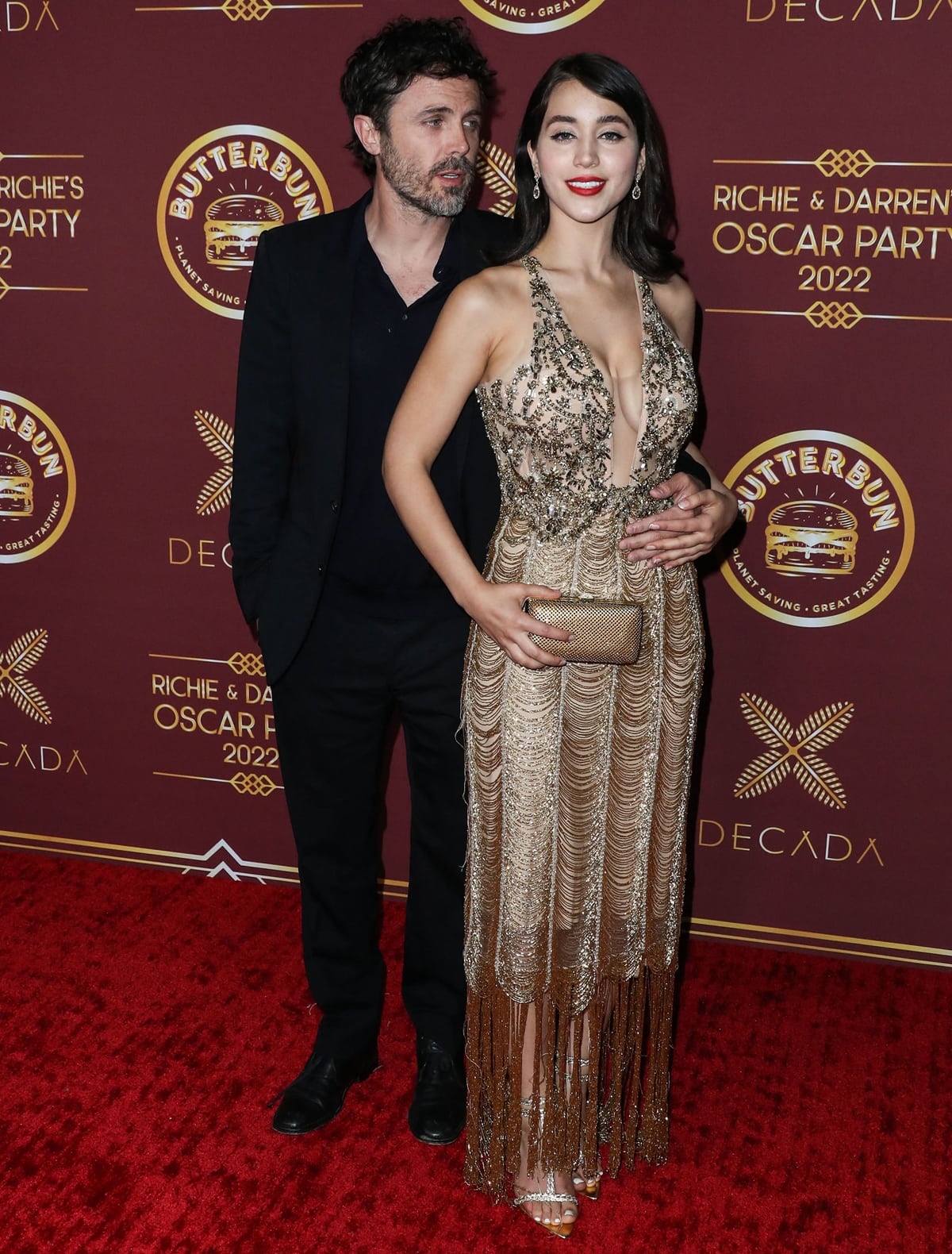 Casey Affleck and Caylee Cowan attend the Oscar Party hosted by Darren Dzienciol and Richie Akiva on March 26, 2022 in Bel Air, California (Credit: Xavier Collin / Image Press Agency)
Cowan has never been married, but this would be the second marriage for Affleck.
The Oscar winner was previously married to actress and model Summer Phoenix, but the two split in 2017. The exes share two children and remain civil as they co-parent.
In January, Casey took to her Instagram account to celebrate her first anniversary with Casey. Her post started with a quote by the 13th-century Persian poet Rumi. "Lovers don't finally meet somewhere, they're in each other all along," the aspiring film actress wrote.
"Today, January 26th, is the day we first met. The universe conspired to bring us together when we each needed the other most," she began her touching letter.
"Caleb Casey Affleck, you are the other half of my heart. You are such a wonderful and loving boyfriend. You are a genius who beats everyone at chess (except your youngest son). You are genuine. You say what you mean and mean what you say. You are generous with your time. You are gracious and forgive yourself and others. You are the greatest gift. Through your vulnerability and sensitivity, you have reminded me that hardship makes the heart stronger and that the beauty we all have- everyone- is in part, the pattern of our scars," Caylee added.
View this post on Instagram
"Our scars, as much as any other part, make us who we are. Highly sensitive people, who feel intensely, know that pain is not a symptom of weakness, but a consequence of being alive on Earth. You make me feel safe in this world. The shelter of your embrace gets me through the toughest days. In Vietnam, it is said that a nickname for one's life partner is "my home" and that is what you've become for me. A home. Caleb Casey Affleck, I love you! – Catherine Caylee Cowan."
Phoenix hasn't been active in her acting career recently, but Affleck has multiple projects coming up, including a movie in which he acted alongside Walton Goggins and Zooey Deschanel.
Brie Larson has not explained why she didn't clap for Casey Affleck after his Best Actor win at the 2017 Oscars (Credit: WENN)
In early 2017, Brie Larson was high on our fashion radar. The Nissan spokeswoman also made the news when she didn't clap for Casey Affleck after his Best Actor win at the 2017 Oscars.
She started off her style streak while promoting her monster film Kong: Skull Island in London and continued to wow audiences with her fantastic red carpet choice at the Los Angeles premiere of the movie.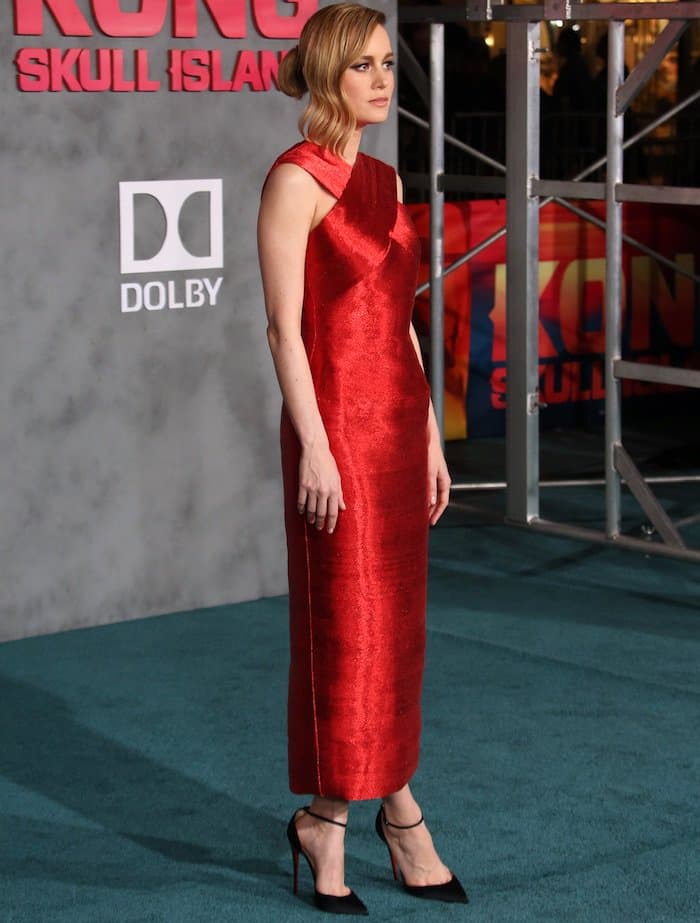 Brie Larson looked incredible in an Oscar de la Renta midi dress (Credit: WENN)
The Academy Award Winner looked stunning in an Oscar de la Renta midi dress that hugged her thin frame.
Her red gown featured a chic and sexy halter neckline that flaunted her slender arms. The fabric of her dress is usually reserved for more mature styles found on elderly women, but hey, Brie made it work.
Brie Larson in a red Oscar de la Renta dress for the Los Angeles Premiere of "Kong: Skull Island" on March 8, 2017 (Credit: FayesVision / Apega / WENN)
The star finished her flawless look with a pair of Christian Louboutin "Uptown" ankle-strap pumps in black. The four-inch stilettos were the perfect pair to cap off her elegant ensemble.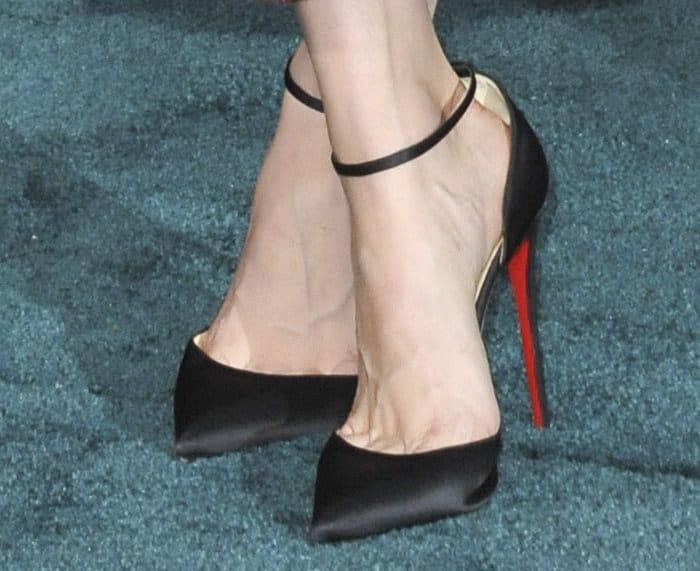 Brie Larson shows off her feet in red sole Christian Louboutin pumps (Credit: WENN)
She wore a similar pair of shoes made by Salvatore Ferragamo at the Vanity Fair Oscars After Party, and we've also spotted the same Louboutin d'Orsay style on Reese Witherspoon and Zoe Saldana.
Brie Larson rocks black Christian Louboutin "Uptown" ankle-strap pumps (Credit: WENN)
Brie accessorized with Cartier jewelry while opting for a glamorous updo and light makeup.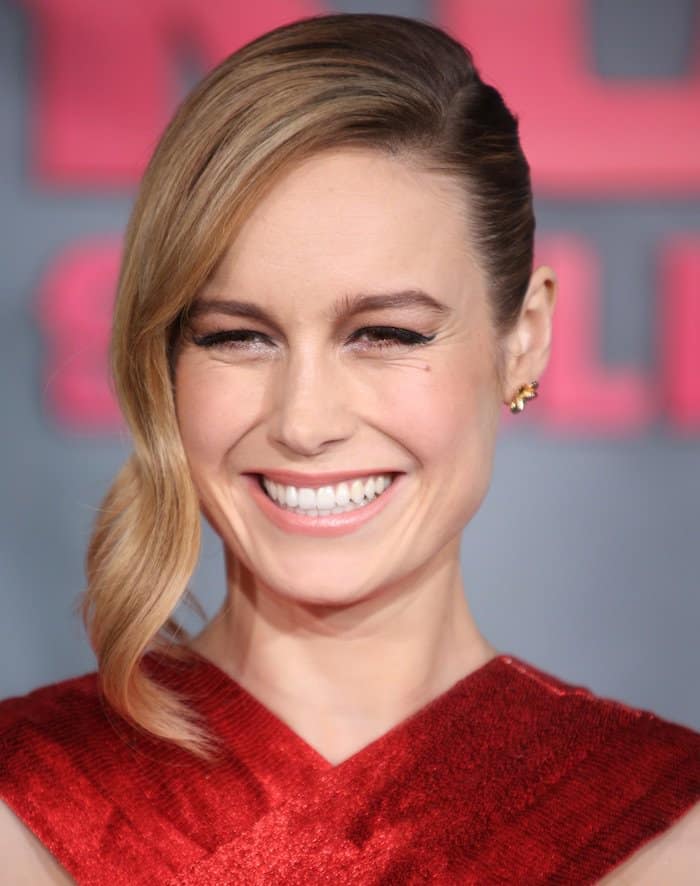 Brie Larson finished her look with Cartier jewelry, a glamorous updo, and light makeup (Credit: WENN)
While it was clear that Brie was very proud of her good friend Emma Stone for nabbing the Best Actress award at the Oscars, she didn't share the same sentiment for the Best Actor winner, Casey Affleck.
When Brie presented the actor with the Academy Award, she did not join the crowd in applauding him. In fact, she remained perfectly nonchalant.
The controversial actress is a prominent advocate for sexual assault survivors, and it was evident that her reaction to the "Manchester by the Sea" star's win was related to the sexual assault accusations he battled — and settled out of court — in the past.
After weeks of speculation, Brie finally addressed the issue at the LA premiere of her film. She shared with Vanity Fair that the refusal to applaud him "spoke for itself" and that she had nothing more to say on the topic.
We love a girl who is fierce inside and out. Mimic Brie's fierceness with the "Uptown" pumps available for purchase at Nordstrom, Net-a-Porter, Saks Fifth Avenue, and Mytheresa.
Christian Louboutin "Uptown" Pumps, $845