We all have this preconceived idea that being a famous celebrity is glamorous and full of adoring fans. But that is not always the case, as Brie Larson unfortunately discovered after her role as Captain Marvel.
You either love her or hate her. Unfortunately, haters seem far more vocal and vociferous when publicly sharing their somewhat unsubstantiated views.
But before we delve into the controversy that has garnered so much hate and backlash from Marvel fans, it's worthwhile looking back over how her career began because it is a story from rags to riches. And you have to admire people who are dedicated, hard-working, and determined to overcome any odds.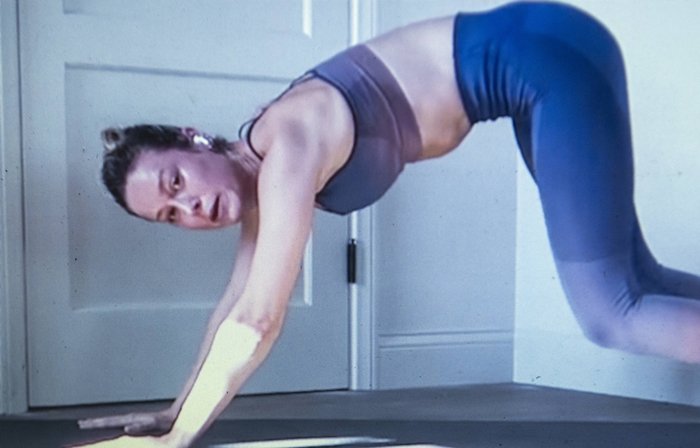 Brie Larson shared a video on her YouTube channel on July 30, 2020, documenting her first workout in quarantine with trainer Jason Walsh (Credit: YouTube)
Who is Brie Larson?
Brie Larson was born Brianne Sidonie Desaulniers in Sacramento, California, on October 1st, 1989. Her parents ran a homeopathic chiropractor practice, and she was initially homeschooled and formed a very close bond with her mother.
Homeschooling allowed her to freely explore her creative side through writing and making movies in her garage with her cousins.
Despite being very shy as a child and suffering from social anxiety, she knew from an early age that she wanted to be an actress. She auditioned to attend the American Conservatory Theater in San Francisco at age six. Her audition was successful, and she was the youngest student ever admitted to the conservatory.
12-year-old actress Brie Larson attends the premiere of the film Big Fat Liar on February 2, 2002, at Universal Studios in Los Angeles (Credit: WENN)
She found her parents' divorce a year later very traumatic, and her relationship with her father was not easy. Shortly after the divorce, her mother decided to move both Brie and her sister to Los Angeles so that Brie could pursue her acting aspirations.
The move to Los Angeles put the family under financial pressure, and they made many sacrifices to keep things together. The three of them lived in a rented one-bedroom apartment near Hollywood, and reportedly each of them only had three articles of clothing. Despite the financial challenges, Brie has fond memories of their time together.
When she initially started going to auditions, she found that people had difficulty pronouncing her name, leading her to adopt the stage name Brie Larson. She landed a few minor roles, but her first significant role was in 2001 when she starred as Bob Saget's daughter in Raising Dad.
Unfortunately, the show was a flop and was canceled within a year. Following this, she scored some minor roles in major movies, including 13 Going on 30 and Sleepover.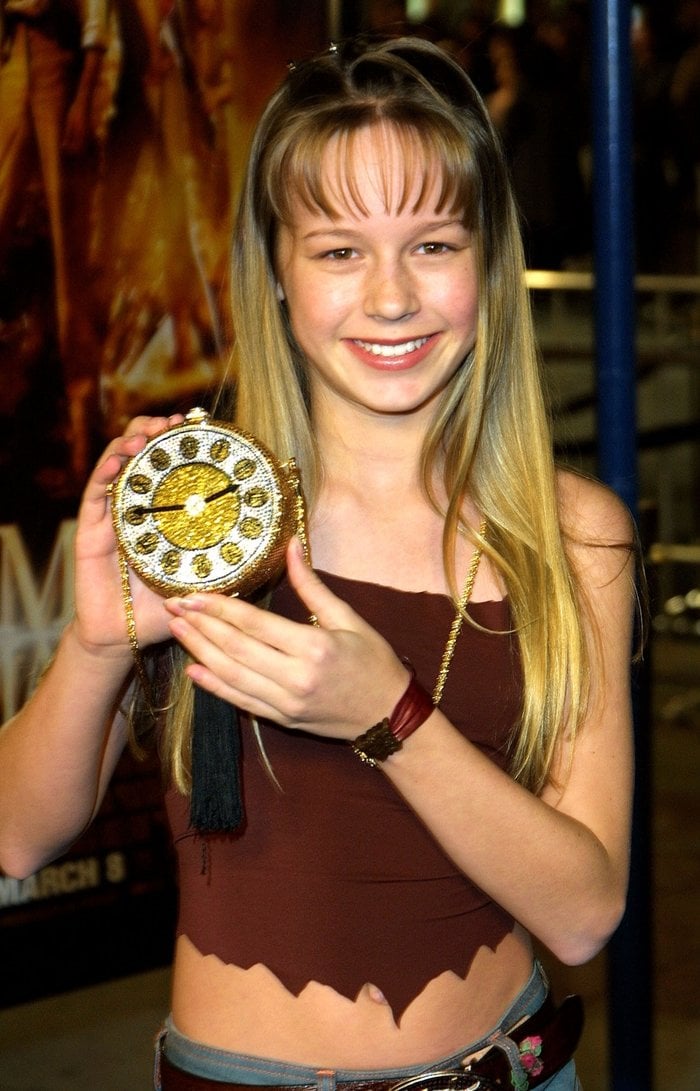 Actress Brie Larson attends "The Time Machine" Westwood Premiere on March 4, 2002, at the Mann Village Theatre in Westwood, California (Credit: WENN)
Brie was not solely focused on acting. She also had musical ambitions, and by age 11, she had started writing and recording her own songs. In 2005, she was signed by Tommy Mottola and released an album entitled Finally Out of P.E.
Although the album was not a massive success, one of her songs was listed on Billboard and featured on MTV's Total Request Live. She was also given the opportunity to perform in New York City's Macy's Thanksgiving Day Parade.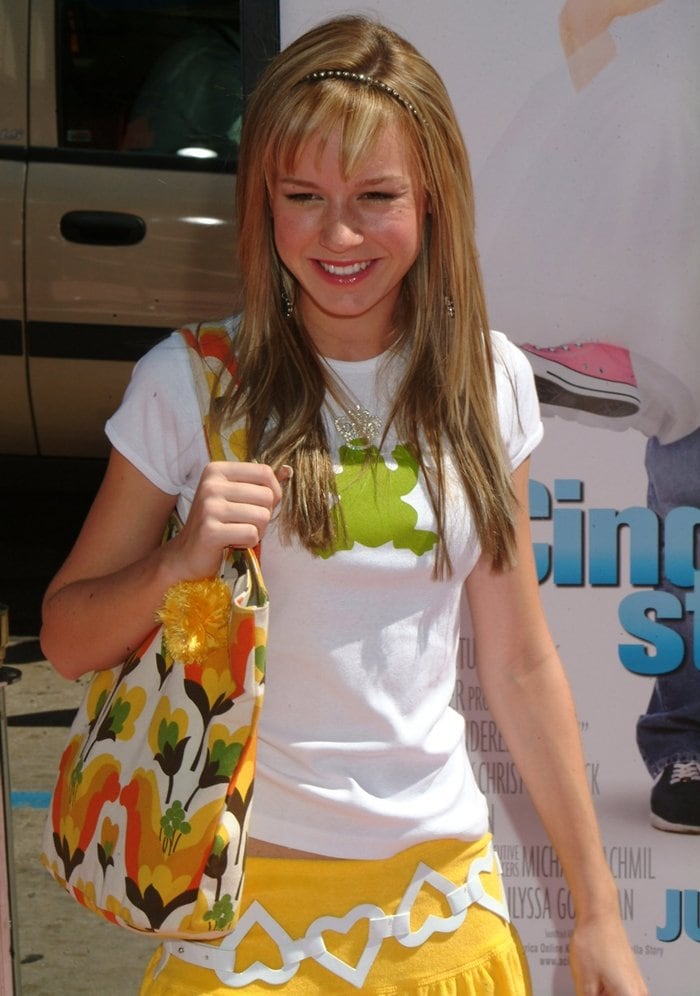 Actress Brie Larson arrives at the premiere of Warner Bros. "A Cinderella Story" on July 10, 2004, at the Chinese Theatre, in Los Angeles, California (Credit: WENN)
Despite some mild success in the music industry, her career still hadn't taken off, and she was continuously passed up for roles in movies. But Brie is not someone who easily gives up, and her hard work finally paid off as she landed the role of Molly in 21 Jump Street and then as Amy Schumer's sister in Trainwreck.
By 2015 her career had started to gain momentum. Her role in the Room, a film adaptation of Emma Donoghue's novel, saw her win an Academy Award for Best Actress and a Golden Globe.
Now that she was a critically acclaimed, award-winning actress, Brie had many opportunities available to her. She started taking on roles in action movies like Free Fire and Kong: Skull Island.
Actress Brie Larson, actress Joan Allen, and actor William H. Macy arrive at the premiere of A24's "Room" at the Pacific Design Center on October 13, 2015, in West Hollywood, California (Credit: WENN)
A few years later, she was cast as Marvel's first-ever female lead Carol Danvers in the 2019 American superhero film Captain Marvel.
Brie admitted that she was nervous about taking on such an important role and expressed her concerns in an interview with Entertainment Weekly, "I never saw myself doing something like this, mostly because I like being anonymous, I like disappearing into characters, and I always felt like if I was out in the public eye too much, it potentially limits you in the future."
Brie Larson's Political and Social Activism
Brie has always voiced her opinion regarding her political and social views. She has spoken out on numerous occasions on gender equality and advocacy for sexual assault victims.
In 2014, she co-launched Women of Cinefamily, a program that draws attention to women in film. She also marched in the Women's March in Washington and has spoken out on transgender rights.
Along with 300 other Hollywood women, she helped orchestrate the Time's Up initiative in 2018. She also has an inclusion rider that specifies a specific level of diversity in casting and production staff.
In 2019 she was honored for her work with the Equal Justice Initiative by Variety, and she endorsed the defund the police movement.
Although she has been praised for her activism in many circles, she has also received her share of backlash from Marvel's white male fan demographic, which is the perfect introduction to all the fuss.
Brie Larson and Captain Marvel Fans
If you heard about the Brie Larson backlash online, you might be wondering what all the fuss is about and how it turned into hate. The hate comes from a small but loud group of individuals who have turned to the internet to express their distaste for the Captain Marvel star.
As soon as Brie Larson was announced as the actress who would play Carol Danvers at Comic-Con, there was some pushback.
Many fans went online to suggest a list of other actresses they felt would be more suited to the role, like Kristen Bell, Blake Lively, Zendaya, Shailene Woodley, and Jennifer Lawrence.
And then you had the comic purists who were not happy with the fact that a woman would play Captain Marvel, who was originally a man. The character and Marvel itself have a cult following, and these vocal individuals believed that the comic wasn't being honored as it should be and the role should go to a male actor.
This caused a great deal of "review bombing" before the film was even released. But let's fact-check those purists, as you would think this was the first time Captain Marvel was portrayed as a woman.
According to an article in The Washington Post in 2019, the character "Carol Danvers appeared as a love interest in the 1968's Captain Marvel series… But as the '70's feminist movement grew, so too did Danvers's role as a character. Carol Danvers debuted in her own series as the superhero Ms. Marvel in 1977… After years as Ms. Marvel and rising in popularity, Carol Danvers took on the mantle of Captain Marvel in the 2012 "Captain Marvel" series."
Someone needed to tell those purists that a female Captain Marvel had already been around for 7 years!
Brie Larson hangs from a rope while filming the 2019 American superhero film Captain Marvel in Culver City on March 29, 2008 (Credit: WENN)
Although critics mostly praised Brie's portrayal of Carol Danvers in Captain Marvel, not all fans of the franchise agreed. Before the release of the movie, controversy amongst fans started to increase.
This was primarily due to Brie's social views. Brie had stated that Captain Marvel's press junkets were "overwhelming white male" and that she "decided to make sure my press days were more inclusive."
This upset a significant portion of the Marvel fan base, and they accused her of misandry. With an outpouring of anger, she attempted to clarify her comments and said, "What I'm looking for is to bring more seats up to the table. No one is getting their chair taken away. There are not fewer seats at the table, there's just more seats at the table".
Brie Larson and Alex Greenwald arrive at the premiere of Disney and Marvel's "Avengers: Infinity War" on April 23, 2018, in Los Angeles, California (Credit: WENN)
This didn't do much to smooth things over with the white male demographic upset by the remarks. In retaliation, they flooded Rotten Tomatoes and other film review websites with negative comments about Brie.
In addition to her press event remarks, she was criticized for not smiling enough and not being muscular enough. And lastly, they felt her portrayal of Captain Marvel was lackluster and lacked the passion the role deserved.
Captain Marvel did very well despite the controversy, grossing over $1 billion globally.
Brie Larson's Career Cancelled
Because of the rumors and negative media attention, many wondered if the star was on her way out.
Brie appeared in Avengers: Endgame, but in a much smaller role, adding fuel to the fire, and rumors continued that Brie was being forced to leave the Marvel franchise.
Then came accusations that Brie was challenging to work with and that she didn't get along with her fellow castmates. The backlash continued; she was even accused of being rude in interviews and disrespectful after Stan Lee passed away.
Her YouTube page is flooded with "dislikes" and comments from people who openly express their distaste for the actress.
Brie Larson as Carol Danvers / Vers / Captain Marvel
Let's be honest; it doesn't seem to be too difficult to upset Marvel fans, but rumors that Brie believed she should have the same reputation, respect, and pay as Robert Downey Jr. was perhaps the final straw. This spurred more hatred towards Brie as they did not believe she was on the same level.
A YouTuber released a viral video saying, "Disney is having Brie Larson fatigue, and they have lost confidence in her and in the direction they're moving with Captain Marvel."
The rumors that Brie is difficult to work with and that Disney had cut ties with her are entirely unsubstantiated. There has been nothing to suggest that Marvel has ended their relationship with Brie.
None of the backlash and online hate has impacted her career as she has continued to land high-profile gigs. And to top it all, in 2019, Time magazine named her one of the most influential people in the world.
And Brie has many more projects in the works, including Captain Marvel 2, which is scheduled to be released in July 2023 – we wait in anticipation to see if the comic purists return. In addition, the Community actress is also set to appear in a new drama series entitled Lessons in Chemistry, which is scheduled to debut in 2023 on Apple TV+.
Brie Larson attends the "Captain Marvel European Gala" held at The Curzon Mayfair on February 27, 2019, in London, England (Credit: WENN)
But back to those Marvel fans who are speculating via Reddit and YouTube that Captain Marvel 2 will completely bomb at box offices and that she will be canceled altogether. Or, at the minimum, she will no longer have prominent roles and will be more of a background figure going forward.
It's hard to predict what the future holds for Brie and Marvel, but there is no doubt the actress will continue to have a successful acting career for years to come.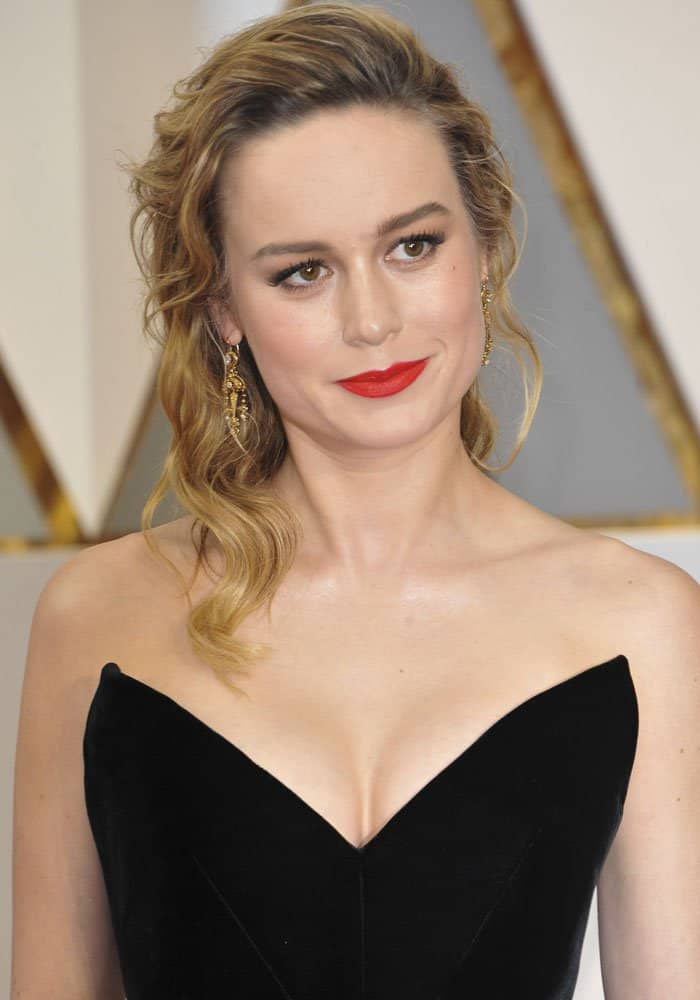 Brie Larson looked lovely in a black Oscar de la Renta custom gown (Credit: WENN)
Brie Larson's Glam Fashion Moments
Looking back at some of her glamorous moments, you can't imagine this star fading into obscurity. In February 2017, the 2016 Best Actress winner Brie Larson made a comeback at the 2017 Oscars to present an award, and what a comeback she made.
Brie made it to our list of best-dressed for the night as she stepped on the red carpet in a gorgeous black velvet look.
The Scott Pilgrim vs. the World actress arrived at the 2017 Academy Awards with her fiancé Alex Greenwald. Despite all the cameras, the musician couldn't help but give Brie a look of love. They got engaged in 2016 and, unfortunately, split in 2019.
Brie Larson in an Oscar de la Renta dress, Aquazzura heels, and Neil Lane jewelry at the 89th annual Academy Awards (Oscars 2017) held at the Dolby Theatre at the Hollywood & Highland Center in Los Angeles on February 26, 2017 (Credit: WENN)
The Community actress wore a beautifully-fitted velvet dress from Oscar de la Renta, a designer who specializes in making every girl's childhood dream gown come to life.
Brie Larson shows off her feet in custom Aquazzura "Casanova" sandals (Credit: WENN)
Even though velvet is a heavy fabric, the designer was able to create oversized ruffles with it that swayed gracefully with Brie's every move. Also, that 80's cut at the bodice is a gorgeous touch.
The actress finished her look with jewelry from Neil Land and a pair of custom Aquazzura "Casanova" sandals.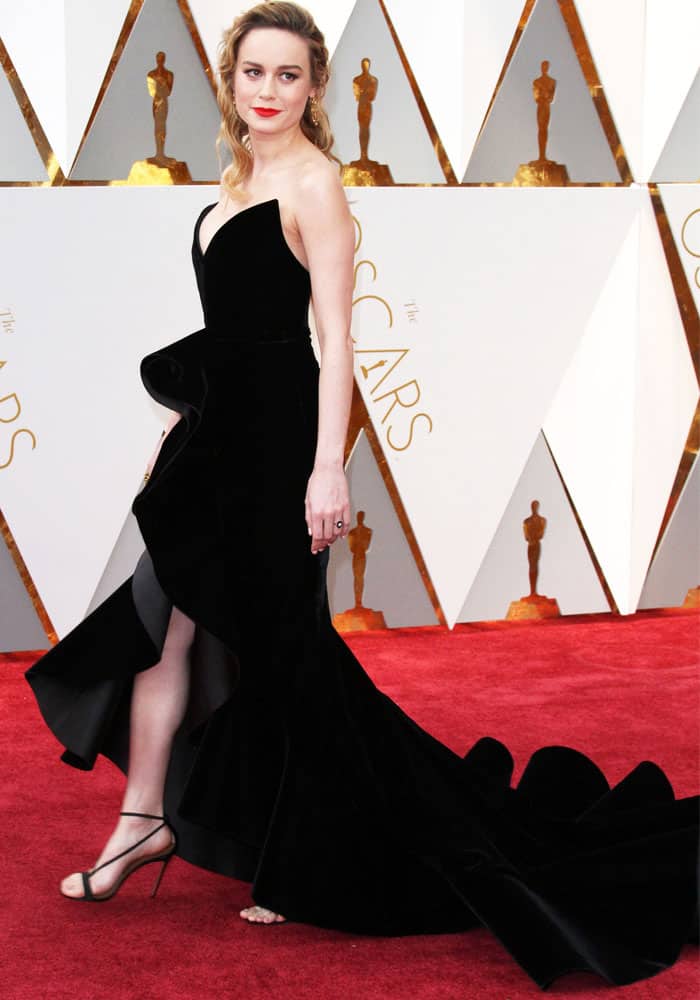 Brie Larson works her red carpet magic in a romantic Oscar de la Renta velvet dress (Credit: WENN)
Don't let femininity fool you, though. Underneath all the heavy fabric is still the same strong-willed Brie that we all fell in love with.
The actress reportedly refused to clap as she handed Casey Affleck his Best Supporting Actor award.
Brie, an advocate for sexual assault survivors, ironically had to present Casey, who was sued for sexual harassment in 2010 by two women, his award — twice.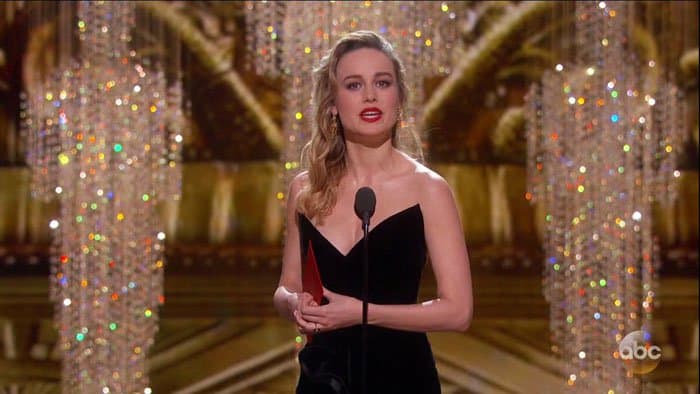 Brie Larson announced the winner of Best Supporting Actor (Credit: ABC)
Despite the tension, Brie did show some backstage love to Emma Stone. The two exchanged a tearful hug as Emma walked off the stage with her Best Actress award. You can buy Brie Larson's "Casanova" sandals at Farfetch and Nordstrom.
Aquazzura Casanova Sandals