In 2016, Community actress Brie Larson took home trophy after trophy for her work on "Room," including a Best Actress Award at the Golden Globes.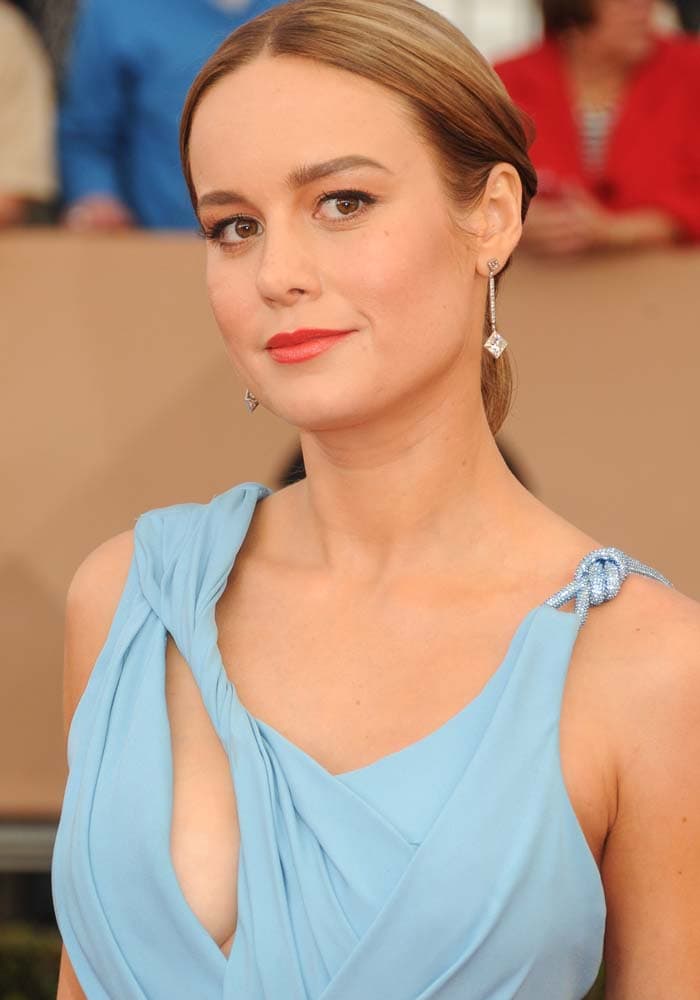 Brie Larson wears her hair back at the 22nd annual Screen Actors Guild Awards held on January 30, 2016, at The Shrine Expo Hall in Los Angeles
3 years earlier, she joined Season 4 of the American television sitcom Community. Portraying a student named Rachel at Greendale Community College who is on a work/study program as a coat check girl, she starts a romantic relationship with Abed Nadir (Danny Pudi).
Her first appearance was in "Herstory of Dance," the eighth episode of the fourth season that aired on April 4, 2013, when Brie Larson was 23 years old. Born on October 1, 1989, in Sacramento, California, she turned 24 on October 1, 2013.
Brie Larson makes an appearance in the sitcom Community as Rachel
"I thought Rachel was adorable. She was the first season 4 conversation we wanted to have and she was one of the most recent. I don't know how much we want to see Abed-the-boyfriend; I don't mean "I don't know" as in "I don't think," I really mean I don't know, and romance has to be played very carefully and organically. For instance, in the episode with Abed's secret service fling…the scene was longer and we shot Abed kissing her, but it felt a bit forced in the edit bay so we pulled back. But I agree Rachel was a good thing. More on this story as it develops," series creator Dan Harmon said on Reddit.
Brie Larson returned as Rachel for the episodes "VCR Maintenance and Educational Publishing" and "Analysis of Cork-Based Networking" of the fifth season.
Brie Larson was 23 when Herstory of Dance aired on April 4, 2013
In an interview with Hitfix, Dan Harmon discussed why he asked Brie Larson to return for two more episodes in season 5.
"We tell a story about what it might be like to be in a relationship with Abed for this episode but we didn't have the Brie Larson availability to have her there at the curtain call and the finale or anything like that," he explained.
"But she was magical in her appearance in the fourth season. She doesn't even say anything. She might as well be a pair of glasses and a wig on a mop handle, but it's Brie Larson so she has this humanity, this energy coming off," he added.
"I loved being there," Larson told HuffPost in 2013 about her guest appearance as Rachel on Community. "It's different. It's like the difference between hosting a dinner and getting to be a guest at a family dinner."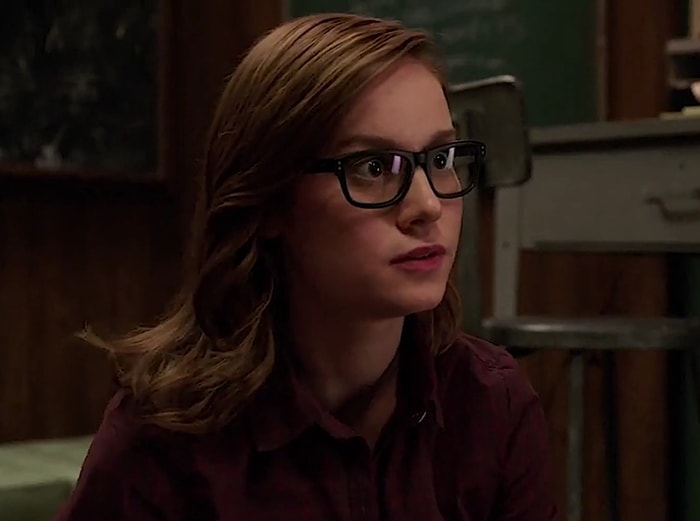 Brie Larson wore glasses and a wig for her role as Rachel on Community
The then 26-year-old actress bagged yet another trophy at the 2016 Screen Actors Guild Awards, winning the Outstanding Performance by a Female Actor in a Leading Role title.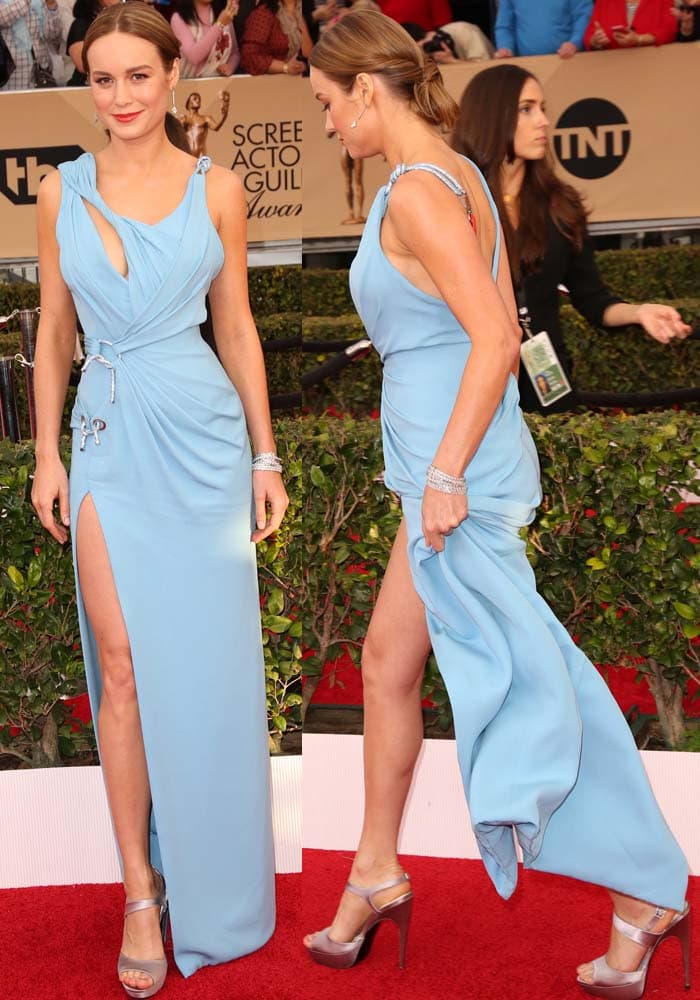 Brie Larson shows off some side boob and leg in a light blue Atelier Versace dress
Brie was winning up a storm with her acting, but we have to admit: this wardrobe pick was not a win in our books.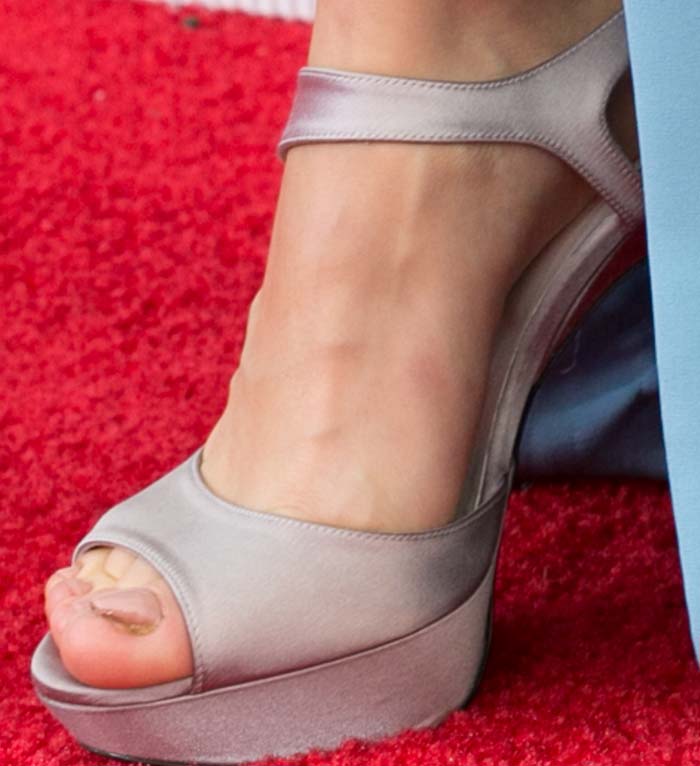 Brie Larson's feet in satin Roger Vivier sandals
Brie wore a light blue Atelier Versace dress that gave her a castaway look. We wish we could say that her luxurious jewelry from Tiffany & Co. as well as her satin sandals from Roger Vivier saved her, but we just can't.
The young actress reunited with co-winner Leonardo DiCaprio, who also bagged the Best Actor trophy that night. The two were previously photographed together at the Golden Globes.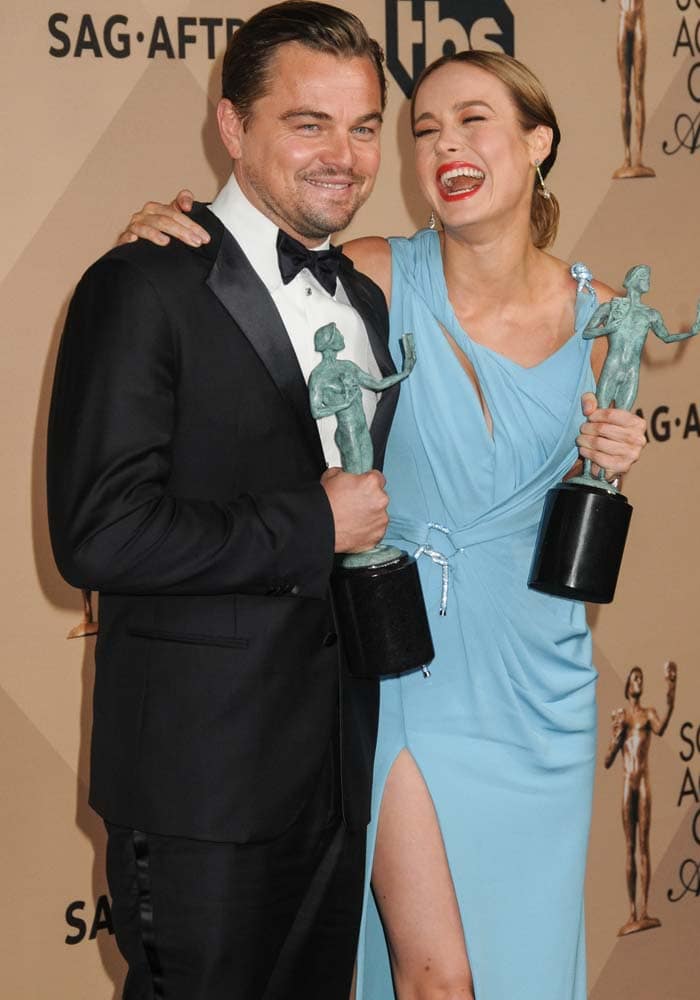 Leonardo DiCaprio and Brie Larson pose for photos together at the Screen Actors Guild Award
Brie opened her acceptance speech by confessing that she had always felt deeply unloved, and the recognition she has received so far changed all that.
Brie's Roger Vivier sandals are no longer available online, but do check out our alternative satin picks at Zappos and Nordstrom.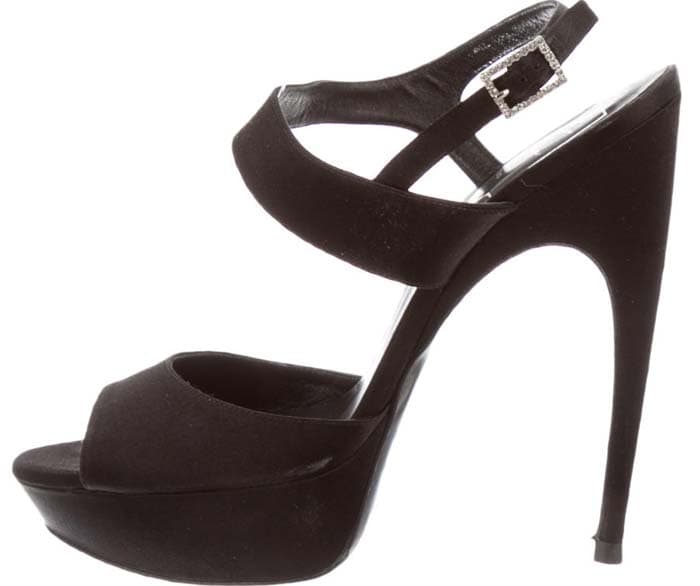 Roger Vivier Suede Platform Sandals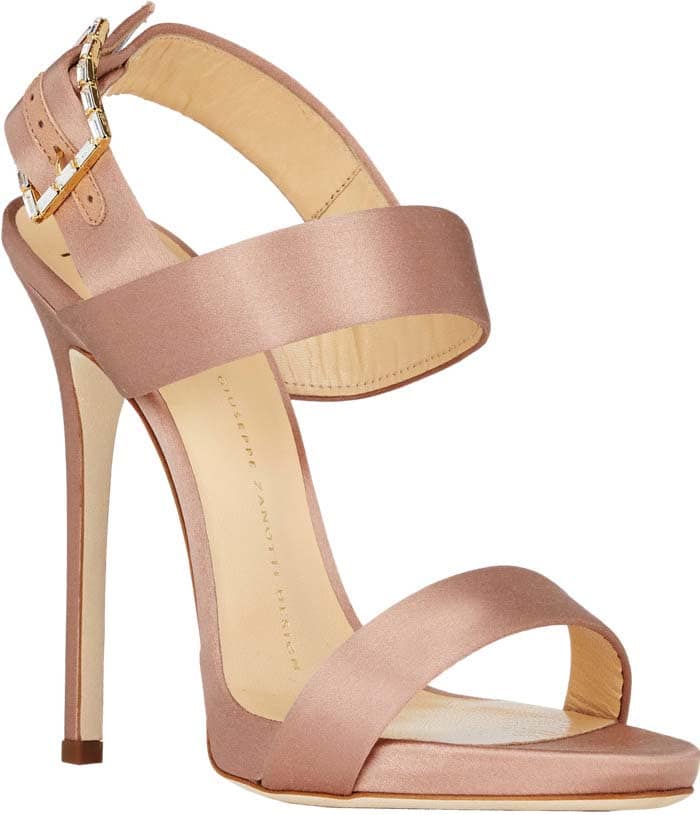 Giuseppe Zanotti Jeweled Buckle Double-Band Sandals, $765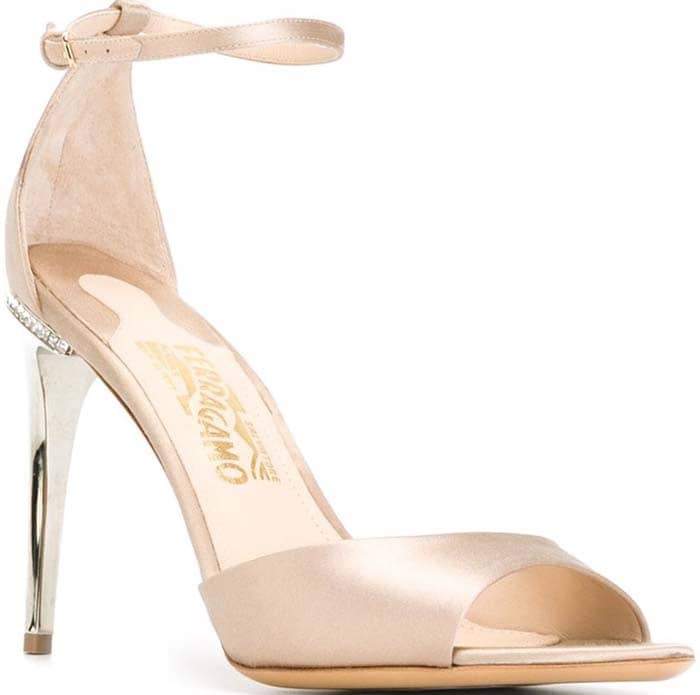 Salvatore Ferragamo Satin Ankle Strap Sandals, $763.17
Credit: Apega / Nicky Nelson / Brian To / FayesVision / WENN