It's hard enough to make it in Hollywood as is, so so one can only imagine how much harder it is for a transgender person to land roles and get recognition.
Best known for her role as Sophia Burset on Orange Is the New Black, Laverne Cox talked about her struggles in Hollywood during a backstage interview at the 2016 Screen Actors Guild Awards.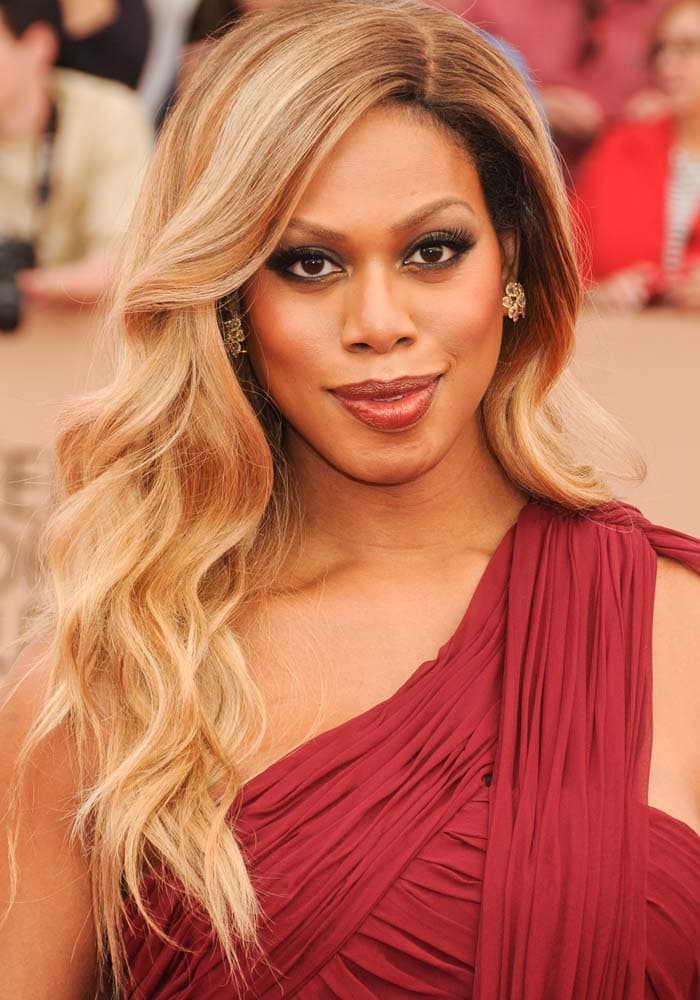 Laverne Cox wears her hair down at the 22nd annual Screen Actors Guild Awards held Jan. 30, 2016 at The Shrine Expo Hall in Los Angeles
Laverne stepped on the red carpet of the SAG Awards on behalf of the "Orange Is the New Black" cast. Her role in the American comedy-drama streaming television series has helped Hollywood spotlight transgender stories.
The first openly transgender person to appear on the cover of a Cosmopolitan magazine, she has always been open about talking about the transgender community, relationships, or her personal struggles.
23 Laverne Cox Quotes That Will Make You Mentally Stronger
I'm good with myself.

I just have to be myself. I'm not perfect, and I'm going to make mistakes; I might say the wrong thing. I have to be responsible to my community, and I feel like I am, but then I have to not be so hard on myself.

I was really creative. I started to dance very young. I loved to dance. I begged my mother to put me into dance classes, and finally, in third grade, she did. Tap and jazz, but not ballet.

It's hard to love myself. It really is. There are so many corporations out there that are telling us that we're not enough, that we have to buy this product to feel like we're enough, but we can just love ourselves based on who we are.

Believing you are unworthy of love and belonging — that who you are authentically is a sin or is wrong — is deadly. Who you are is beautiful and amazing.

I think it's important for parents to educate themselves, too, and be open, and realizing that your children are their own person and if they may or may not act the way you want them to in terms of gender expression that that's OK.

When you put love out in the world it travels, and it can touch people and reach people in ways that we never even expected.

Beyond truth and trans, one of the big Ts for me would probably be trying because at the end of the day we can think whatever, but it's like, what are we going to do? Because as long as we're trying, I think that goes a long way.

My beauty is not about how I look. My beauty is about my heart and soul.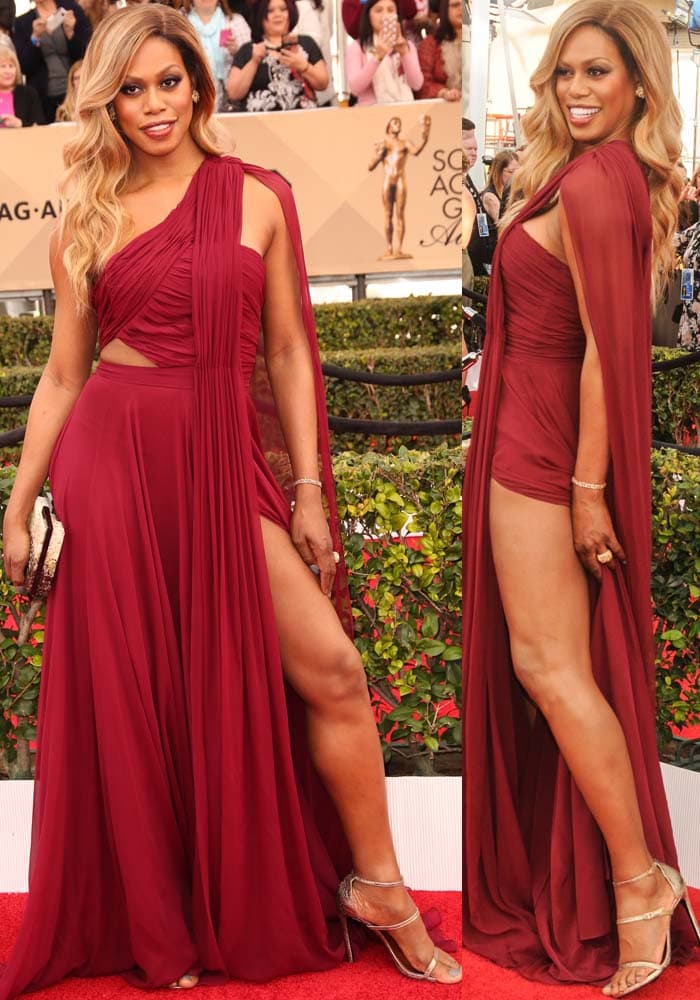 Laverne Cox shows off her legs and shoulders in a wine-colored Prabal Gurung dress
I wanted to be famous; I wanted to perform. Those things I really, really wanted more than anything else.

By doing the work to love ourselves more, I believe we will love each other better.

Everyone is insecure. I think, really, it comes from, like, a desire to want to be in control of how you're represented.

What took time for my mom was getting the pronouns right and calling me by a different name. Laverne was my middle name before I transitioned.

I've never been interested in being invisible and erased.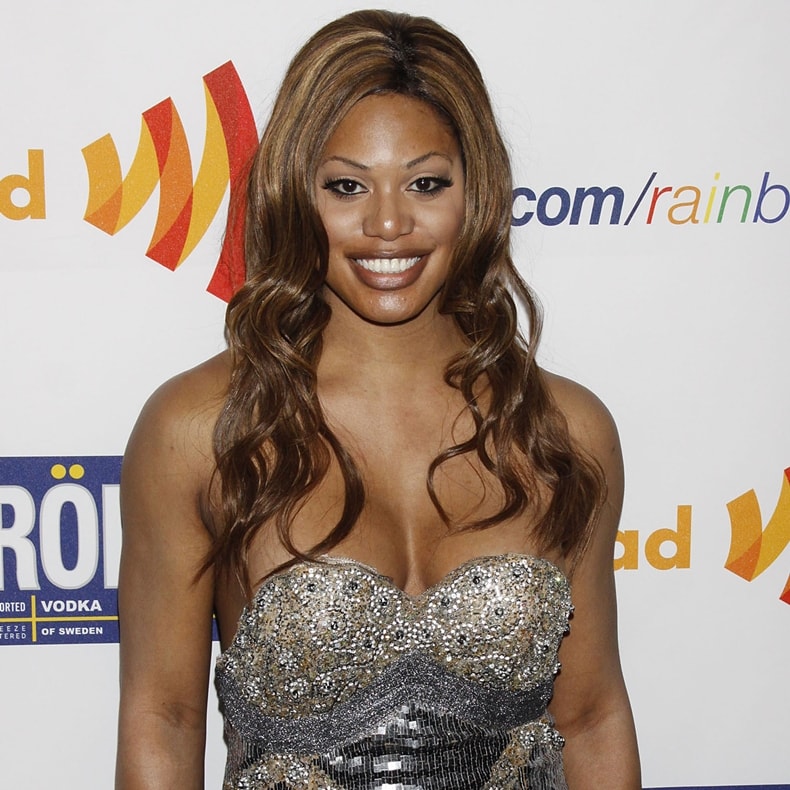 Inspirational actress Laverne Cox attends the 22nd Annual GLAAD Media Awards presented by ROKK Vodka at Marriott Marquis Times Square on March 19, 2011, in New York City
Loving myself is something that I work on every day.

Everyone is a complicated human being, and everyone is strong and weak and funny and scared.

A lot of my work is to stay grounded, is to stay spiritual. It is to disconnect from what other people say about me, but also to try and be connected to the joy and the love.

It's important with all of the messages that might tell you otherwise that you have that in yourself to say that 'I am beautiful. I am smart and I'm amazing.

When people find out you're an actress, they Google you.

I was an actress long before I was a reality TV person.

I love where I'm at now. I feel like I've evolved into being more myself.

Who you are authentically is alright.

For me, the transgender thing is the reality of my life. It's the reality of my existence and it's something that I've come to believe is beautiful about me.
Laverne wore a wine-colored dress by Prabal Gurung that featured a floor-length chiffon skirt, a draping cape, and cutouts at her waist.
Laverne Cox's feet in metallic Stuart Weitzman sandals
She accessorized with jewelry by Lorraine Schwartz, a clutch by Nathalie Trad, and a customized pair of heels from Stuart Weitzman.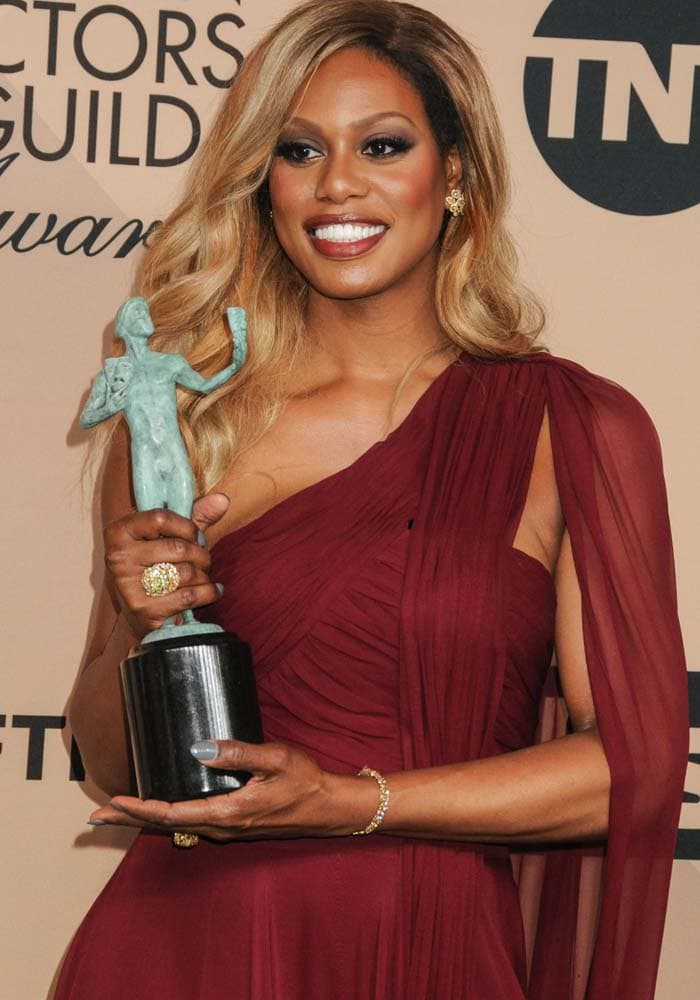 Laverne Cox shows off her Lorraine Schwartz jewelry as she poses with her award
Laverne, who won an award for Outstanding Ensemble in a Comedy Series along with her "Orange Is the New Black" cast-mates, talked about how she had dreamed of gaining recognition for her work and that she, too, went through a time when she struggled to survive.
Since Laverne's shoes are custom-made by Stuart Weitzman, we dug up similar (and equally gorgeous) triple-strapped metallic sandals that you can find at Nordstrom and Zappos.
Sophia Webster 'Rosalind' Crystal-Embellished Metallic Leather Sandals, $495 – $515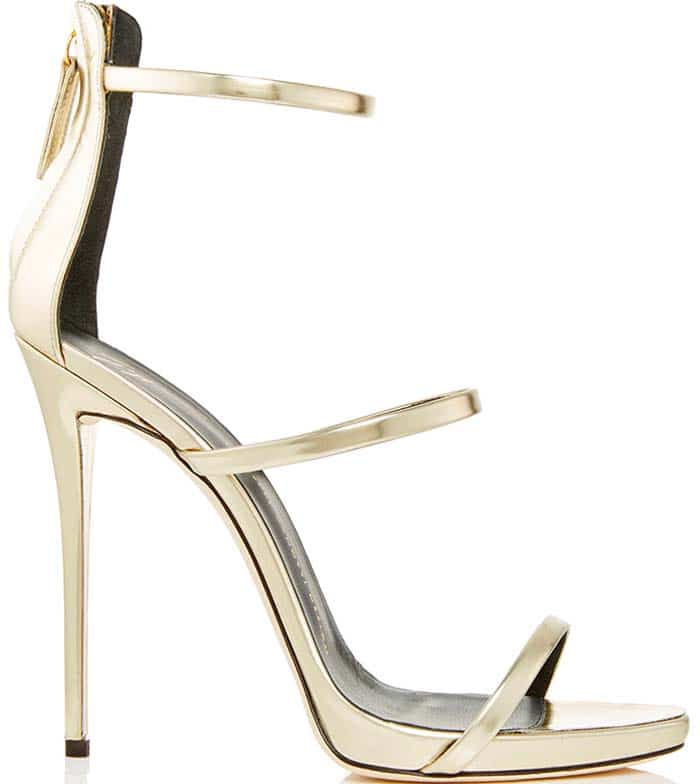 Giuseppe Zanotti Shooting Platinum Three Strap Sandals, $845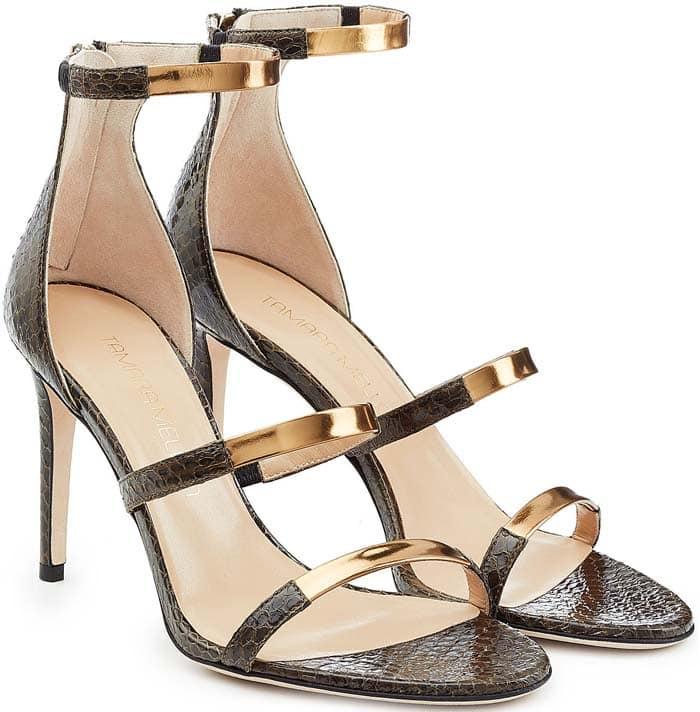 Tamara Mellon 'Intense' Watersnake & Metallic Leather Sandals, $650 – $685
Credit: Apega / FayesVision / Nicky Nelson / Brian To / WENN / Joseph Marzullo