Bob Saget was one of the best comedians of his time. Known for being a TV dad, Saget was incredibly funny and one of the kindest men in the industry until his untimely death in early 2022.
Bob Saget and his younger wife Kelly Rizzo leave The Bowery Hotel in New York City's Lower East Side on June 17, 2021 (Credit: MEGA / WENN)
For four years, Saget was married to Kelly Rizzo, a journalist and television host. Here's everything you need to know about the couple's careers and relationship:
Bob Saget's Career History
Bob Saget began his career in the entertainment industry in the early 1980s performing stand-up comedy. Early on in his career, Saget had roles in various film projects and was soon cast as Danny Tanner in the iconic '90s sitcom Full House.
While filming Full House, he also hosted the wildly popular television show America's Funniest Home Videos. Thanks to his two roles, Saget quickly became a Hollywood icon, synonymous with '90s television.
Full House stars Bob Saget, Dave Coulier, and John Stamos pose in the press room during the People's Choice Awards 2017 at Microsoft Theater on January 18, 2017, in Los Angeles, California (Credit: MEGA / WENN)
After wrapping Full House and passing the baton to a new host on America's Funniest Home Videos, Saget continued his career as an entertainer, performing stand-up comedy, directing films, and acting in a variety of television shows and movies, notably voicing future Ted Mosby on How I Met Your Mother.
In 2016, Saget reprised his role as America's favorite dad, Danny Tanner, for the Full House reboot, Fuller House, on Netflix. Mary-Kate and Ashley Olsen did not return for the Netflix original series that aired for five seasons.
Bob Saget and most of the other cast members returned for Netflix's American sitcom series Fuller House, a sequel to the 1987–1995 television series Full House (Credit: Netflix)
He joined most of the original cast for the reboot's five seasons, and the year it ended, Saget launched a podcast called Bob Saget's Here for You, where he interviewed his friends and gave life advice.
Bob Saget Facts
| What is Bob Saget's net worth? | He was an American stand-up comedian, actor and television host with an estimated net worth of $50 million at the time of his death in 2022. |
| --- | --- |
| Full Name: | Robert Lane Saget |
| Born: | May 17, 1956, in Philadelphia, the largest city in the Commonwealth of Pennsylvania in the United States |
| Kids: | Aubrey Saget, Lara Melanie Saget, Jennifer Belle Saget |
| Feet/Shoe Size: | 13.5 (US) |
| How tall is Bob Saget? | 6′ 4″ (192 cm) |
| Nationality: | American |
| Who is Bob Saget survived by? | He is survived by his wife, Kelly Rizzo, and three children. |
| How old was Bob Saget when he died? | Bob Saget was found dead on January 9, 2022, in a hotel room in the Orlando, Florida. He was 65 and would have turned 66 on May 17, 2022. |
| Is Danny Tanner from Full House still alive? | No, Bob Saget, the actor-comedian known who portrayed beloved single dad Danny Tanner on the sitcom "Full House," was found dead on January 9, 2022. |
Kelly Rizzo's Career History
Kelly Rizzo is a journalist who hosts the web series Eat Travel Rock, where she travels to find the best food and music. Rizzo is also a lifestyle expert and appears on various television networks to share her expertise.
Chicago native Kelly Rizzo works as a food, travel, and lifestyle expert and has been featured on Extra, ABC, Bravo, and VH1 (Credit: WENN)
The travel and lifestyle guru is so good at her job, a luxury magazine gave her the coveted name "Travel Queen."
The Couple's Past Relationships
Before he met Kelly Rizzo, Bob Saget was enjoying life as a single man, convinced he'd never find love again. And before his days as a single man, Saget had a years-long marriage.
Saget's first marriage was to Sherri Kramer. The two married in 1982, right at the start of his career. During their marriage, Kramer and Saget had three daughters together: Aubrey, Lara, and Jennifer.
"They are the light of my life," he told People about his three daughters in 2016. "I am a fortunate man in that all three of my daughters are exceptional. [They are] high beings, very smart people, very wonderful and very brilliant, very beautiful. They're all artists."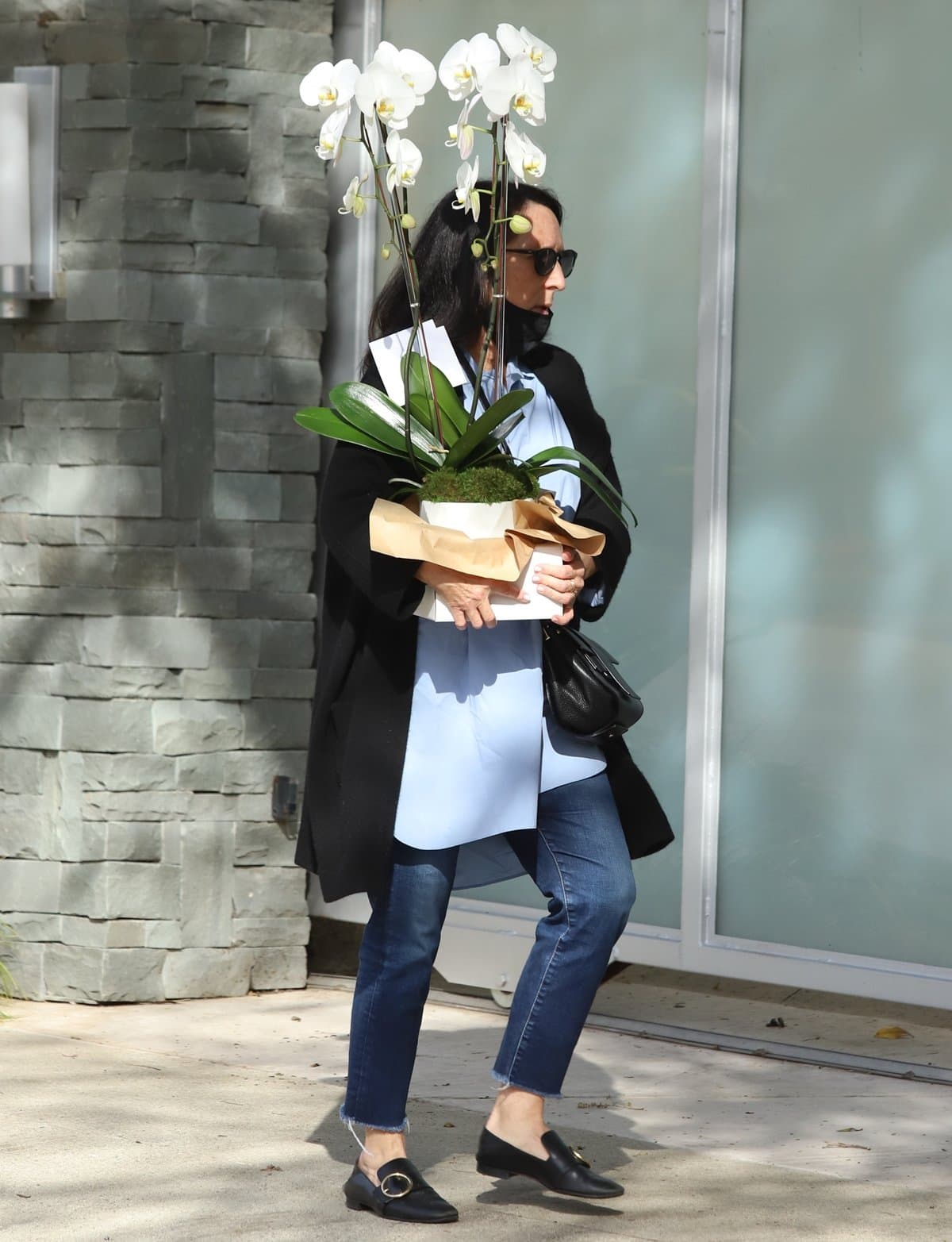 Bob Saget's ex-wife Sherri Kramer arrives at Bob Saget's home with flowers on January 10, 2022 (Credit: WENN / MEGA)
After 15 years together, when their youngest child was five, the couple divorced, leaving Saget single until meeting Rizzo.
Kramer has never spent much time in the spotlight, especially after she and Saget split, so not many details of her life have been made public.
She is, however, a licensed attorney (though her license is inactive) and a family therapist, and she's both a screenwriter and an author.
Aubrey Saget, Bob Saget, Kelly Rizzo, Lara Saget, and a male guest at the 30th Annual Scleroderma Benefit at the Beverly Wilshire Hotel on June 16, 2017, in Beverly Hills, California (Credit: WENN)
Rizzo has also kept much of her personal life private, but it's been reported that she had at least one serious relationship before her marriage to Saget.
Bob Saget and Kelly Rizzo's Relationship History
Bob Saget and Kelly Rizzo were only together for a short time, but they were well-suited and had nothing but love for each other. Here's more on their special bond:
How They Met
Saget and Rizzo began dating in 2015. The two met through a mutual friend after Saget found Rizzo's profile on Instagram.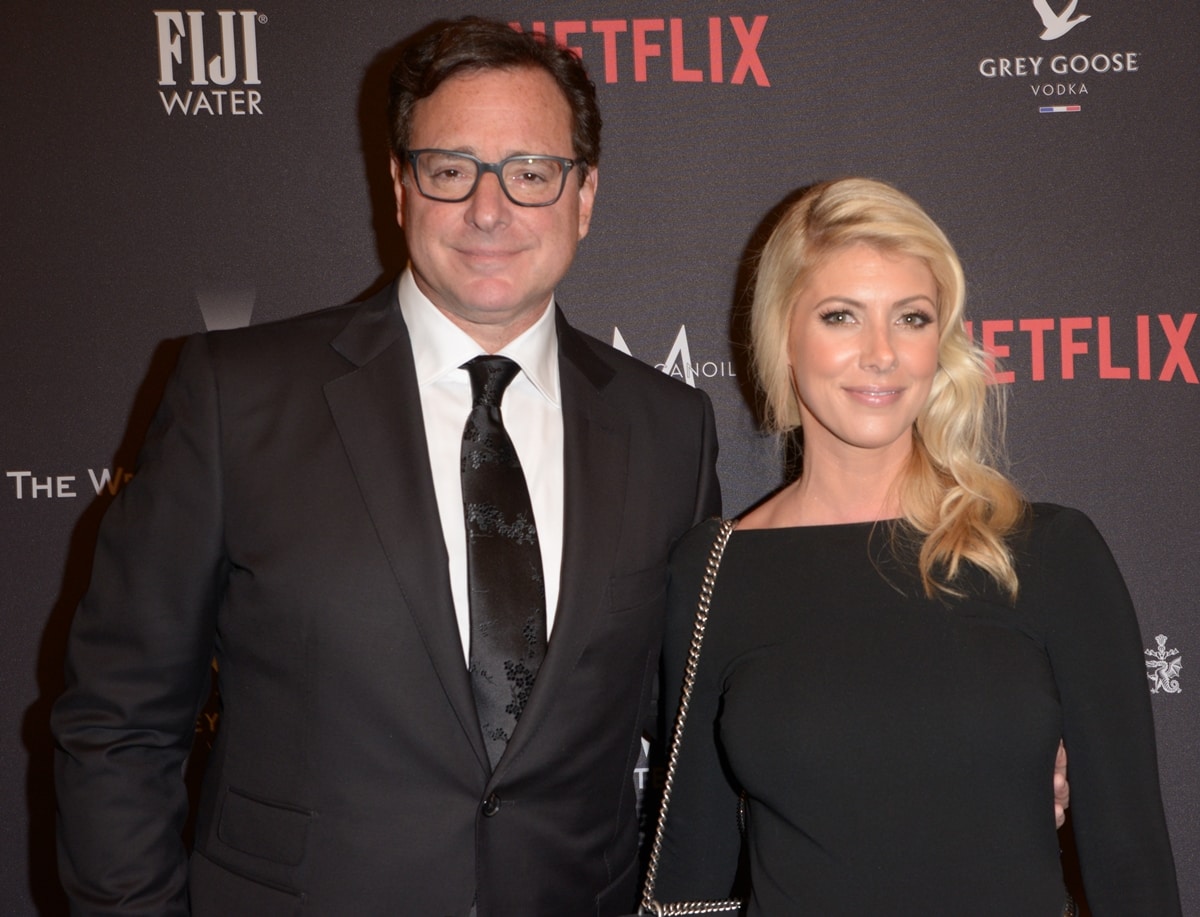 Actor Bob Saget and his shorter girlfriend Kelly Rizzo attend the 2017 Weinstein Company and Netflix Golden Globes after-party on January 8, 2017, in Los Angeles, California (Credit: Charlie Steffens / WENN)
Soon after, Saget messaged Rizzo on Instagram, inviting her to one of his shows and dinner after. Rizzo quickly realized she liked Saget, and the two began dating.
"I don't really see him as Danny Tanner," she told Michigan Ave magazine in an interview. "To me, he's just Bobby, my love."
Their Engagement and Wedding
After two years of dating, Rizzo and Saget became engaged. They enjoyed their engagement for nearly one year before marrying in October 2018.
The two were surrounded by family and friends on their special day, as well as wonderful food, which should come as no surprise due to Rizzo's profession.
Their Marriage
After their wedding, Rizzo and Saget enjoyed married life. They traveled together, including a trip to Mexico, and spent time with friends, like Saget's Full House co-star John Stamos and his wife.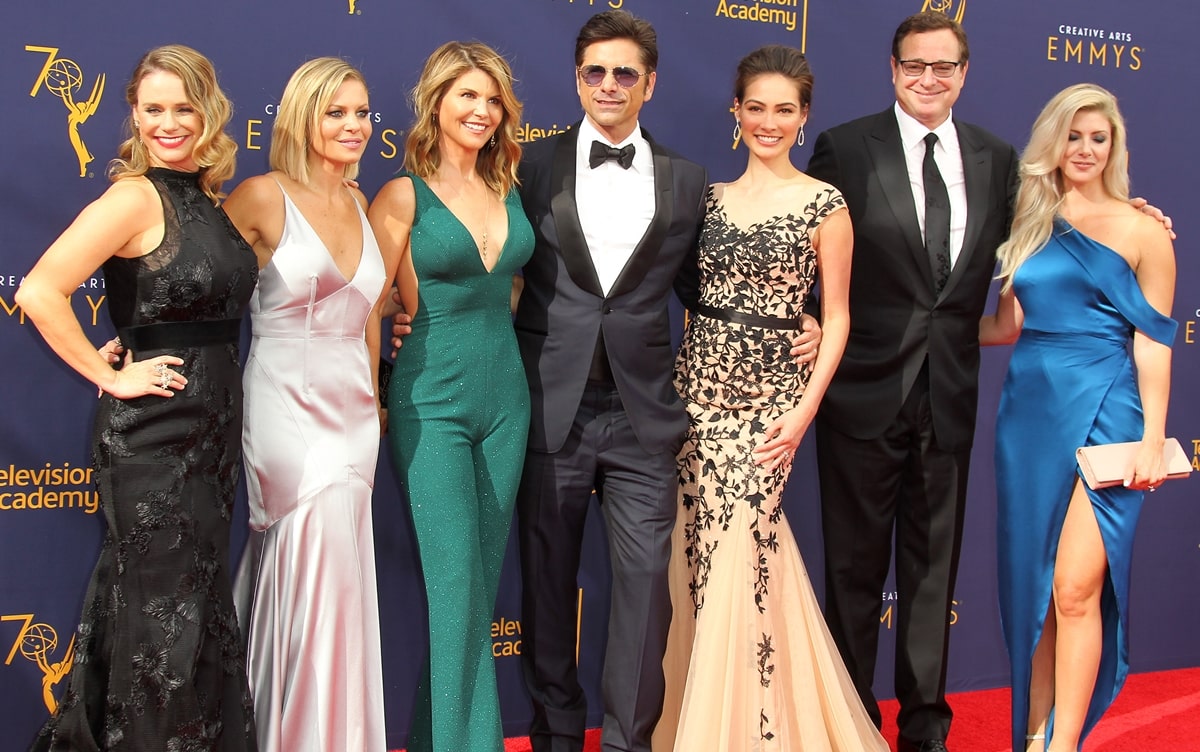 Full House stars Andrea Barber, Candace Cameron Bure, Lori Loughlin, John Stamos and his wife Caitlin McHugh, and Bob Saget with this wife Kelly Rizzo attend the 2018 Creative Arts Emmy Awards at Microsoft Theater on September 8, 2018, in Los Angeles, California (Credit: Adriana M. Barraza / WENN)
When the COVID-19 pandemic hit, the couple spent time quarantining at home to avoid infection, and eventually visited restaurants like Nobu in Malibu when they felt safe doing so.
Children
As previously mentioned, Saget had three children from his first marriage. Rizzo entered their union childless, and the two had no intention of expanding their family with more children.
"Spending habits. Energy level. Attention span. Brain & room clutter," she wrote on TikTok in May 2021 regarding their decision not to have children together.
Bob Saget and Kelly Rizzo attend the "Untitled: Dave Chappelle Documentary" Premiere during the 2021 Tribeca Festival at Radio City Music Hall on June 19, 2021, in New York City (Credit: MEGA / WENN)
Saget noted how good of a relationship his daughters had with his new wife, and Rizzo joked that one day she would talk him into getting a dog.
4 Fun Facts
1. Rizzo and Saget were decades apart in age and were open about how it affected their relationship, noting that it didn't bother either of them, but others often asked about it.
2. Major height difference – Saget was a tall man, standing at 6'4". Rizzo stands around 5'7", making their height difference over half a foot.
Bob Saget was 23 years older than his wife Kelly Rizzo, whom he met in early 2015 through a mutual friend (Credit: FayesVision / WENN)
3. They loved to travel – Rizzo being the "Travel Queen" obviously loves to jet set, but Saget was no different. The two were often visiting new places around the globe and domestically, including Arizona, St. Louis, and Sequoia National Park in California.
4. They're from different parts of the United States – Saget hailed from Philadelphia, Pennsylvania, while Rizzo came from Chicago. She joked that Saget was in the market for a good Midwestern girl when they started dating.
Saget's Death
In January 2022, Bob Saget was found dead in a Florida hotel room while on a stand-up comedy tour. His death came as a shock to everyone, including his wife, as he was young, healthy, and still very active in his career.
Many entertainers took to social media, and other media outlets, to pay tribute to the late star. Many of his Full House co-stars released individual statements, but the cast paid homage collectively, too.
"Bob could never resist an opportunity to make a speech. 😉 He was so gifted at knowing exactly how to articulate the moment and feelings," "Full House" actress Andrea Barber shared on Instagram.
"This speech which he made at our season 5 first table read so perfectly encapsulates Bob. It's full of so much laughter, love, and heart. ❤️ I miss him so much. I wish he were here to say the perfect speech to heal our hearts with love and laughter."
View this post on Instagram
Kelly Rizzo shared her shock and devastation at her husband's death in her own statement, noting she'd share more memories at a later time.
"We are devastated to confirm that our beloved Bob passed away today. He was everything to us and we want you to know how much he loved his fans, performing live and bringing people from all walks of life together with laughter," the Saget family said in a statement.
"Though we ask for privacy at this time, we invite you to join us in remembering the love and laughter that Bob brought to the world."
Saget will be remembered as a kind friend, a hilarious comedian, a great father, and a beloved husband by those closest to him, as well as his many fans around the world. He had an estimated net worth of $50 million at the time of his death.