Prior to her breakthrough in the acclaimed independent drama Short Term 12, Brie Larson played a number of memorable supporting roles.
A fan favorite is her portrayal of Scott Pilgrim's ex-girlfriend Natalie V. "Envy" Adams in Scott Pilgrim vs. the World.
Brie Larson was 20-years-old when filming Scott Pilgrim vs. the World as Natalie V. "Envy" Adams, the lead singer of the fictional band Black Sheep
The 2010 comedy film, which has garnered a cult following, premiered after a panel discussion at the San Diego Comic-Con International on July 22, 2010, when Brie Larson was 20-years-old.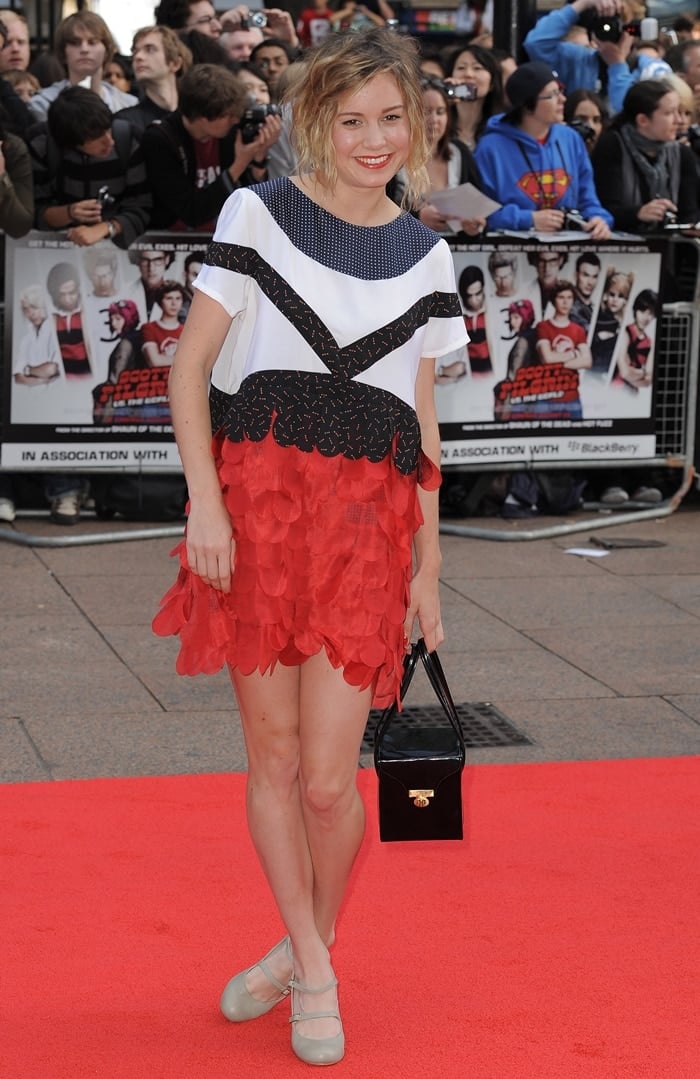 Brie Larson attends the European premiere of 'Scott Pilgrim vs The World' at Empire Leicester Square on August 18, 2010, in London, England
Born as Brianne Sidonie Desaulniers on October 1, 1989, in Sacramento, California, she turned 21 on October 1, 2010. The casting of the principal characters for the movie began in June 2008 and principal photography started in March 2009.
Filmmaker Edgar Wright recalls Brie Larson blowing everyone away when she showed up to read for a role in Scott Pilgrim Vs. The World.
Brie Larson's audition was just amazing. I'd seen a long line of people coming into the Universal lot to audition, and some people who were reasonably established. Brie – who was 19 at the time, maybe she was even 18 when she auditioned – blew everybody else away. Jared [LeBoff, Scott Pilgrim executive producer] and I both said afterward, "We've got to cast her."
Brie Larson shows off her feet in ugly shoes on the red carpet
Does Brie Larson actually sing in Scott Pilgrim vs. the World?
Yes, Larson performs the song "Black Sheep" with the band Metric. She sings the vocals for "Black Sheep" in the film, while the soundtrack features a version of the song with Metric's lead singer, Emily Haines, as lead singer.
Make "Room" for Brie Larson! In January 2016, the American actress was getting huge praise for her role as Joy "Ma" Newsome in the 2015 independent drama film "Room."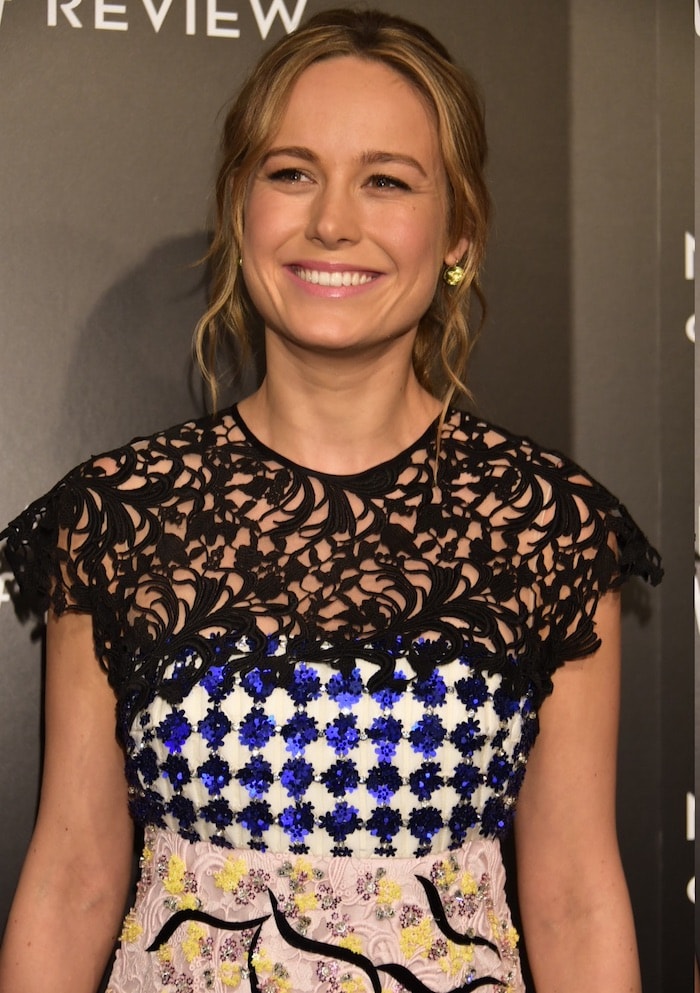 Brie Larson wears her blonde hair in curls at the National Board of Review Gala at Cipriani held January 5, 2016, on 42nd Street in New York City
After getting nods and nominations from BAFTA, Brie snagged the Best Actress award at that National Board of Review Gala in New York.
Brie Larson wears a mixed media dress from Giambattista Valli
Though her acting has received much-deserved credit, her outfit that night won't get the same praise from us. We were not too thrilled with her mixed patterned dress.
The combination of black lace, blue sequins, and beige embroidered was just odd. Plus, it didn't do her fit figure any justice.
Brie Larson's Giambattista Valli dress features black lace, blue sequins, and an embroidered beige skirt
Her outfit is from the Fall 2015 Couture Collection of Giambattista Valli.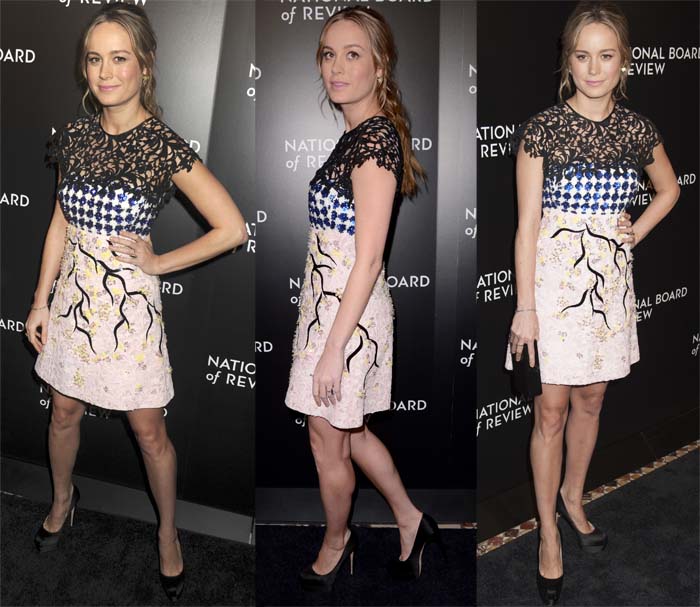 Brie Larson pairs an eccentric Giambattista Valli dress with simple black pumps
She paired the dress with an Edie Parker clutch in black, a pair of black satin Brian Atwood "Maniac" pumps, and a winning smile.
Brie Larson's feet in black satin Brian Atwood pumps
Brie Larson's feet in "Maniac" pumps
Brie's exact Brian Atwood pumps are no longer available, but you can still snag the "Maniac" pumps in black and gray patent leather from Amazon.
Brian Atwood "Maniac" Patent Leather Platform Pumps in Black, $799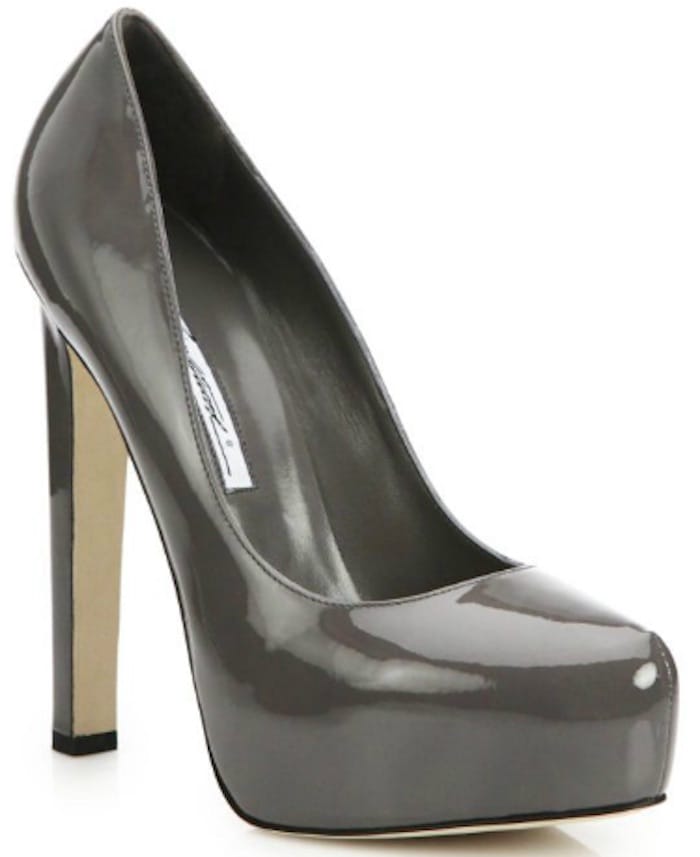 Brian Atwood "Maniac" Patent Leather Platform Pumps in Grey, $799
Credit: Dennis Van Tine / Future Image / Ivan Nikolov / Rob Rich / WENN