She's never been afraid of taking risks when it comes to her style choices.
On Thursday morning, Sarah Jessica Parker countered the gray skies as she stepped out in a bright, colorful outfit.
Sarah Jessica Parker visits her Seaport shoe store on November 19, 2020
Proving that her off-screen style is just as amazing as her iconic Sex and The City character, the 55-year-old Footloose actress headed to her Seaport boutique in a Jungle Pop puffer jacket from Brazil-based clothing and lifestyle brand, Farm Rio.
Her colorful jungle print Jungle Pop printed reversible puffer coat can be yours for $350 at Farm Rio.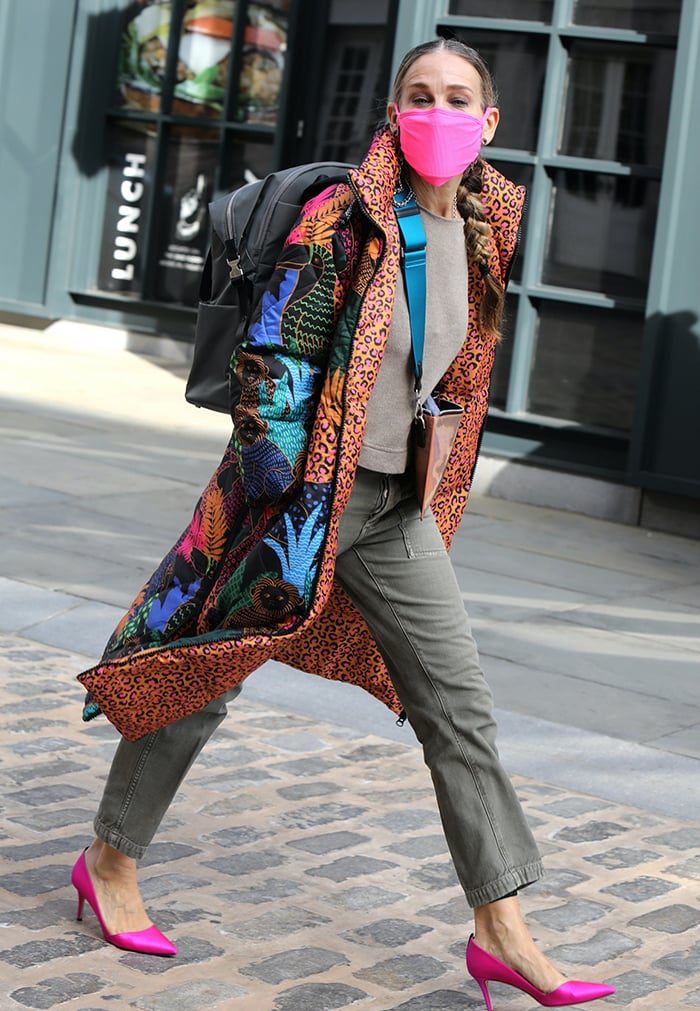 Sarah Jessica Parker brightens up fall in Farm Rio jungle animal printed puffer coat
Her coat features '80s-style colorful jungle animal prints on one side and a leopard print on the other side. It falls to the calves and has a front zipper closure and slanted front pockets.
Underneath her neon, bold-patterned topper, SJP wore a neutral-colored outfit, which included a plain gray top and jeans combo.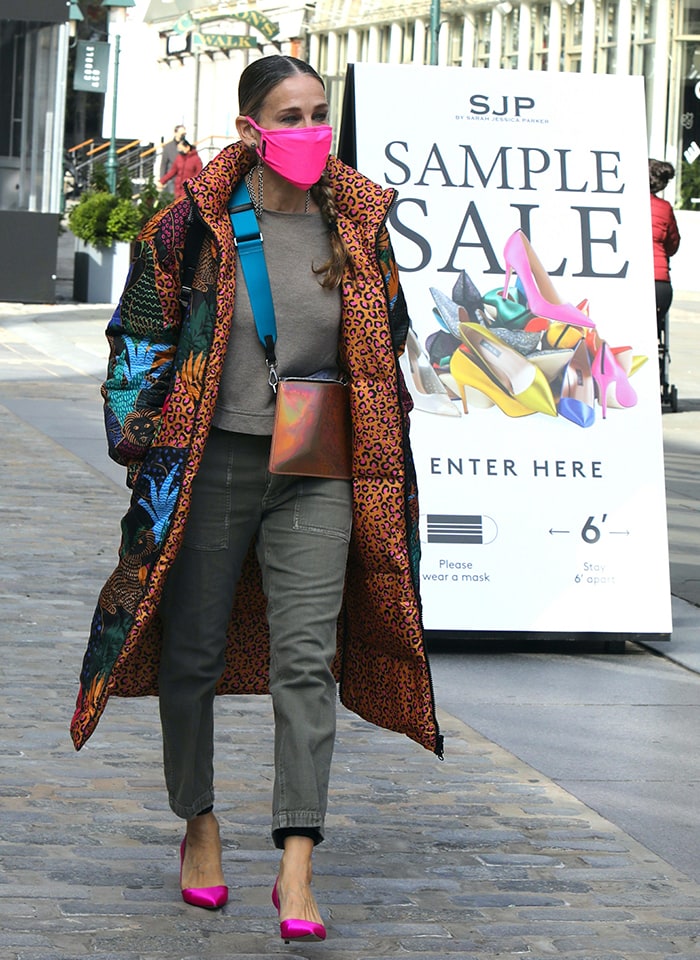 Sarah Jessica Parker teams her bold-patterned coat with a plain gray top and jeans
The mom-of-three pulled her naturally curly locks back into a center-parted ponytail and wore simple makeup that highlighted her eyes.
She then accessorized with a pair of stud earrings and carried a metallic bag with a thick blue cross-body strap.
The removable clutch, which comes with a backpack, is part of her collaboration with world-renowned luggage manufacturer and retailer Samsonite and is now on sale for $196, from $245, at Samsonite.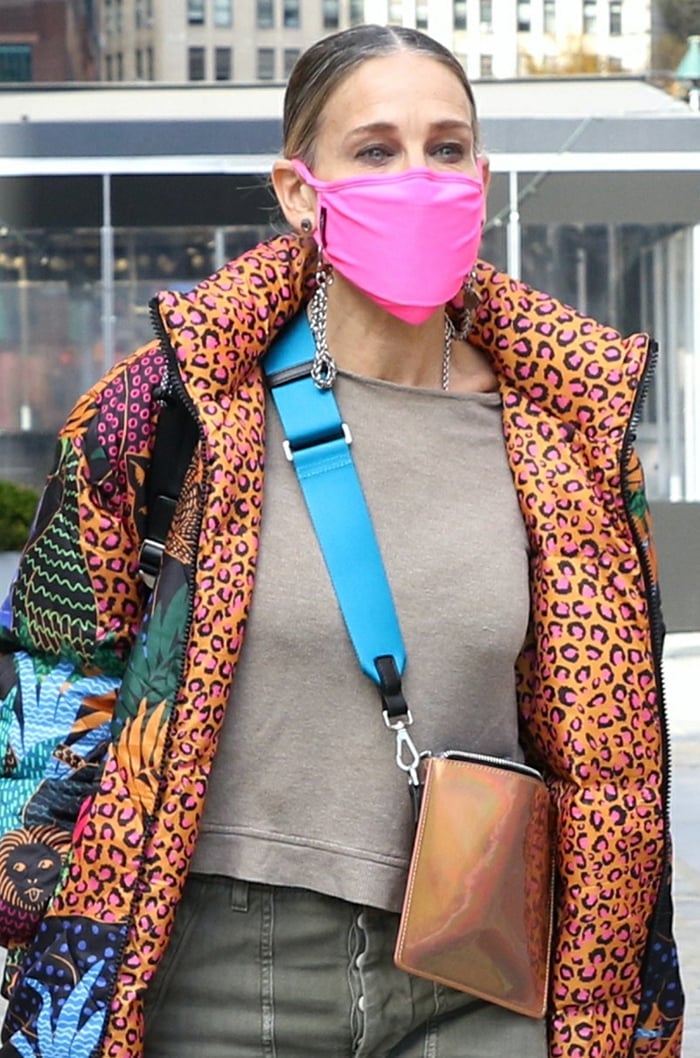 Sarah Jessica Parker pulls her long hair into a ponytail and stays safe with a neon pink face mask
Ditching fall's classic color palette, SJP further brightened up her look with a neon pink Masqd ribbed face mask, which matched her hot pink heels.
She slipped her feet into the SJP "Rampling" pumps, which feature pointed toes and a sexy, flattering cut on the front. They also have black trims at the rear that sit atop the slim 4-inch heels.
Sarah Jessica Parker finishes off her fall look with hot pink Rampling pumps
SJP by Sarah Jessica Parker Rampling Pumps, $355 at Zappos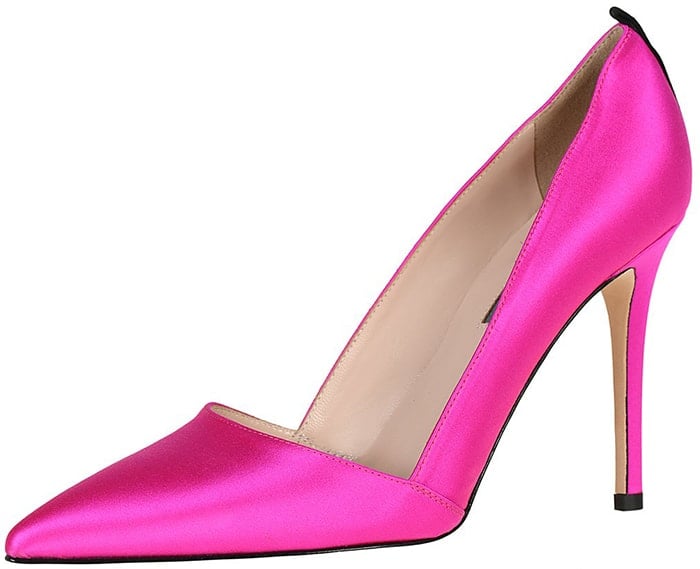 Pink satin SJP by Sarah Jessica Parker pointed-toe pumps with grosgrain trim at the heel
Last week, SJP was spotted on her knees as she assisted a customer at her Midtown Manhattan boutique.
Sarah Jessica Parker on her knees as she assists a customer at her Midtown Manhattan store on November 17, 2020
For the store visit, the dedicated businesswoman simply wore her favorite gray quarter-sleeved blouse with a pair of cuffed jeans.
With her long wavy hair loose, SJP completed her look with the "Busker" studded boots from her collection.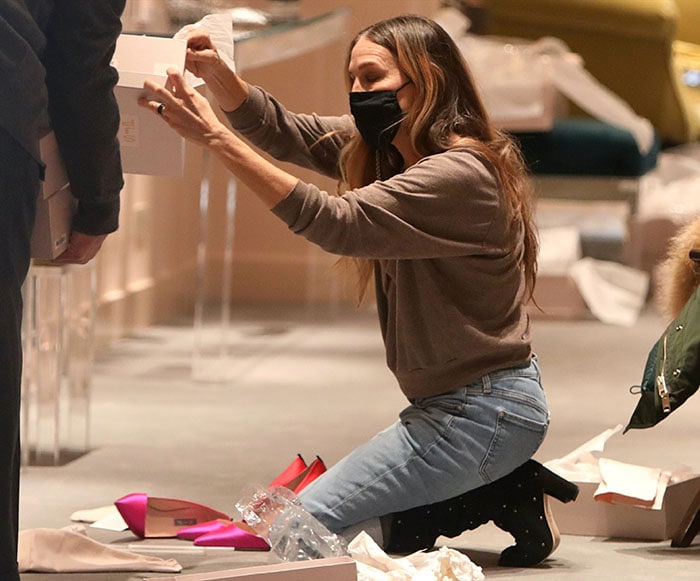 Sarah Jessica Parker wears her favorite gray top with cuffed jeans and SJP Busker knee boots
Credit: Instar / WENN