Nominated for the Academy Award for Best Supporting Actress for her portrayal of Celia Rae Foote in the 2011 period drama film The Help, Jessica Chastain was widely praised for her performance.
She added about 15 pounds to her frame for her role in DreamWorks' adaptation of Kathryn Stockett's novel that you can buy at Amazon.
Also named the sexiest vegetarian actress in a poll conducted by PETA in 2012, many fans were surprised to see Jessica's character eating fried chicken in the movie. However, it turns out she wasn't eating real chicken.
Jessica Chastain eating fried chicken in The Help
"The scene where I was eating fried chicken, they made me vegan fried chicken. It probably [didn't taste as good] as fried chicken. They did an amazing job. They took a turkey dog and tofurkey and battered it, and deep-fried it," Chastain said in an interview in 2012.
"I haven't had meat in so long. I've been vegan for five years and vegetarian for 15 years, so if I had had meat, I wouldn't have been able to do the scene. They all thought I was just chowing down."
Let's just take a moment to pay homage to the beautiful Jessica Chastain, who decided to delight our weary eyes with an explosion of green and gold at the 2015 National Board of Review Gala.
Jessica Chastain contrasts her red hair with an emerald green dress at the 2015 National Board Of Review Gala held January 5, 2016, in New York
Jessica arrived at the gala to represent her film "The Martian" alongside her co-stars.
Jessica Chastain wears a satiny emerald dress from Carl Kapp
The wealthy actress slipped into her gorgeous satin billowy dress from Australia-based designer Carl Kapp. The actress paired her gem of a dress with the golden "Pinder City" pumps from Christian Louboutin.
Jessica Chastain's feet in gold Christian Louboutin pumps
The actress walked the red carpet alone but was in the presence of many notable actors at the gala.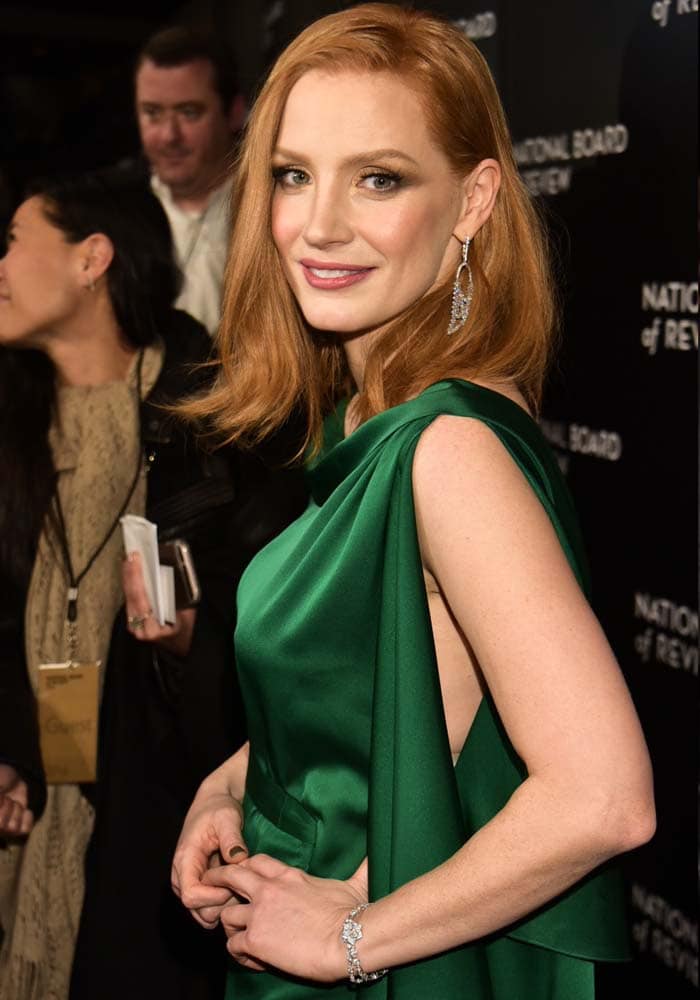 Jessica Chastain accessorizes with sparkling earrings and a bracelet
We love how the Christian Louboutin "Pinder City" peep-toe pumps look like typical gold heels from afar but are teeming with details up close.
Grab these mesh studded beauties over at Mytheresa and Nordstrom.
Christian Louboutin Pinder City Peep Toe Pump in Gold, $1,295
Pyramid studs offer a touch of modern glamour to the peep-toe profile, while an iconic red sole—born from a brush with red nail lacquer—shines with each head-turning step
Christian Louboutin's Pinder City pump channels another era with its artful leather cutouts and textured goldtone finish
Credit: Rob Rich / Ivan Nikolov / WENN