Alexandra Daddario made her first major movie appearance at age 22 in Percy Jackson's The Lightening Thief and Sea of Monsters films.
She starred opposite Logan Lerman and Brandon T. Jackson as Annabeth Chase, the demigod daughter of Athena. The book series follows the tale of a young Percy Jackson, who must learn to use his powers as a young demigod.
Logan Lerman as Percy Jackson, Brandon T. Jackson as Grover Underwood, and Alexandra Daddario as Annabeth Chase in the 2010 action fantasy film Percy Jackson & the Olympians: The Lightning Thief (Credit: 20th Century Fox)
Although the films were set to compete with the wildly popular Harry Potter series, the film series only continued for two movies, despite there being five Percy Jackson books in the series.
Now, Percy Jackson is making a return, all under the guidance of author Rick Riordan. In January 2022, it was confirmed that the wildly popular book series would be reimagined as a Disney+ series.
This time, the series will follow the books more closely. Riordan never watched the movies after reading the script for the movies. He says it was like his "life's work going through a meat grinder."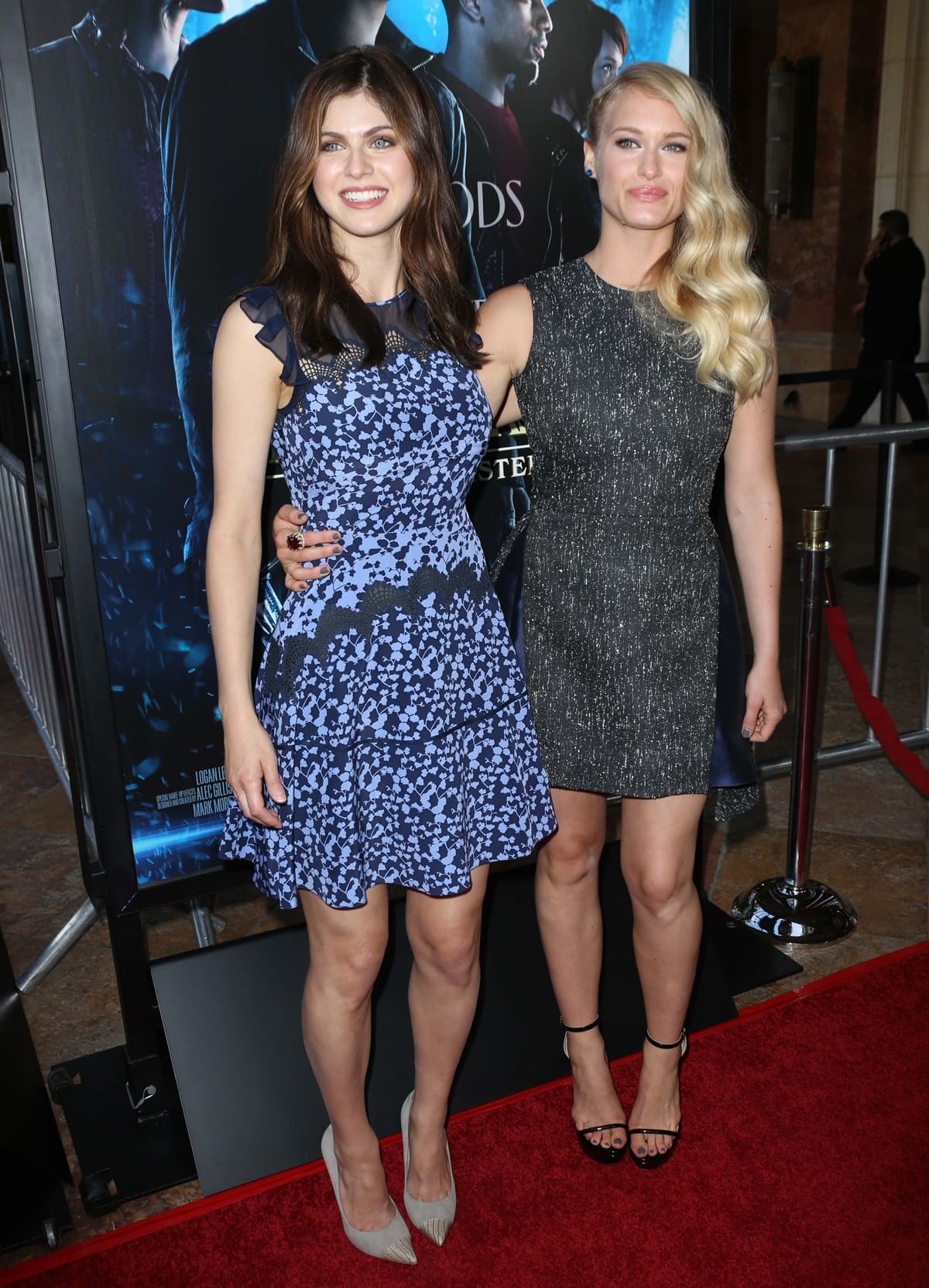 Alexandra Daddario (L) and Leven Rambin attend the premiere of Percy Jackson: Sea Of Monsters on July 31, 2013, at The Americana at Brand in Glendale, California (Credit: s_bukley / Shutterstock)
However, he has previously stated that he is grateful the movies allowed new fans to discover the series. The New York Times bestselling author also doesn't blame the actors for the bad movies; he believes they are quite talented. He hated the script so much that he offered to revise it without pay.
Riordan is actively involved in the making of the Disney+ series, and the new production will follow the books more closely and start Percy's journey when he is 12 years old. Walker Scobell has been cast in the title role of Percy Jackson, and Leah Jeffries is set to take on the role of Annabeth.
The casting of Jeffries received some backlash regarding race-related details. Daddario took to social media to support the young actress in her new role.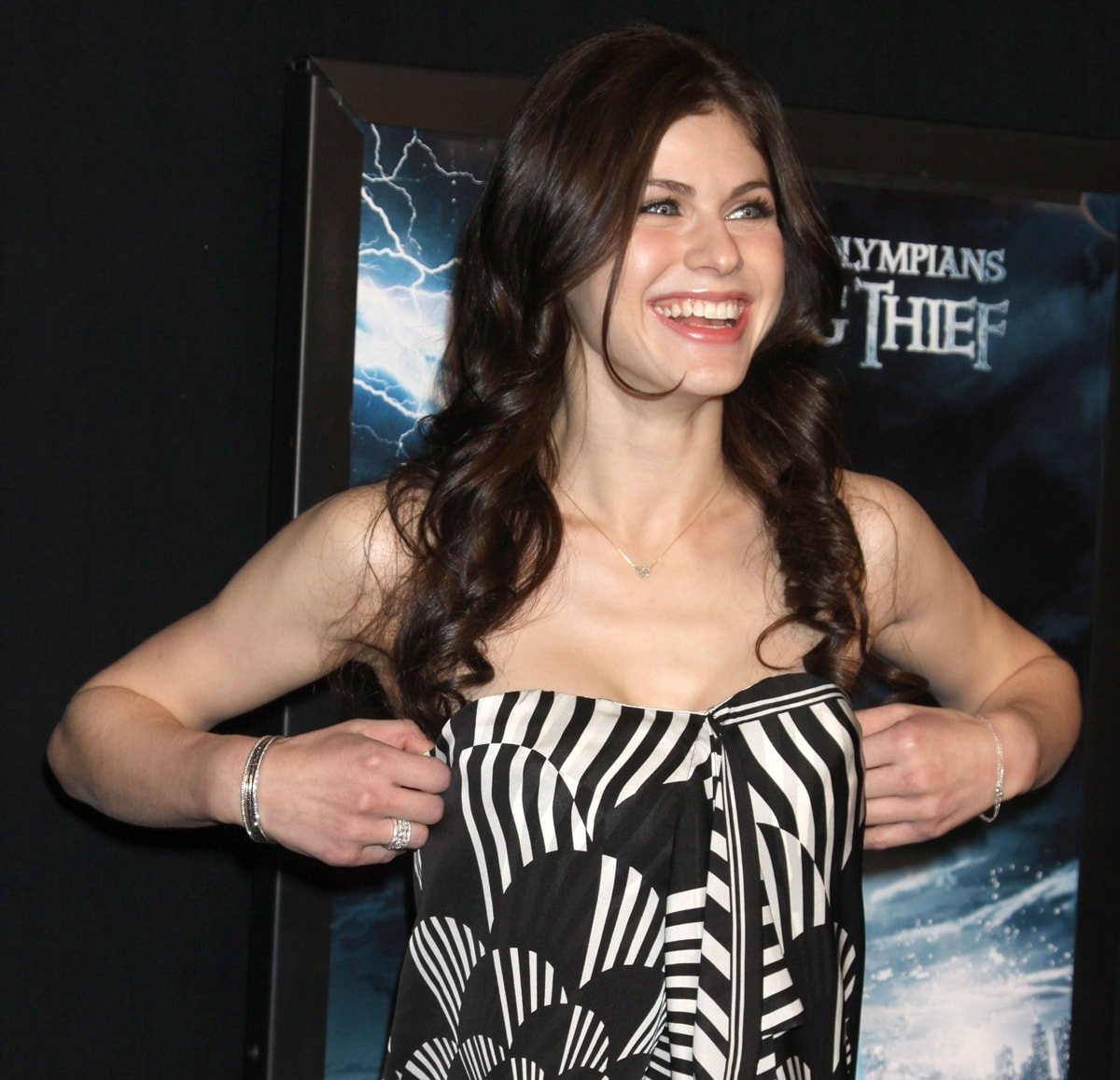 Alexandra Anna Daddario had her breakthrough portraying Annabeth Chase in the Percy Jackson film series (Credit: Roger Wong / INFevents)
Although Daddario won't be involved in the newest version of the beloved series, she expressed how grateful she is for the movies on WrapWomen's Unwrapped podcast. Daddario, who is now 36, went on to have major acting roles in White Lotus and Parenthood.
"I loved Percy Jackson. Like, I loved it. When I stepped into Percy Jackson and got that job, I had no idea what it was. I was like, a bit part actor in New York City, you know? I was a kid, I was working at a bar, I didn't have any idea of Hollywood or of all this stuff. And so when I got that job, I didn't know what I was stepping into. I knew it was a really big movie. And it was the most amazing experience for a 22/23-year-old to have."
Alexandra Daddario flaunts her legs in a strapless BCBG geometrical dress and black pumps at the premiere of Percy Jackson & The Olympians: The Lightning Thief held at NYC's AMC Lincoln Square 13 on February 4, 2010 (Credit: INFevents)
Daddario was six years older than her character in the movie, while Lerman was only one year older. Brandon T. Jackson played the role of Grover, Percy's friend and protector. He was 25 while filming the movie.
Although the movie flopped at the box office, there was still a generous fandom started thanks to the movie, who are excited for the original characters to make an appearance. Daddario says she won't be joining the series, but she is excited for there to be a new series on the beloved book series.
"I am so excited for the kids that are going to be cast in that and how they'll inspire a new generation of young women. Like it's so cool, Annabeth is a really inspiring character to people. But no, I don't know anything about it beyond that, and I shouldn't! I was just the girl in the movie."
She also told The New York Post, "It was such an amazing thing for me, and I love the books — it's been so long since I did those films. It's cool to see there's a new generation of people who will enjoy having a TV series. I'm excited for it."
Alexandra Daddario shows off her beautiful eyes at the "Percy Jackson: Sea Of Monsters" Press Conference at the Four Seasons Hotel on June 4, 2013, in Beverly Hills, California (Credit: Munawar Hosain / Startraksphoto)
Lerman has shared similar sentiments about his excitement over the Disney+ remake of the series.
He told THR, "I'm really excited. Curious to see it — everything I've seen so far, peripherally, just about casting and how they're doing it, and that [Percy Jackson author] Rick [Riordan] is running it, just makes me happy. It makes me happy for the fans and excited for this new generation to watch it."
It seems like Alexandra Daddario is not only a demigoddess on screen. She looks like one off-screen as well!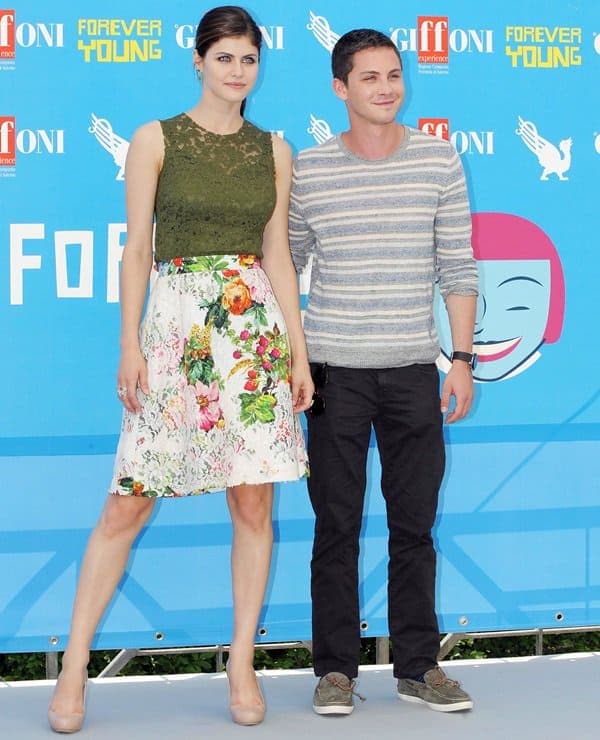 Alexandra Daddario and Logan Lerman attend the photo call for Percy Jackson: Sea of Monsters at The Giffoni Festival Experience in Campania, Italy, on July 23, 2013 (Credit: KIKA / WENN)
In July 2013, the then-28-year-old blue-eyed beauty was back on the big screen for the second installment of Percy Jackson: Sea of Monsters.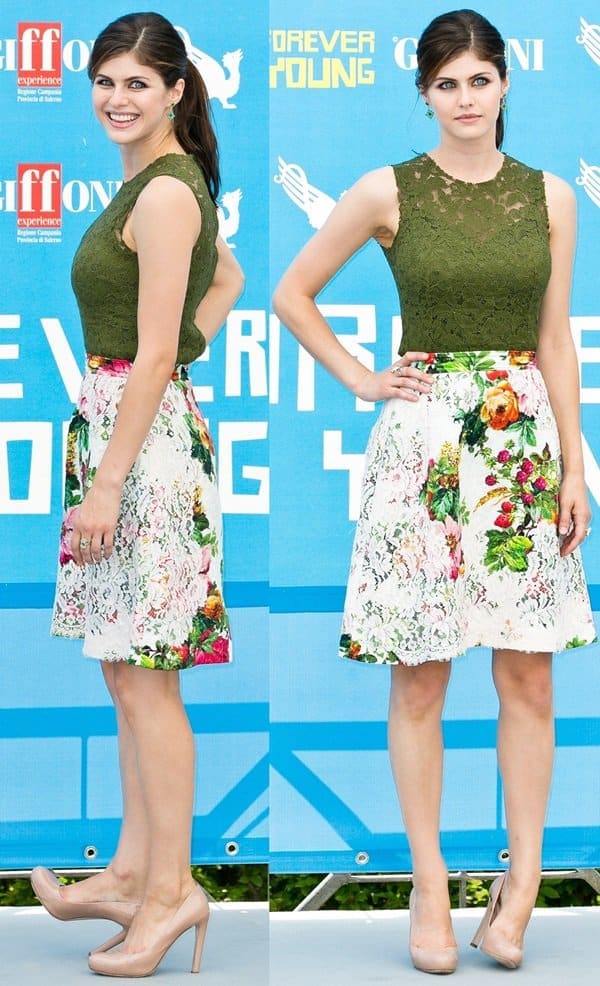 Alexandra Daddario flaunts her long legs in nude high heels (Credit: KIKA / WENN)
Alexandra attended the photo call for the movie, alongside co-star Logan Lerman, during the Giffoni Festival Experience.
The actress and fashion model wore a feminine and ladylike ensemble of a moss green lace top that went perfectly well with her Dolce & Gabbana floral skirt.
Alexandra Daddario styled her floral white miniskirt and green lace top (Credit: KIKA / WENN)

If you want to wear a floral print skirt, it's all about finding the perfect floral prints and styling them to suit your personal style and character.
Alexandra's flowery outfit most certainly mirrored her sweet and ladylike demeanor.
If you love her floral frock just as much as we do, then you can check out her skirt in more detail on Farfetch.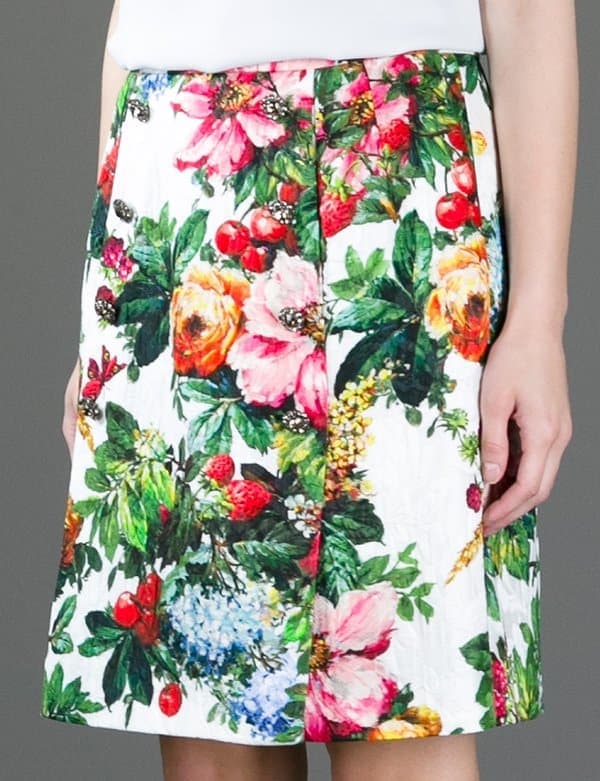 Dolce & Gabbana Floral Skirt in White Multi, $845.00