Hollywood has always had a soft spot for odd couples and unlikely friendships. One of the best and most charming examples of this is the 13-year strong friendship between rapper Snoop Dogg and homemaker mogul Martha Stewart.
After their show, Martha & Snoop's Potluck Party Challenge, debuted in 2016 on VH1, their delightfully genuine on-screen chemistry led many to wonder how their unexpected friendship came to fruition.
Martha & Snoop's Potluck Dinner Party premiered on VH1 on November 7, 2016 (Credit: VH1)
So how did Martha Stewart, a woman well-known for her interior decor, cooking, and generally clean-cut "Mom" aesthetic, and Snoop Dogg, a Californian rapper with a penchant for cursing and smoking a lot of "mary jane", become such fast friends?
How did Snoop Dogg and Martha become friends?
The two originally met during an episode of the homemaker's legendary television show, The Martha Stewart Show, in November of 2008.
Snoop Dogg was invited on the show and is now well-regarded as one of the most memorable celebrity guests. It is easy to imagine that the producers thought that this pairing would be pretty funny, considering that Martha and Snoop have such different backgrounds.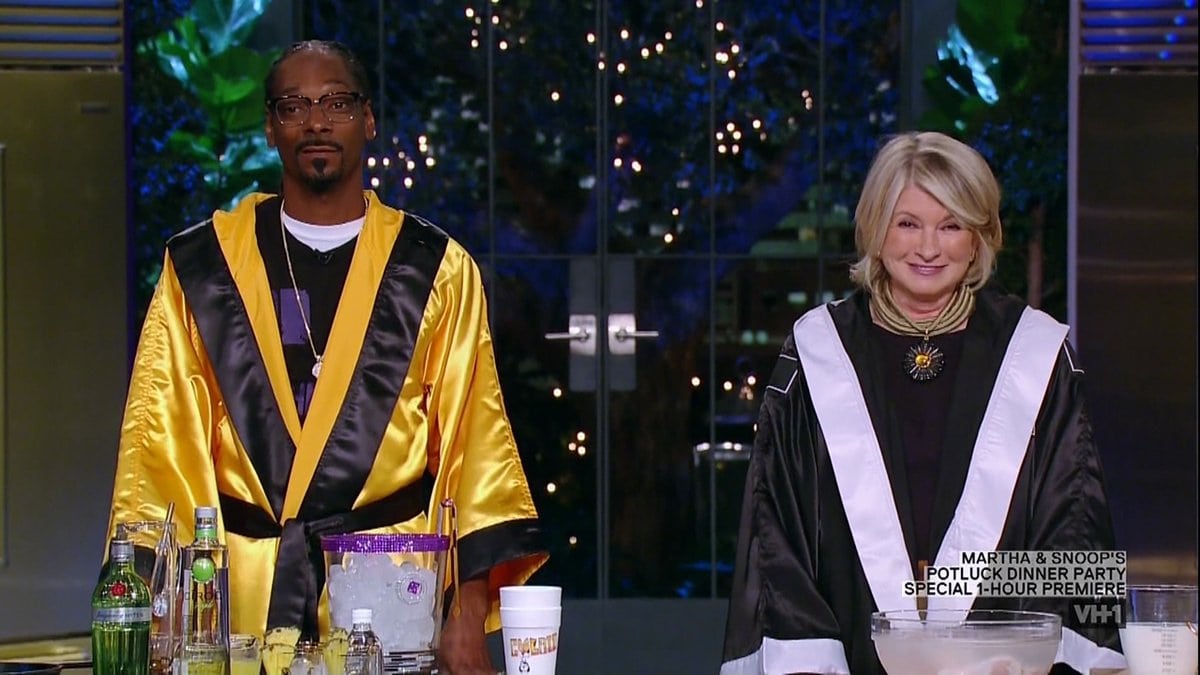 Martha Stewart and Snoop Dogg met for the first time in 2008 when he appeared as a guest on The Martha Stewart Show (Credit: VH1)
However, no one, not even Martha and Snoop, expected them to become such fast friends. The two bantered like old buddies while preparing Thanksgiving mashed potatoes, as Martha poked fun at Snoop's iconic manner of speech-izzle.
Snoop's success on The Martha Stewart Show was surprising, as many thought Snoop's laid-back attitude would clash with Stewart's demanding way that she runs her kitchen. As Stewart once told Entertainment Weekly, "I can get a little bossy, but I try to be a good teacher."
However, Snoop more than respected Stewart's space and chose to keep an open mind. "Do what Martha says, that's the rule in the kitchen," Snoop said. "If I was in the [recording] studio…I direct and I lead, and this is her studio, so I expect her to take the lead and show me where I need to be."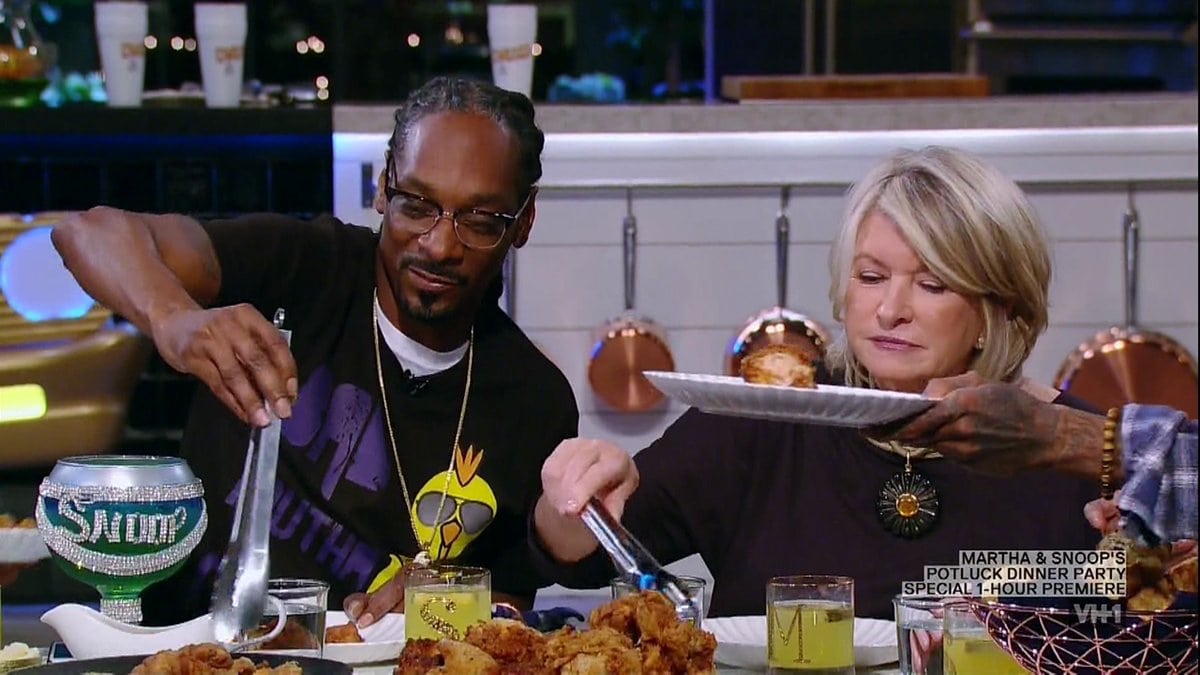 Martha Stewart rightly guessed that pairing with Snoop Dogg would make people tune in (Credit: VH1)
The episode was such a smash-hit that Snoop was invited to appear on The Martha Stewart Show the following year for a Christmas episode, where they prepare some festive, green-colored brownies.
Of course, this led to jokes from the two about them making "special" brownies, as Snoop asks Martha when they will add "the stuff". Martha laughs and simply replies, "Later."
The two were friendly on social media, and in 2013, Snoop Dogg shared a funny photo of the two making brownies with silly edits on their faces on Twitter, tweeting, "ayo @marthastewart watchu bakn !! #snoopify". Later, Martha Stewart told users on Reddit that she truly wished that she and Snoop were better friends.
Snoop Dogg says he's never met anyone like Martha Stewart and that their friendship is "a natural combination of love, peace, and harmony" (Credit: VH1)
In 2015, they reunited on Late Night with Seth Meyers and participated in the Roast of Justin Bieber. Stewart joked that, while she didn't smoke weed with Snoop prior to the event, she did "get high just sitting there" as the rapper laughed beside her.
In 2016, Martha and Snoop competed together on the game show $100,000 Pyramid, where the pair crushed the competition. Snoop quickly gave correct answers, such as "credenza", "wainscotting", and "sconce", showing that he had learned a thing or two from his homemaking friend.
In 2016, the pair finally debuted their reality show on VH1, Martha & Snoop's Potluck Party Challenge, giving viewers an inside look into their friendship. Though the pair have a 30-year age difference, Stewart is 79 while Snoop is 49, and wildly different backgrounds, Martha Stewart and Snoop Dogg go together like gin and juice.
Snoop Dogg is 30 years younger than his good friend Martha Stewart (Credit: VH1)
Though Stewart and Snoop's friendship has garnered a large amount of media attention, their relationship is not something that has been created purely for publicity.
In fact, the two spend time off-camera, having luncheons at Stewart's home and other activities. Despite this, there is still some contention whether or not Snoop and Stewart's friendship is genuine.
In 2018, Howard Stern asked Snoop in an interview if his friendship with Stewart was "real", to which Snoop simply replied, "That's my homegirl." Later, he told Today, "I love Martha — like, I love her, like for real," going on to say that she was like "the big sister I never had."
Stewart has publicly praised Snoop Dogg for his outspokenness, laid-back energy, and even his prowess in the kitchen, slyly admitting, "I actually like to watch him cook."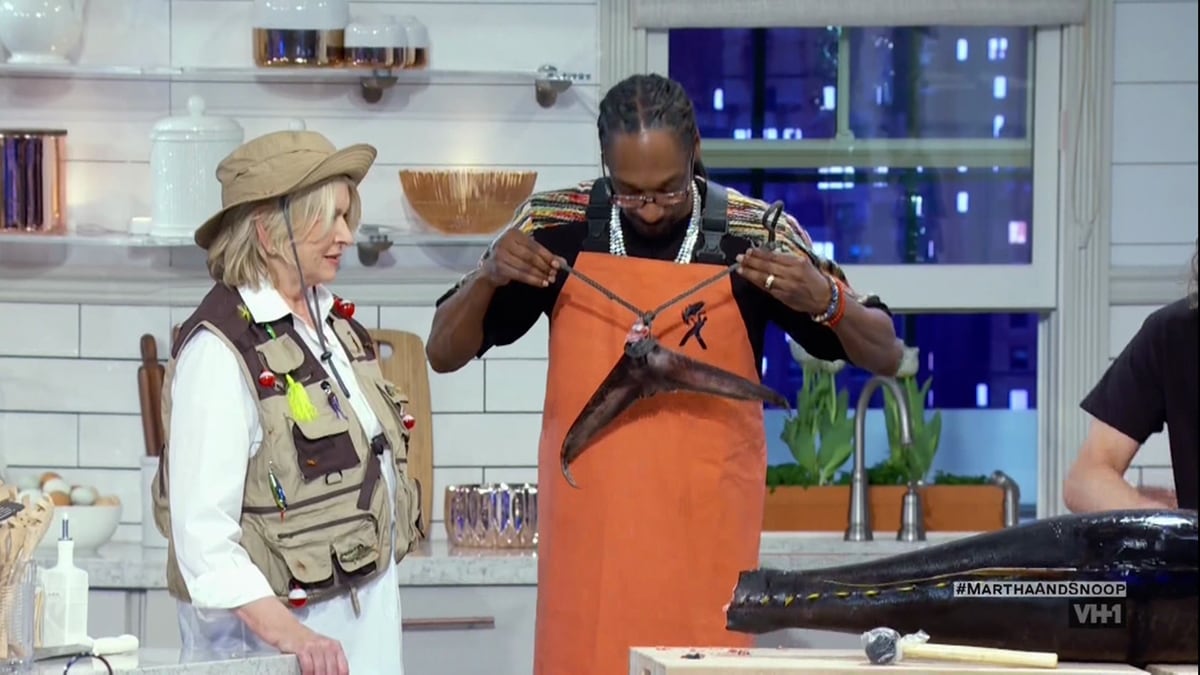 Martha Stewart and Snoop Dogg have pointed out they make quite a "weird couple" (Credit: VH1)
Snoop Dogg's laid-back and roll-with-the-punches lifestyle has helped Martha Stewart curb her controlling tendencies. Stewart, who is well regarded as being a bit of a control freak, meticulous in every aspect of her life, has stated that her friendship and work relationship with Snoop has helped her loosen up a bit.
"When you work with someone like Snoop, it's like having a sidekick," she said. Stewart explains that this is likely the reason why many television hosts have a right-hand man to play off of, saying, "It loosens them up and lets them be freer. Snoop is my freedom."
One could argue that Snoop's carefree attitude comes from his legendary habit of smoking marijuana. So how does a super square, clean-cut homemaker—save for her prison stint, which Stewart claimed gave her "street cred" in Snoop's eyes—feel about Snoop's smoking?
In an interview with The Hollywood Reporter, Stewart says that she doesn't indulge in the herb herself, but that she "isn't a prude about it". She claims to have a live and let live approach when it comes to smoking weed, stating: "So someone smokes marijuana? Big deal!"
"I'm quite egalitarian and liberal when it comes to stuff like that," Stewart said. Which, of course, has led us to believe that Snoop may have put her on the path to #LegalizeIt.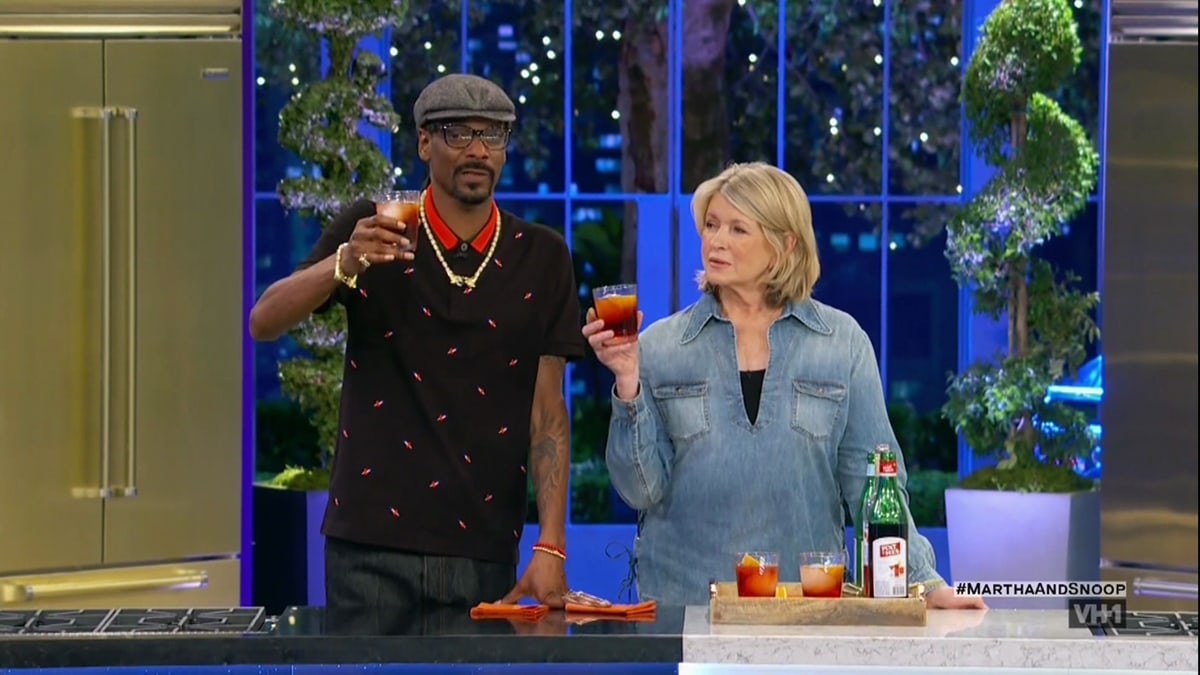 Martha Stewart and rap icon Snoop Dogg share recipes and host celebrity guests on "Martha & Snoop's Potluck Dinner Party" (Credit: VH1)
However, the pair doesn't really smoke together, as Stewart has claimed she isn't interested in the mind-altering effect of THC, the component in the drug that makes you high.
That being said, Stewart did learn about the healing properties of CBD, which is a component of marijuana that is intended to have calming and therapeutic effects. When Stewart hurt her toe after dropping a rock on it, Snoop gave her a CBD-based salve, which Stewart said, "I must tell you, my toe got better within two days."
Though their relationship seemed dubious at first, there is no denying that Martha Stewart and Snoop Dogg have managed to forge something genuine. Maybe Snoop can convince Martha to drop a verse on the next album.
Martha Stewart and Blake Lively attend the Martha Stewart American Made Summit on November 8, 2014, in New York City (Credit: Ivan Nikolov / WENN)
We've always thought full skirts take the cake when it comes to versatility. They can be dressed up or dressed down to make them work for different occasions.
Martha Stewart invited Blake Lively to chat about the Gossip Girl star's new lifestyle blog, Preserve (Credit: Ivan Nikolov / WENN)
They're also universally flattering and can look great on a variety of body sizes and shapes!
But did you know full skirts can look great on pregnant women too?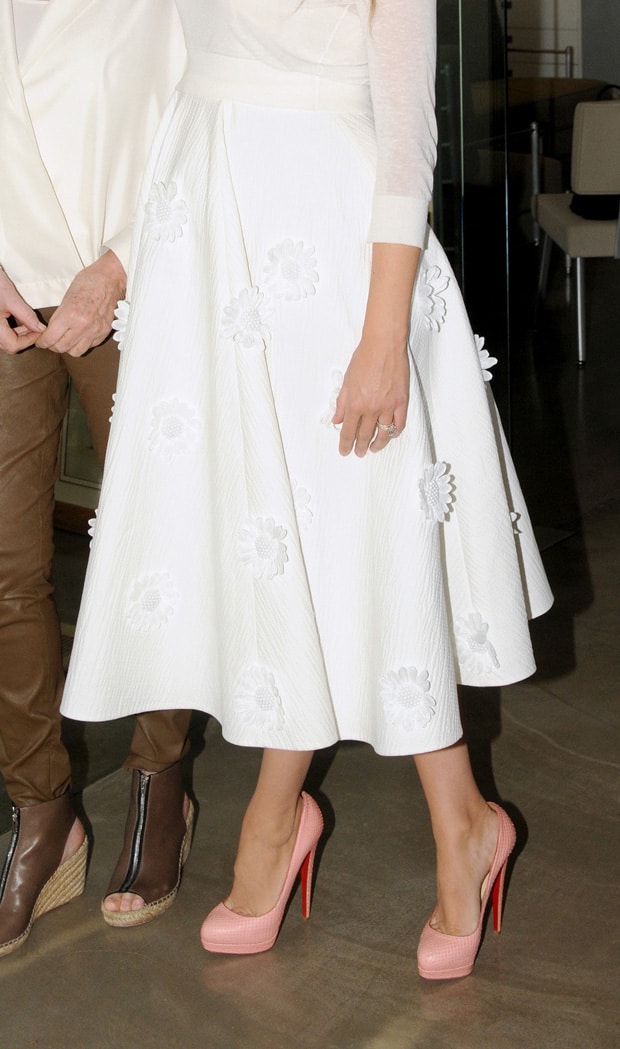 Blake Lively paired her full skirt with Christian Louboutin Alti pumps in pink (Credit: Ivan Nikolov / WENN)
Blake Lively proved that the full skirt is a vital piece in every girl's closet during her interview with Martha Stewart.
In November 2014, the then 27-year-old, who had just launched her new website, Preserve, chatted to the lifestyle mogul about business, fashion, and Ryan Reynolds.
Penn Badgley's ex-girlfriend donned a gorgeous floral appliqué-adorned white skirt from the Michael Kors S/S 2015 collection.
Blake Lively styled her white dress with an aqua beaded necklace (Credit: Ivan Nikolov / WENN)
She partnered it with what looks like a bustier top underneath a cropped fine-knit top which is also from American fashion designer Michael Kors.
The former 'Gossip Girl' actress accessorized with a statement necklace and a pair of Christian Louboutin 'Alti' pumps in pink.
She chatted amiably with Martha Stewart, despite the latter making bad remarks about Blake's new website a few months earlier.
Martha Stewart earlier criticized Blake Lively's attempt to follow in her footsteps by creating a lifestyle website (Credit: Ivan Nikolov / WENN)
In September 2015, The Shallows actress announced she was shutting down her website Preserve.
"We have an incredible team of people who do beautiful work, but we launched the site before it was ready, and it never caught up to its original mission: It's not making a difference in people's lives, whether superficially or in a meaningful way," Lively told Vogue in an interview.
"And that's the whole reason I started this company, not just to fluff myself, like, 'I'm a celebrity! People will care what I have to say!' It was so never meant to be that, and that kind of became the crutch because it was already up and already running, and it's hard to build a brand when you're running full steam ahead—how do you catch up?"
If Blake can look this gorgeous in a full skirt while pregnant, anyone can look just as smashing sans the baby bump, right? Her skirt isn't in stores but you can get your hands on these similar finds from Nordstrom and Farfetch:
1. Monique Lhuillier Emmy Tea Length Skirt, $2,700.00
2. KTZ Reflective Panel Skirt, $1,720.00
3. Burberry London Full Fil Coupe Skirt, $995.00
4. Topshop Rose Jacquard Midi Skirt, $44.99