Gossip Girl had it all: glitz, glamour, and super-rich kids with nothing but loose ends. Though the scandalous lives of Upper East Side teenagers gripped millions of viewers, there was even more drama going on behind the scenes.
While socialite Serena van der Woodsen and Dan "Lonely Boy" Humphrey dealt with all sorts of relationship issues, their real-life counterparts Blake Lively and Penn Badgley fell in love.
(L-R) Gossip Girl stars Ed Westwick, Penn Badgley, Blake Lively, Leighton Meester, and Chase Crawford arrive at the CW Television Critics Association Press Tour party at the Fountain Plaza at the Pacific Design Center on July 20, 2007, in West Hollywood, California (Credit: Adriana M. Barraza / WENN)
As Gossip Girl's popularity grew, Lively and Badgley's on and off-screen romance dominated the tabloids over the course of their three-year relationship. However, the couple tried to keep their personal lives private, never directly admitting the reasons behind their split.
So why did Blake Lively and Penn Badgley break up after three years together?
Despite Gossip Girl's penchant for soapy plot twists, Lively and Badgley's likely reasons for ending their relationship are not as dramatic as their on-screen characters. The most often speculated causes of their breakup are simple: privacy and pressure.
Blake Lively and Penn Badgley kissing on the film set for the television series Gossip Girl in Manhattan's Upper East Side in New York City on July 15, 2008 (Credit: WENN)
In 2008, nearing the end of Gossip Girl's first season, reports of a romance between the two began popping up in the tabloids. However, both Badgley and Lively initially denied these rumors, claiming they were just friends.
Lively claimed it was just a result of media sensationalism, telling People magazine, "Everybody always tries to dig into your personal life or create things that aren't there … It's silly."
Later that year, the two were caught canoodling in Mexico by paparazzi. After that, there was no denying that Lively and Badgley were, indeed, romantically involved.
It wasn't until 2017, when Vanity Fair published a Gossip Girl post-mortem piece featuring interviews with the cast (except Penn Badgley, who refused to be interviewed, which is very Dan of him), that fans were able to get a better understanding of Lively and Badgley's off-screen romance and eventual split.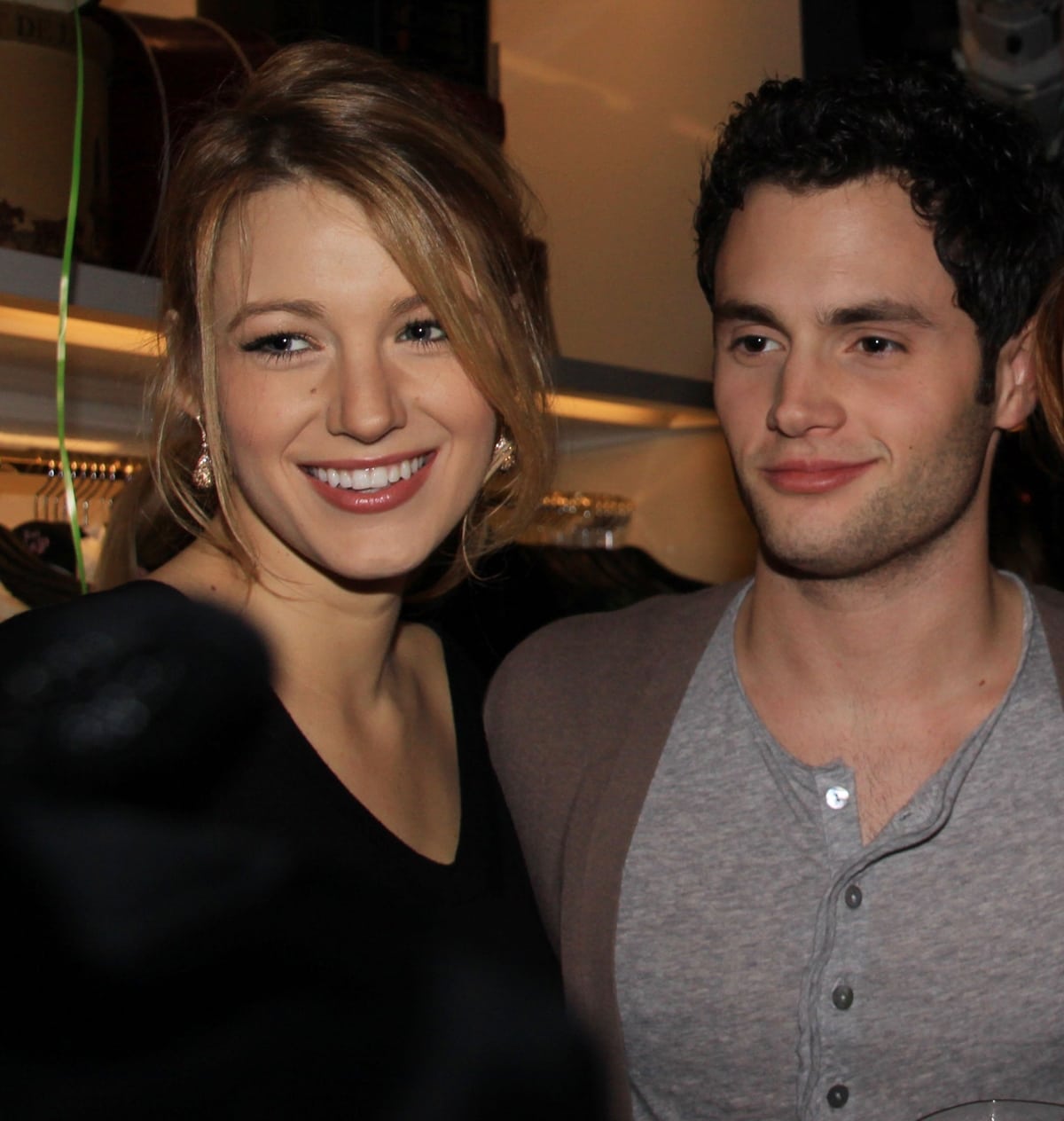 Blake Lively and her boyfriend Penn Badgley at the grand opening of Juicy Couture NYC's flagship store on June 11, 2008 (Credit: Flashpoint / WENN)
Lively explained that she valued her privacy, saying about her rise to stardom, "I'm actually a very shy person and the idea of losing my anonymity was one that was scary to me."
This, paired with Badgley's need for privacy, certainly could have created a strain on the couple's relationship—and a possible reason behind their initial reluctance to reveal their romance.
Additionally, Lively felt that revealing her and Badley's real-life love affair would put too much pressure on their relationship and personal lives.
"I remember there was one point where we were just afraid of how our personal lives overlapping our work life could be perceived by our bosses," Lively told Vanity Fair. "[But then] we were like, 'Oh no, that's exactly what they want.' They wanted us all to date. They wanted us all to wear the same clothes that we're wearing on the show. They wanted that because then it fed their whole narrative. People could buy into this world."
Lively and Badgley wanted to explore their romance at their own pace, without the media's prying eyes or the pressure to be the characters they played on television.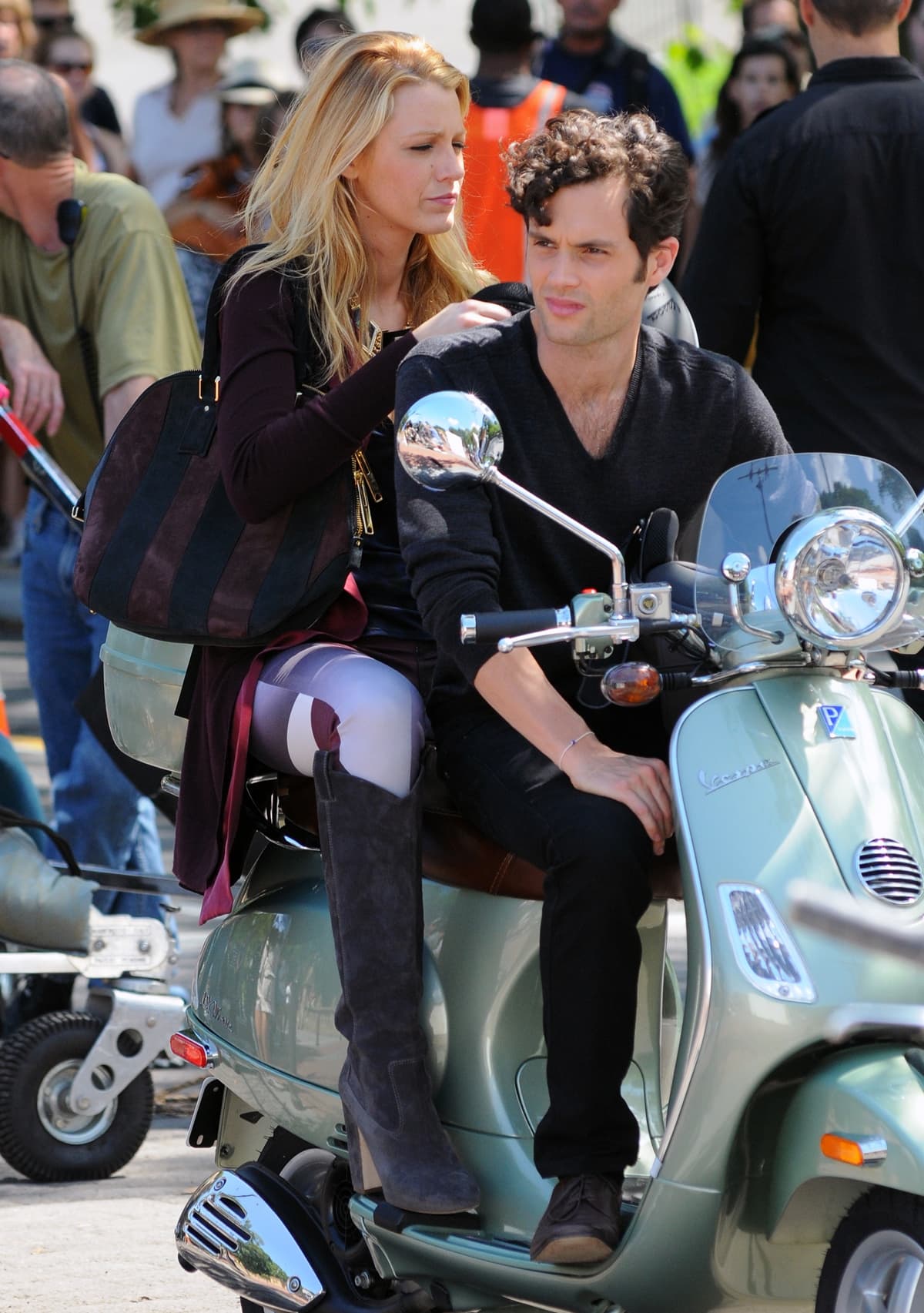 Blake Lively and Penn Badgley ride a Vespa scooter on the set of Gossip Girl in Central Park in New York City on August 28, 2012 (Credit: Ivan Nikolov / WENN)
Since their breakup, both members of the former couple have done well for themselves. Badgley has starred in the hit Netflix show, You, and has been married to Domino Kirke since 2017.
Lively is married to Deadpool actor Ryan Reynolds, has three children, and has starred in movies like The Shallows and The Age of Adaline.
Though Badgley and Lively were one of the mid-2000s most beloved couples, it just wasn't meant to be.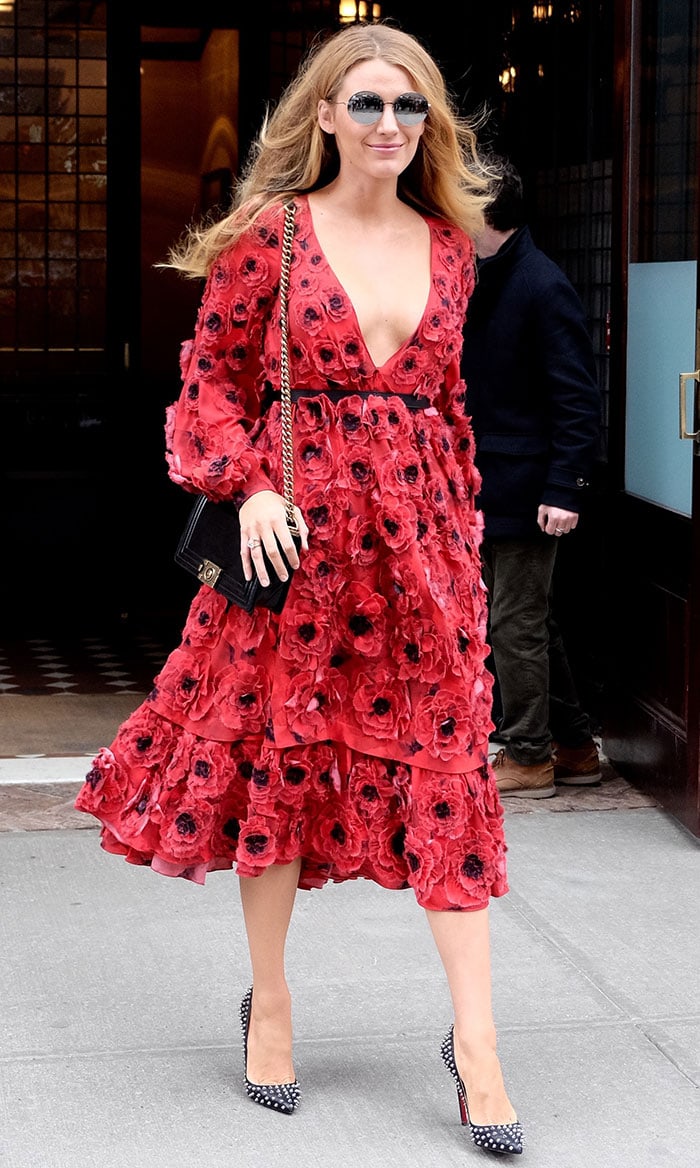 Blake Lively wears her hair down as she steps out in New York City on February 17, 2016 (Credit: TNYF / WENN)
In early 2016, Blake Lively had been killing the style game both on and off the red carpet.
In the middle of February, she gave us another Serena van der Woodsen-esque look while out shopping in New York City.
The then 28-year-old actress wowed in an enchanting red floral dress from American fashion designer Michael Kors' Spring 2016 collection.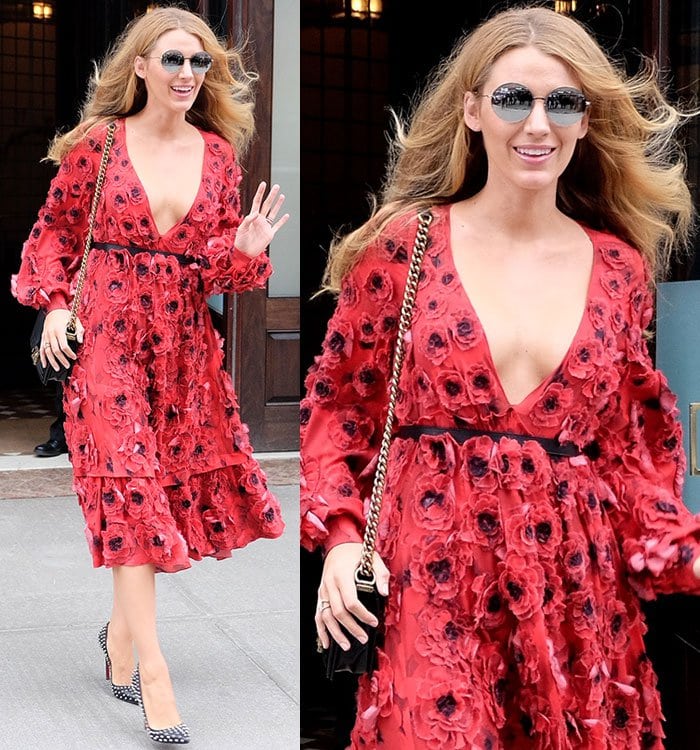 Blake Lively wears a floral Michael Kors dress while out in New York City (Credit: TNYF / WENN)
The romantic frock featured floral appliqués all over, a deep v-neckline that showed off her décolletage, long bell sleeves, an empire waistline with black belt detail, and a tiered skirt.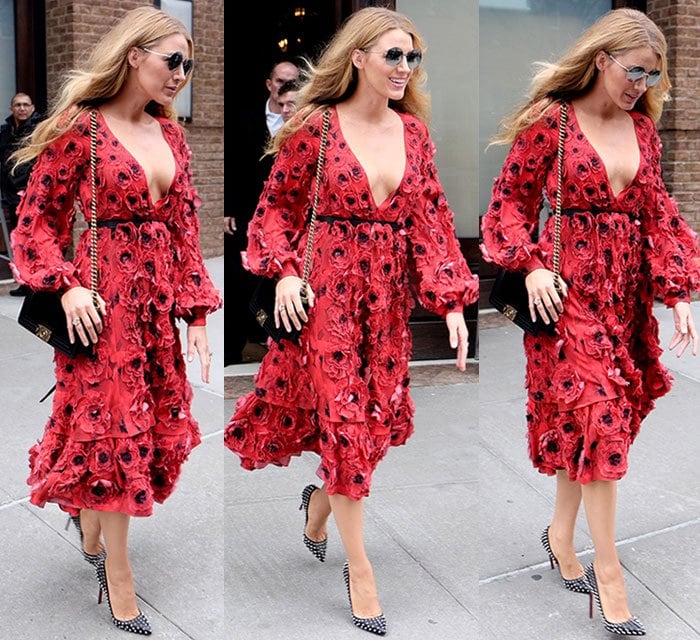 Blake Lively carries a Chanel purse and wears a large pair of sunglasses while strolling through New York City (Credit: TNYF / WENN)
Blake accessorized with a chain-strapped Chanel purse and a pair of spiked Christian Louboutin pumps.
She kept the rest of her look simple by casually wearing her hair down and sported minimal makeup.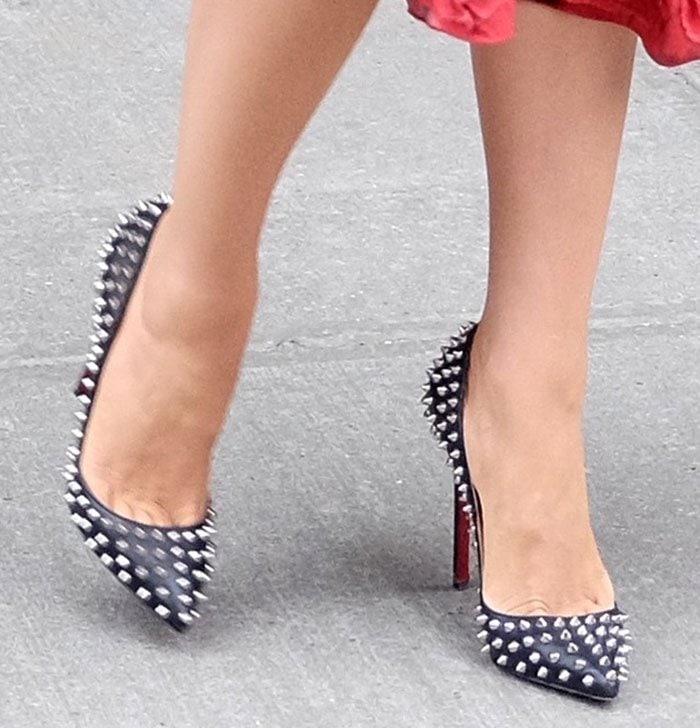 Blake Lively's feet in spiked Christian Louboutin pumps (Credit: TNYF / WENN)
Blake's popular "Pigalle Spike" pumps are from a previous Christian Louboutin collection. They are made of leather and feature silver-tone spiked studs, pointed toes, and about four-inch heels.
You can find a similar style from the same brand at Nordstrom and Mytheresa.
Black Christian Louboutin "Follies Spiked" Patent Pumps, $1,295