You know you love her, XOXO!
If you don't know superstar Kristen Bell's face, you may know her voice. The American actress has played numerous roles throughout the years — and while you may recognize her from "Forgetting Sarah Marshall" or "The Good Place" — odds are that, if you hear her voice but can't figure out why it sounds quite so familiar, it's because you grew up watching the original "Gossip Girl."
How did Kristen Bell end up getting the role as the iconic voiceover actress in the hit The CW show? Read on to find out.
Kristen Bell center parts her hair for the world premiere of "The Boss" held on March 29, 2016, in Westwood, Los Angeles (Credit: WENN)
Kristen — who is not related to Lake Bell — was born and raised in Huntington Woods, Michigan, to news director Tom Bell and nurse Lorelei, who separated when Kristen was only 2 years old.
After spending her childhood with divorced parents and step-siblings, Kristen relocated to New York, where she attended the University's School of Arts.
The now-41-year-old actress has featured in many television shows and movies and has bagged several nominations and a few awards for her roles and performance.
Some TV shows and movies she's featured in include "Veronica Mars," "Couples Retreat," "Frozen," "House of Lies," and "The Good Place," among many others.
Kristen is currently married to Dax Shepard, with whom she has two kids.
How Did Kristen Bell Get the Role of Gossip Girl's Voice?
Although the reboot of Gossip Girl airs on HBO Max, the original was on the CW. Incidentally, Kristen Bell was starring as the titular character Veronica Mars on the CW before it was canceled after filming in 2007.
After the abrupt cancellation, Bell called Dawn Ostroff, President of Entertainment at CW, saying "So I'm out of work. You have a V.O. [voiceover job] on this teenager show. Can I just do it?' And she was like, 'Yeah, let me pitch it!'"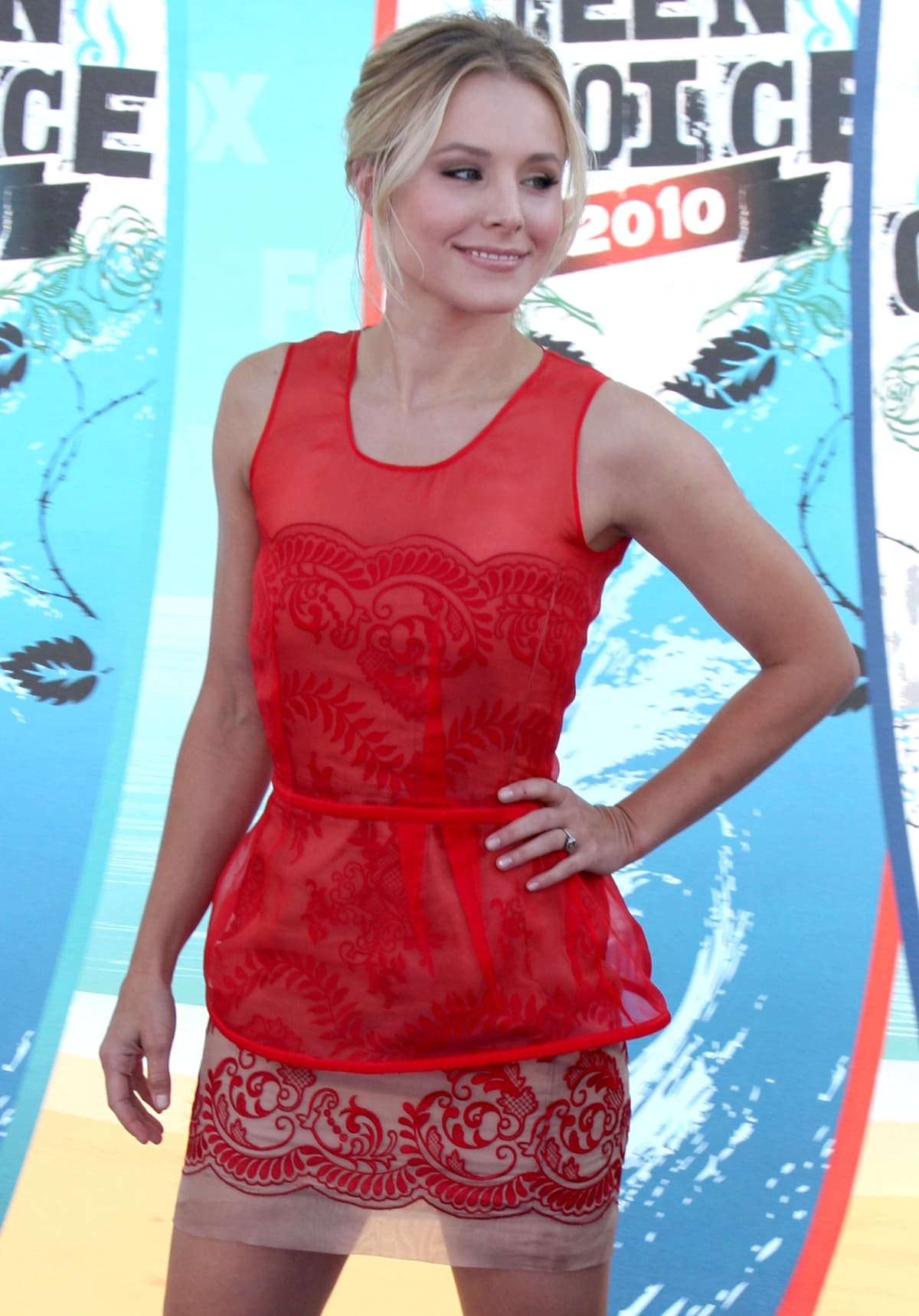 Kristen Bell in a red embroidered Stella McCartney Fall 2010 strapless dress at the Teen Choice Awards 2010 held at the Gibson Amphitheatre on August 8, 2010, in Universal City, California (Credit: Kathy Hutchins / Shutterstock)
Bell nailed the reading right out of the gate. "I just wanted to be the cattiest version of myself, and they never gave me a note. They were like, 'Just make it really catty. Go!'"
After that, viewers looked forward to hearing the opening catchphrase "Hey, Upper East Siders. Gossip Girl here," as well as her sign-off, "xoxo, Gossip Girl" every week for the initial six seasons.
How Old was Kristen Bell When She Started Gossip Girl?
Kristen Bell had just wrapped filming Veronica Mars, which followed the life of Bell as a teenage detective. Fans may have been surprised that by that time, Bell was already in her late 20s.
When she landed the role of the presumed high school blogger, "Gossip Girl," Kristen was 27 years old. Now that Gossip Girl has received a new generation of NYC elite, Bell is 41 years old.
Kristen Bell Almost Didn't Get 'Gossip Girl' Role
While it's now hard to imagine "Gossip Girl" without Kristen's voiceover of the titular character, did you know Kristen almost didn't get the role?
Jessica Szohr took to a "Gossip Girl" podcast episode to reveal that show creators Stephanie Savage and Jason Schwartz said the spectators during the test run for the "Pilot" episode didn't like Kristen's voiceover.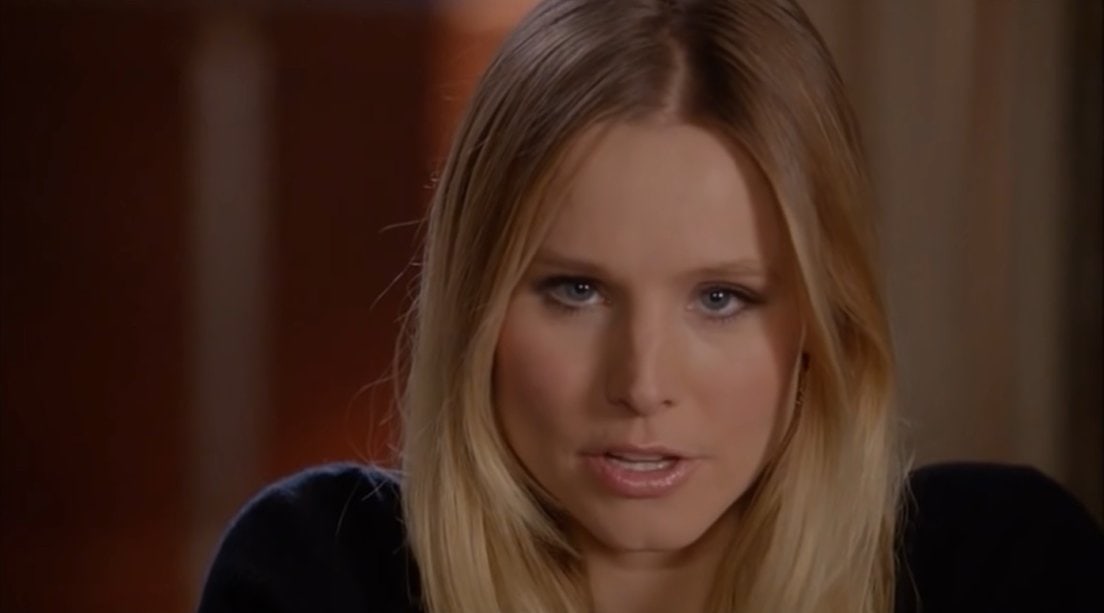 Kristen Bell voiced "Gossip Girl" in the infamous The CW TV show and even made a cameo in the series finale (Credit: The CW Television Network / YouTube)
Test run organizers provided the pilot episode audience with switches, and told audience members to raise the switch if they enjoyed the voiceover, and to reverse the switch if they lost interest.
"Interestingly, every time the Gossip Girl voice-over would kick in, it would drop," Jason told Jessica during the podcast episode. "People were into it, and then like, 'Who's this voice that's coming in and distracting me?' Do you lose the voice-over?"
"We can't," Jason said. "That's part of the show and we just have to ride with it."
"Gossip Girl" narrator Kristen Bell and Rachel Bilson cameo in "New York, I Love You XOXO," the series finale of "Gossip Girl" that aired on The CW Dec. 17, 2012, in the United States (Credit: The CW Television Network / YouTube)
In addition to the negative reaction from test spectators, there was another obstacle.
Kristen was already busy filming voiceovers for "Veronica Mars," a different series on The CW.
However, "Veronica Mars" ended up getting canceled, which meant Kristen could transition her voice work seamlessly over to "Gossip Girl."
Kristen Bell starred as the eponymous character in "Veronica Mars," an American teen noir mystery drama television series that aired from 2004 to 2007 (Credit: Christian Bertrand / Shutterstock)
Despite the initial criticism, Kristen's narration ended up making it into the series, and remained a series staple for all six seasons of the show, which aired on The CW from 2007 to 2012.
While Kristen was the only one who actually ended up making it to the recording studio, "Legally Blonde" actress Selma Blair and "Casper" star Christina Ricci were also considered for the role.
The audio version of "You Know You Love Me: A Gossip Girl Novel," which you can buy on Amazon, was narrated by Christina.
Now, a full decade following the conclusion of the series, we can't imagine "Gossip Girl" without Kristen's voiceover. What was once thought to be a distraction ended up becoming an iconic staple of the cult classic TV show.
How Much Did Kristen Bell Get Paid for Gossip Girl?
While the cast was dripping with jewels and couture onscreen, what kind of budget did the creators of Gossip Girl have to spare on Kristen Bell's offscreen persona? It's been estimated that Bell received $125,000 per episode.
That means she would have collected over $15 million for the show so far! However, bear in mind that Kristen most likely received a lower amount for the early seasons.
Kristen Bell and the "Gossip Girl" Reboot
Kristen's role on the original "Gossip Girl" series was so iconic, in fact, that producers of the new "Gossip Girl" reboot were clamoring to get her to sign on as part of the new series.
Both Stephanie and Jason told ET Magazine in July 2021 that getting Kristen onboard with the reboot wasn't hard at all.
Jordan Alexander, Zion Moreno and Emily Alyn Lind star in HBO Max's "Gossip Girl," the standalone sequel to The CW television series of the same name (Credit: Lev Radin / Shutterstock)
"It wasn't exactly a conversation," Jason said. "Josh and Stephanie were like, 'if she doesn't want to do it, let's all walk away.'"
"We went up to her, and she was like, 'Of course, I want to do it.' And then, yeah, there's no 'Gossip Girl' without Kristen. I mean, it's not just the voice. It's her whole being. Her soul comes through her voice, and you just feel like you're in the show. Without her, whenever there's like, a temp, it doesn't feel like the show, and then when you hear her voice, you're like, 'There it is.'"
Kristen told the same magazine back in November 2019 that she was anxious to dive back into the "Gossip Girl" world.
She talked a little bit about her "character" in the series, explaining that her narration voice is a "bitchy version" or her real-life voice, which she did to match the essence of the show.
Tavi Gevinson, who plays Kate Keller in the rebooted version of HBO's "Gossip Girl," says she couldn't imagine the show without Kristen Bell's iconic voiceover (Credit: Lev Radin / Shutterstock)
Nine years after the original "Gossip Girl" concluded with (spoilers) revealing Dan Humphrey as the titular character, the Upper East Side world remains iconic to a new generation.
The entire cast of the "Gossip Girl" reboot seems excited to have Kristen back on board.
"I mean, thank God, she's the iconic voiceover," said actress Tavi Gevinson, who plays Kate Keller in the reboot. "Like, any other voice would be like, 'Eh.'"
What Else has Kristen Bell Done Lately?
Kristen has been keeping quite busy since "Gossip Girl."
The sloth-loving actress picked up a leading role on NBC's "The Good Place," and made waves with her portrayal of Anna in the hit Disney animated movie "Frozen."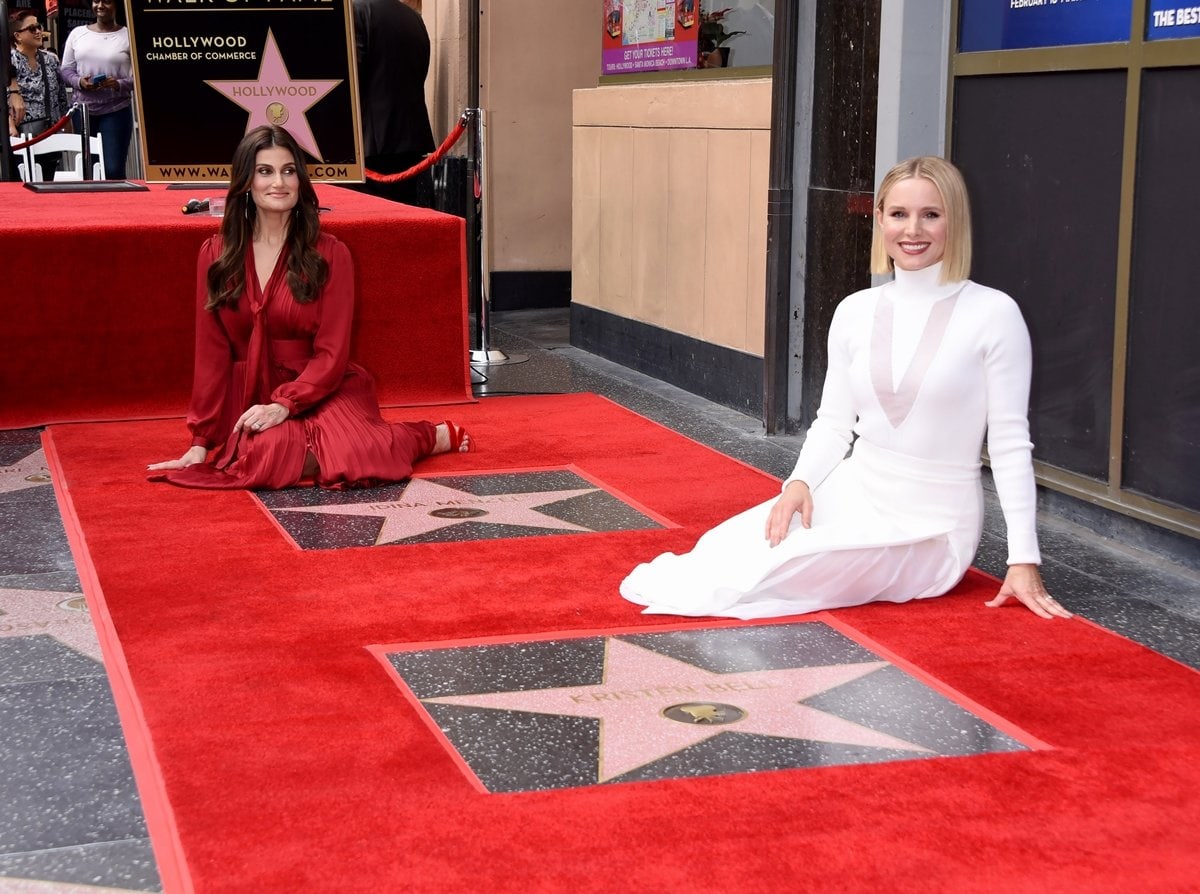 "Frozen" co-stars Idina Menzel and Kristen Bell sit next to their stars on the Hollywood Walk of Fame during an unveiling ceremony held Nov. 19, 2019 (Credit: Ga Fullner / Shutterstock)
She's also starred in a few more movies such as "Bad Moms," "The Lifeguard" and "When in Rome."
Off-screen, Kristen has been pretty vocal about social issues, such as vegetarianism.
Kristen hasn't eaten much meat since she was a kid, thanks to her inability to disassociate her pet dog from Sunday's burger dinner, and in 2016, she started passing her dietary preferences onto her daughter, Lincoln.
The "Burlesque" actress spent some time at the Los Angeles premiere of "The Boss" explaining that she even went so far as to make a zucchini cake for her daughter's third birthday.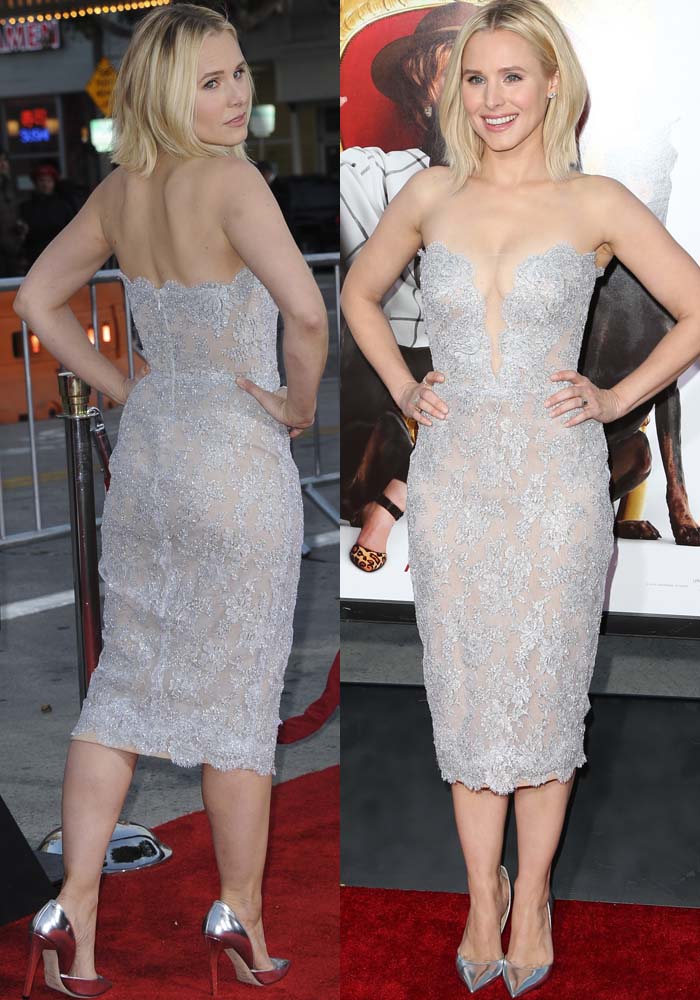 Kristen Bell shows off her assets in a plunging dress from Reem Acra (Credit: WENN)
At the premiere, Kristen wore a revealing dress by Reem Acra, which plunged at the chest down to her waistline.
The frock was sheer with a flesh-colored lining, and the actress dressed it up with jewelry from Neil Lane and Borgioni. She slipped her feet into a pair of silver Jimmy Choo "Darylin" d'Orsay pumps.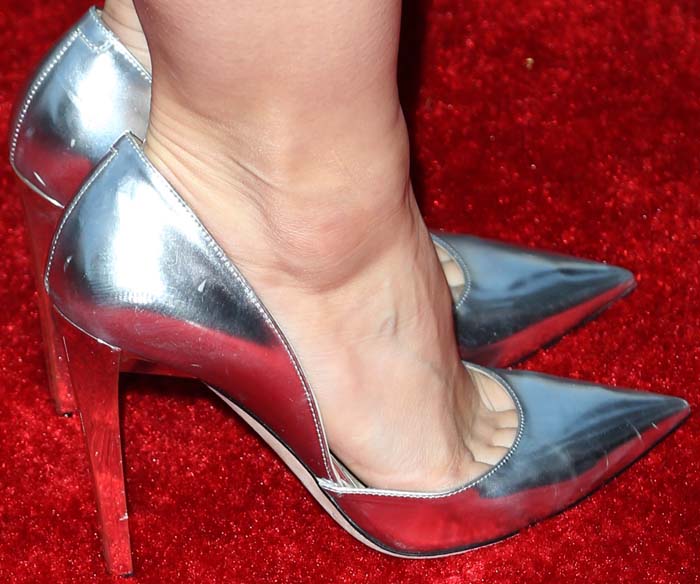 Kristen Bell's feet in silver Jimmy Choo pumps (Credit: WENN)
We think this is one of Kristen's most stunning looks yet. She successfully pulled off a revealing and sparkling dress without looking overdone and tacky at the same time.
We love how the outfit shows off Kristen's classier side.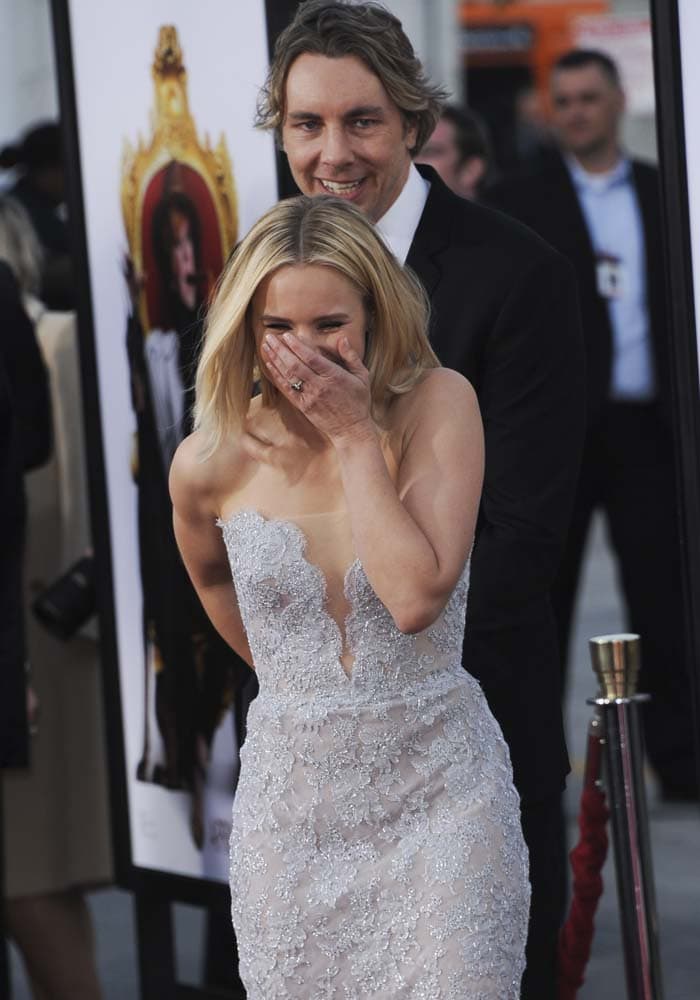 Kristen Bell and husband Dax Shepard share a giggle on the red carpet (Credit: WENN)
Kristen was fiercely defensive of her zucchini birthday cake, which she insisted she really made for her daughter's celebration. The actress told the interviewer not to judge her creation until he had tried it for himself.
You can order the Jimmy Choo "Darylin" pumps in a variety of gorgeous colors at Farfetch.
Jimmy Choo Mist Suede "Darylin" d'Orsay Pumps, $695
Jimmy Choo Red Suede and Patent Leather "Darylin" d'Orsay Pumps, $695
Jimmy Choo Navy Suede and Patent Leather "Darylin" d'Orsay Pumps, $695