Actors Kristen Bell and Dax Shepard prove that opposites really do attract. The native Michiganders couldn't be more different, with Dax, at 6'2", looming over Bell, standing at only 5'1".
Kristen Bell and Dax Shepard started dating after meeting at a dinner party in 2007 (Credit: WENN / Apega / Agent47)
While the couple light up Instagram and talk shows with their shenanigans, their relationship hasn't always been easy. Here's how this Hollywood power couple came to be and how they roll with the punches.
How Did Kristen Bell Get Her Start?
Kristen Bell was raised in a deeply Christian family just outside of Detroit. Her parents divorced when she was two and was raised by her mother, along with her two siblings.
She had an early interest in acting, and her mother supported her ambitions by helping her sign with an agent at age 12. She participated in school productions and scored some local modeling gigs before leaving for New York after high school graduation.
Kristen Bell attends the "Baby Mama" premiere at the Ziegfeld Theatre, during the 2008 Tribeca Film Festival on April 23, 2008, in New York City (Credit: WENN)
Just shy of graduation from New York University's Tisch School of the Arts, Kristen left college life to perform in a musical stage production of The Adventures of Tom Sawyer in 2001.
By 2002, however, Bell relocated to Los Angeles in hopes of making the leap from stage to screen.
Dax Shepard Facts
| What is Dax Shepard's net worth? | He is an American actor, comedian, writer, podcaster, and director with an estimated net worth of $40 million (combined with his wife). |
| --- | --- |
| Full Name: | Dax Randall Shepard |
| Born: | January 2, 1975, in Milford, Milford Charter Township, MI |
| Kids: | Delta Bell Shepard and Lincoln Bell Shepard |
| Wife: | He met actress Kristen Bell at the birthday party of a mutual friend and they married at the Beverly Hills County Clerk's Office on October 17, 2013. |
| Feet/Shoe Size: | 10 (US) |
| Height: | 6ft 2 ½ (189.2 cm) |
| Nationality: | American |
| What cars does Dax Shepard own? | He owns numerous cars and motorcycles and is constantly buying more. His favorites include a '67 Lincoln Continental and a '94 Buick Roadmaster. |
| Where did Dax Shepard learn to drive? | He learned to drive in Michigan. His first car was a '76 Pontiac Catalina and his second car an '84 Mustang. |
What Television Programs Has Kristen Bell Starred In?
Despite testing for several shows, she didn't gain traction in Hollywood until her role in Gracie's Choice, a Lifetime television film in 2004.
She also appeared on HBO's Deadwood for several episodes before capturing the titular role in Veronica Mars.
Kristen Bell and Christine Lakin promoting their made-for-television musical comedy film Reefer Madness: The Movie Musical during the Showtime TCA Press Tour Party in Universal City on December 1, 2005 (Credit: Nikki Nelson / WENN)
Fans would also recognize her voice each week on Gossip Girl as the mysterious narrator with all the inside scoop. She eventually made a cameo as herself on the final episode of the long-running show.
Kristen Bell's Movie Career
One of Bell's first notable roles was as Sarah Marshall in Jason Segal's Forgetting Sarah Marshall in 2008. The comedy served as a springboard in her career, as she continued to score roles in both movies and TV in the coming years.
Perhaps the most successful project that Kristen has done is contributing her voice to Anna in Disney's Frozen franchise. Her portrayal of the funny and awkward protagonist broke the mold of pristine Disney princesses forever.
Who Has Kristen Bell Dated?
Being as funny, talented, and beautiful as Kristen Bell is, it's no wonder she would have equally talented men on her arm.
While still at NYU, Kristen Bell was in a brief relationship of about a year with fellow student Matthew Morrison. Morrison is best known for his work on Broadway and Off-Broadway and for his role on Fox's Glee.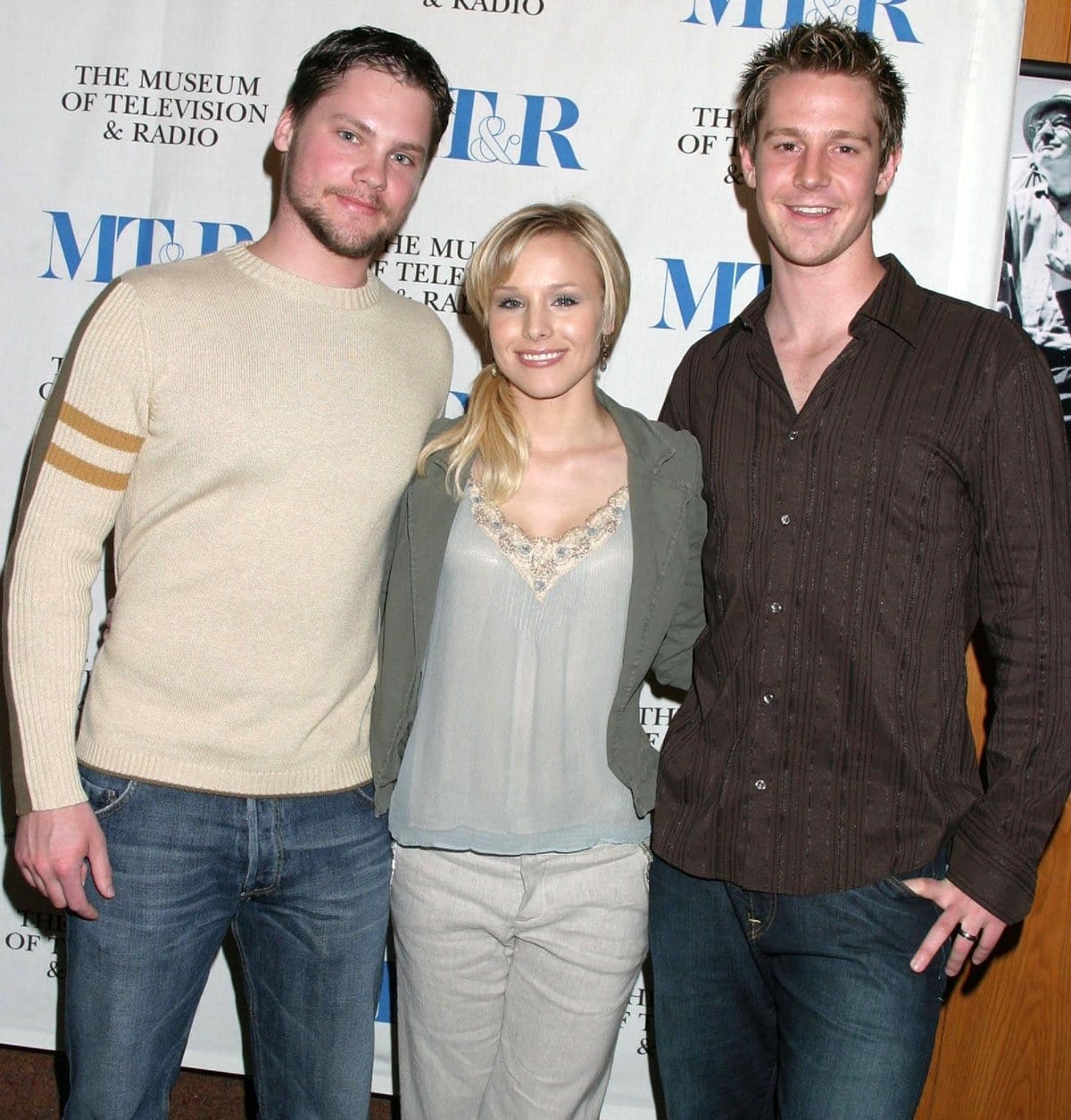 Kristen Bell promoting her television show Veronica Mars with her co-stars Teddy Dunn and Jason Dohring during a panel discussion at The Paley Center for Media in Los Angeles on March 14, 2005 (Credit: Nikki Nelson / WENN)
After moving to Los Angeles, Kristen dated producer Kevin Mann for about five years. The two were engaged briefly until they broke it off in late 2007, the same year Kristen met Dax Shepard.
How Did Kristen Bell Meet Dax Shepard?
The two actors met at a dinner party in 2007, but they didn't appear on each other's romantic radar until weeks later.
In fact, Shepard admitted that he was skeptical of Bell and her friends, who seemed a little too happy and were laughing a little too loud that night.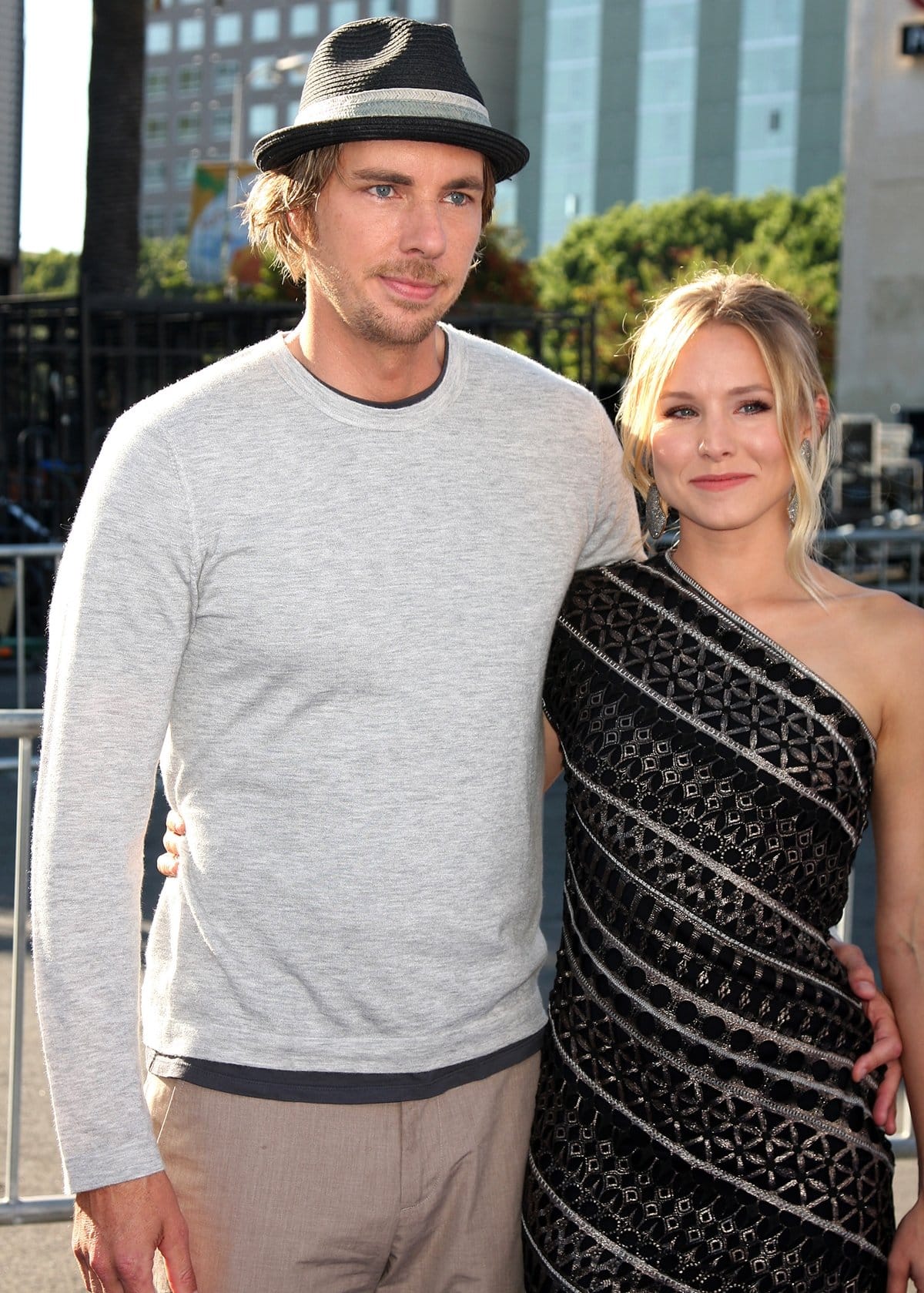 Kristen Bell in an Etro dress with her fiancé Dax Shepard at Do Something Awards held at the Hollywood Palladium on August 14, 2011 (Credit: Nikki Nelson / WENN)
A couple of weeks later, the couple met again at a Detroit Red Wings game. The Michigan natives bonded over hockey… and chewing gum?
The two report that Dax asked her if she had any more gum. She held up the piece she was already chewing, which he promptly ripped in half, before returning it to her.
Dax was able to get Bell's number through a mutual friend in the following days, and the rest is history.
Kristen Bell and Dax Shepard's Relationship
In the months following the fateful hockey game, Bell and Shepard dated, although when it was clear that Kristen was seeking a deeper commitment. Dax broke off their relationship, saying that he wasn't prepared to date exclusively.
"I, like, liquefied and fell to the ground, but I felt incredibly respected that he had the balls to tell me we weren't in the same place," Bell told PopSugar about the split.
Kristen Bell in a Jenny Packham dress with her much taller boyfriend Dax Shepard during Spike TV's 2012 Guys Choice Awards held at Sony Pictures Studios on June 2, 2012, in Culver City, California
It was only days later when Shepard called Kristen to apologize, realizing that she was irreplaceable and truly the woman for him.
Shepard later proposed in 2009; however, the couple decided to put off marriage until it was legal for all individuals, including same-sex couples, to be wed in the state of California. The wait, however, did not deter Kristen and Dax from starting a family in March of 2013.
Who Is Dax Shepard?
Actor Dax Shepard is best known for his sharp and sarcastic comedic roles in films and television.
He was raised in Michigan by his mother, who has been married a total of four times. "My first stepdad was physically abusive and beat her up in front of us. And it was gnarly," he said on the Tim Ferris Show in 2020.
She traveled during much of Dax's teenage years, bringing him with her to different racetracks, hosting media events. Perhaps she's where he gets his interest in cars and motorsports.
Dax Shepard during the 2006 Teen Choice Awards ceremony was held on August 20, 2006, at the Gibson Amphitheatre, Universal City, California (Credit: Nikki Nelson / WENN)
"It took me 12 years to tell anyone," he said on The Jason Ellis Show in 2016 about being molested as a child by an 18-year-old neighbor.
"And then all that time, I was like, a) 'It's my fault,' as generic as that is, I'm like, 'It's my fault, and I'm gay, I must have manifested this because I'm secretly gay.' I had all these insane thoughts for 11 years or 12 years."
Dax Shepard claims his height is 6ft 2 ½ (189.2 cm) (Credit: Twitter)
Shepard got his start in 1996 by auditioning to be a part of The Groundlings comedy troupe in Los Angeles while attending classes at UCLA. He performed alongside talent like Melissa McCarthy and Nathaniel Faxton while taking classes at The Groundlings.
What Has Dax Shepard Been In?
Dax thrives in comedic roles, including his parts in films like Without a Paddle, Employee of the Month, Idiocracy, and ChiPs.
He's also done plenty of television roles, starting with his involvement in Ashton Kutcher's hidden camera comedy show, Punk'd.
Dax Shepard's Relationships
When Kristen Bell and Dax Shepard first started dating, the two had not yet committed to an exclusive relationship. Dax was still openly dating other women and was considered by some as a playboy.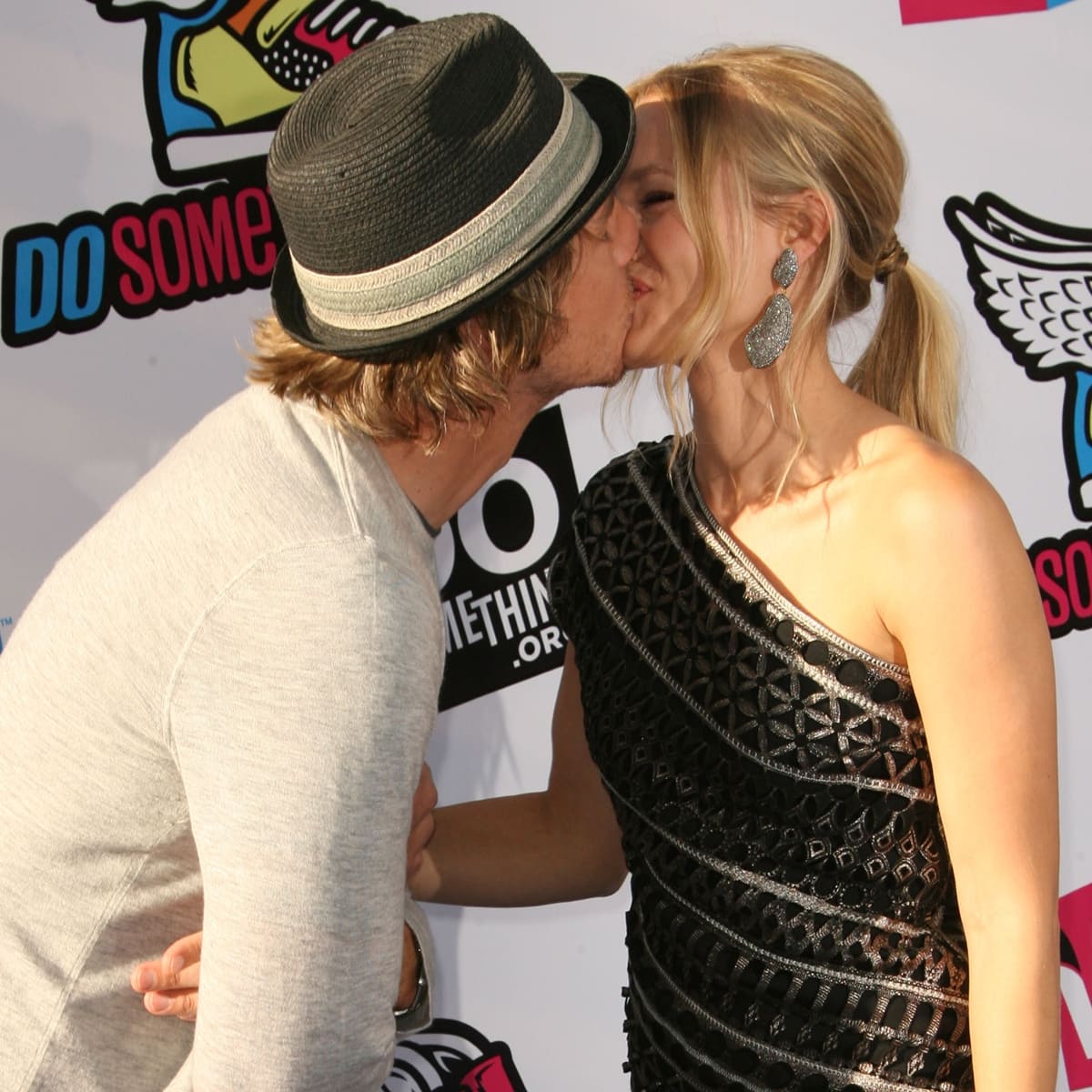 Kristen Bell and Dax Shepard have been married since 2013 and met for the first time at a dinner party in 2007 (Credit: Adriana M. Barraza / WENN)
Shepard has been linked to several actresses over the years. Ladies like Kate Hudson, Ione Skye, Tara Lipinski, and Briegh Morrison have all been seen with Dax Shepard.
What Have Both Kristen Bell and Dax Shepard Been In?
Both Bell and Shepard have acted together in several projects. When in Rome (2010) was their first movie together. Shepard wrote, acted in, produced, and directed the movie CHiPs (2017), based on the hit TV show.
Bell was Dax's ex-wife in the flick, which he originally hadn't considered her for, claiming she was just "too damn likable."
They've since appeared frequently together on talk shows and in commercials. An appearance on The Ellen Show led to the inception of their own game show, Family Game Fight. On the show, Bell and Shepard compete alongside two families in different challenges in order to win cash and prizes.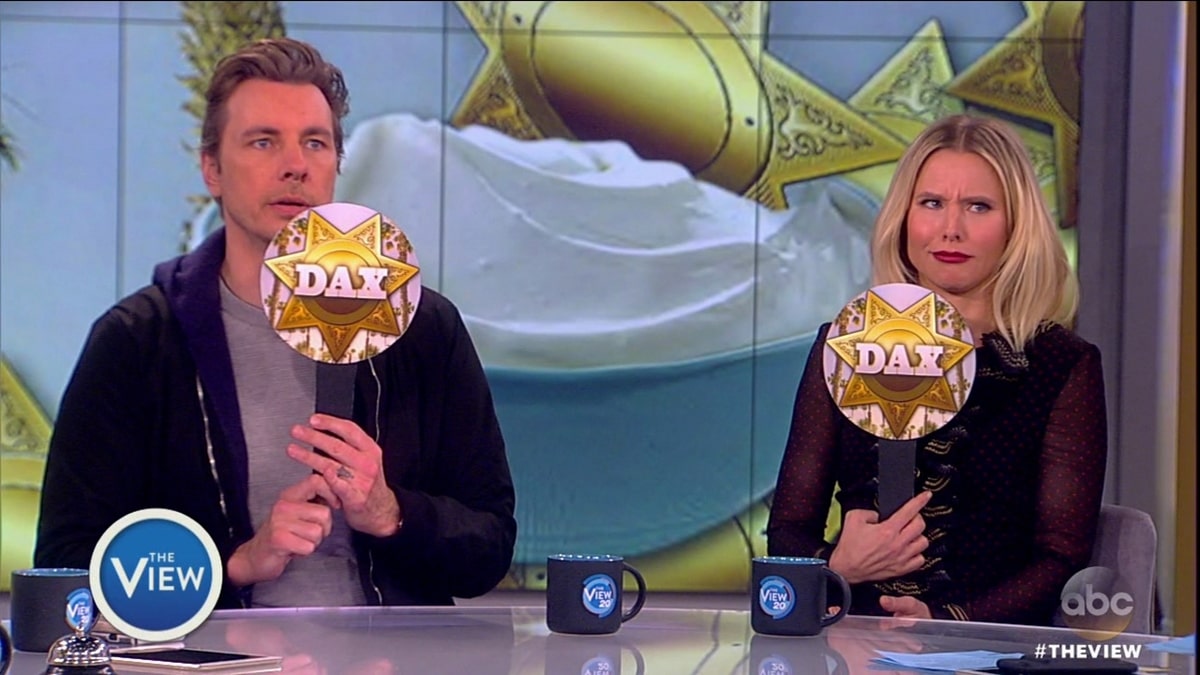 Kristen Bell and Dax Shepard promote the movie CHiPs during an appearance on ABC's 'The View' on March 23, 2017 (Credit: ABC / WENN)
Kristen and Dax describe themselves as highly competitive in their own family game nights at home, which can result in fights and therapy appointments when the rules of engagement are not discussed beforehand!
Dax Shepard's Struggle With Substance Abuse
Dax Shepard has struggled with substance addiction, starting around age 18. Over the years, Shepard has revealed that he's reached for vices like marijuana, cocaine, prescription painkillers, and alcohol.
His addiction has affected not only his career but also his relationships, including his relationship with Kristen Bell.
After 16 years of sobriety, Dax admitted to relapsing on his podcast in 2020. Following a recent motorcycle accident, he had sought extra opioids in conjunction with his prescribed medication.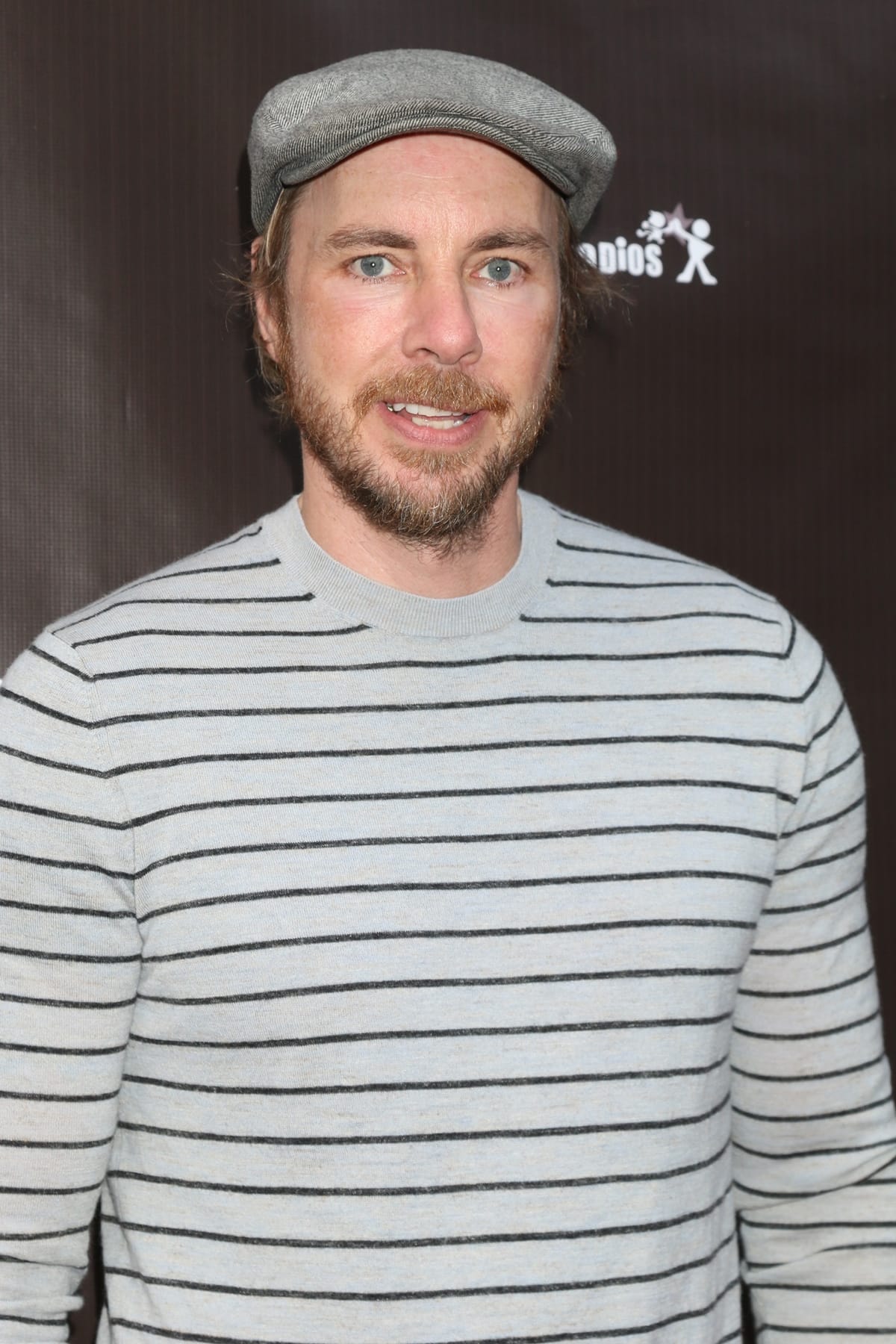 Dax Shepard started using drugs and drinking alcohol in high school and relapsed in 2020 after 16 years of sobriety (Credit: Nicky Nelson / WENN)
At the time of the podcast, he was seven days sober. The couple have spoken candidly about the event since on different programs.
Dax went so far as to stock testing kits at their home, instructing Kristen to test him, without judgment, if she felt the least bit suspicious that he was using.
"You can drug-test me whenever you want. I'm going to buy some tests. I'm going to have them in the house," she recalled in an interview with Self of what Shepard told her. "If you ever feel nervous, I want you to have access to this and I'll do it, no questions asked."
Kristen Bell and Dax Shepard Talk Therapy
The two actors have been fairly open about their relationship and the work they put into it. They place a lot of value on their couple's and individual therapy sessions to keep things moving at full tilt. They also have committed to a lakeside Michigan retreat each year to reconnect.
Kristen Bell is known as a strong mental health advocate, suffering from anxiety and depression herself. She was tipped off by her mother Lorelei early in life that the afflictions run in their family and how to recognize the symptoms.
Kristen Bell and Dax Shepard on Social Media
You can find both Bell and Shepard floating around the Twittersphere and on Instagram, but one of their most-watched posts was on a YouTube video following a trip to Africa in 2012.
The couple insisted that no one wants to see vacation photos, so they instead produced a video featuring Toto's 1982 earworm, "Africa." Kristen and Dax lip-sync the song throughout their trip.
It's clear it was a memorable experience for both- and probably everyone watching. Even Toto gave the video a big thumbs up!
Kristen Bell's Infamous Naked Yoga Picture
Their debauchery followed them to Instagram this year, when husband Shepard shared a candid, (mostly) naked picture of Kristen on Mother's Day 2021.
The picture in question shows Kristen Bell wearing nothing but a pair of patterned compression socks on their outdoor patio, in a three-legged dog pose- and in pretty fantastic form, by the way!
View this post on Instagram
"It's the hamstrings for me," one Instagram user shared. Others showed their support by calling her "an icon" and "a legend." Deep in the comments, one user recognized a tiny detail many others had overlooked: a shout-out to the Biden 2020 campaign.
Bell didn't seem to be mad about the post, resharing it on her Instagram stories. She followed it up on her Instagram feed with well wishes, accompanied by an equally-puzzling photo of her posing with her morning coffee alongside a life-size muppet.
What Are Kristen Bell and Dax Shepard Doing Now?
Both Kristen, now 41, and Dax, age 46, are enjoying family life. Their daughters Lincoln and Delta are 6- and 8-years old, respectively, and keeping their parents on their toes.
The girls are starting to take after their parents' fondness of family game night, although Kristen says their daughters are still "horrible" at Uno.
The couple are still busy with Family Game Fight on NBC while still making time for philanthropy and other professional projects.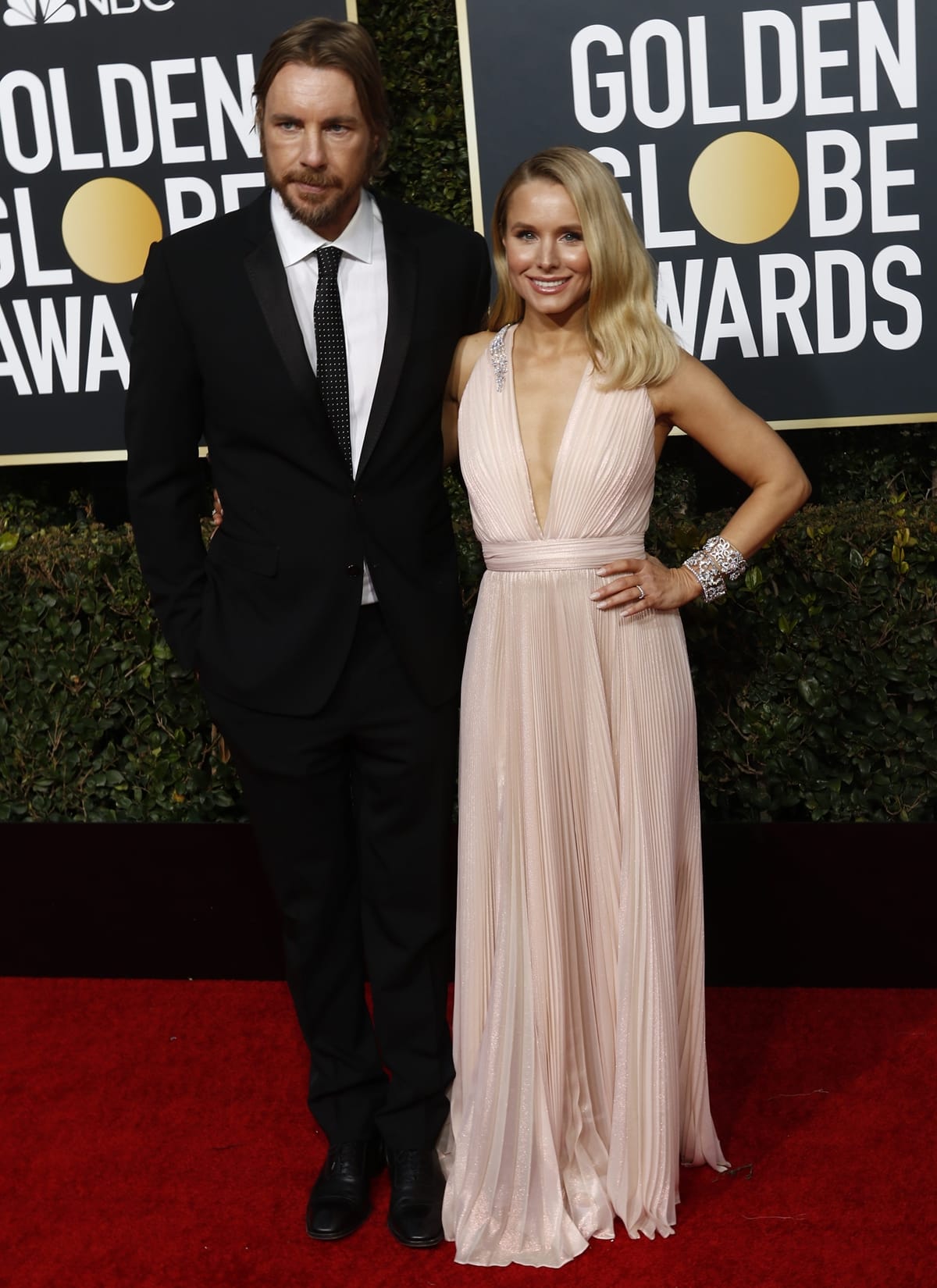 Kristen Bell in a Zuhair Murad dress and her husband Dax Shepard in Dolce & Gabbana on the red carpet at the 2019 Golden Globe Awards on January 6, 2019, at the Beverly Hilton Hotel in Beverly Hills, California (Credit: WENN)
In recent years, they launched Hello Bello, a line of sustainable and vegetarian products together. Kristen also has launched Happy Dance, a line of parent-friendly CBD products.
Both Kristen and Dax have a net worth of around $40 million each, meaning that they both can pursue passion projects at their leisure.
Dax is the host of the Armchair Expert podcast and has taken up transcendental meditation in recent years.
Most of all, they're investing in themselves and their relationship following a rough go during the pandemic. It seems we can all use some self-love and healing these days, and these two may be just the couple to show us the way.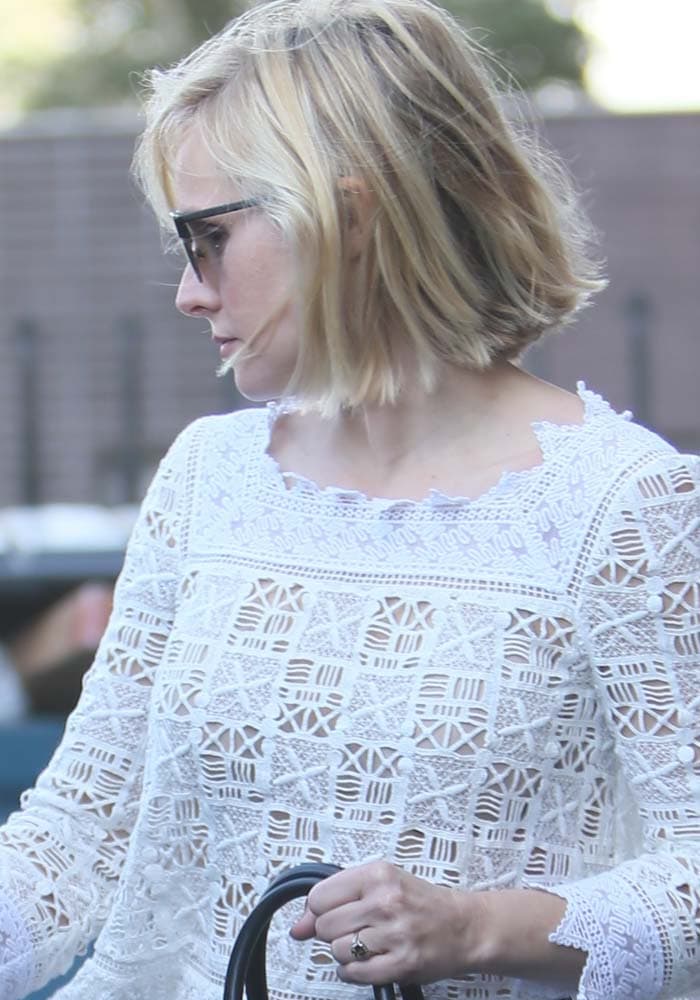 Kristen Bell leaves a hair salon in Los Angeles on March 22, 2016 (Credit: Michael Wright / WENN)
Kristen Bell is probably one of the most lovable figures in Hollywood. Remember the time she was bawling her eyes out over her first interaction with a sloth? But, when it comes to protecting her private life, the actress can be pretty cold.
In March 2016, Kristen wore an embroidered see-through white top paired with flared cutoff jeans while trying to escape the paparazzi by leaving through the back door of a salon in Los Angeles.
Kirsten Bell wears an embroidered white top as she leaves a Los Angeles salon (Credit: Michael Wright / WENN)
The then 35-year-old actress wore her casual combination with a Saint Laurent bag and a pair of Isabel Marant's "Jaeryn" eyelet mid-heel gladiator leather sandals.
Kristen didn't even bother to turn her head to give the paparazzi their shot and proceeded to enter the passenger seat of an awaiting car.
Kristen Bell's feet in Isabel Marant gladiator sandals (Credit: Michael Wright / WENN)
Two days later, Kristen arrived at ABC Studios for an appearance on "Jimmy Kimmel Live!"
During the walk to the studio, a staff member worked to keep her out of view of the cameras. Kristen appeared to have her daughter in her arms, which may be why she didn't bother to give the paparazzi the time of day.
Even if we didn't get to see much of the well-loved actress, we did see her gorgeous sandals.
You can order Isabel Marant's "Jaeryn" sandals in black or brown at Net-A-Porter and Nordstrom.
Isabel Marant Jaeryn Eyelet Leather Sandals, $720