If there is anything to be known about the American actress Kristen Bell's personal life it is that she is absolutely in love with sloths! That's right, the animal sloths!
They are her favorite animal that she loves to the point that even Bell herself believes she is obsessed with them. In 2012, the actress went on The Ellen Show to talk about her 31st birthday and how her husband fellow actor Dax Shepard surprised her with a sloth.
How Kristen Bell reacted when Dax Shepard introduced her to a sloth for the first time (Credit: Ellen)
In the interview, Bell starts out by prefacing that she is often a very emotional person. Bell is quoted, "first thing you should know about me is if I'm not between a three and a seven on the emotional scale, I'm crying. I'm crying if I'm too sad, I'm crying if I'm too excited."
She continued on to explain that she had planned a birthday party at her house with friends and family only to have the biggest surprise of her life.
Before the party began, the doorbell rang and her husband Dax Shepard advised her to get their dogs and go to another room. She tells Ellen Lee DeGeneres that she immediately sensed a sloth was there purely based on a gut feeling.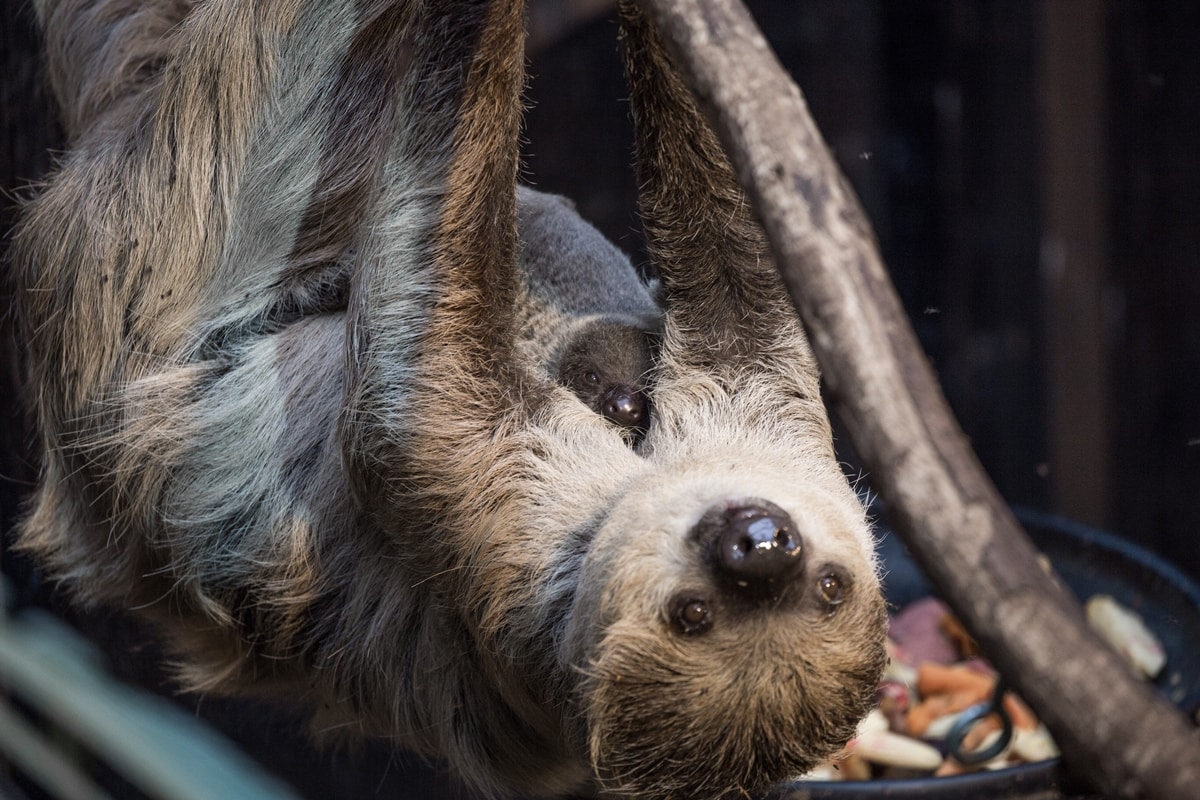 Marilyn the sloth takes care of an adorable baby sloth at ZSL London Zoo (Credit: WENN)
And from that gut feeling, she became so overwhelmed with excitement and joy that she had a panic attack and ended up in the fetal position in her room trying to process the sloth's potential arrival.
Shepard came into the room with a camera expecting to film Bell super excited to savor the moment for their memories only to find his partner crying hysterically.
In the video clip provided by the couple, Shepard becomes worried within seconds after seeing his partner crying but quickly finds out that she is crying because she is so excited at the prospect of potentially seeing a sloth.
She said on the show that, "my entire life had been waiting for this moment where I would get to interact (I'm serious) with a sloth!" Despite the audience laughing, Bell insists that she was being completely serious about her uncontrollable excitement for playing with a sloth.
Bell clarifies that although the video clip is very embarrassing, it is also very funny, which is yet another reason why fans love Bell's down-to-earth and relatable personality.
Her husband Dax Shepard later was a guest on The Ellen Show in 2014 and talked about his side of the story to Bell's famous sloth meltdown. Prior to Bell's sloth incident, sloths were very difficult to come by according to Shepard.
However, Shepard jokingly said that after the video was released, "[it] started a sloth industry." He continued on to explain how difficult it was to actually hire a sloth to attend his wife's birthday party at all because sloths were not yet popular at the time.
The actor revealed to DeGeneres that, "at that time, it was nearly impossible to procure a sloth. They're not on every corner like they are today!" But of course, it was all worth it to see how happy his wife was to celebrate her birthday with her favorite animal.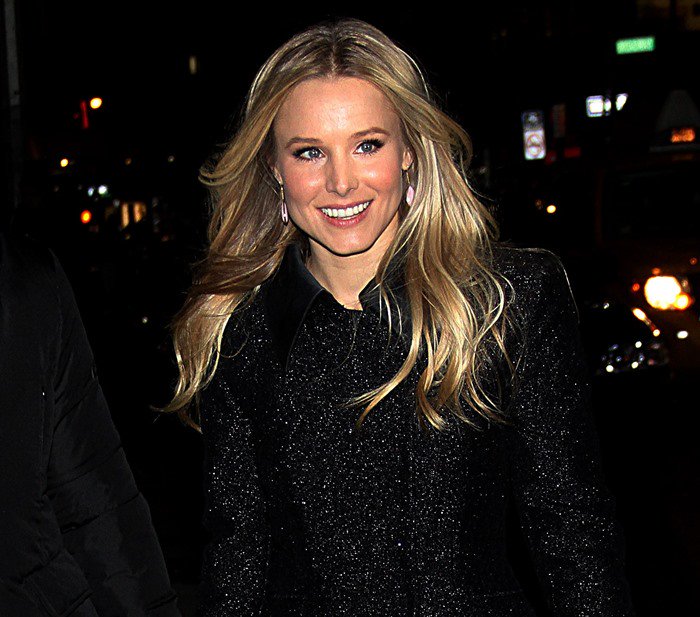 Kristen Bell arrives at the Ed Sullivan Theater to appear on The Late Show with David Letterman in New York City on January 5, 2012 (Credit: HRC / WENN)
In January 2012, Kristen Bell was spotted in a pair of pointy-toe pumps from Casadei when arriving at the Late Show with David Letterman to promote her new show 'House of Lies'.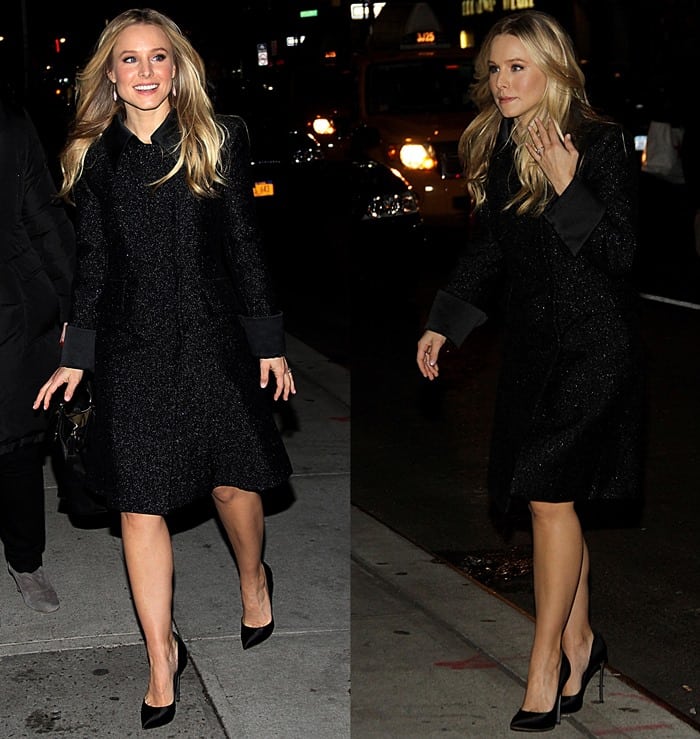 Kristen Bell styled a shiny black trench coat with high heel Casadei shoes (Credit: HRC / WENN)
I love classic black pumps, and Kristen styled them perfectly with a shiny black trench coat. Her heels are from Casadei's Fall 2011 collection, and you can get them in black patent and red suede at Amazon.
Farfetch also has the black patent version as well as a few others. So, what do you think of these pointy toe pumps from Casadei?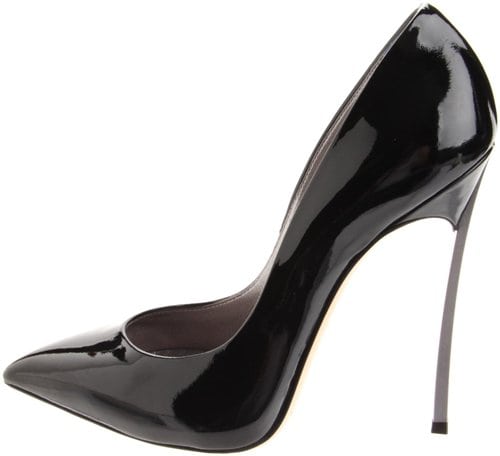 Casadei Fall 2011 Pumps, $524.88