In 2010, the American actress Kristen Bell played a supporting role in the American backstage musical Burlesque, which starred A-list celebrities Cher and Christina Aguilera.
In this musical, Christina Aguilera plays an incredibly talented singer named Ali from a small town who dreams of making it big in Los Angeles. Aguilera's character works as a cocktail waitress in a burlesque lounge owned by Tess, played by Cher.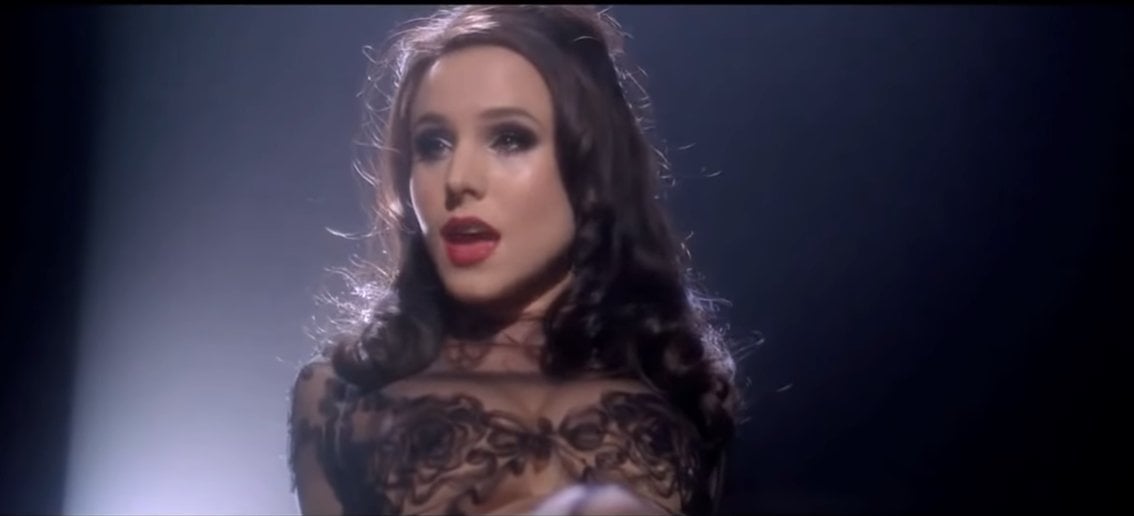 Long John Blues was performed by Kirsten Bell and sang by Megan Mullally in the 2010 American backstage musical film Burlesque (Credit: Sony Pictures)
Kristen Bell's character is Nikki who is Tess' best friend and the lead dancer at the burlesque lounge as well as a drunk.
(Spoiler alert!) In the film, Bell's character Nikki becomes super upset after she is deemed too drunk to perform and has to watch Ali take her place in the show.
Nikki despises Ali so much that she tries to sabotage Ali's performance by turning off the music, which only makes the crowd all the more impressed by Ali's vocal abilities.
When interviewed about the film, Bell had many things to say about working on a musical as well as with huge stars like Cher and Aguilera. Bell went to college at New York University's Tisch School of Arts for musical theater as well as performed in multiple musicals and plays as a child growing up.
Actresses Kristen Bell, Cher, director Steven Antin, Christina Aguilera, and actor Cam Gigandet photocall for the movie Burlesque at the Villamagna Hotel on December 9, 2010, in Madrid, Spain (Credit: Sean Thorton / WENN)
She talked about her experience working with musicals to Parade magazine stating, "I started out doing musicals and I went to school for music, so I'm very comfortable with it. There's a lot more dancing than I'm used to, so I hope it will be well accepted. I definitely play the bad girl in this movie, which was actually really fun."
When asked about her experience working with the iconic Cher, Bell raved about Cher and how much of an awe experience it was working with someone so legendary (she is Cher after all)!
The actress told Parade, "she was everything I wanted her to be and more. She really was. You never know what to expect when there is someone so otherworldly in the same room as you. You treat her differently no matter how much you try not to because she's so iconic. But she's also so grounded and so surprisingly honest and sarcastic and funny. It made me feel so special that I was getting to know the human being behind this gigantic icon."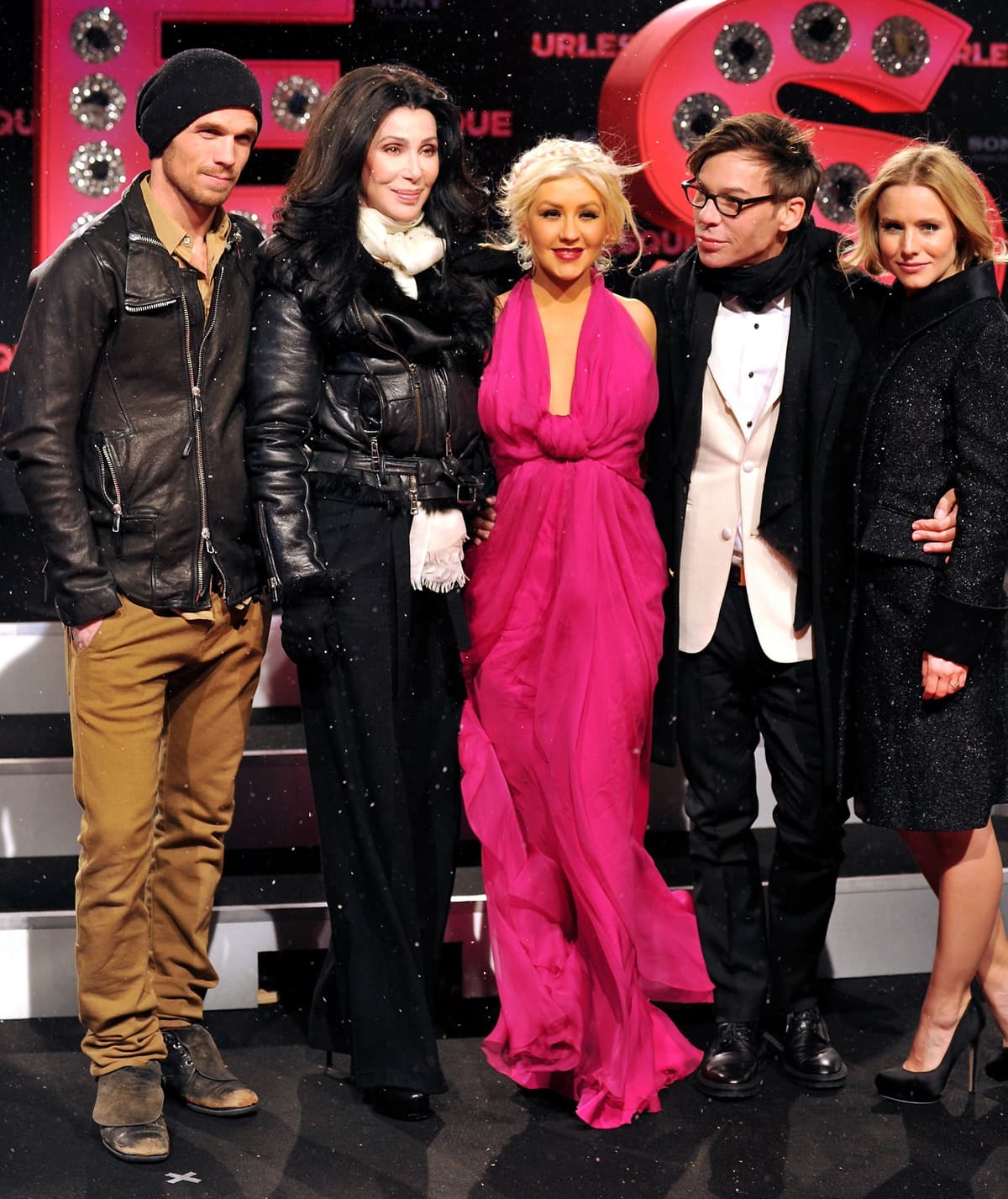 Actor Cam Gigandet, actress Cher, actress Christina Aguilera, director Steven Antin and actress Kristen Bell attend the 'Burlesque' Germany premiere at CineStar on December 16, 2010, in Berlin, Germany (Credit: WENN)
Actress Kristen Bell also had nothing but positive things to say about her time working with the mega-star Christina Aguilera. In addition to fangirling, Bell told Parade how much she admires Aguilera for what she does and how she could never do the same herself.
The American actress stated, "I can't compare to Christina. I don't know that I'd want to do what Christina does because I don't think I have that in me. Christina is an artist and she doesn't need a play or a musical or a script. She makes her own art and that is a really special talent."
Does Kristen Bell sing in Burlesque?
While Bell performed the song "Long John Blues" on stage in the movie, Megan Mullally did the actual singing. Kristen Bell just lip-synced and did not actually sing.
Was Kristen Bell wearing a wig in Burlesque?
Thinking that her blonde hair made her look too much like a good girl, the producers made Kristen Bell wear a wig to become the plotting dancer Nikki.
"When I had the wig on I didn't even recognize myself in the mirror. I felt like another person," the actress told InStyle about going brunette.
"Now I'm over being blonde. If I'm well-received as a brunette in Burlesque then maybe I'll go brunette [in real life]!"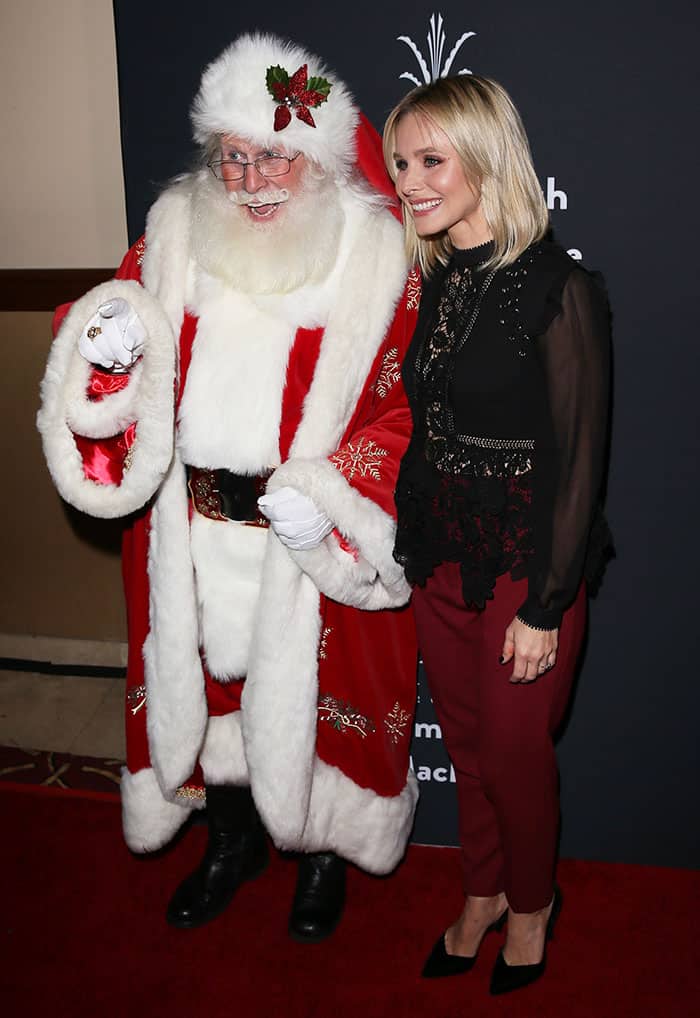 Kristen Bell posing with Santa Claus at the Grove Christmas with Seth MacFarlane Presented by Citi in Los Angeles on November 13, 2016 (Credit: Michael Wright / WENN)
In November 2016, The Grove in Los Angeles kicked off the holiday season with its annual Christmas celebration with Seth MacFarlane, and the celebrities at the event were definitely feeling festive. Actress Kristen Bell arrived at the event to help get the crowd into the holiday spirit.
The Veronica Mars actress was clad in a black and burgundy Self-Portrait ensemble as she posed alongside Santa Claus on the red carpet.
Kristen Bell styled her burgundy pants with a lacy blouse and black pumps (Credit: Michael Wright / WENN)
Kristen's lacy blouse featured long sheer sleeves, lace-up shoulders, and embroidered floral lace panels that flashed a hint of flesh. She teamed her top with a pair of burgundy trousers and completed the outfit with black pumps.
Kristen Bell wore her blonde hair down with a center parting (Credit: Michael Wright / WENN)
The then 36-year-old actress simply wore her blonde locks down with a center parting and sported complementary makeup to complete the look.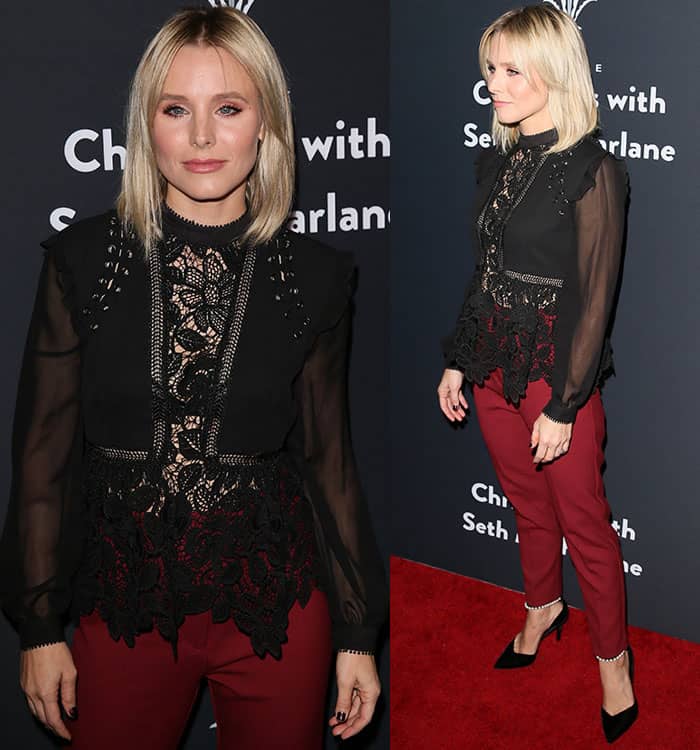 Kristen Bell rocked a Self-Portrait top and pants (Credit: Michael Wright / WENN)
Kristen picked a pair of Stella Luna pumps for her feet. These black suede pumps feature a d'Orsay silhouette, pearl-detailed ankle straps, pointed toes, and about four-inch heels. Sadly, these shoes are already sold out.
Kristen Bell shows off her feet in Stella Luna pumps (Credit: Michael Wright / WENN)