The 2022 Met Gala brought us several awe-inspiring looks as our favorite celebs tried to hit the gilded glamour theme.
One celebrity, in particular, had a look that has been met with a fair bit of controversy, and that's Kim Kardashian.
Kim Kardashian is being criticized for wearing Marilyn Monroe's dress at the Met Gala (Credit: PA IMAGES / INSTARimages)
The pop culture favorite and television personality certainly turned heads with her 2022 Met Gala appearance. The star wore what is perhaps one of the most iconic dresses in Hollywood history, Marilyn Monroe's sparkly, beige number.
This dress was worn as the actress and model sang Happy Birthday to President John F. Kennedy in 1962 and has been a display item in the Orlando's Ripley's Believe It or Not! Museum since 2016.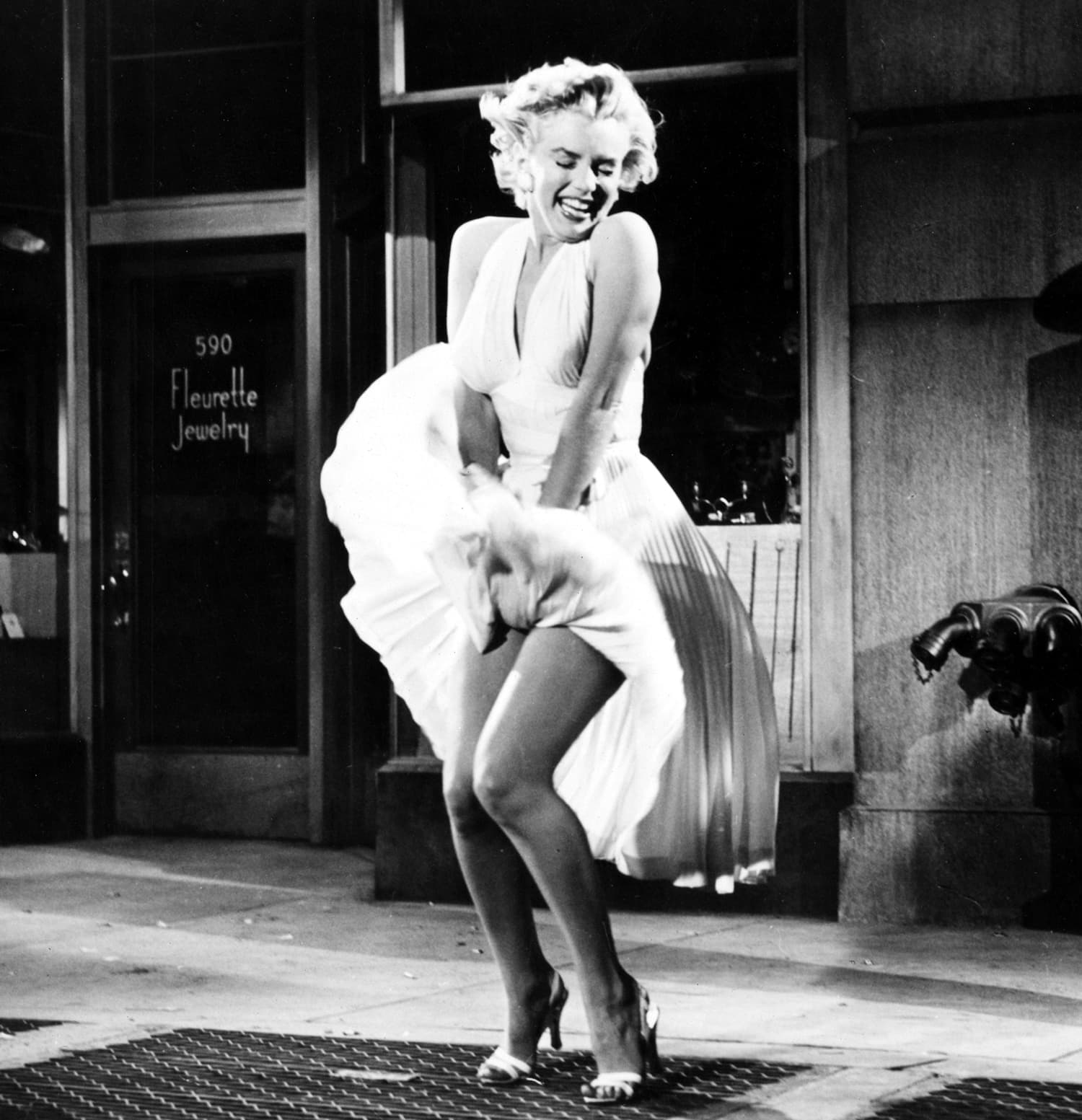 Marilyn Monroe as The Girl in the 1955 American romantic comedy film The Seven Year Itch (Credit: 20th Century-Fox)
So, this gorgeous gown has seemingly gone from being in such pristine conditions to being worn again, decades later. Experts in all things Marilyn are more than disappointed by the look being worn again.
To get into the spectacular fit, Kim lost weight in preparation and only wore the dress for a short time on the red carpet; she later changed into a replica of the look to prevent any damage from taking place.
Adding fuel to the fire, for those who aren't best impressed with the Kardashian's choice, is that this dress was worn on the 60th anniversary of Monroe's death. She died of a barbiturate overdose on August 4, 1962.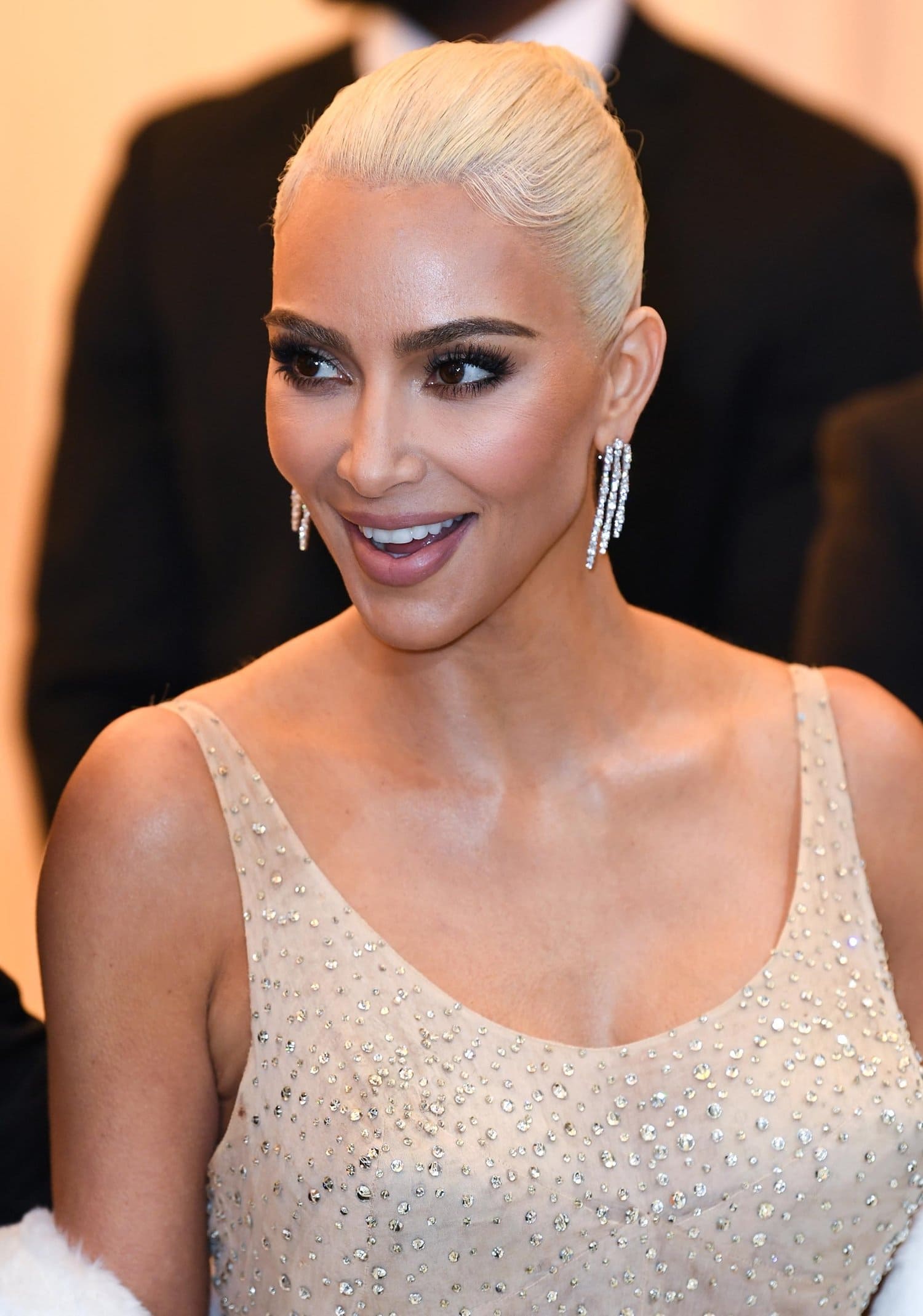 Kim Kardashian wore Marilyn Monroe's original dress for a few minutes and later changed into a replica (Credit: PA IMAGES / INSTARimages)
Michelle Morgan, the author of the 2018 book "The Girl: Marilyn Monroe, the Seven Year Itch, and the Birth of an Unlikely Feminist" (available on Amazon), said in a comment made to New York Post, "I am extremely disappointed to see this 60 -year-old, iconic dress being worn in public".
The expert continued, explaining that this gown had been in temperature-controlled conditions to ensure the best preservation possible since it was won in an auction by the Ripley's Believe It or Not! Museum for $5 million.
However, the red carpet is a dangerous environment, where any number of mishaps could have taken place. Morgan comments on her concerns about "sweat, perfume, and makeup" that could have caused irreversible damage to the dress.
12305 Fifth Helena Dr. in Brentwood, Los Angeles, California, is famous as the final residence of Marilyn Monroe and the location of her death in 1962 (Credit: WENN)
A similar concern was expressed by fashion historian Keren Ben-Horin, as he told the Daily Beast that with the big steps Kim needed to take up the stairs, the dress could have easily torn or been stained.
"This is one of a kind, historical garment that should not leave the museum. For conservators, there are a lot of things they consider even before they even take any action to restore the dress. Sometimes they might even leave sweat stains in, because it's part of the integrity of the dress," the fashion historian argued
"Once a dress like that gets on the body, the body sweats, there is makeup," Ben-Horin added. "You could see that when Kim Kardashian was going up the stairs, it was very hard for her to take big steps. The dress could have easily stained or ripped, and I think it was an unethical choice on their part to let the dress leave the museum.".
Becoming the most expensive dress sold at auction when it was purchased for over $5 million in 2016, Marilyn Monroe's famous dress is exhibited at Ripley's Believe It or Not! Museum in Orlando, Florida (Credit: JHVEPhoto / Shutterstock)
Of course, the museum responsible for the dress took a number of factors into consideration, with a representative of Ripley's saying that Kardashian had demonstrated her "utmost respect" for the dress.
The spokesperson continued to defend Kim Kardashian, providing reassurance that the dress, despite the possibilities, has remained unharmed, undamaged, and unscathed.
The television star has had several guidelines she had to follow, from a lack of body makeup to the short-lived appearance in the gown.
Ripley's commented that she had conducted "extensive research" into the dress, making sure it was well looked after and cared for while she wore it.
Nina Boski, the producer of the podcast and documentary television series Marilyn: Behind the Icon, described Kardashian's look as "not a positive remembrance of the star."
Pete Davidson had a good friend with his girlfriend Kim Kardashian at the Met Gala (Credit: PA IMAGES / INSTARimages)
"I can understand why Kim would want to wear the dress for publicity purposes; however, the dress should have only been worn by one person, and that is the iconic Marilyn Monroe," Boski said.
Scott Fortner, a Marilyn Monroe historian and collector, went as far as to describe the dress as "sacred."
"Kim did break the internet [with her look] and it was an opportunity for her and Ripley's," Fortner said. "[But] the fans are outraged because it is one of those things in the Marilyn community that is considered sacred. The dress is the quintessential Marilyn Monroe item and it was worn one time by her."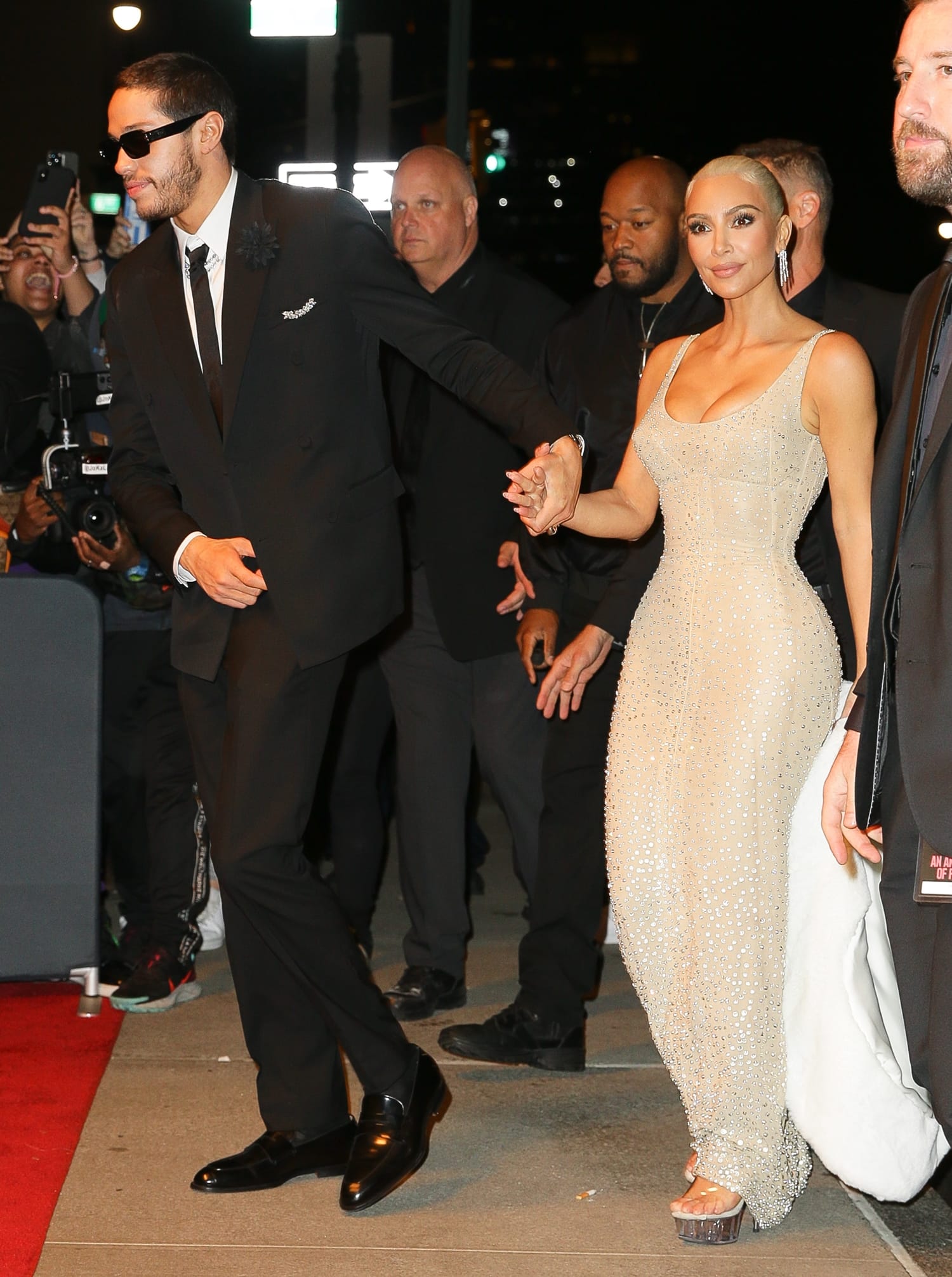 Kim Kardashian and Pete Davidson hold hands while arriving back at their Ritz-Carlton Hotel after attending the Met Gala in New York City (Credit: MEGA / WENN)
It goes without saying that Kim Kardashian is an incredibly influential person, so her wearing the gown has, in some manner, reintroduced Marilyn Monroe to the younger generations, keeping her iconic looks alive and continuing her legacy through the Met Gala.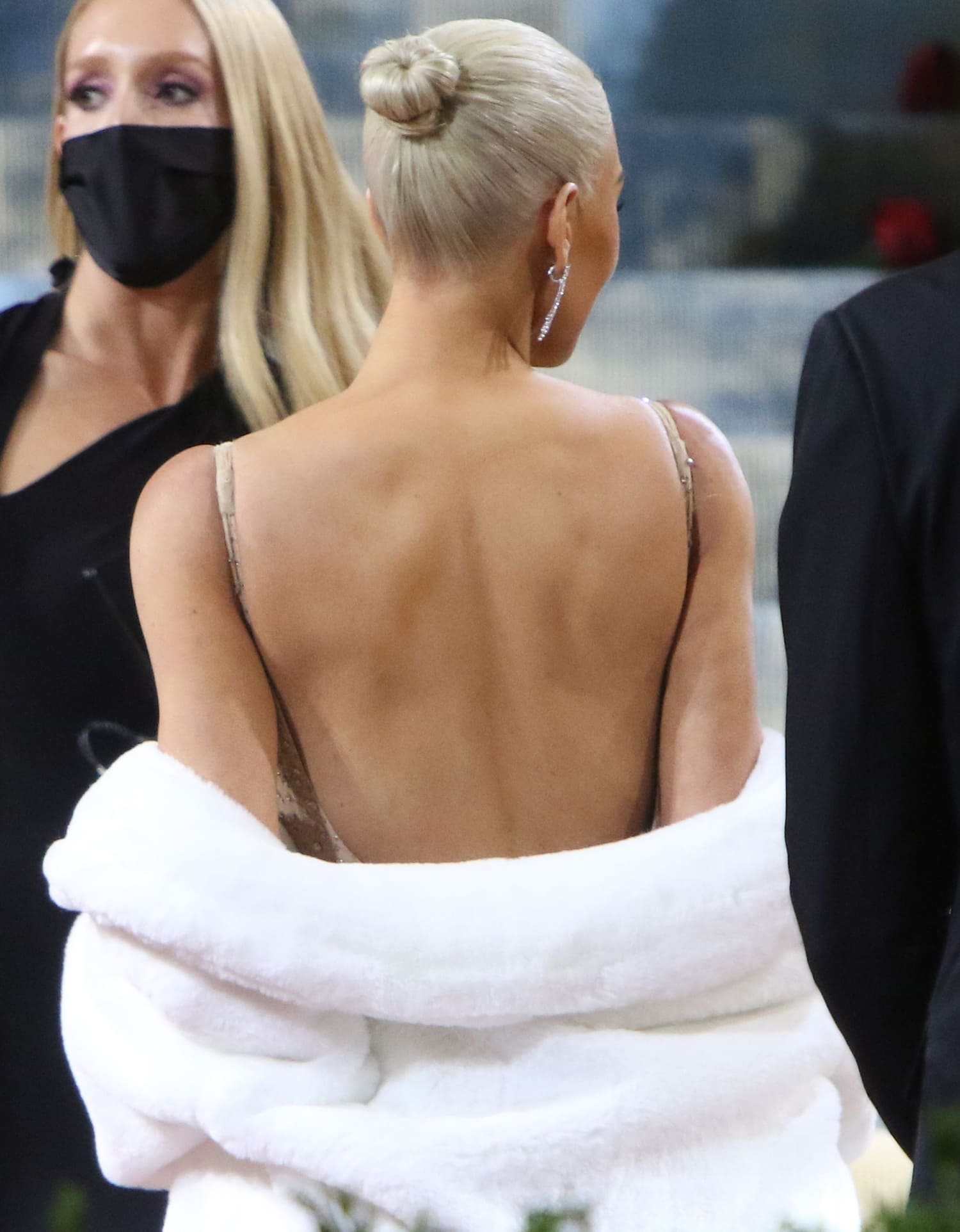 Kim Kardashian reportedly couldn't zip up her Marilyn Monroe dress and covered up with a fur shawl (Credit: MEGA / WENN)
However, there seems to be the overwhelming majority who think that the stunning look should have been reserved for the one momentous occasion on which Monroe wore it for the first and last time, as it simultaneously debuted and retired.
Fortner emphasized during his comments that "this has nothing to do with Kim Kardashian" but rather with the importance and significance of the dress in what he calls "American cultural history."
The Keeping Up With the Kardashians star opted for the Monroe look since the gilded glamour theme inspired her to look for American beauty icons. Kardashian said that the "most American" thing she could think of was Marilyn Monroe herself.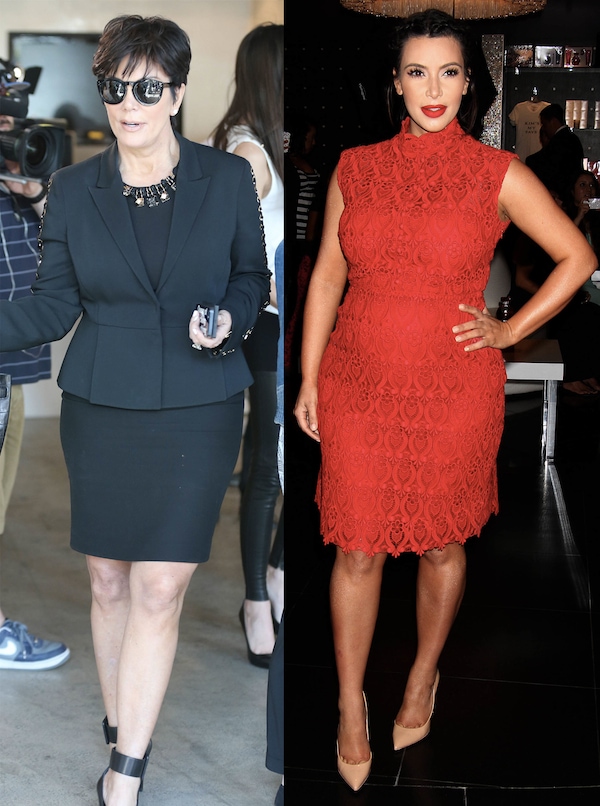 Kris Jenner and Kim Kardashian supporting Yves Saint Laurent (Credit: WENN)
Like mother, like daughter! In April 2013, Kim Kardashian and Kris Jenner wore two shoe styles from Yves Saint Laurent.
Kris Jenner paid a visit to the Guy Hepner Gallery in West Hollywood (Credit: WENN)
On a day out with Kendall Jenner, Kris sported a pair of YSL black pumps with ankle cuffs. Looking like a professional mom-ager, she paired the shoes with a black suit.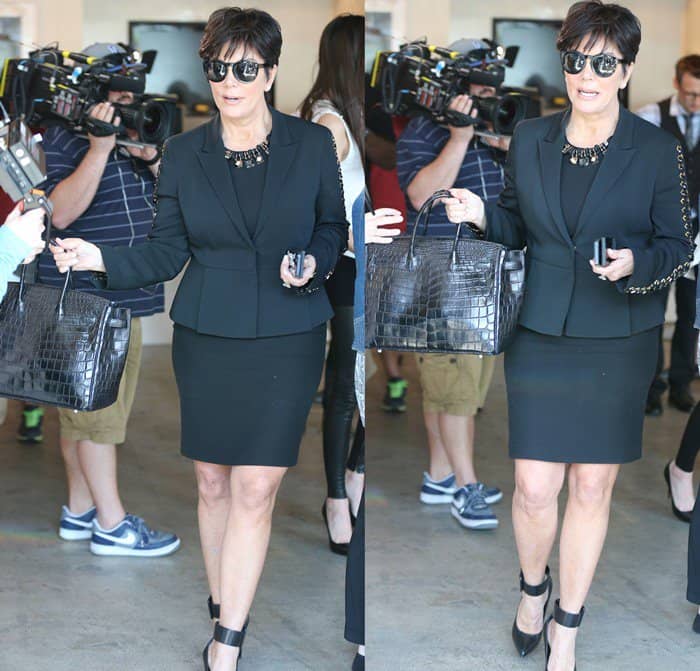 Kris Jenner flaunts her legs while out shopping at an art gallery in West Hollywood on April 11, 2013 (Credit: WENN)
What do you think of her black ensemble?
YSL Paris Escarpin Black Pumps with Ankle-Cuff Straps in Black Leather, $895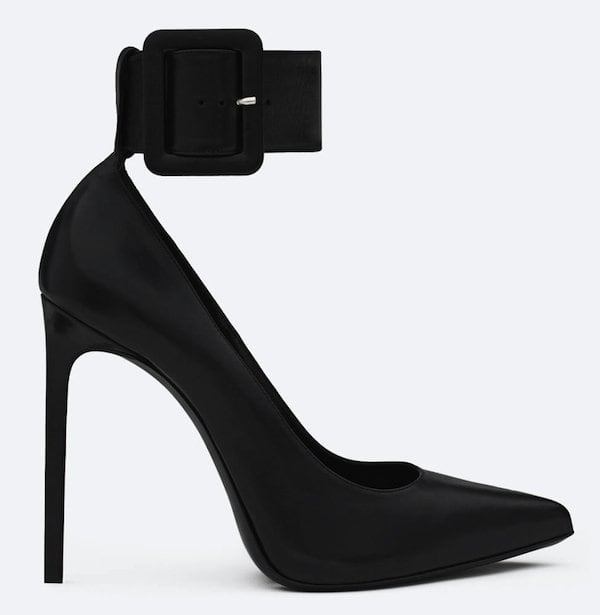 On the other hand, mom-to-be Kim chose a pair of nude YSL patent leather pumps with metallic heels for a solo meet-and-greet at Kardashian Khaos in The Mirage, supporting her new fragrance "Glam."
Kim Kardashian with classic red lipstick at the Kardashian Khaos store at The Mirage Hotel & Casino (Credit: Judy Eddy / WENN)
That's fitting because she looked absolutely glam pairing her YSL heels with a bright red lace Valentino dress.
Kim Kardashian in a red Valentino macramé lace dress (Credit: Judy Eddy / WENN)
"I can tell where I was in life when I made each perfume," Kim Kardashian told People. "Every fragrance means something different to me."
Kim Kardashian holds a bottle of her Glam by Kim Kardashian floral fruity fragrance for women (Credit: WENN)
"My personality and my mood was light and fun — and I can see that [in Glam]," she added about having just started dating Kanye West when she created Glam.
"It's a little bit more electric [than the others]. It's the most energetic," she explained about her latest perfume and the design of the bottle. "We made it a brighter pink because I wanted it to be a little loud … It's the pop of color in my fragrances."
Kim Kardashian makes her second solo appearance at 'Kardashian Khaos' at The Mirage for a fan meet-and-greet opportunity supporting her perfume 'Glam' in Las Vegas on April 13, 2013 (Credit: WENN)
Kim Kardashian shows off her feet in beige YSL heels (Credit: WENN)
YSL Beige Metal Heel Pumps, $595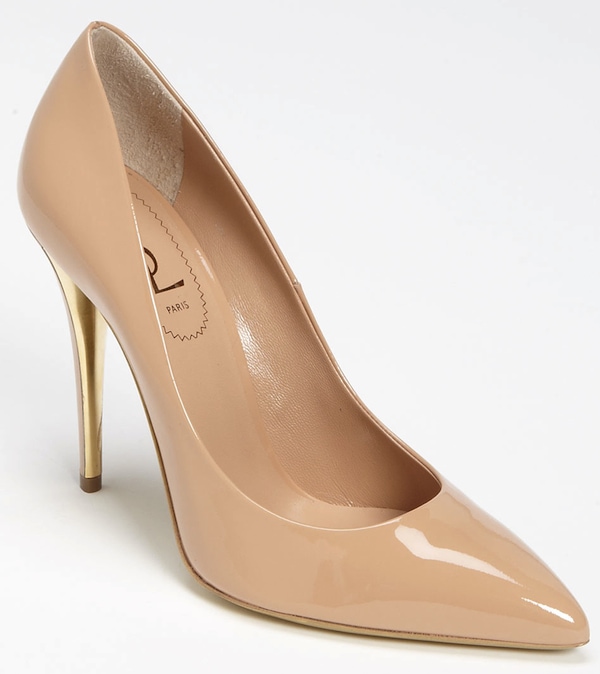 Who do you think picked the hotter YSL style?