Ciara Princess Wilson, widely recognized as Ciara, is a multifaceted American artist celebrated for her contributions to music, dance, acting, and business.
The Height Mystery of Ciara
While she's been candid about her stature in various interviews, there's been some inconsistency in her height claims, ranging from 5'7″ to 5'9.5″.
Standing at 5ft 7½ (171.5 cm), Ciara showcased her style at the 27th annual ACE Awards in New York City on May 3, 2023, donning attire from her brand LITA, and received the 'sustainability' award for her fashion venture co-founded with husband Russell Wilson and businesswoman Christine Day (Credit: M10s / TheNews2 / Cover Images)
In a 2015 statement, she clarified, "I'm actually 5'7″. My heels make me appear much taller. People always think I'm way taller than I am."
In a tweet from November 4, 2015, Ciara confirmed her height, stating that she is actually 5'7″ but that her heels often make her appear taller (Credit: Twitter)
The average height for American women is around 5'4″ (162.5 cm). Ciara has stated her height to be 5'7″, so she is approximately 3 inches taller than the average American woman.
Ciara's Unique Shoe Size
Adding another dimension to her uniqueness is her shoe size, 11 US, larger than the typical American woman's shoe size. In other shoe systems, her size would be approximately 9 UK, 43 EU, and 28.5 JP.
Ciara displays her feet in Dsquared2 Riri sandals at the 2018 American Music Awards at Microsoft Theater on October 9, 2018, in Los Angeles, California (Credit: Featureflash Photo Agency / Shutterstock)
The average shoe size for American women ranges between 8.5 and 9. With Ciara's shoe size being 11 US, her feet are about 2 to 2.5 sizes larger than the average American woman's.
Ciara's Height in Relation to Russell Wilson
Ciara, whose height is 5 feet 7 ½ inches (171.5 cm), is shorter than her husband, Russell Wilson, who measures 5 feet 10 ½ inches (179.1 cm). However, when Ciara dons high heels, she can easily match Russell's height or even surpass it.
Ciara is shorter than her husband, Russell Wilson, but she can match or surpass his height when wearing high heels (Credit: DFree / Shutterstock)
Ciara vs. Rihanna's Height
Ciara has revealed on Twitter that her height is approximately 5-foot-7 (170 cm), which makes her shorter than Rihanna but taller than Beyonce.

While she looks much taller, Ciara tweets that her height is 5'7″
She previously claimed to be 5'8". "Modeling has always been one of my aspirations," Ciara said in a 2008 interview.
"But I was insecure about my height. I thought I was 5'7″, but I just found out that I'm 5'8", so I'm really excited about that."
Ciara's height of 5 feet 7 ½ inches (171.5 cm) places her between Rihanna, who stands at 5 feet 8 inches (172.7 cm), and Patti Labelle, who is 5 feet 5 inches (165 cm) tall. However, it's worth noting that Ciara can appear taller than Rihanna when she wears higher heels than Rihanna, as heel height can significantly affect a person's perceived height.
Rihanna, standing at 5 feet 8 inches (172.7 cm), Ciara, at 5 feet 7 ½ inches (171.5 cm), and Patti Labelle, who measures 5 feet 5 inches (165 cm), graced the 2007 World Music Awards held at the Sporting Club in Monte Carlo, Monaco, on November 4, 2007. (Credit: Nick Sadler / Startraksphoto)
As the above image demonstrates, proper posture can make a person appear taller, while slouching or poor posture can make them seem shorter than their actual height. In the image, it is evident that Rihanna appears shorter than Ciara, possibly due to differences in their posture and potentially varying heel heights.
Ciara's Net Worth and Career
Best known for her hit single and triple-platinum debut album Goodies and the successful follow-up album Ciara: The Evolution, she has a net worth of about $20 million as of 2023.
Several of her albums and singles have achieved significant commercial success and recognition, with notable hits like "1, 2 Step", "Oh," "Get Up," "Promise," "Love Sex Magic," "Ride," and "Body Party."
She's collaborated with artists such as Missy Elliott, Ludacris, Justin Timberlake, and Chamillionaire. After several successful albums, she founded Beauty Marks Entertainment and later signed deals with Epic Records and Republic Records. In 2023, she released an EP titled "CiCi."
In addition to music, Ciara ventured into acting with roles in films like "All You've Got," "Mama, I Want to Sing!", "That's My Boy", and "The Game". In 2022, she joined the cast of the 2023 remake of "The Color Purple".
Beyond her artistic endeavors, she became a brand ambassador for Revlon, signed a modeling contract with IMG, and married NFL quarterback Russell Wilson. Throughout her career, Ciara has received numerous awards, including a Grammy, and as of 2019, she has sold over 45 million records worldwide.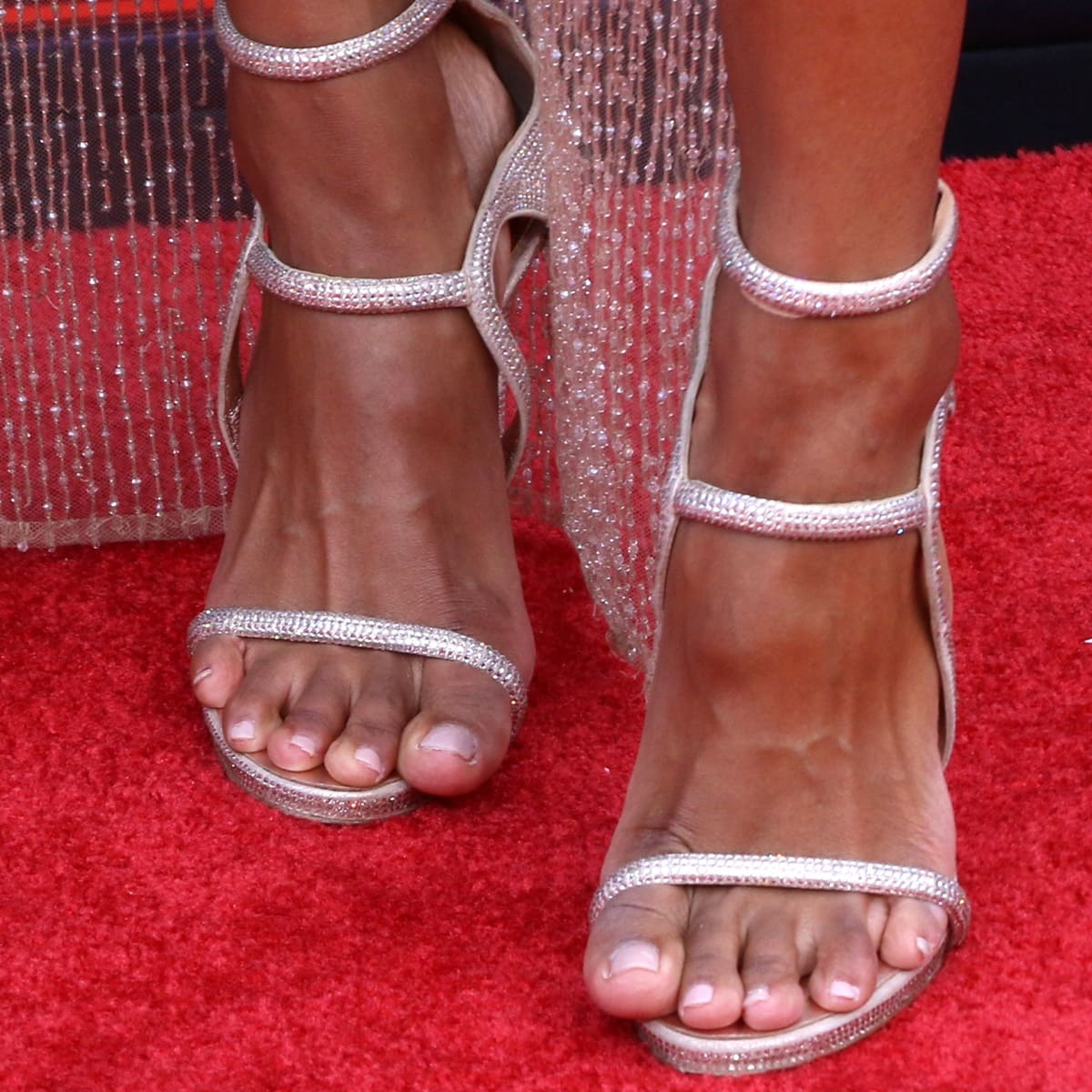 Recording artist Ciara displays her feet in Le Silla Award sandals at the 2018 Billboard Music Awards at MGM Grand Garden Arena on May 20, 2018, in Las Vegas, Nevada (Credit: Kathy Hutchins / Shutterstock)
In July 2019, Ciara, Debbie Gibson, and digital media's David Dobrik were announced as judges on America's Most Musical Family.
This American reality music competition television program premiered on Nickelodeon on November 1, 2019.
Ciara: Facts, Rumors, and Everything in Between
How much is Ciara worth?
Ciara is an American singer, songwriter, and dancer with an estimated net worth of $20 million as of 2023.
Full Name:
Ciara's birth name is Ciara Princess Harris. After her marriage to NFL player Russell Wilson, she took his last name, making her name Ciara Princess Wilson.
Born:
Ciara was born on October 25, 1985, in Bell, Texas, U.S.
Dating:
Ciara married Seattle Seahawks quarterback Russell Wilson on July 6, 2016 at Peckforton Castle in Cheshire, England.

Ciara was engaged to Future from 2013 to 2014 and to Shad Moss between 2005 and 2006.

Additionally, she has dated several other prominent figures, including Cam Newton in 2011, Amar'e Stoudemire from 2010 to 2011, 50 Cent from 2007 to 2012, Lloyd Polite from 2003 to 2004, and Lakyle Thomas from 2002 to 2003. There have also been rumors linking her to T.I., though this has not been confirmed.
Kids:
She has a daughter with Russell Wilson, Sienna Princess Wilson, who was born on April 28, 2017.

Their son, Win Harrison Wilson, was born on July 23, 2020. "Happy Birthday WIN!!! Mommy & Daddy Love You! Win Harrison Wilson 7.23.2020 8lbs 1 oz. ❤️ 👶🏽," Russell Wilson announced on social media.

She also has a son, Future Zahir Wilburn, born on May 19, 2014, from her previous relationship with Future.
Weight:
Ciara is believed to weigh around 125 pounds (57 kg).
Does Ciara have big feet?
Yes, a shoe size of 11 (US) for women is considered larger than average. The average shoe size for American women ranges between 8.5 and 9.

So, with a shoe size of 11 US, Ciara does have larger feet compared to the average American woman.
Is Ciara short or tall?
Ciara's height of 5ft 7½ (171.5 cm) is considered above average for an American woman.

Therefore, she is tall when compared to the average height of American women, which is around 5'4" (162.5 cm).
Nationality:
Ciara is a US citizen.
Source of Wealth:
Ciara's primary source of wealth is her successful career in the music industry. She has released seven studio albums, all of which have been commercially successful.

Her debut album, Goodies, was released in 2004 and reached number three on the US Billboard 200 chart. Her subsequent albums, Evolution (2006), Fantasy Ride (2009), Basic Instinct (2010), Ciara (2013), Jackie (2015), and Beauty Marks (2019), have all been certified platinum or multi-platinum in the United States.
Ethnicity/Race:
Ciara's ethnicity is African-American.
Russell Wilson's Net Worth
Her husband is Russell Wilson, an American football quarterback for the Seattle Seahawks of the National Football League. While he is not yet a billionaire, in 2019, he signed a new contract with a salary of $35 million per season ($140 million over four years) and a hefty $65 million signing bonus.
In 2016, he also signed a long-term deal with Nike that is rumored to be one of the biggest endorsement deals in the league of all time.
Russell Wilson has a net worth of over $100 million, and his wife Ciara is worth around $20 million (Credit: Avalon / WENN)
The football quarterback for the Seattle Seahawks has a successful fashion brand named Good Man Brand that you can shop at Nordstrom.
The company donates 3% for each item purchased to Why Not You, a foundation he founded in 2014 to focus on children's empowerment.
While Russell Wilson's net worth is unknown, it is likely much higher than Ciara's. NFL's highest-paid player, his net worth is estimated to be more than $150 million.
"That's God setting it up, to make it so dramatic, so rewarding, so special," Wilson said after the Seattle Seahawks beat Green Bay in the NFC championship in January 2015. "I've been through a lot in life and had some ups and downs. It's what's led me to this day."
Ciara Stuns in Pink Roberto Cavalli Dress at CFDA Fashion Awards 2016
Ciara has been slaying the red carpet game for years. Measuring 5ft 7 ½ (171.5 cm), she was out to show her sartorial prowess again at the 2016 CFDA Fashion Awards at the Hammerstein Ballroom in New York City.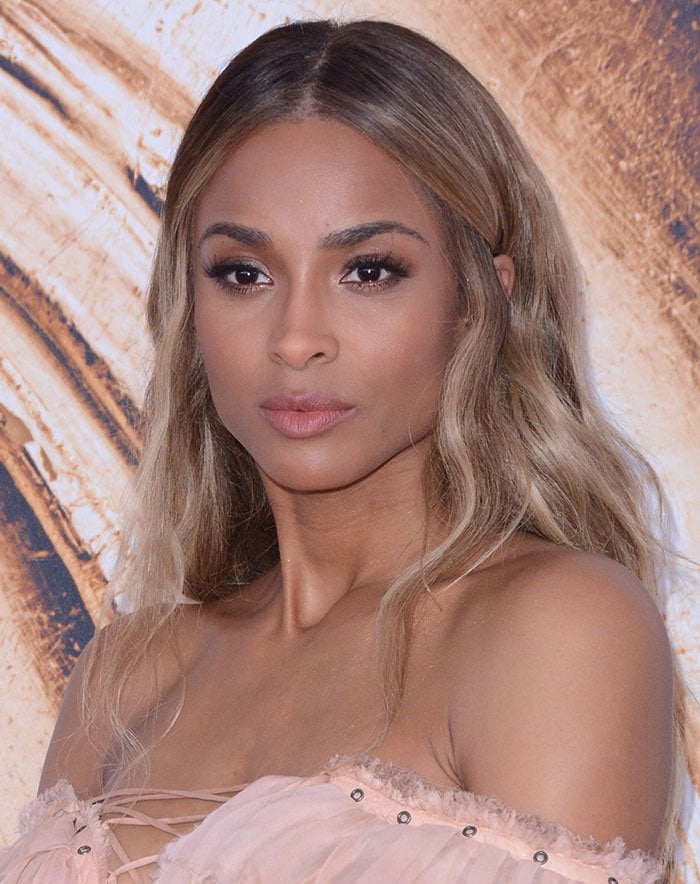 Ciara wears her hair down at the 2016 CFDA Fashion Awards held June 6 at the Hammerstein Ballroom in New York City (Credit: Ivan Nikolov / WENN)
The then-30-year-old singer stood out in a pink ruffled dress from Roberto Cavalli's Spring 2016 collection.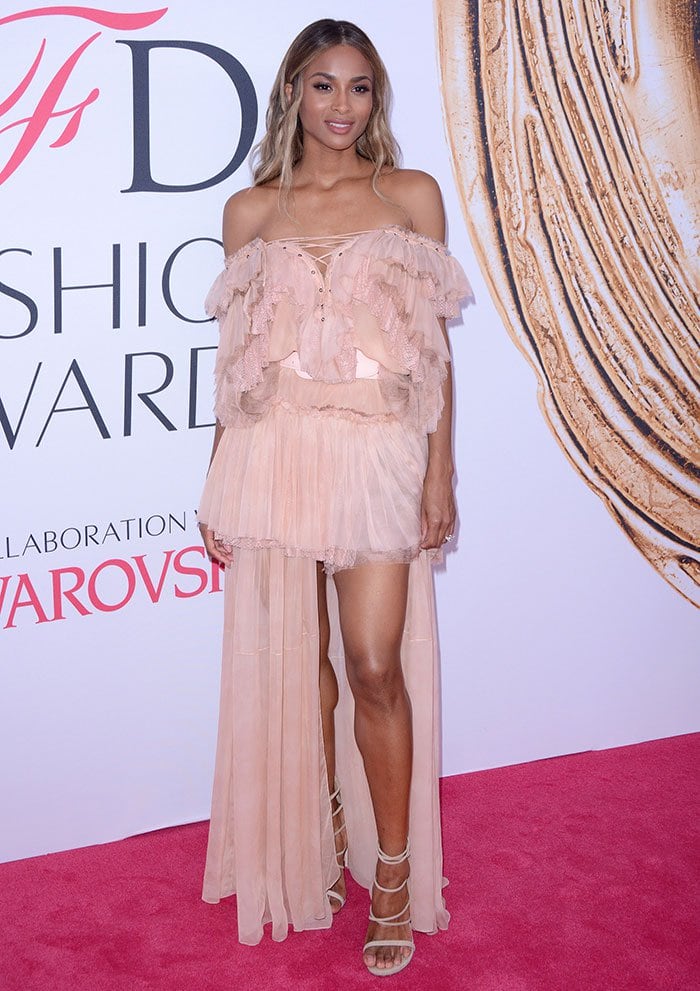 Ciara goes girly in a frilly pink Roberto Cavalli gown (Credit: Ivan Nikolov / WENN)
The dress featured an off-the-shoulder top with crisscross lacing at the chest and a floor-sweeping high-low skirt, which displayed her toned shoulders and legs.
Ciara shows off her legs and chest in a ruffled pink Roberto Cavalli gown (Credit: Ivan Nikolov / WENN)
Ciara skipped the jewelry, save for her massive engagement ring from Russell Wilson.
The Goodies singer kept her makeup feminine, using soft pink blush, nude pink lipstick, bronzed eyeshadow, and mascara. She also wore her tresses down in loose curls.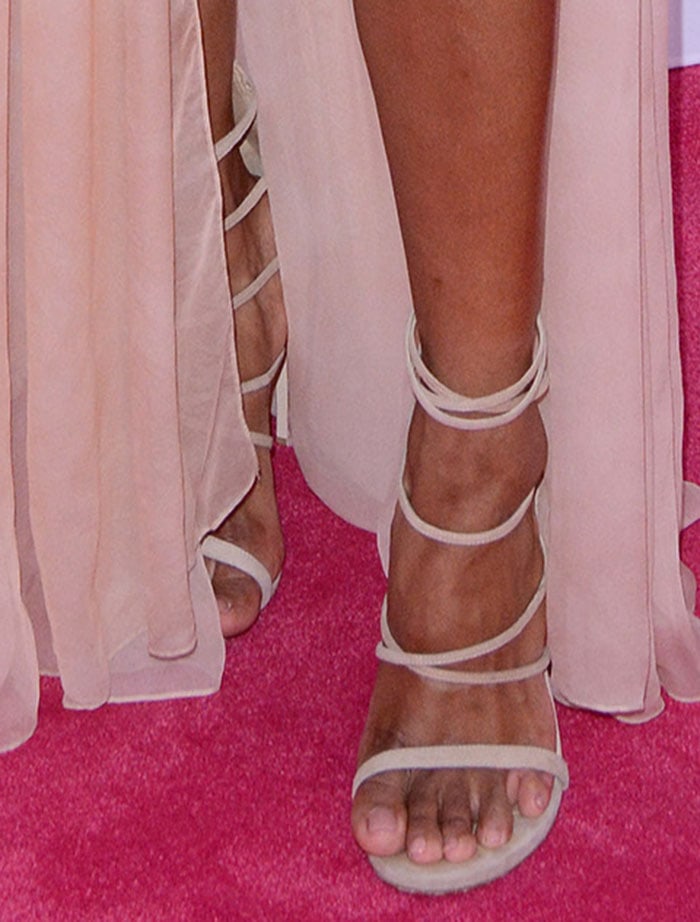 Ciara showed off her feet in a pair of strappy nude sandals from the designer brand Stuart Weitzman (Credit: Ivan Nikolov / WENN)
Ciara drew further attention to her legs with Stuart Weitzman's nude suede "Myex" sandals.
Crisscross straps and back-zip fastening provide support and stability to the foot. The open-toe design allows for more comfort and breathability, while the five-inch heel helped boost Ciara's height by several inches.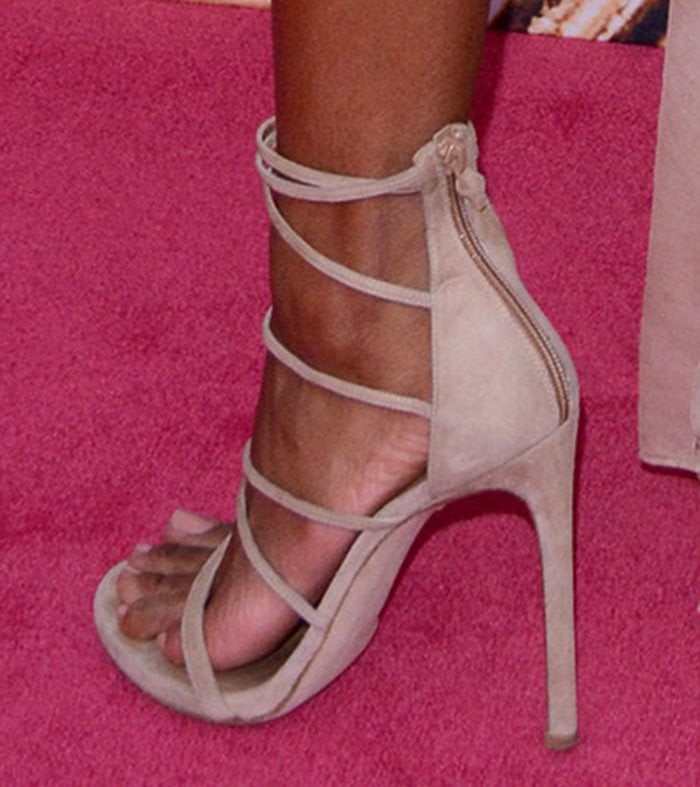 Ciara boosted her height with the help of the nude suede "Myex" high-heel sandals, which feature crisscross straps and a back-zip fastening for support and stability, as well as an open-toe design for comfort and breathability (Credit: Ivan Nikolov / WENN)
You can order these sandals in black, navy, and maroon at Zappos and Amazon.
Glitter Stuart Weitzman "Myex" Sandals, $455
Black Suede Stuart Weitzman "Myex" Sandals, $455
Bisque Stuart Weitzman "Myex" Sandals, $455
Black Suede Stuart Weitzman "Myex" Sandals, $455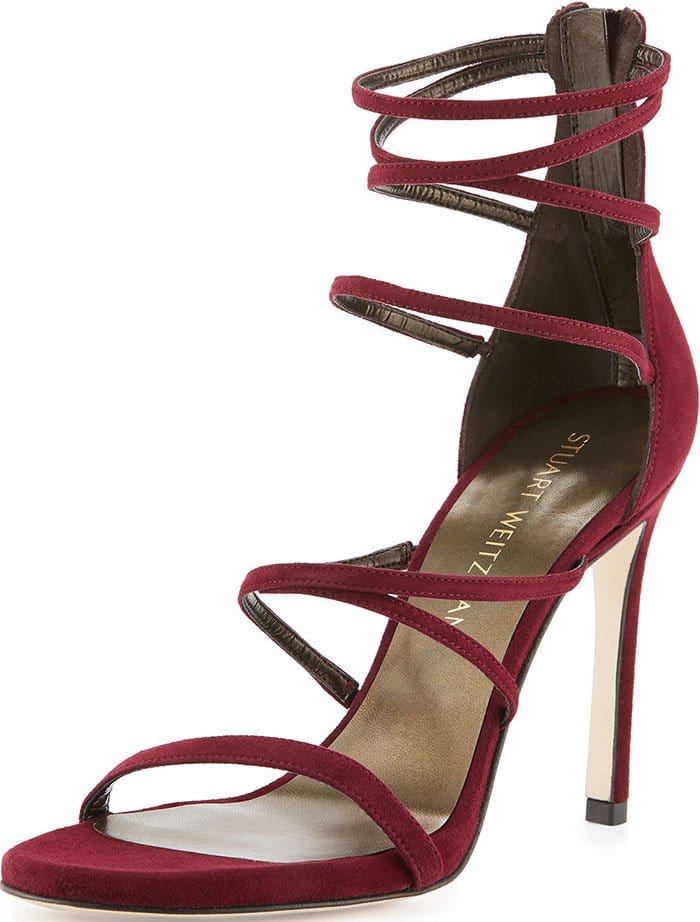 Bordeaux Stuart Weitzman "Myex" Sandals, $455