Alexa Demie is an American actress best known for her portrayal of Maddy Perez in Zendaya's HBO teen drama Euphoria.
Alexa Demie as Alexis Lopez and Kelvin Harrison Jr. as Tyler Williams in the 2019 American drama film Waves (Credit: Guy Grand Productions / JW Films)
Demie made her feature film debut in Brigsby Bear's comedy-drama, followed by roles in the coming-of-age picture Mid90s and the drama film Waves.
Alexa Demie's Childhood
Alexa Demie was born in Los Angeles on December 11, though the exact year is up for debate (as will be detailed below).
Her mother was born in Mexico and emigrated to the United States in the 1980s as a makeup artist. Alexa was raised by her aunts, grandmother, and mother. Thus, her ancestry and language were never forgotten in her family.
Alexa Demie in a black sheer metallic Norman Norell floor-length dress at HBO Max "Euphoria" FYC on April 20, 2022, in Los Angeles, California (Credit: MEGA / WENN)
However, Alexa does not see her father very frequently. He was in recovery from alcoholism when she was a child, so they spent much of their time together at AA meetings.
Alexa remembers hearing about his and other adults' experiences at said meetings. These interactions provided her with invaluable life experience, which she later applied to various roles in her acting career.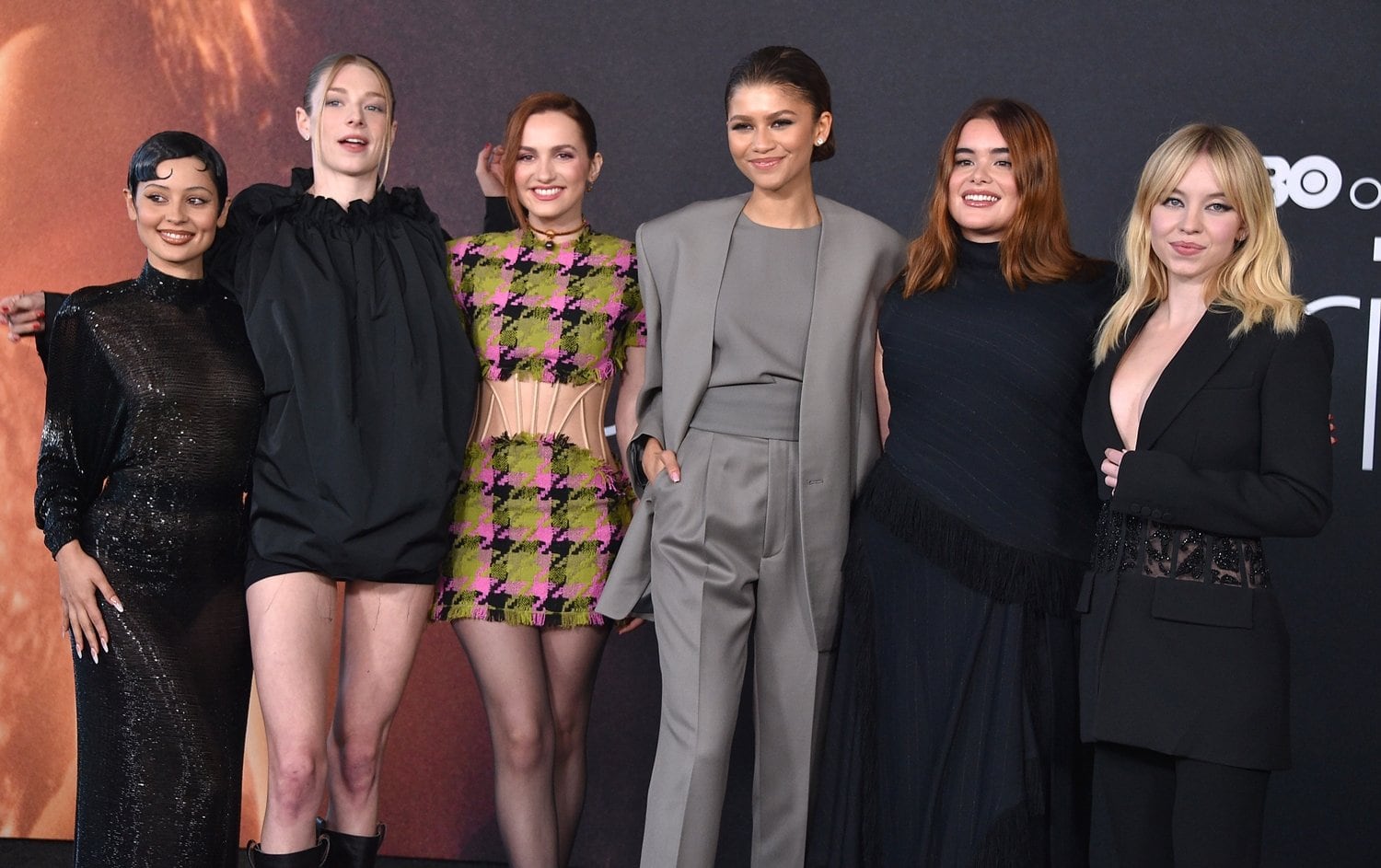 Alexa Demie (L) with her fellow Euphoria cast members Hunter Schafer, Maude Apatow, Zendaya, Barbie Ferreira, and Sydney Sweeney (Credit: MEGA / WENN)
Much like her character on Euphoria, Alexa enjoyed singing and entertaining guests as a child. Acting classes were a logical progression of her persistent need to demonstrate her talent, but they didn't quite turn out as planned, and she didn't take them for very long.
Alexa describes herself as a self-taught artist who has built a career in music and acting without any formal training.
Alexa Demie's Career
Demie was pretty much unknown in Hollywood before her breakthrough role. The Godmother, a true story of Griselda Blanco, was supposed to be her first significant acting role, but the film was never made.
Alexa Demie in a black embroidered Giambattista Valli Spring 2019 Haute Couture dress at the 28th Annual Elton John AIDS Foundation Academy Awards Viewing Party Sponsored By IMDb, Neuro Drinks, And Walmart on February 9, 2020, in West Hollywood, California (Credit: Kathy Hutchins / Shutterstock)
Nonetheless, Demie was able to get some representation, and she made modest guest roles on shows like The OA and Ray Donovan.
Alexa Demie began officially acting in the 2015 film Miles, in which she played a minor role. She later became more well-known for her portrayal of Meredith in Brigsby Bear's film. Her television career began when she played Shairee in the Ray Donovan series.
Alexa Demie's real age has long been a mystery and the subject of much speculation (Credit: Eugene Powers / Shutterstock)
Demie was later recommended for a role in Jonah Hill's directorial debut Mid90s, a coming-of-age skate film, due to producer and friend Mikey Alfred, and she was cast as Estee, a high school student.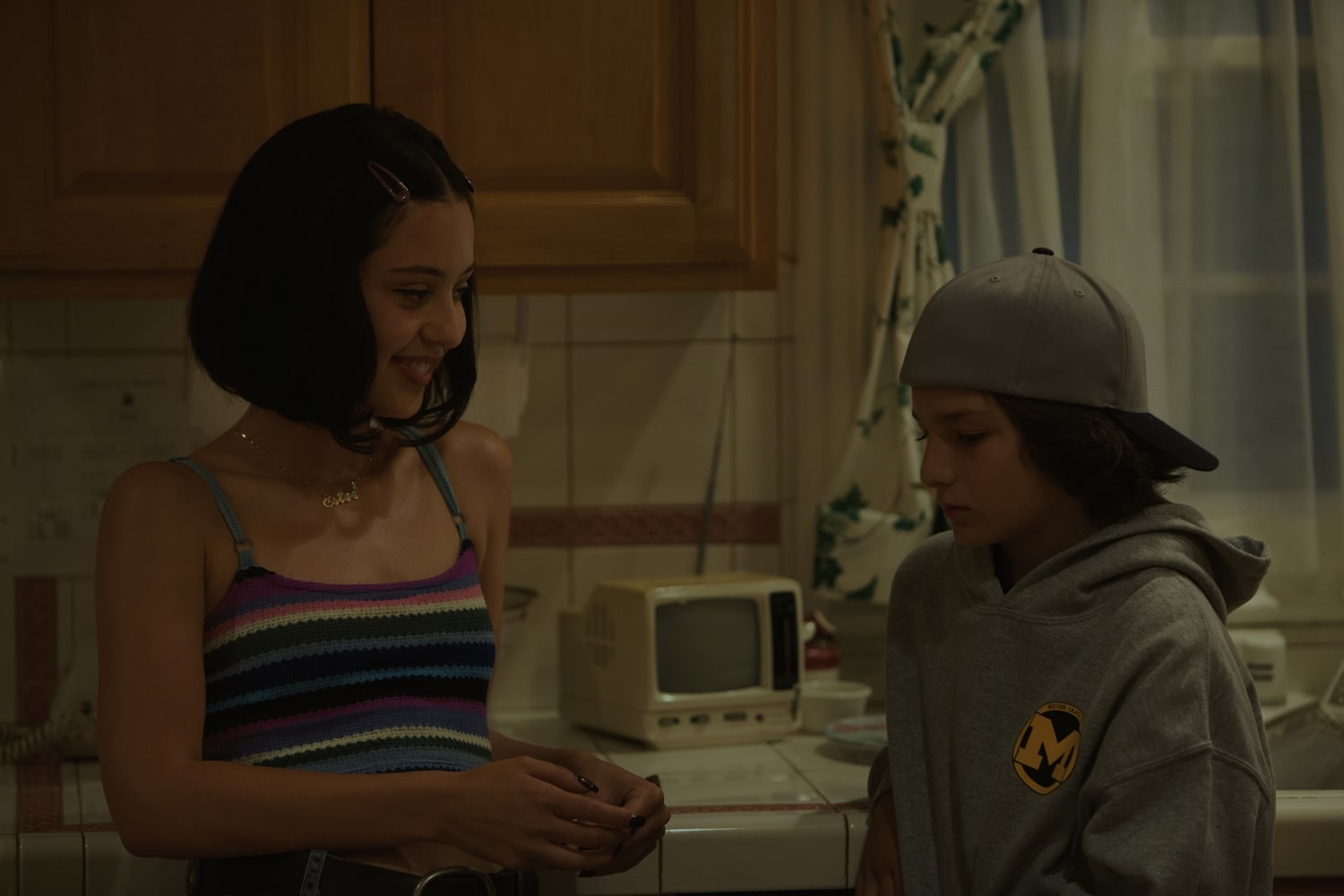 Alexa Demie as Estee and Sunny Suljic as Stevie "Sunburn" in the 2018 American coming-of-age comedy-drama film Mid90s (Credit: A24)
Augustine Frizzell, the director of Never Goin' Back, assisted Demie in landing the role of Maddy in Euphoria a year after the film's premiere.
Maddy's fashion style, sharp sarcasm, toxic romantic relationship, and unique past as a child pageant star drew appreciation from the show's fans. Alexa received a high level of praise for her role.
Alexa Demie plays high school student Madeleine "Maddy" Perez in the American teen drama television series Euphoria (Credit: HBO)
After Euphoria's release in 2019, Demie was cast in Waves and Gia Coppola's film Mainstream, in which she starred alongside Andrew Garfield.
Andrew Garfield as Link and Alexa Demie as Isabelle Roberts in Gia Coppola's 2020 American comedy-drama film Mainstream (Credit: IFC Films)
Unbeknownst to many, Demie has also opted to extend beyond acting by producing her first feature film, based on the story of her mother Rosa Mendez.
Demie's mother was a make-up artist who moved to Mexico as a toddler from Los Angeles. In the film, the actress will portray her mother, a teenage version of herself growing up in Hollywood in the 1980s.
Alexa Demie is believed to be around 30 years old but was still cast as a high school student in Euphoria (Credit: Jason Mendez / Startraksphoto)
The star is also a songwriter in addition to acting and producing. Demie's first single, "Girl Like Me," was published in 2016, and she is now working on an EP.
She's also a designer, having traveled to Japan to make Mainframe, an eyewear line she designed as a senior in high school.
What began as a student project has developed into collaborations with big superstars, including costume designs for Nicki Minaj.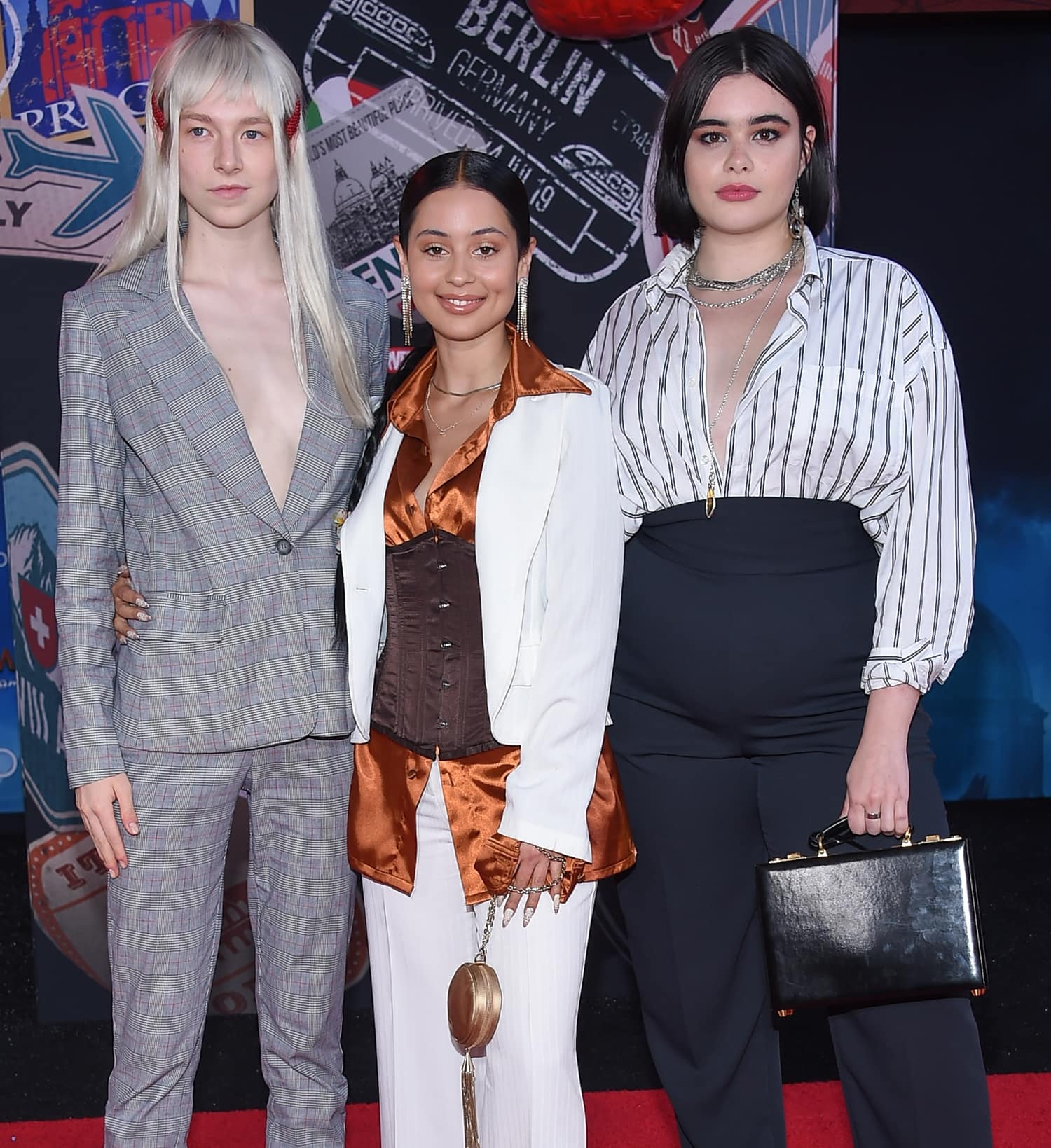 Hunter Schafer, Alexa Demie, and Barbie Ferreira arrive for the premiere of 'Spider-Man: Far From Home' on June 26, 2019, in Hollywood, California (Credit: DFree / Shutterstock)
"I've always understood from an early age that I was supposed to have numerous occupations," Demie remarked in an interview with W Magazine.
This sentiment clearly shows when looking at her entire career, and it will almost certainly secure her place in Hollywood for years to come.
Alexa Demie's Surprising Age
Alexa Demie has managed to preserve a modest and mysterious profile in the public eye despite her social media following and her role in the hit drama Euphoria.
While the starlet has a verified Twitter account, including over 415k followers at the time of this article, she does not have any posted tweets.
She also does not appear to follow anybody else on the platform. Despite having 25 posts and 11 million followers on Instagram, Demie does not post regularly or utilize detailed captions the way other celebrities do.
Alexa Demie flaunts her legs in a cutout Angelina Colarusso gown at the 2019 MTV Movie and TV Awards at Barker Hangar on June 15, 2019, in Santa Monica, California (Credit: Sara De Boer / Startraksphoto)
Because Demie has become such a mystery over the years, many Euphoria watchers and supporters have speculated about numerous elements of her life, including her age.
In 2022, a video by user @amber lizette25 went viral on TikTok on February 17, 2022. In the video, a user pointed to a photo of a student who appeared to be Demie, under the name Alexa V. Wilson, in a high school yearbook from 2007 (according to PopBuzz, her full name was Alexa Demie Wilson Vanerstrom, and then she changed it to Alexa Demie in 2019).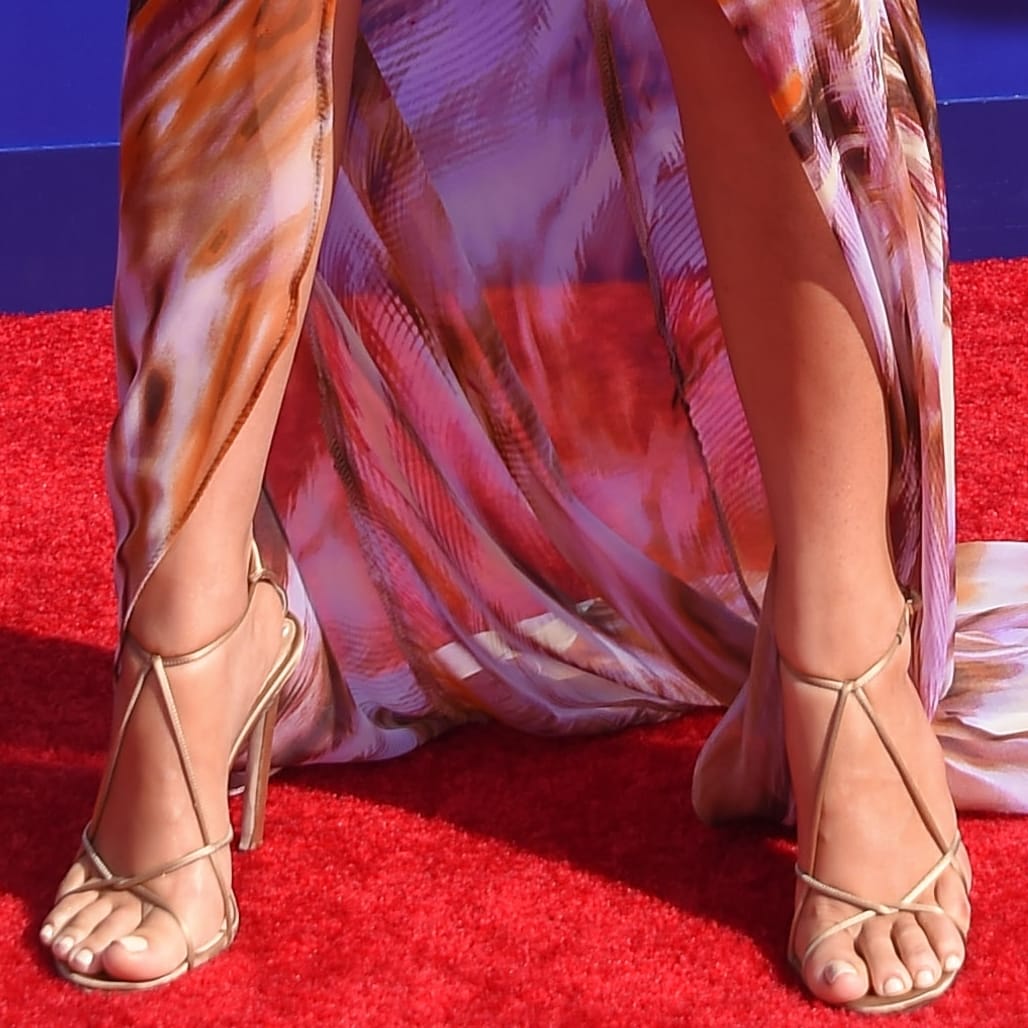 Alexa Demie displays her feet in strappy gold high heel sandals (Credit: DFree / Shutterstock)
If the yearbook is correct, Demie would be 31 years old. And she still looks young enough to pay a teenager!
Alexa Demie's Rumored Plastic Surgery
In September 2020, a widespread conspiracy theory about Alexa Demie arose. After photographs were discovered of a young Alexa posing with the elder Kardashian sisters, Grimes, and Azealia Banks, her age was called into question.
As detailed above, Demie's genuine age was discovered to be 31. However, because she still looks so youthful, the internet is already debating how natural Alexa's looks may or may not be.
Alexa Demi displays her panties in a custom Akna by Aidan Euan open back dress at the Los Angeles premiere of HBO's "Euphoria" at the ArcLight Cinerama Dome in Hollywood, California, on June 4, 2019 (Credit: Eugene Powers / Shutterstock)
There are no notable differences between Demie's previous images and her most recent ones. Skeptics have theorized about her appearance being modified, though.
Because plastic surgery isn't as obvious as it once was, neither Demie nor well-known experts have addressed the notion seriously.
However, many fans feel Alexa Demie's lips look significantly different and have taken to publicly comparing old and new photographs on platforms like TikTok.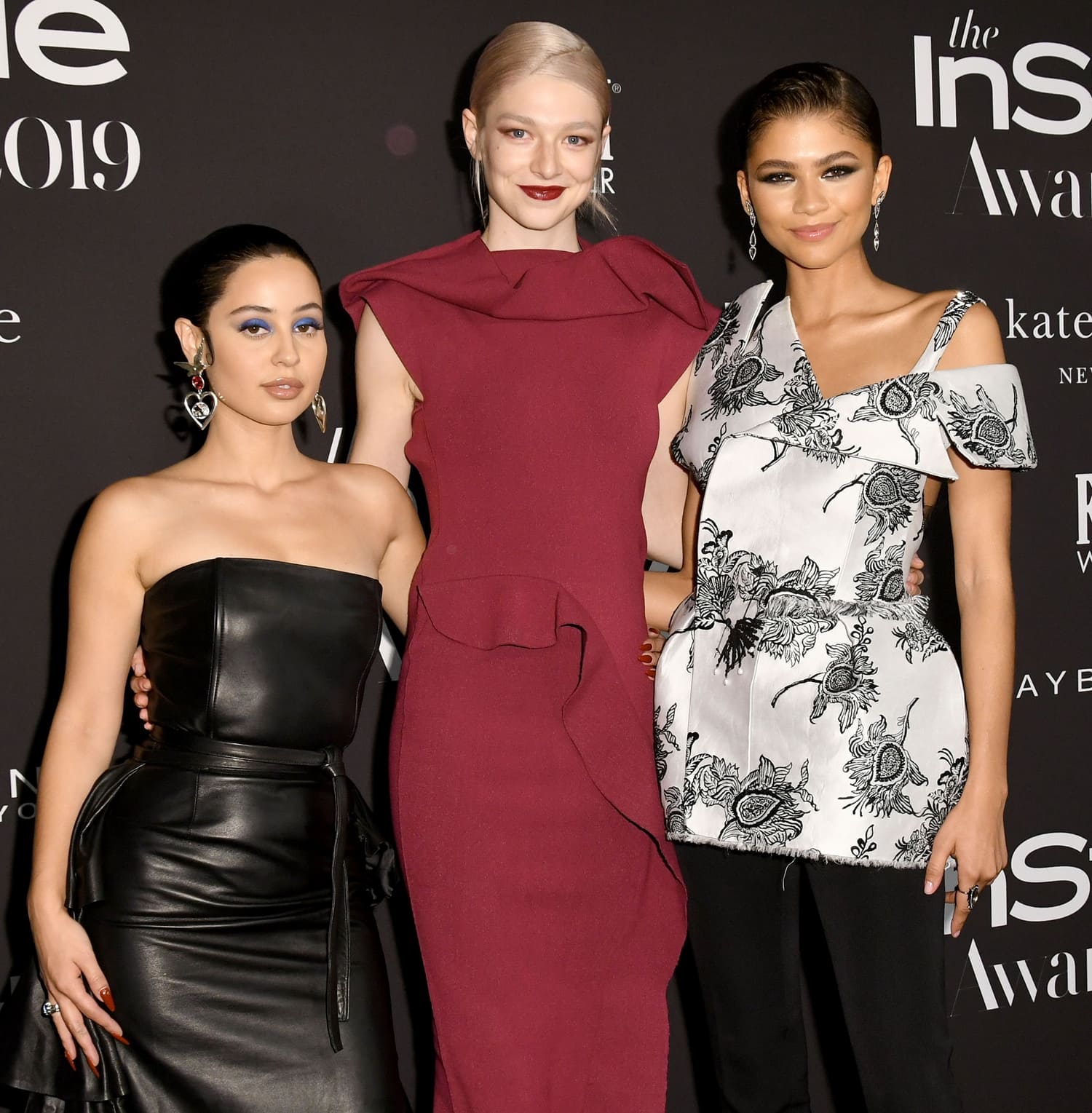 Alexa Demie, in a strapless leather Rodarte dress, looks tiny next to her much taller and younger Euphoria co-stars Hunter Schafer and Zendaya at the Fifth Annual InStyle Awards at The Getty Center on October 21, 2019, in Los Angeles, California (Credit: Quinn Jeffrey / Shutterstock)
There is no proof that Demie has altered her lips at this time, and the allegations seem to be false. She is working as a make-up artist and even made a video teaching kids how to make their lips appear attractive.
How much is Alexa Demie's Net Worth?
Alexa Demie has a net worth of approximately $6 million as of 2022. Her lucrative acting profession is her primary source of income, though she has also released a few songs within the music industry.
She has been tight-lipped about her earnings, much like her public persona in general.
Alexa Demie's Height and More
Alexa Demie has a height of 5 feet and 4 inches. Her body measurements are 34-23-35 inches, and she weighs roughly 48 kg.
She looks extremely short next to her on-and-off boyfriend Nate Jacobs (Jacob Elordi) in Euphoria.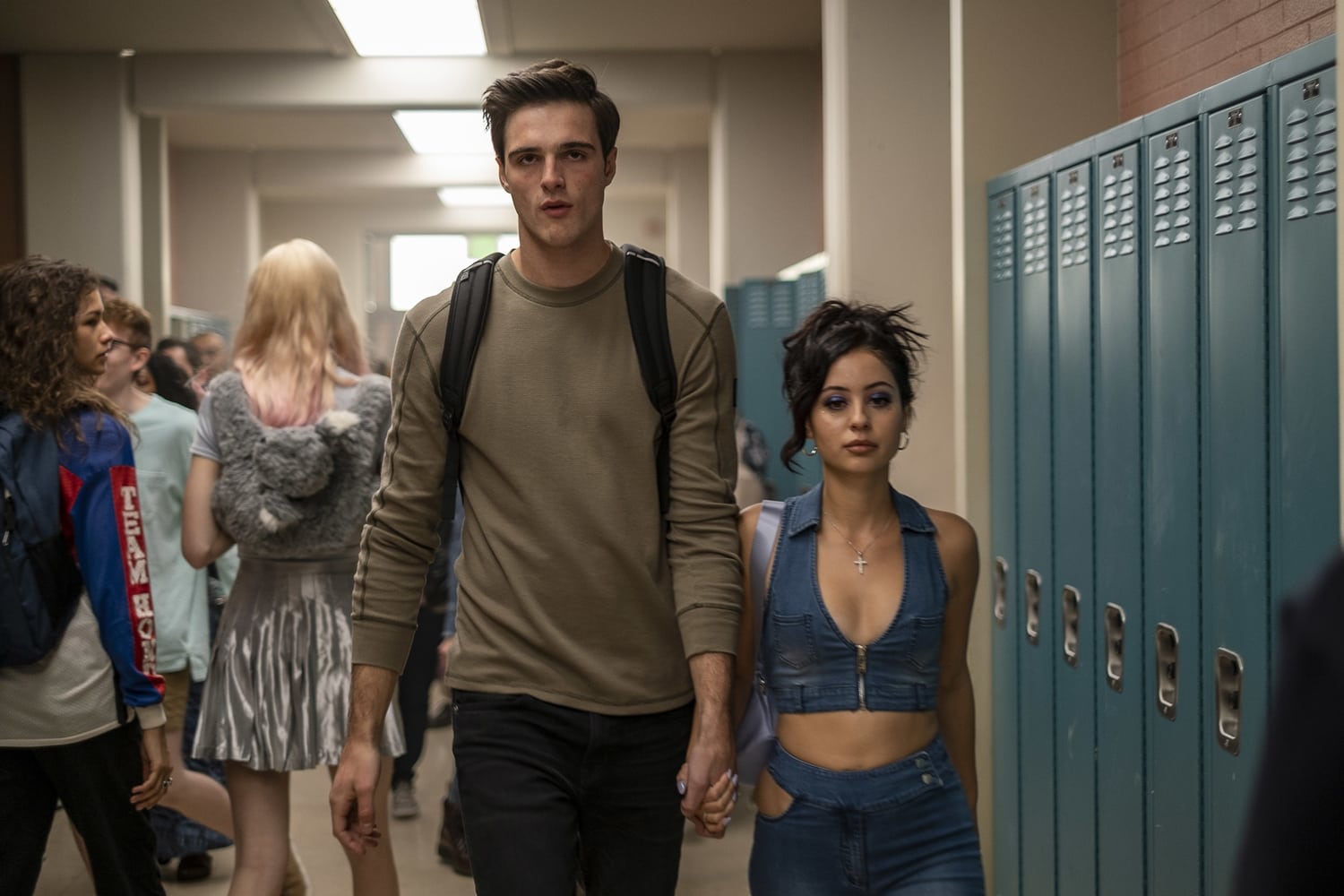 Nate Jacobs (played by Jacob Elordi) and his much shorter girlfriend Maddy Perez (played by Alexa Demie) in Euphoria (Credit: HBO)
Alexa Demie does not have any tattoos and is estimated to be a size 6 in the United States. Her eyes are dark brown, and her hair is naturally black.
Alexa Demie's Dating Life
Christian Berishaj, also known as JMSN, has been Alexa Demie's boyfriend since 2017. JMSN is an American singer, songwriter, record producer, and music engineer. She hasn't said anything publicly about her previous relationships except for Christian.
In Euphoria, Demie plays Maddy Perez, a sassy & confident young woman in love with Nate Jacobs (played by Jacob Elordi). Demie and Jacob have never been romantically connected in real life, however.
Actress Alexa Demie in black pants paired with a corset top at the New York premiere of 'Mid90s' during the 56th New York Film Festival at Alice Tully Hall, Lincoln Center on October 7, 2018, in New York City (Credit: Startraksphoto / John Nacion)
Alexa Demie is skilled at keeping her personal life hidden from prying eyes in the media, so there's not a lot of information about who she's dated in the past. Even the fact that she was dating JMSN was only revealed after their relationship had begun.
Conclusion
Overall, although Alexa Demie has avoided making much of her personal information available to the public, this has made her even more of an enigma in Hollywood.
She is a multi-talented woman whose career in the spotlight has only just begun. While fans have been able to deduce most of the information she has hidden so far, it is sure that Alexa still has secrets yet to be revealed… which only makes her even more interesting.