You may know of him as the love interest on Netflix's hit saga, The Kissing Booth, or maybe you know him as Hollywood's favorite villain on HBO's Euphoria – either way, this heartthrob is on your radar.
But this Aussie's acting career was almost shelved before it had the chance to take off.
Joey King as Rochelle (Shelly) "Elle" Evans and Jacob Elordi as Noah Flynn in the 2018 American teen romantic comedy film The Kissing Booth (Credit: Netflix)
If you think just any attractive white man can make it in this town, think again. Many in the industry didn't think he'd fit. So who is this Aussie, and how did he get his start?
Rise to Fame
Elordi first started acting in his home country of Australia. It was a fellow Australian who piqued his interest in the craft. He's said that Heath Ledger's performance in The Dark Knight was all it took to get him interested.
Jacob was just 13 at the time, but that didn't matter. "He loved the theater. He devoured films. He devoured books about films," Elordi's father told Daily Mail.
Jacob Elordi portrayed Rooster in the 2018 Australian comedy-drama film Swinging Safari (Credit: Becker Film Group)
His first roles were in the shorts Carpe Liem and Max & Isoefa, but it wasn't until he starred in the 2017 film Swinging Safari that he gained international interest.
The recognition garnered from this film propelled the star's decision to move to Hollywood and try his luck in the industry.
Too Tall for Hollywood
As a child, Elordi was too tall for sample clothing, so he was not able to pursue a modeling career. Bummer.
People in Hollywood had similar concerns about his height. He was told he could never be an actor due to it.
"I used to be so sensitive about my height. Because when I first started acting, literally everybody would tell me that I'd never work because they wouldn't be able to partner me with people, and they wouldn't lift the camera up high enough," he told GQ in 2020.
"I basically got told that I was too tall to be an actor," he added. "So yeah, I was super nervous about telling people my height. I used to try and pass for 6'2″ or 6'3″ but I'm actually 6'5″.
"So online there's all different kinds of numbers. I've just sold myself out. Just because people hear 6'5″ and they go like 'you're a giant' but if I stand next to someone who's 6'3″, the difference is tiny."
At 6'5" (196 cm), he's not quite ready to join the NBA, but he does tower over most in the industry – especially his leading ladies.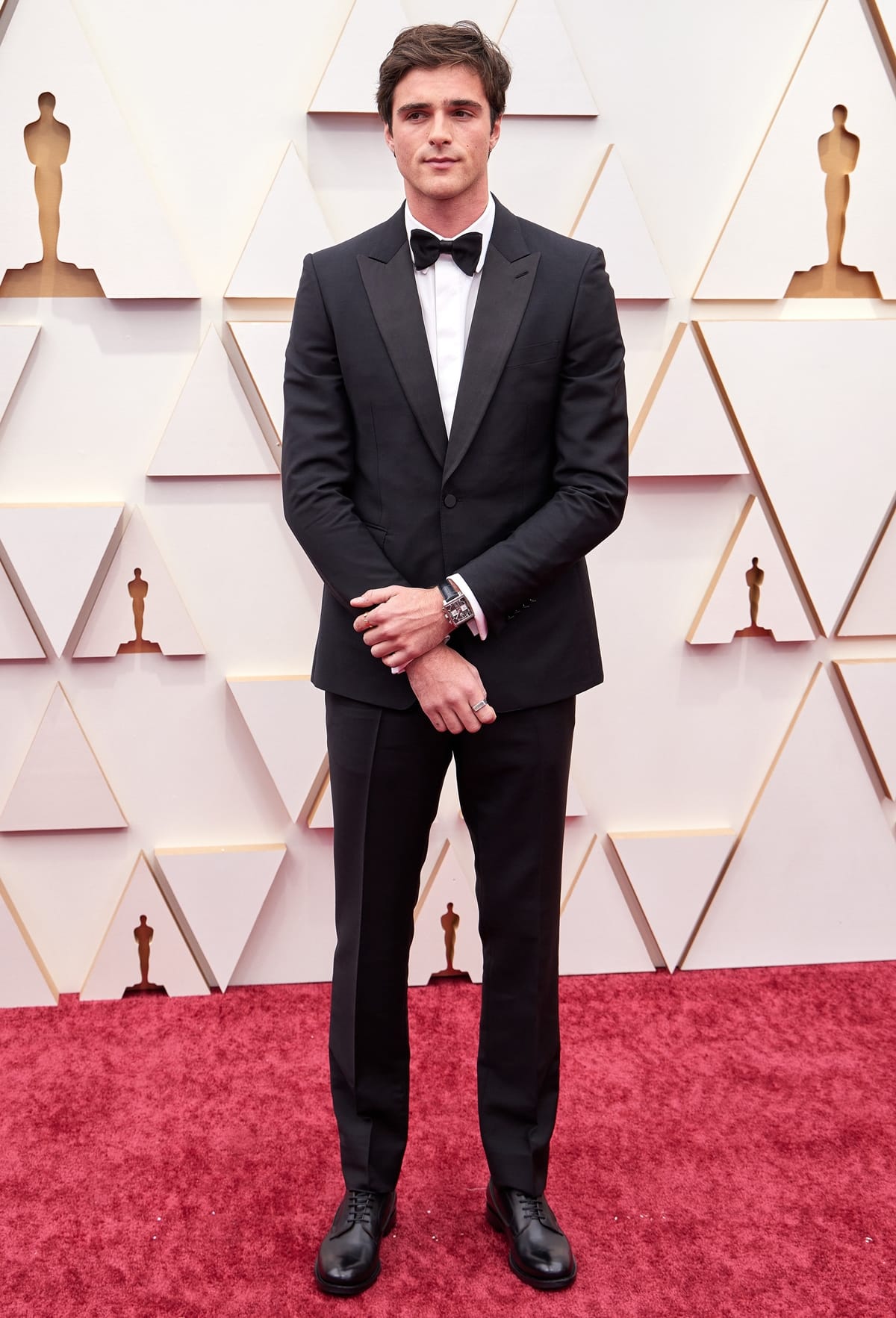 Jacob Elordi wearing Burberry with David Yurman jewelry and a TAG Heuer watch a the 94th Annual Academy Awards at Hollywood and Highland on March 27, 2022, in Hollywood, California (Credit: MEGA / WENN)
"The trick is they just always cast me with girls who are five-foot-two," he said in an interview with Men's Health.
"Everyone's like, 'You're so big!' Yeah, but they're also not big, not even average-size women. They're quite small." And he's right.
How much taller is Jacob Elordi than Joey King?
Joey King, his The Kissing Booth costar, is just five-three, and his Euphoria costar Alexa Demie is five-six.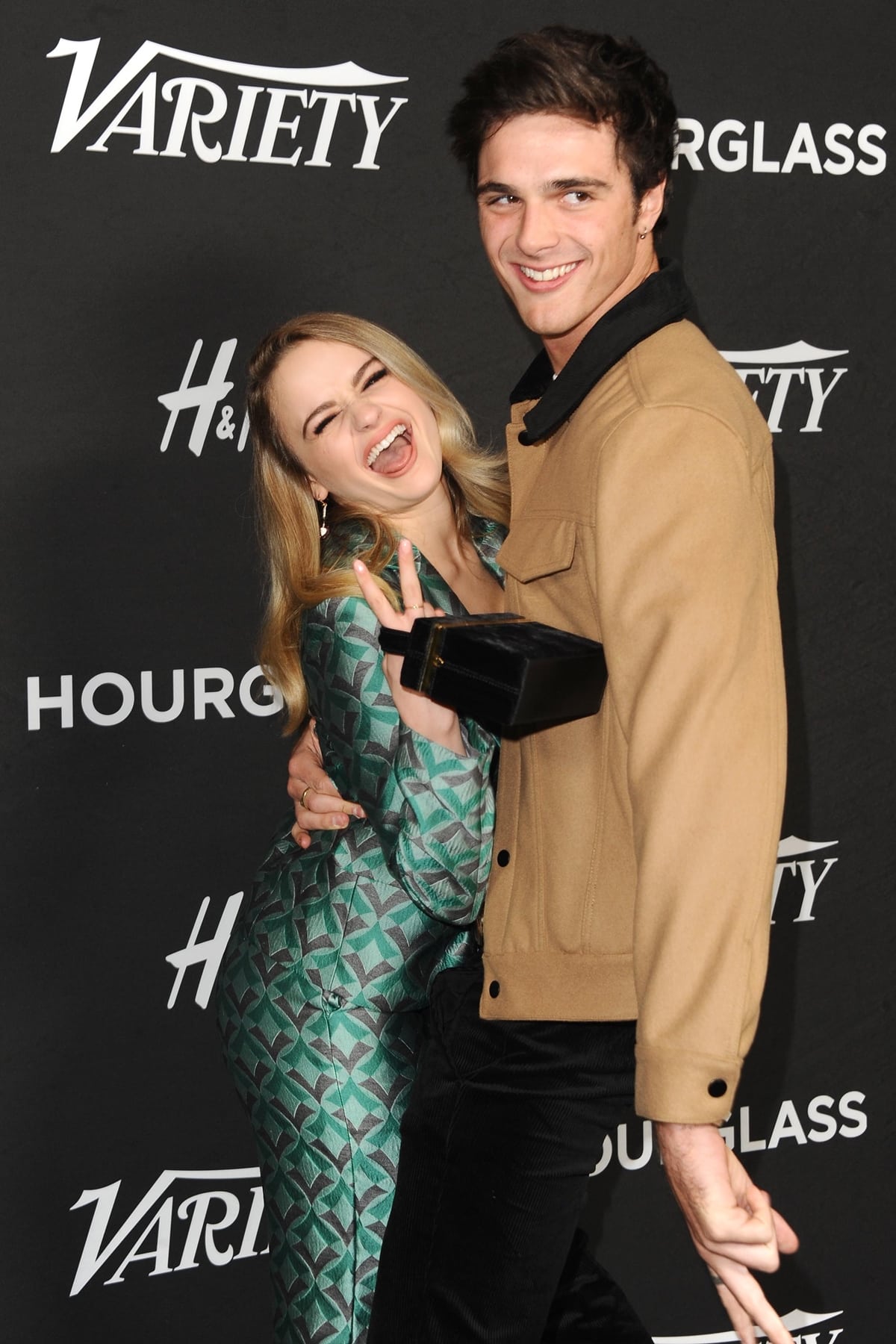 Joey King in an Armani suit and her much taller The Kissing Booth costar Jacob Elordi at Variety's Power of Young Hollywood event on August 28, 2018, at the Sunset Tower Hotel in West Hollywood, California (Credit: Sara De Boer / Startraksphoto)
He's tall, and they're short, so adjustments have to be made.
The shorter actors have to stand on apple boxes, or he has to bend his legs or squat down while shooting. And if he looks taller than his fellow stars on screen, chances are he's even taller than them in person.
It all goes to show that even attractive white men can face judgment in Hollywood. He's frustrated, and for good reason. "You have all sorts of aged people around the world only talking about what you look like," Elordi said.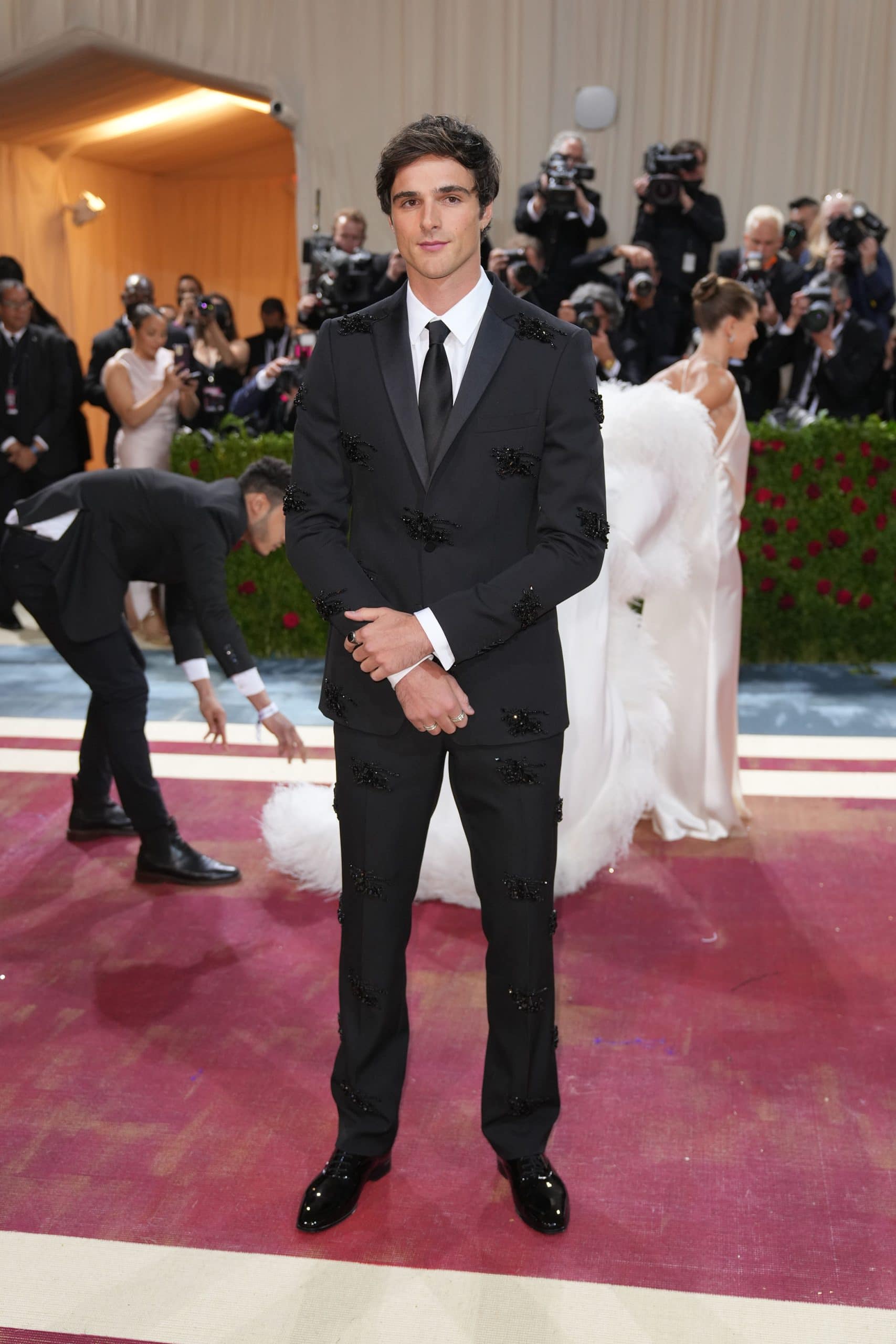 Jacob Elordi in a Burberry suit at the 2022 Costume Institute Benefit celebrating In America: An Anthology of Fashion at the Metropolitan Museum of Art on May 2, 2022, in New York City (Credit: Startraksphoto / John Nacion)
His height may have been an issue to start with, but his career and dating life seem to be going strong despite the vertical challenges.
Dating Petite Costar Joey King
Elordi has been known to have a romantic fling with his costars. First up is Joey King, his The Kissing Booth costar.
Their onscreen chemistry benefited from their connection. The first film was shot in 2017, and their relationship lasted into 2018.
Jacob Elordi and Joey King started dating after meeting on the set of Netflix's The Kissing Booth (Credit: Netflix)
In an interview with Bello magazine, King noted that she wasn't initially interested in her tall counterpart.
"Well, I thought he was very cute when we first met, but it started as a friendship. Right away, we were talking about gross things with each other. But before long, I started to realize, 'Hey, I think I kind of like this person!' It was such an interesting experience meeting your boyfriend on-set because you spend so much time together and become so close so fast. We were spending 17 hours a day together, and all of us would hang out after work and watch movies together and stuff. It was great."
"When we first met, me, him, and Joel went out to dinner and we had the best, most fun night ever," she told Seventeen in May 2018.
Joey King and Jacob Elordi started dating but split before dating The Kissing Booth 2 and 3 (Credit: Sara De Boer / Startraksphoto)
"By the end of dinner, we had like six inside jokes. We were so close and throughout filming, I was just best friends with Jacob. I guess there was no moment, but I feel like the friendship kind of naturally was like, 'Oh hey, this person is super frickin' awesome. We have so much in common and we really love spending time together. Maybe there's something more there.'"
She added, "It was never like this moment of "Omg, I can't let him see me like this." You know what I mean? We were open books with each other. There was nothing we wouldn't talk about. He's just so great. After the first month, I was like, 'Hmm, I think I like him.'"
Unfortunately, their romance did not make it for the remaining two films. She told Cosmopolitan about filming The Kissing Booth 2 and 3 as an on-screen couple after their split in real life.
Joey King as Elle Evans and Jacob Elordi as Noah Flynn in the 2021 American teen romantic comedy film The Kissing Booth 3 (Credit: Netflix)
"No one's thinking to themselves, 'That was easy,' because it wasn't. I'm sure people will analyze every movement and every detail. And you know what? Let them. But at the end of the day, I was just thrilled to be Elle Evans again," Joey said. "There's so much I want to say. What's the most, um, correct way to go about this? Elle Evans needs her Noah Flynn, and whatever that means for my personal life, I'll do anything to make sure the story of my character who I care about so much is complete."
Elordi also had a fling with his famous Euphoria costar, Zendaya.
Zendaya looks up to her much taller Euphoria co-star Jacob Elordi (Credit: Janet Mayer / Startraksphoto)
Imagine enjoying your day at an iconic landmark and accidentally photobombing a fellow traveler – and now imagine that photo blowing up.
Believe it or not, that's how the world came to know about their budding relationship.
In August 2019, the couple was spotted together in Athens, and that's all it took to get the rumor mill started.
Jacob Elordi reportedly started dating Zendaya while starring as Nathaniel "Nate" Jacobs in the first and second seasons of Euphoria (Credit: HBO)
From then they were seen on a movie date and also with his family over Thanksgiving. E! News noted that "Jacob and Zendaya have been seeing each other for months now. They started as close friends, but it became romantic after their show ended."
Despite all the cute outings, Elordi denied the romantic connection. In November of 2019, he told GQ Australia: "She's like my sister. Zendaya is an amazing creative, you know? She's super dope to work with. She's an incredible artist and a very caring person to all of us. But we're all really close."
Kaia Gerber and Jacob Elordi dated for about a year and split in late 2021 (Credit: MEGA / WENN)
The exact dates of their relationship are unclear, but they were certainly over by September 2020 when he was spotted with model Kaia Gerber on Zendaya's 24th birthday.
Gay Rumors Are Swirling
Despite having been seen in public with multiple women, Elordi has never commented on his sexuality.
Rumors arose about his sexuality after a picture surfaced of Elordi embracing and kissing the non-binary and gay 13 Reasons Why actor Tommy Dorfan on the cheek. Dorfan has been married since 2016.
A friendly embrace or something more? Elordi did not comment on the photo.
What's Next for Elordi?
Elordi is set to act in two upcoming films, He Went That Way and Parallel.
Fans everywhere will be happy to know that season three of Euphoria has been greenlit. There has not been a release date set yet, but many are hopeful to see it as soon as 2023.