Despite not appearing particularly tall on TV, Zendaya stands at an impressive height of 5'10" (178 cm).
Zendaya's height of 5'10" (178 cm) makes her approximately 6 inches (or about 15 centimeters) taller than the average American woman, who stands at around 5'4″ (163 cm).
Zendaya is taller than Hailee Steinfeld and stands at a height similar to Lily Aldridge, but she is shorter than both Taylor Swift and Marsha Hunt (Credit: Tinseltown / Shutterstock)
Regarding her shoe size, Zendaya's US women's size 10 generally translates to a European size of 41, a UK size of 8, and a Japanese size of 27 in other international shoe sizing systems.
Taller than her boyfriend, Tom Holland, Zendaya embraces her height and even loves high heels.
In a 2015 interview with People, Zendaya encouraged her fans to be proud of their height and not worry about what others think. "People are going to comment on your height regardless, so you might as well stand tall and look good doing it!"
Zendaya displays her feet in Casadei Blade pumps at the premiere of "Confirmation" at Paramount Theater on the Paramount Studios lot on March 31, 2016, in Hollywood, California (Credit: Kathy Hutchins / Shutterstock)
Zendaya's career has taken off in the past few years, and it is only uphill from here!
The talented singer, dancer, and actress has had a steady upward progression, from her days on Disney Channel to starring in feature films like The Greatest Showman to her success on the hit TV show Euphoria.
With great success comes great fortune, which leaves us all wondering what Zendaya's net worth is.
How long did it take Zendaya to become famous?
Zendaya Maree Stoermer is an American actress and singer. She was also a dancer in her earlier days, and we see those talents occasionally in her projects.
Her name, Zendaya, means "to give thanks" and is derived from the Shona name Tendai. She is the youngest of five children.
Bella Thorne and Zendaya on a rooftop during a photo call for their hit Disney show, Shake It Up, in Munich, Germany, on May 21, 2012 (Credit: Goran Gajanin / Startraksphoto)
Zendaya was born on September 1, 1996, and has been in the entertainment industry since childhood. She broke out in 2010 while on Shake It Up, a Disney sitcom.
Her TV career took off from this point on, but she wouldn't see her first feature film until 2017 when Spider-Man: Homecoming was released.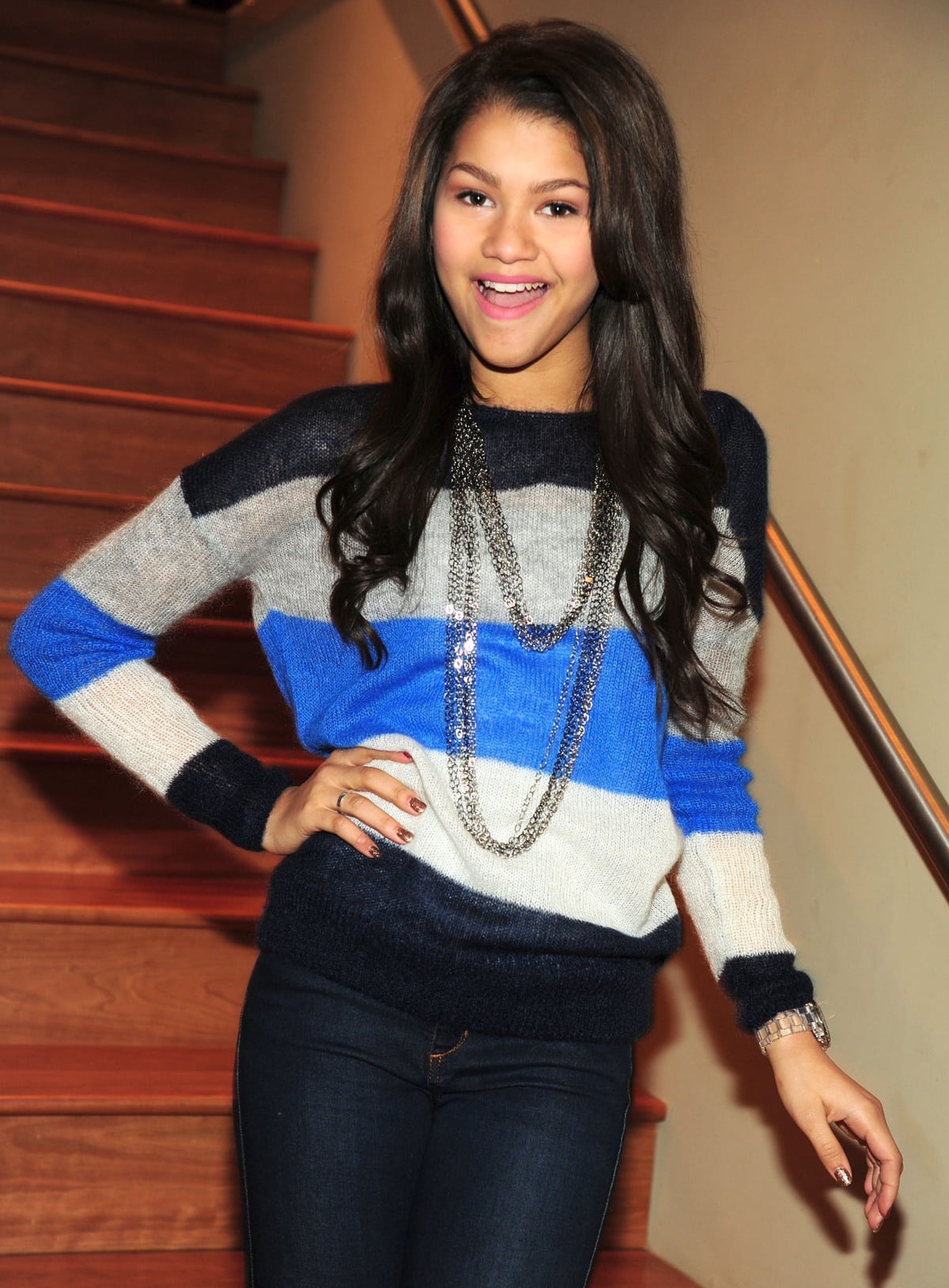 Zendaya became famous as Rocky Blue on the Disney Channel sitcom Shake It Up (Credit: Albert Michael / Startraksphoto)
She is the winner of two Emmy awards for Outstanding Lead Actress in a Drama Series and is the youngest to win two of these awards.
Spider-Man: No Way Home
Perhaps one of Zendaya's greatest successes to date is her starring role in Spider-Man: No Way Home. Zendaya stars as Spider-Man's love interest, Michelle Jones-Watson, or MJ as she is lovingly referred to.
Zendaya showcased her stunning legs in a gorgeous Valentino dress, complemented by exquisite Bvlgari jewelry and stylish Christian Louboutin heels at the Los Angeles premiere of Sony Pictures' "Spider-Man: No Way Home" on December 13, 2021 (Credit: Abby Grant / Cover Images)
Zendaya starred in this role alongside her shorter boyfriend, Tom Holland, who played the part of Spider-Man. For the project, Zendaya made a whopping $2 million!
Challengers
Zendaya has been working diligently over the past few years, so much so that it feels like a new project from her is coming out every few months!
Zendaya will reportedly be paid over $10 million for the American romantic sports comedy film Challengers, which is scheduled for release in 2023 (Credit: Jennifer Graylock / INSTARimages / Cover Images)
One of her most recent film projects is a film called Challengers, which is said to be about a tennis professional named Tashi. Zendaya has the lead role in this film and will star alongside Mike Faist and Josh O'Connor.
For this new film, it is said that Zendaya will be paid over $10 million!
Zendaya's Total Net Worth
Some of Zendaya's projects have more public budgets, while others are impossible to estimate.
While we know that she was undoubtedly one of the highest-paid actresses on the set of Euphoria, and it is rumored that she made upwards of $50,000 per episode, there are no financial records that truly prove this is true.
Zendaya is believed to be making $50,000 per episode of the American teen drama television series Euphoria (Credit: Munawar Hosain / Startraksphoto)
However, we know that Zendaya is making her way up the ranks and becoming one of the highest-paid actresses of all time, especially for her age.
While it is difficult to know just how much Zendaya makes on all her projects, we know that her estimated net worth is around $20 million as of 2023!
This will, without a doubt, go up over the next few years as more films and television programs continue to air.
Actress and singer Zendaya is best known for the television comedy 'Shake It Up' and big-budget films like 'Dune,' 'Spider-Man: Homecoming' and 'The Greatest Showman'(Credit: MEGA / WENN)
Zendaya Facts
Is Zendaya rich?
Yes, Zendaya is a successful American actress, singer, dancer, and producer with an estimated net worth of $20 million as of 2023.
Full Name:
Zendaya Maree Stoermer Coleman
Born:
Zendaya Maree Stoermer Coleman, born on September 1, 1996, in Oakland, California, U.S., and celebrated her 27th birthday in 2023.
Dating:
She is believed to have dated fellow Disney star Trevor Jackson from 2013-2017.

There were also rumors of a possible connection with Odell Beckham Jr. in 2016.

Zendaya was in a relationship with Jacob Elordi from 2019 to 2020.

In 2021, Zendaya was confirmed to be dating her Spider-Man: Homecoming co-star Tom Holland.
Kids:
Zendaya does not have any children.
Shoe Size:
Zendaya's shoe size of US women's size 10 can be considered slightly above average in the United States but falls within the standard range.
How tall is Zendaya?
Her height is believed to be 5′ 10″ (1.78 m).

Initially claiming to be "Five Eight" in a video Q&A for teen.com, she later began identifying herself in the "5ft 10 range" and expressed joy in being tall. In 2014, Zendaya added a half inch to her height and stated that she was "about 5'10 and 1/2"."
Nationality:
Zendaya is a citizen of the United States.
Source of Wealth:
Zendaya has made her money through a variety of sources, including acting, singing, dancing, and producing.

She has also endorsed several brands and launched her own clothing line. Zendaya is a talented and successful young woman with a bright future ahead of her.
Ethnicity/Race:
Zendaya Maree Stoermer Coleman has a rich and diverse ethnic background. Her father hails from African-American heritage, while her mother's roots trace back to German, Irish, English, and Scottish ancestry.
Who is Zendaya married to?
She has never been married.
What religion is Zendaya Coleman?
She is not known to be a Christian or religious.
What does Zendaya mean?
The name Zendaya means To Give Thanks and is of African origin.

Her unusual name comes from the word for thanks, Tendai, in the Shona language, spoken in Zimbabwe and southern Zambia
Who are Zendaya's parents?
She is the only child of Claire Marie (Stoermer) and Kazembe Ajamu (born Samuel David Coleman).
Does Zendaya have a sister?
She has five older half-siblings, two brothers and three sisters, on her father's side.

Their names are Kaylee Stoermer Coleman, Katianna Stoermer Coleman, Austin Stoermer Coleman, AnnaBella Stoermer Coleman, and Julien Stoermer Coleman.
How do you pronounce Zendaya?
It is pronounced: Zen-day-a (just like how it's spelled.)
How much did Zendaya get paid for Dune?
Zendaya was reportedly paid $300,000 for her brief role as Chani in the 2021 American epic science fiction film Dune.
Why did Zendaya stop using her last name?
Inspired by Cher and Prince, Zendaya decided to use only one name as she thinks it sounds cool.
Is Tom Holland shorter than his girlfriend Zendaya?
Yes, Tom is shorter than Zendaya. Her height is about 5'10", while his is about 5'8"
How much did Zendaya get paid from Disney?
She reportedly made $400,000 per season of K.C. Undercover and $140,000 for her three seasons on Shake It Up.
How much does Zendaya weigh?
Zendaya is rumored to weigh between 115 and 125 pounds, depending on the source. However, it is important to note that these are just rumors, and Zendaya has never publicly disclosed her weight.
Zendaya displays her feet in strappy high heels in New York City on August 5, 2015 (Credit: Roger Wong / INFphoto)
Zendaya's Quotes That Will Make You Laugh, Cry, and Everything in Between
"Let's practice motivation and love, not discrimination and hate." – Zendaya
"I love simplicity." – Zendaya
"Why limit yourself? I feel like I can do anything." – Zendaya
"One of my dreams is to walk down the runway during Fashion Week!" – Zendaya
"I wore a mullet to the Grammys! I have no fear." – Zendaya
"Top knots are the easiest thing to create." – Zendaya
"When you're put in a position to really affect young people who are going to run the world one day, if you're able to be in their life at a young age and make a positive impact, I think that's a beautiful thing." – Zendaya
"I realized that if I don't like something, I can change it. If I don't feel comfortable with something, then I have a voice to say it's not cool." – Zendaya
"As you grow older, your music begins to mature and grow older along with you." – Zendaya
"I was born an auntie. I have an older niece and nephew and many younger nieces and nephews." – Zendaya
"I remember 'Hannah Montana' came out, and I was so depressed, I started crying because I was like, 'I want to do that.'" – Zendaya
"I think when you're young, you're a lot more open-minded, and sometimes you're a lot more perceptive about what's going on in the world." – Zendaya
"I love Adele; she's a timeless, classic beauty. I think she's beautiful. She's just a real woman." – Zendaya
"People always want to doubt you." – Zendaya
"My mother's proud of where she's from, and her history, and her past, and same with my dad. I have roots in Africa. Like, I am from Africa as well as from Germany, and I am very proud of that." – Zendaya
"I am so honored to join the company of a roster as celebrated and diverse as Covergirl's. I can't wait to share some of my own beauty tips with fans and work alongside Covergirl to continue empowering girls and women to celebrate their individuality." – Zendaya
"X Out has helped me keep up my confidence, and I know it can help anyone who would rather have fun than worry about blemishes. If you want clear, seriously good-looking skin, X Out is for you." – Zendaya
"I was taught as a young child by my parents and family to love myself." – Zendaya
"My mom started working at the California Shakespeare Theater in Oakland when I was two years old, so I've always grown up around theater." – Zendaya
"There are so many great things in life; why dwell on negativity?" – Zendaya
"There are things that people say that hurt my feelings or whatever, especially with social media right now. It can be the most amazing thing, and it can also be the most negative and detrimental thing." – Zendaya
"Find something that makes you happy and go for it." – Zendaya
"I think the way we react to things is a big indicator of our character and what type of person we are." – Zendaya
"I'm a Virgo, and I know what I like." – Zendaya
"I don't think people understand the power of social media or our phones." – Zendaya
"Fashion is a great thing, it's a way to express who you are." – Zendaya
"It's important to raise your voice in things you feel passionate about and things that you know about. Don't raise your voice just to raise your voice if you have nothing behind it and don't know what you're talking about." – Zendaya
"My generation, we really have to step up to the plate and vote. Tweeting is great – people say, 'Oh, I don't want this or that' – but at the end of the day, tweeting isn't a ballot. Just saying that you don't like someone on Twitter is not going to turn a state blue or red. You have to vote." – Zendaya
"What hasn't Barbie been? I don't think I can create an occupation that she has not done yet." – Zendaya
"I secretly want to shave my head." – Zendaya
"If I'm going to portray one of my idols and someone I feel… so strongly about, it has to be done right, and it has to be done 120 percent." – Zendaya
"I don't think it is important to be a role model, because if you are a role model, you are pretending to be someone else." – Zendaya
"'Shake It Up' definitely teaches kids about the importance of reaching for your dreams and setting high goals. It also teaches great lessons about friendship and family." – Zendaya
"I was that weird eight-year-old who was really interested in Shakespeare and understood it and appreciated the language." – Zendaya
"Doing and making positive programming for young people is so important to me, and I will keep doing it." – Zendaya
"I use my platform as a tool and a way to speak about greater change." – Zendaya
"All my brothers and my dad at one point had dreadlocks." – Zendaya
"I love singing and would love to record an album at some point." – Zendaya
"I have a phone obsession. It's really hard on set sometimes because I'll be checking Instagram, and then I have to remember, 'Oh, crap, I have to shoot a scene or rehearse.' Every now and then, I have to turn it off and live my life." – Zendaya
"A feminist is a person who believes in the power of women just as much as they believe in the power of anyone else. It's equality, it's fairness, and I think it's a great thing to be a part of." – Zendaya
"If there's any definition to being perfect, you're perfect at being yourself." – Zendaya
"Remember that we are all human beings trying to do what we love to do." – Zendaya
"Age doesn't mean anything. Age doesn't mean I can't work as hard. Age doesn't mean I can't do as well as everyone else. It's just a factor. It's just there." – Zendaya
"There is no such thing as ugly." – Zendaya
"If you're from Oakland, and you're not a Raiders fan, then you're not from Oakland." – Zendaya
"Everyone loves Beyonce. If you don't love Beyonce, we can't talk." – Zendaya
"I've had a lot of voices tell me what I should be making. Personally, I would much rather live and die by my own hand. If my stuff sucks, then at least I made it suck. I didn't allow some person, some old dude in a suit, to make it suck for me." – Zendaya
"I would say that 'Shake It Up' was a chance for me to do two things I really love: acting and dancing." – Zendaya
"Pretty is so boring now. There are so many different definitions of 'pretty.' It's so much broader than before. The old pretty is boring – nobody cares anymore." – Zendaya
"I love Channing Tatum!" – Zendaya
"Oakland kids are always the best." – Zendaya
"As a kid, my main interest was dancing. When I was 8 years old, I was in a hip-hop troupe." – Zendaya
"I've loved Michael Jackson since the minute I was born. He's probably the most talented person ever. He was able to create such an amazing career and be probably the biggest star we've ever had." – Zendaya
"I didn't like my hair and makeup one time on a photo shoot, and my publicist told me, 'You should just be happy with it – they haven't had a black girl on the cover since forever.' She's no longer my publicist." – Zendaya
"I want to make affordable shoes of quality that are very fashion forward, chic, and that I'm going to wear." – Zendaya
"Braids are not new. Black women have been wearing braids for a very long time." – Zendaya
"As an artist, you have to work really, really hard because you gotta make something that will allow people to even take the chance to even listen to it, you know?" – Zendaya
"My parents got me in trouble when I was in school because someone was getting bullied, and I didn't do anything about it. I just watched it happen and then came to the school, and I got cussed out for not helping and not being a part of it." – Zendaya
"I love playing with makeup. Makeup has become a thing where it's an art form. It's not a thing where you use it because you need to feel beautiful or because you don't like the way you look." – Zendaya
"I've never had a body issue; I've never had a self-confidence issue, and there's been very few times in my life where I've felt down about the way I look or the way I feel." – Zendaya
"You'd be surprised how self-conscious a lot of women are. That's something I've witnessed firsthand." – Zendaya
"The greatest of the greats wouldn't be the greatest of the greats if they didn't try stuff, you know what I mean?" – Zendaya
"My dad wouldn't let me date until I was 16." – Zendaya
"Usually, I just don't care what I look like. If it's cold, I'm, like, putting on whatever I have to to be warm." – Zendaya
"I love all types of braids. Single, multiple, box braids – I try them all." – Zendaya
"I'm excited to be a part of the new direction the Barbie brand is headed, specifically how they are celebrating diversity in the line and encouraging kids to raise their voices." – Zendaya
"When I first started out in the industry, I was 12 or whatever, and I wanted to be on something so bad, and I didn't know what I was going to be on. At the time, I was in school, and I was working on drama and theatrical stuff, so I never thought that I'd end up going to comedy." – Zendaya
"As I've gotten older, I've realized my true models are my parents. My mom is like a sheroe. My dad is so strong." – Zendaya
"The only way I was going to come back to the Disney Channel was if I was in a position of more power." – Zendaya
"I have parents and family who will never allow me not to be grounded. If I thought for a second that I could possibly lift off the ground, I have a thousand people who will grab my ankles." – Zendaya
"My mom actually taught fifth grade, so… I'm good with fifth graders. That's, like, my specialty." – Zendaya
"I definitely enjoy working with people who can do their thing but also allow me to do my thing, you know? Who respect the process." – Zendaya
"I shampoo every other day and only do the roots. I can't shampoo all the way down to the end, because it will dry my hair out. I use a mask multiple times a week to restore moisture." – Zendaya
"A good hair day is when my curls are popping. Sometimes my curls and waves, they like to go a little wild sometimes. They have a mind of their own. But some days, they just fall right into place." – Zendaya
"I haven't always been confident enough to rock different styles because I used to be really shy." – Zendaya
"There's no such thing as trends. There's no such thing as style, even. It's just whatever you feel." – Zendaya
"I did kindergarten twice because I was so shy." – Zendaya
"I'm not good at a lot of things. I am not good at keeping my room clean. I am not good at eating healthy. I am not good at sports anymore. I used to be! Not so much anymore." – Zendaya
"Janelle Monae, she has her own style, and it's specifically hers." – Zendaya
"Beautiful updos with natural hair are great!" – Zendaya
"Of course I've had a problem with people taking me seriously because of my age. People are always going do that because you're less experienced; you haven't lived as much." – Zendaya
"I think, more than anything else, my dog's death has made me grow up. I find myself thinking about the world in a more serious way." – Zendaya
"My room used to be full of Michael Jackson posters." – Zendaya
"It's hard as a young person of a different ethnicity or background to look at the TV and not see anyone who looks like you. Representation is very important." – Zendaya
"I feel that if you shelter your kids from everything, one day they are going to be out in the world on their own, and they are going to have to figure it out. You can't give them a test if you never taught them anything that's on the test. They're going to fail." – Zendaya
"I talk about Beyonce too much. I am a diehard." – Zendaya
"I can't do chapped lips. If your lips are jacked up, Aquaphor is always a good go-to." – Zendaya
"When I was younger, I went through a phase when I didn't like my hair. Because the school I went to was primarily Caucasian, there wasn't anyone who had my hair texture. I remember one day I straightened my hair, and that was the first day that people gave me compliments on it." – Zendaya
"What is cool today is not going to be cool tomorrow, and what wasn't cool yesterday is going to be cool tomorrow." – Zendaya
"My first part in a play was one of the witches in 'Macbeth.'" – Zendaya
"Some things are really sacred and important to other cultures, so you have to be aware, politically, about those things before you just adopt them." – Zendaya
"Why trip off some random person in Idaho that doesn't feel my vibe? Like, no thank you. Stay in your life; I'll stay in mine." – Zendaya
"I hate when books are written from the wrong perspective; when they're written by adults for tweenagers. Like, do you truly remember what it's like to be 12? No, not really." – Zendaya
"There were a lot of times people would do my makeup, and it would be awful, and I would be orange. Nothing matched. So then you learn how to do your own makeup. I watched a lot of YouTube videos when I was little and taught myself." – Zendaya
"Sticking with your vision and what you believe in is so, so important." – Zendaya
"I was actually supposed to be a basketball player, not an actress. My parents had me playing basketball on competitive teams when I was in kindergarten. Even though my heart belongs to the arts, I'm a tomboy at heart, too." – Zendaya
"I love my fashion, so I gotta have my outfits." – Zendaya
"I've always been honest with my fans, and I want to keep that up because I feel they can see through the fakeness." – Zendaya
"To all the parents out there, thank you for allowing me to be a role model for your children. I really, really do not take that for granted." – Zendaya
"A lot of people don't realize that hair is a big thing for a lot of people, not just African-American women. It's something to be aware of and to be cautious of." – Zendaya
"I'm a little girl; no one wants to beat up on me." – Zendaya
"I'm a chocolate addict." – Zendaya
"My older brothers and sisters have kids and families." – Zendaya
"My grown man crush is Morris Chestnut. He's just timeless!" – Zendaya
"Honestly, I just love great performers and people who love what they do." – Zendaya
Zendaya Stuns in Alexandre Vauthier Gown at HBO's Post-Emmy Awards Reception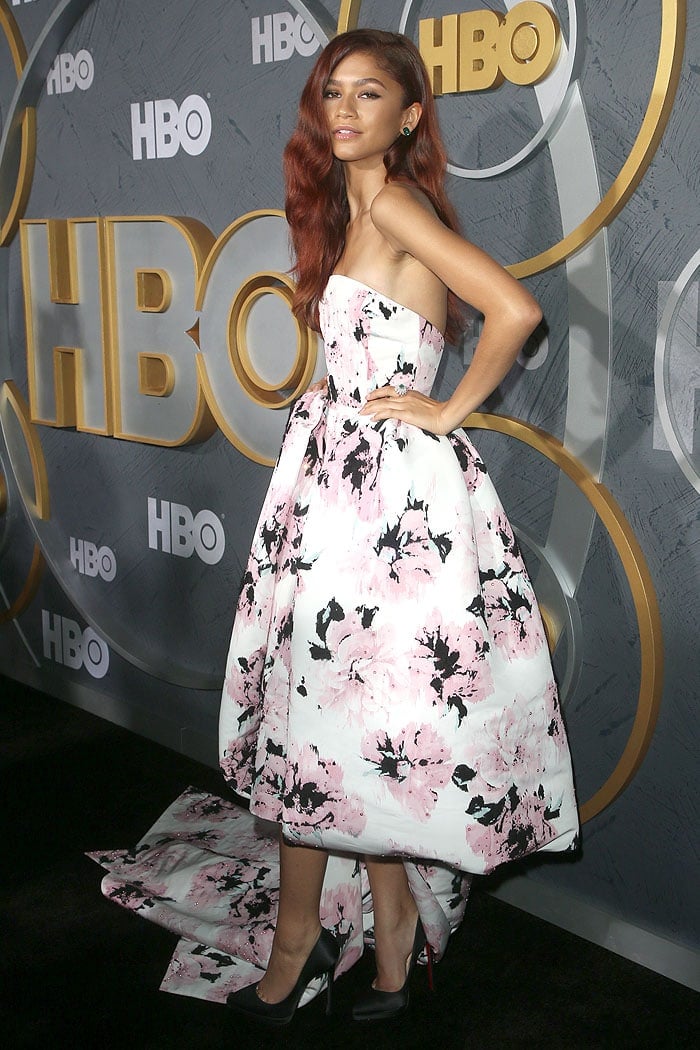 Zendaya attending HBO's Post-Emmy Awards Reception at The Plaza at the Pacific Design Center in Los Angeles, California, on September 22, 2019 (Credit: FayesVision / WENN)
In September 2019, Zendaya partied it up at HBO's Post-Emmy Awards Reception at The Plaza at the Pacific Design Center in LA.
However, the then-23-year-old actress opted for a full debutante ball gown instead of slipping into something more comfortable.
Zendaya's Alexandre Vauthier Fall 2019 Haute Couture floral strapless dress had layers of folded fabric on the poufy skirt plus a train dragging behind it.
Zendaya wearing an Alexandre Vauthier floral strapless dress and Christian Louboutin pumps at HBO's Post-Emmy Awards Reception (Credit: FayesVision / WENN)
Standing at an impressive height of 5'10" (178 cm), Zendaya's statuesque figure was the perfect canvas for this ensemble, ensuring that it maintained its graceful poise without appearing overly burdened.
The Euphoria star added height with one of Christian Louboutin's most iconic shoes, the 'Pigalle Plato' 120-mm pumps.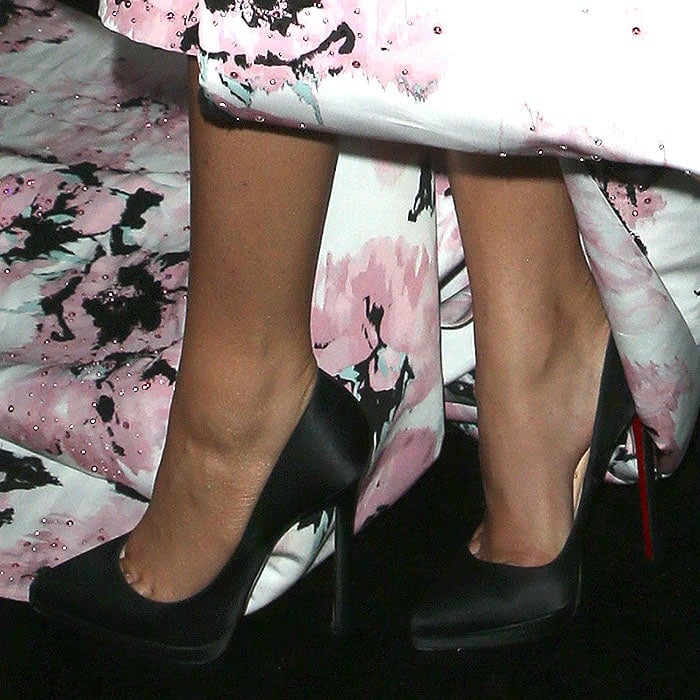 Zendaya shows off her feet in black satin Christian Louboutin 'Pigalle Plato' pumps (Credit: FayesVision / WENN)
The current iterations of the Pigalle Plato pumps feature slightly lower heels at 100 mm: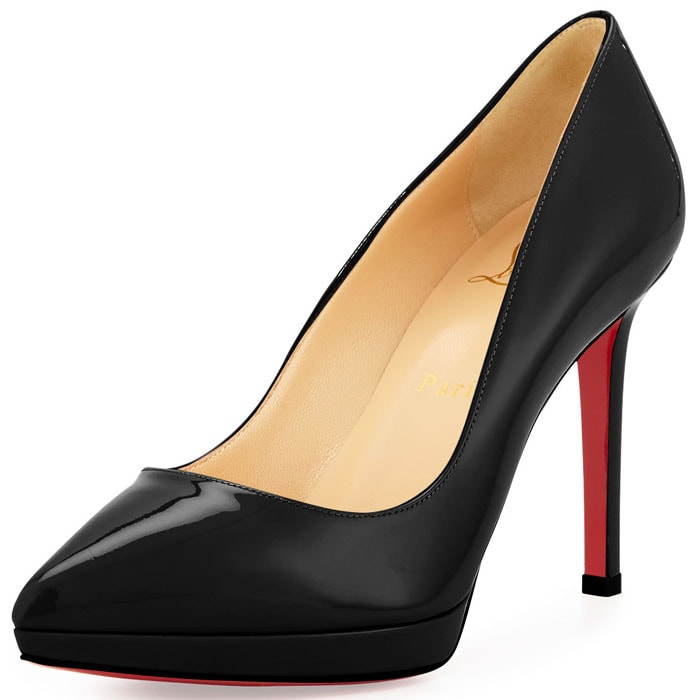 Christian Louboutin 'Pigalle Plato' 100mm Pumps, $845
Before transforming into a blooming debutante, Zendaya channeled Poison Ivy at the 2019 Emmy Awards in a custom Vera Wang green-satin gown with a corseted bodice and a thigh-high split.
In a Vogue interview, Zendaya's stylist Law Roach said that Z's look was inspired by the Emerald City scene from the 1978 film, The Wiz.
View this post on Instagram
Matching Brian Atwood 'Cassandra' pumps, Cartier emerald-drop diamond earrings, and a 1,302-diamond Cartier cuff bracelet completed Z's sexy-glam look.
The Brian Atwood 'Cassandra' pumps are another iconic pair of shoes that are classic celebrity favorites among the likes of Sandra Bullock and Emily Blunt.