We totally called it! Zendaya has been one of Your Next Shoes' top stars for some time now, and we knew it was only a matter of time before she got her own shoe line.
Now that the 18-year-old Disney star has introduced "Daya" (her nickname from when she was a kid), we gotta say that the shoes look like… the shoes from her own closet. That's a good thing because Zendaya has impeccable taste in footwear, but on the other hand, it's not-so-good because we were expecting more from this fashion risk taker. But maybe that's not so fair since she is only 18 and this is her first foray into the biz.
Zendaya Coleman goofing around with pink shoes from her Daya shoe collection
Zendaya does say that she did base the designs on shoes that she already owns because, after all, the line is named after her and the shoes do have to look like stuff she would wear herself. If there is any derivativeness, Zendaya says none of it is intentional. "We don't want the girls to feel like they're wearing a knockoff, we don't want them to feel like they're wearing the look for less," the young stylista explains. "We want them to just feel like they're wearing the look."
If you like Zendaya's feminine with a tomboy edge look, then take a look at Daya shoes. Just like how the actress-slash-singer-slash dancer likes it, the shoes are either comfortable flats or towering heels — no compromising in-betweens.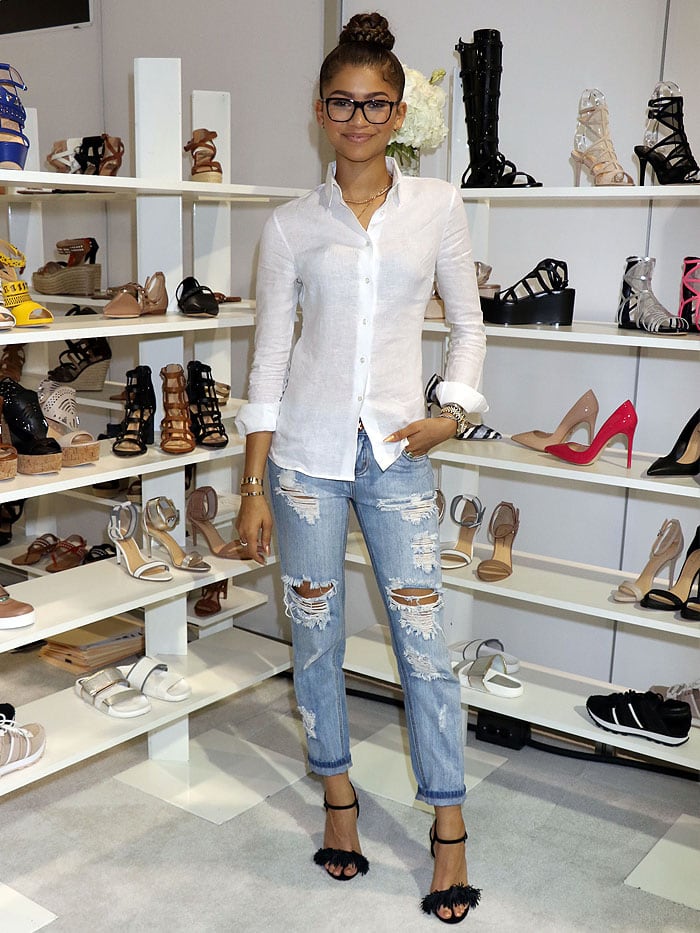 Zendaya posing in front of a wall of her Daya shoes displayed at FN Platform during the semi-annual MAGIC fashion trade show held at the Mandalay Bay Convention Center in Las Vegas, Nevada, on August 17, 2015
Zendaya holding up more pairs of her Daya shoes
Zendaya wearing and showing off a fringed sandal design from her Daya shoe line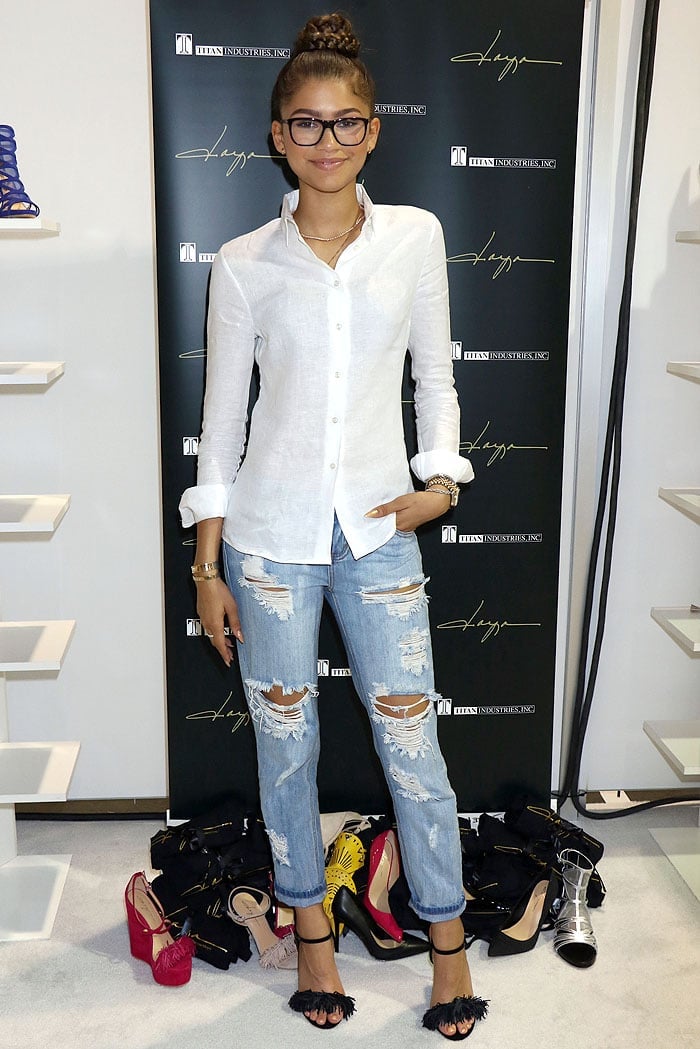 Zendaya at the launch of her Daya shoe collection
Zendaya making a kissy face in front of a pile of her Daya shoes
Spot any styles that you would go for? Daya shoes are slated to officially launch in Spring of 2016 at Amazon, with price points set between $125 to $225.
Zendaya herself has been spotted on the red carpet in her own Daya "Darcy" glitter pumps. More detail shots of Daya shoes in the Instagram pictures below.
Zendaya's own Instagram post from the launch of her shoe collection — posted on August 17, 2015
More colors of the Daya fringed ankle-strap sandals
Daya mesh cage sandal booties in blue, black, and pink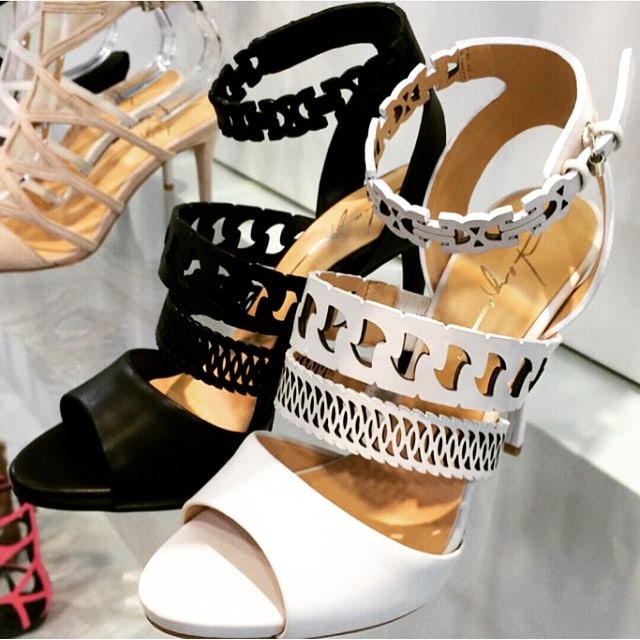 Daya chain-cutout sandals in black and white
Credit: DJDM / WENN / Zendaya's Instagram / Sole of Daya Instagram