It might be summer in Los Angeles, but Zendaya is here to cater to her style — not the weather.
Zendaya Coleman poses on the blue carpet at the 2015 Teen Choice Awards held at the Galen Center in Los Angeles, California, on August 16, 2015
The 18-year-old Disney entertainer opted to wear a dramatic ensemble to the 2015 TCAs — a teen-oriented award show held at the Galen Center in Los Angeles, California, on Sunday.
Zendaya shows off her perfectly-styled braid-and-topknot combo
The actress-slash-singer combined both soft texture and rigid structure by pairing a textured ruffled Ashi Studio top with a long high-waisted black skirt that featured multiple seams and a front slit.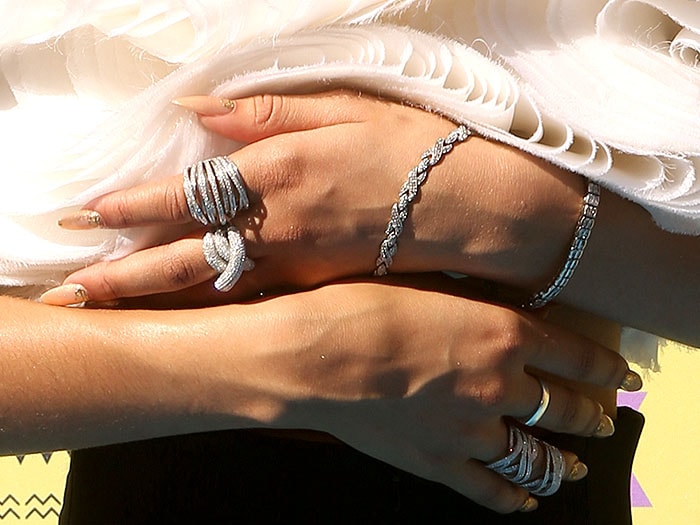 Zendaya flashes her bedazzled hands and fingernails to the cameras
She styled her long hair into a slick top knot that extended to a long braid down her back.
Zendaya wears a ruffled off-the-shoulder top and a high-waisted skirt by Ashi Studio
Zendaya added some hip-hop vibes to her outfit with huge hoop earrings and chunky diamond-and-silver chains on her hands and wrists.
She rounded out her look by revealing toe cleavage in glittery black pumps — which we've previously spotted on her — from her own Sole of Daya shoe line.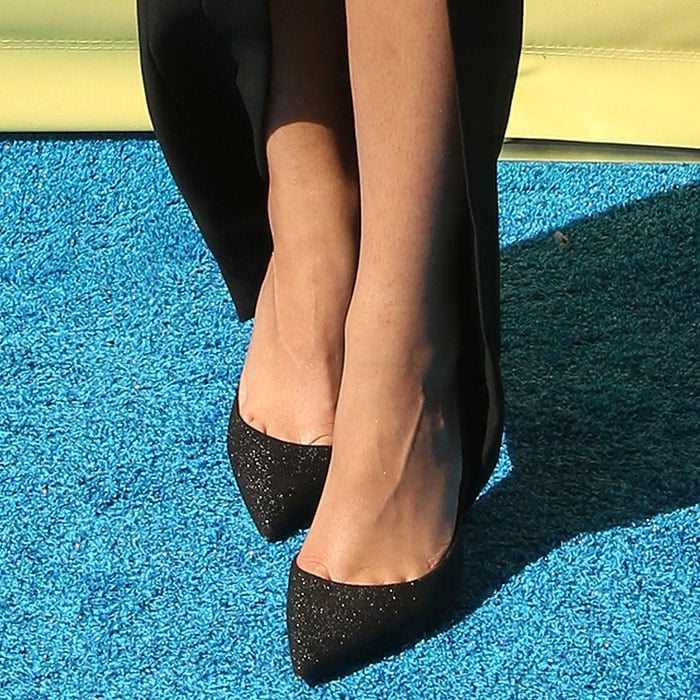 Zendaya's sexy feet in glittery black "Darcy" pumps from her own shoe line, Sole of Daya
Zendaya looked flawless — but we think she may have been a tad overdressed for a teen event.
No worries, though. Other celebs have done the same. Both Kendall Jenner and Selena Gomez have previously taken their wardrobe choices a bit too seriously at teen-centered events.
Zendaya opted to wear the "Darcy" shoes from her own shoe line to the event.
Check out the other variations of this shoe in the Instagram sneak preview below.
Sole of Daya shoes are scheduled to drop for Spring 2016 — we can't wait!
An Instagram sneak preview of Zendaya by Daya shoes coming Spring 2016 — posted on August 18, 2015
Credit: Brian To / FayesVision / WENN / Sole of Daya Instagram