Ever since becoming a darling of auteur cinema, Wes Anderson has consistently produced successful films chock-full of his trademark eccentric wittiness and distinct visual style.
His most recent film, 2021's The French Dispatch continues this trend, stringing together a series of quirky vignettes centered around a group of journalists working for a French offshoot of a fictional American magazine.
While the plot is loose and rather odd, the charm of the star-studded cast surely won audiences over.
Elisabeth Moss as copy editor Alumna, Owen Wilson as travel writer Herbsaint Sazerac, Tilda Swinton as J.K.L. Berensen, Fisher Stevens as a story editor, and Griffin Dunne as a legal advisor in The French Dispatch (Credit: Searchlight Pictures)
The anthology comedy-drama film is filled to the brim with talented actors like Owen Wilson, Benicio Del Toro, Adrien Brody, Tilda Swinton, Timothee Chalamet, Billy Murray, and Christoph Waltz, to name a few.
Additionally, French actress Lea Seydoux stars in the film, playing the interesting role of Simone, a prison guard.
But how did the French star come to be cast in a Wes Anderson film, and what were her experiences like producing the film? Let's dive into the story of Lea Seydoux and The French Dispatch.
Lea Seydoux – A French Sensation
Lea Seydoux was born in July of 1985, in Passy, a neighborhood of Paris, France.
In France, the Seydoux family has gained a certain level of influence, stemming from Lea's grandfather – famous businessman Jerome Seydoux, who is the chairman of Pathe, a famous French film production and distribution company.
Lea Seydoux in a bow-embellished silk cocktail dress at the Los Angeles Premiere of "Somewhere" at the ArcLight Hollywood on December 7, 2010, in Hollywood, California (Credit: Featureflash Photo Agency / Shutterstock)
Although one might think that Lea's family connections undoubtedly aided in her path to silver screen success – this is apparently not the case.
In an interview discussing the subject, Lea stated "My grandfather Jérôme has never felt the slightest interest in my career. [My family] have never lifted a finger to help me. Nor have I asked for anything, ever."
In actuality, Lea initially had no interest in acting whatsoever and desired to become an opera singer instead. These dreams shifted when she fell in love with the idea of acting and began taking acting classes at the New York Actor's Studio.
Her first major on-screen role was in 2006, playing the role of Aurore in the French film Mes Copines (Girlfriends) when she was 21 years old.
In 2008, she would land her breakthrough role as Junie de Chartres in La Belle Personne (The Beautiful Person) – a role which would earn her the 2009 Cannes Film Festival Award for Best Upcoming Actress.
Léa Seydoux as Junie de Chartres (The Princess de Clèves) in the 2008 French film The Beautiful Person (French: La Belle Personne) (Credit: ARTE / Scarlett Production)
Following a string of French films, Seydoux would begin to appear in Hollywood cinema as well, starting with a small role as the daughter of a French farmer in Quentin Tarantino's Inglourious Basterds (2011).
In 2011 she would work with another famous film director, as she played the role of Gabrielle in Woody Allen's Midnight in Paris.
However, Seydoux would reach the next level of critical acclaim with her leading role as Emma in 2013's Blue is the Warmest Colour, a film which would go on to win the Palm D'or for Best Film at the Cannes Film Festival.
Léa Seydoux as Clotilde and Mathieu Amalric as Serge X in the 2014 comedy-drama film The Grand Budapest Hotel (Credit: Fox Searchlight Pictures)
The film is a touching coming-of-age story that managed to win over critics, with praise specifically going to Seydoux for her performance. No matter how you slice it, Lea Seydoux is an extremely talented actress with a discerning eye for compelling roles.
In 2014, she would work with Wes Anderson for the first time on The Grand Budapest Hotel, one of Anderson's most critically successful films.
The French Dispatch Meets the French Starlet
It may come as no surprise then that Wes Anderson desired to work with the talented French actress again, especially since the first time worked so well.
By the time The French Dispatch was in the casting stage, Wes Anderson approached Lea Seydoux and offered her the role of Simone, which Lea agreed to, without even knowing what the role entailed.
Benicio del Toro as incarcerated artist Moses Rosenthaler, Denis Menochet as a prison guard, and Léa Seydoux as Simone in the 2021 American anthology comedy-drama film The French Dispatch of the Liberty, Kansas Evening Sun, or simply The French Dispatch (Credit: Searchlight Pictures)
In an interview regarding the casting process, Seydoux revealed "…he sent me the lines and only the lines, and it was difficult to understand the character exactly."
Seydoux's Role and Nudity On Screen
Within the film, Seydoux's character Simone acts as a prison guard and muse for Moses Rosenthaler, an eccentric artist and convict (played by Benicio Del Toro).
Allowing Rosenthaler to use her as inspiration for his works, Rosenthaler begins to fall in love with Simone, though his feelings are only marginally reciprocated.
In one scene of the film, Rosenthaler paints a nude portrait of Simone, with Lea Seydoux posing in the nude during the scene.
Lea Seydoux shows off her famous tooth gap at the "The French Dispatch" – Paris Gala Screening at Cinema UGC Normandie on October 24, 2021, in Paris, France (Credit: ABACA / INSTARimages)
Since the casting process of the film was so unorthodox, Seydoux initially had no idea she'd have to appear in the nude when she accepted the role!
Luckily this was not a problem for her, and she took on the role with grace and professionalism, hallmark traits of a great actress. While her role as Simone is a relatively minor one (since the film is a series of vignettes), her presence in the film is undeniable.
She manages to steal the show in almost every scene she is, with both her striking features and stoic approach to the role.
The Reception of the French Dispatch and Seydoux's Future
The French Dispatch would go on to become another critically acclaimed film in the repertoire of Wes Anderson, with praise going to each star in the film's ensemble cast.
We can't wait to see what's next for Wes Anderson, and whether or not he'll cast Lea Seydoux in his next work.
Wes Anderson told Lea Seydoux about The French Dispatch nudity scene by way of an animation (Credit: ABACA / INSTARimages)
Seydoux is set to star in Crimes of the Future, a new film by Canadian horror director David Cronenberg.
Not much is known about the film yet, but her co-star Viggo Mortensen has stated that "…without giving the story away, he's going maybe a little bit back to his origins."
We're keen to see Seydoux take a stab at the horror genre, especially since she'll be working with such a talented director like Mr. Cronenberg.
No matter which film she stars in, we'll be sure to watch anything with Lea Seydoux in it! The alluring presence she brings to cinema is undeniable, and we're sure she'll be producing classic films for decades to come.
Lea Seydoux center parts her hair at a photocall for the 2014 EE BAFTAs Rising Star Award held on January 6, 2013, in London, England (Credit: Daniel Deme / WENN)
French actress Lea Seydoux made her style debut at Paris Fashion Week, and we've been mesmerized ever since.
Despite her bold entrance into style society, for a while, Lea was noticeably absent at awards ceremonies and parties.
However, in January 2013 she found her way back into the spotlight with a BAFTA nomination and two brave ensembles to boot.
Lea Seydoux's feet in embellished Miu Miu pumps (Credit: WENN)
Lea attended the nominations photocall for the BAFTA EE Rising Star award held in London.
As the face of Miu Miu's Resort 2014 campaign, it was only natural for Lea to wear pieces from the brand's collection for her photo op.
The actress paired a white floral-print high-neck dress with a pastel pink bejeweled Prada coat.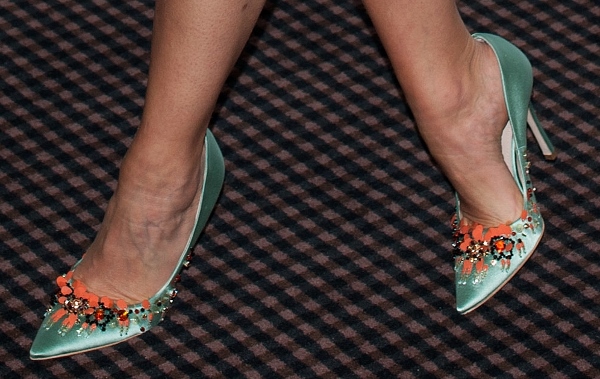 Lea Seydoux's feet in embellished Miu Miu pumps (Credit: WENN)
Lea finished her spring-ready ensemble with a pair of mint green Miu Miu pumps, which featured pointed toes and orange floral embellishments.
Lea Seydoux and Adele Exarchopoulos for Miu Miu's Resort 2014 campaign (Credit: Miu Miu's Instagram)
Lea jetted off to New York the following day to prove her fashion credentials yet again at the 2014 National Board of Review Awards Gala.
The actress wore a colorful Prada getup that included a green silk top, a gemstone-embellished orange skirt, and suede lilac pumps with curved heels.
Lea Seydoux mixes dark green, orange, and lavender at the 2014 National Board of Review Awards Gala held on January 7, 2013, in New York (Credit: Ivan Nikolov / WENN)
You wouldn't think this mixture of colors could ever work together, but Lea pulled it off effortlessly.
This is only the beginning of Lea's career. We can't wait to see more sartorial combinations from her.