We're not sure who's luckier here: Legendary Chanel head designer Karl Lagerfeld and The Royal Tenenbaums actress Gwyneth Paltrow took a selfie together in January 2016.
Before the epic selfie, Gwyneth flew into Paris for the Chanel show during the Paris Haute Couture Week.
Gwyneth Paltrow wears her hair down as she arrives at the Chanel show held on January 26, 2016, during the S/S 2016 Paris Fashion Week Haute Couture
15 years earlier, she starred as the sexually promiscuous Margot Helen Tenenbaum in the 2001 American comedy-drama film The Royal Tenenbaums. It features a lesbian scene with Tatiana Abbey as a Parisian girl.
Tatiana Abbey and Gwyneth Paltrow as lesbian lovers in The Royal Tenenbaums
Directed by Wes Anderson and ostensibly based on a nonexistent novel, the film also stars Danny Glover, Gene Hackman, Anjelica Huston, Bill Murray, Ben Stiller, Luke Wilson, and Owen Wilson.
Luke Wilson (as Richie Tenenbaum), Gwyneth Paltrow (as Margot Tenenbaum), Gene Hackman (as Royal Tenenbaum), Ben Stiller (as Chas Tenenbaum), Anjelica Huston (as Etheline Tenenbaum), Danny Glover (as Henry Sherman), Kumar Pallana (as Pagoda); (two children in front) Grant Rosenmeyer (as Ari Tenenbaum), and Jonah Meyerson (as Uzi Tenenbaum)
Who could forget her pin-straight bob, eye makeup, and the luxurious fur coat that was made exclusively for the movie by Italian fashion house Fendi?
Gwyneth Paltrow as Margot Tenenbaum in a a plush, toffee-colored Fendi fur coat
The movie was filmed using around 250 sets in New York City. New York Magazine TV critic Matt Zoller Seitz told Vulture that Paltrow was only available for a few days of filming.
No, it was a real house. At the time I was very adamant that this would be a real place and that we have to make it a real place. The movie's scheduled around the actors — it's a little jigsaw puzzle. We have Ben for these three weeks, and we have Gwyneth for only these ten days, and everything is built around that. I felt like they had to have this real place that exists that they can walk into and say, "This is my room. Here's my room." And they did. It was also quite practical, I think. The roof was the real roof. It was all one place. The only cheat was with their kitchen, which was in the house next door, because this place had no windows—it was not going to work. But the rest of it's all there — it's near Convent Avenue and 144th Street in Harlem, just north of City College. The hotel where Gene Hackman is living at the beginning is the Waldorf.
After debuting on October 5, 2001, at the New York Film Festival, The Royal Tenenbaums received positive reviews from critics. It was Anderson's most financially successful film until 2014's The Grand Budapest Hotel.
Born on September 27, 1972, in Los Angeles, Gwyneth Paltrow turned 29 on September 27, 2001, just days before the film's release. Her co-star Luke Wilson, who portrayed tennis expert Richie Tenenbaum, turned 30 on September 21, 2001.
Luke Wilson (as Richie Tenenbaum) and Gwyneth Paltrow (as Margot Tenenbaum) in The Royal Tenenbaums
Attending the Chanel fashion show, Gwyneth loyally wore a checkered high-neck buttondown jacket with a matching pleated skirt, a clutch, and an interesting pair of suede pumps with logo-embossed heels. Her entire look is from Chanel.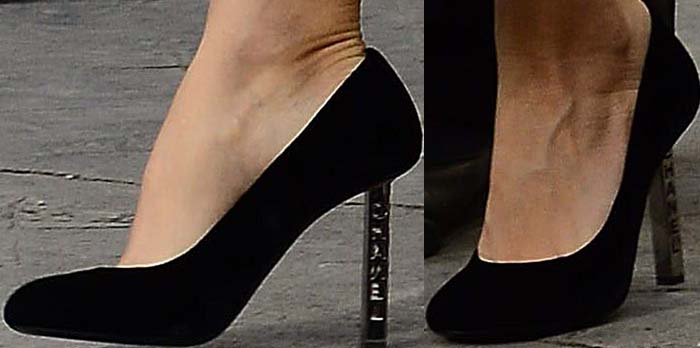 Gwyneth Paltrow's feet in black Chanel pumps
Despite not wearing makeup, Gwyneth didn't mind taking the opportunity to snap a photo with the legendary designer who has led Chanel in its incredible fashion journey throughout the years.
Gwyneth Paltrow wears a black-and-white Chanel look to Paris Fashion Week
Here's a look at that selfie.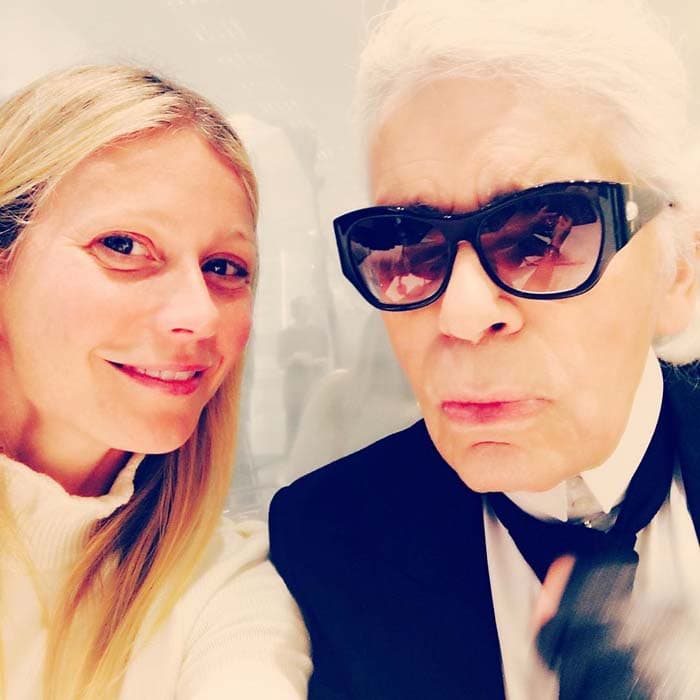 Fashion designer Karl Lagerfeld and Gwyneth Paltrow
Chanel rarely makes their shoes available online, so we have yet to spot these logo-emblazoned pumps on the internet.
However, you can check out other metal heeled suede beauties instead at Farfetch, Nordstrom, and Mytheresa.
Casadei 150mm Swarovski Embellished Suede Pumps, $950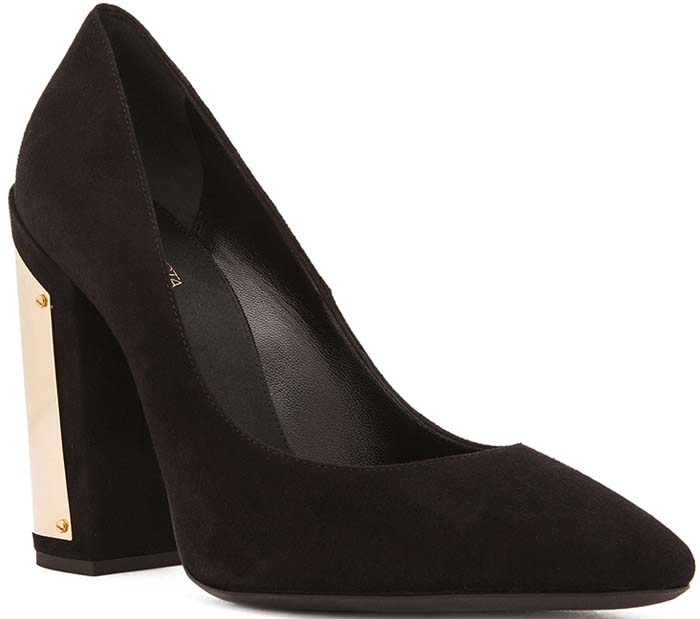 Giambattista Valli Gold Plate Suede Heels, $955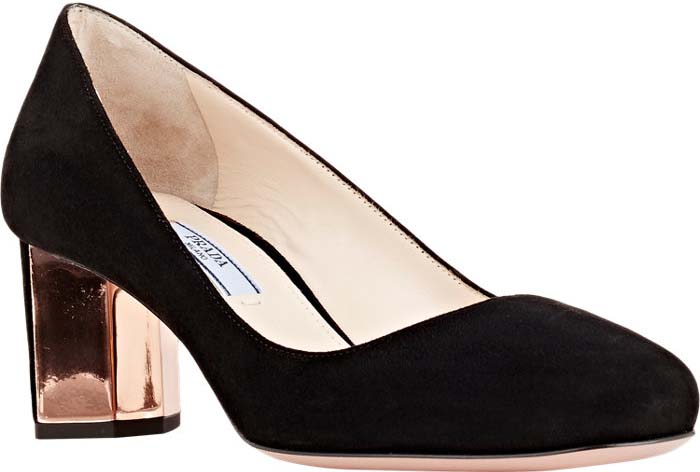 Prada Geometric-Heel Pumps, $670
Credit: Gwyneth Paltrow's Instagram / Radoslaw Nawrocki / WENN