We've heard about the relationship between Marvel actress Elizabeth Olsen and her new fiancé Robbie Arnett, but with Olsen as a huge film and TV star, many are left wondering who is the man behind the ring?
Robbie Arnett is a 29-year-old California native who is one of the three lead vocalists for the American indie pop band Milo Greene. Arnett graduated from the University of California, Irvine, where he met his now Milo Green bandmates.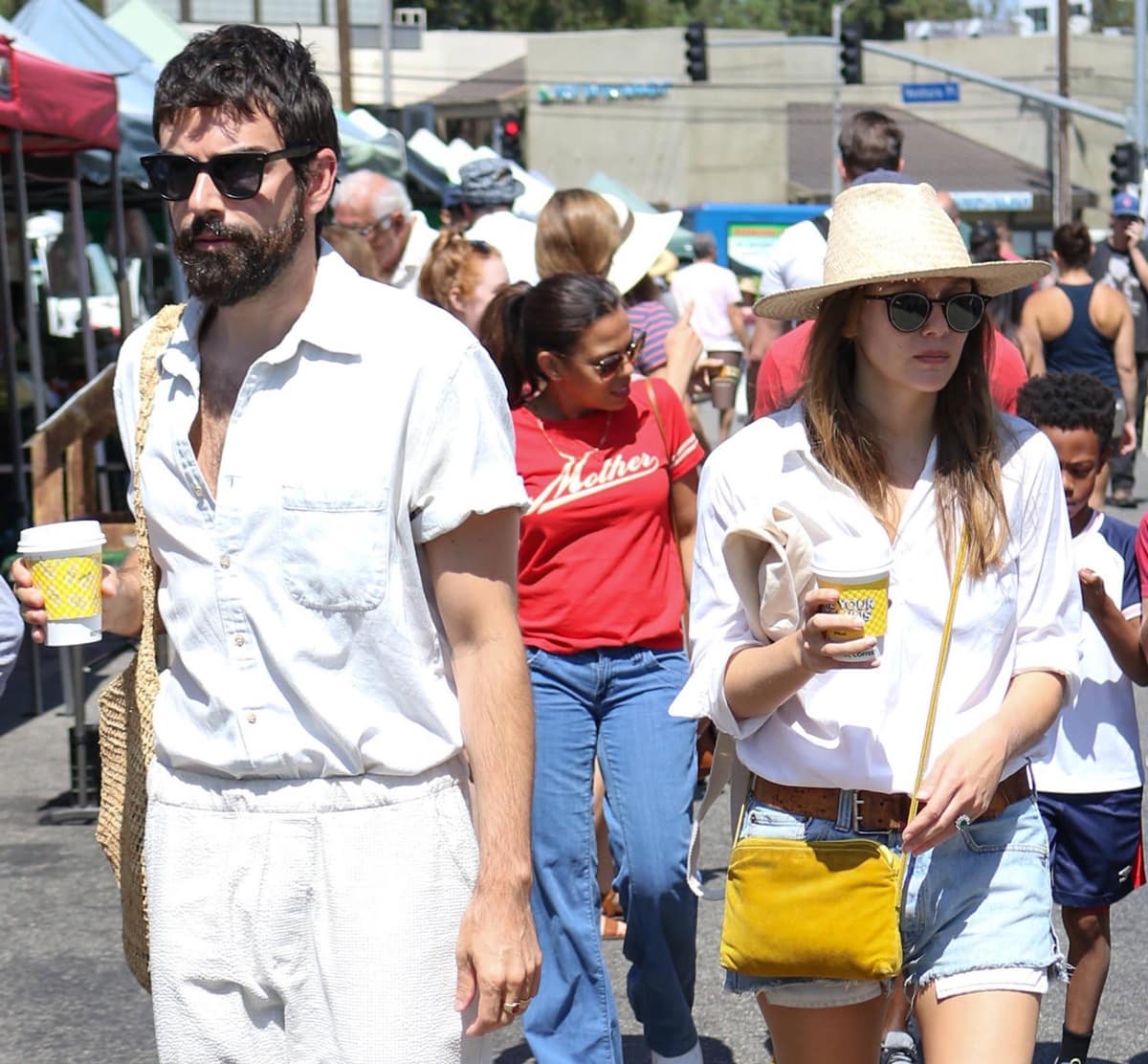 Elizabeth Olsen and her boyfriend Robbie Arnett step out to do some shopping at the farmer's market in Studio City, California, on August 11, 2019 (Credit: Instar / WENN)
The band was started in 2010 and released their debut and self-titled album Milo Greene in 2012. Milo Greene is still together and currently active in 2021, however they have not released an album since Adult Contemporary in 2018.
Over the last decade, Arnett has worked on a few soundtrack songs for popular television shows and films. His credits include writing songs for the TV shows Conan, Arrow, and Supernatural as well as the films Fun Size and most recently The F**K-It List.
Arnett has been interviewed on a handful of late-night TV shows with his band Milo Greene including Late Show with David Letterman, The Tonight Show with Jay Leno, Last Call with Carson Daly, and Conan.
He appeared on Last Call with Carson Daly multiple times from 2012-2013, prior to his relationship with his now fiancé Elizabeth Olsen. Arnett has not appeared on any recent talk shows since his appearance on Conan in 2015.
For her date with Robbie Arnet, Elizabeth Olsen wore Birkenstock sandals with a white button-down shirt, Daisy Dukes, and Garrett Leight sunglasses (Credit: Instar / WENN)
In the second half of 2020, Arnett's band Milo Greene posted on Twitter that they were going to donate all of their merch store profits to the nonprofit Color of Change.
The band has been mostly inactive of promotional activities since their third album Adult Contemporary, however on May 25, 2021, the band revealed on their official Instagram account that new music was finally on the way. The band will be releasing their new single "Bringing Me Down" on June 18, 2021.
His Past Relationships
As with his relationship with actress Elizabeth Olsen, Arnett has kept his dating history very private. Olsen appears to be the first relationship Arnett has gone public with since his band's debut.
Currently, the only public information revealed is that he has had at least one past relationship but has not had any past engagements prior to Olsen.
Elizabeth Olsen
The 32-year-old actress is most notably known for her role as Wanda/Scarlet Witch in the Marvel franchise films and Disney+ hit show WandaVision as well as being the younger sister to childhood actresses Mary-Kate and Ashely Olsen.
Olsen made her film debut in the thriller film Martha Marcy May Marlene in 2011 but didn't rise to fame until 2015 in her first major appearance in the Marvel film Avengers: Age of Ultron as Wanda/Scarlet Witch.
Since the Marvel films, Olsen has now become a household name and starred in multiple new roles in films like I Saw Light with Tom Hiddleston and Wind River with Jeremy Renner as well as the hit Disney+ show WandaVision with Paul Bettany.
Her Past Relationships
Unlike Arnett, Olsen has had a slightly more public relationship history over the past few years. In particular, her relationship with her ex-fiancé actor and model Boyd Holbrook received a lot of press.
The two actors met on the set of the film Very Good Girls in 2012. After meeting on set, they continued their on-screen relationship off-screen and eventually were engaged in 2014.
However, in 2015 it was rumored that Olsen had called off the engagement. A year after the alleged breakup, Holbrook confirmed in an interview with People magazine that Olsen had broken up with him over the phone the same day that his best friend had passed away.
Boyd Holbrook claims Elizabeth Olsen broke up with him on the same day his best friend, photographer David Armstrong, died (Credit: Lexi Jones / WENN)
After dating actor and model Boyd Holbrook, Olsen was linked with fellow Marvel actor Tom Hiddleston in 2015. Initially, it was only rumored that they were involved but later the same year they were confirmed to be dating.
However, by the end of 2015, Olsen and Hiddleston were confirmed as broken up due to Olsen wanting to focus on her career. The two still remain on good terms post break up.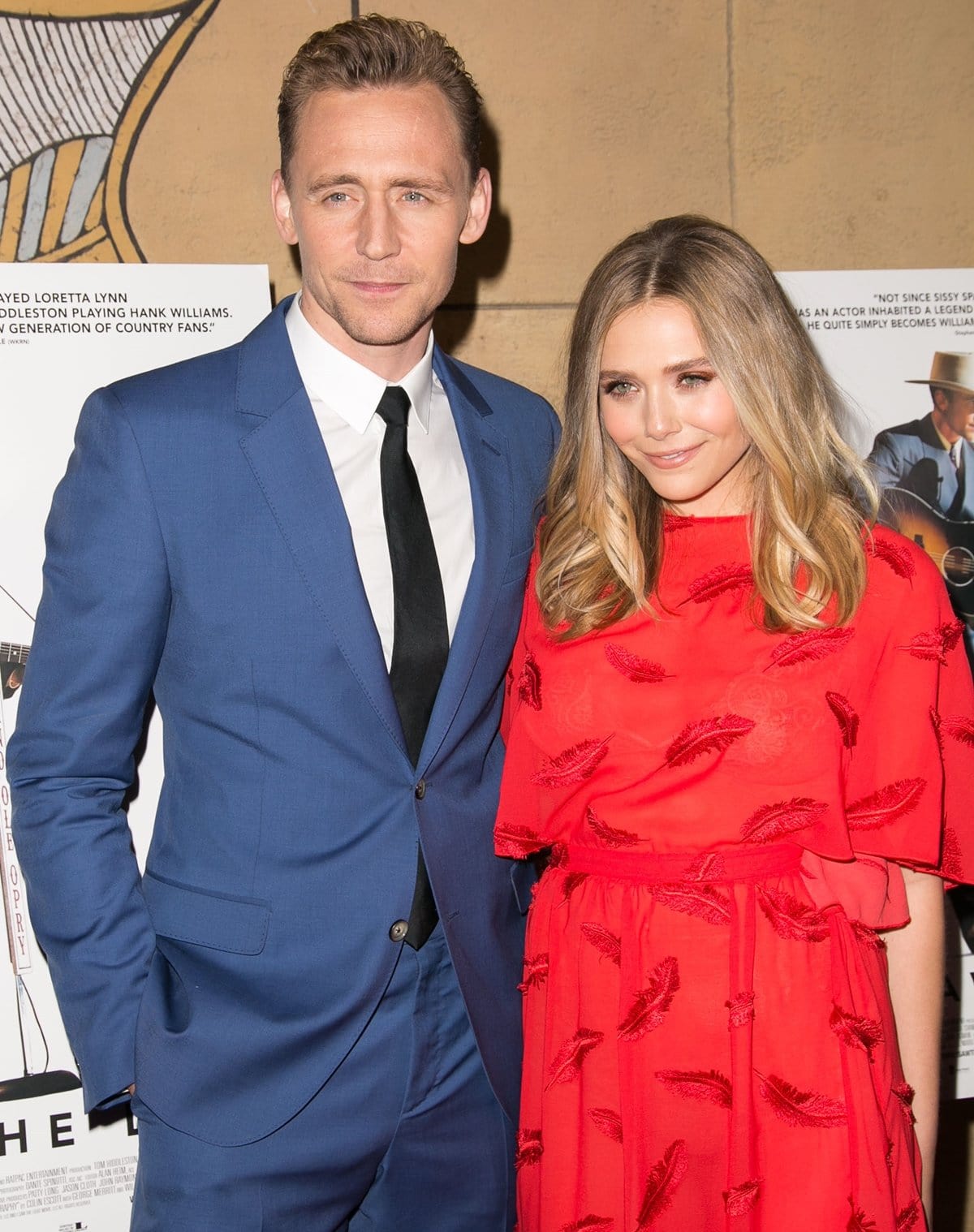 Tom Hiddleston and Elizabeth Olsen briefly dated in 2015 but broke up on good terms (Credit: Brian To / WENN)
Elizabeth Olsen and Chris Evans Dating?
After Olsen's rise to fame from the Marvel films, it was heavily rumored that Elizabeth Olsen and her fellow Marvel co-star Chris Evans were dating. It became a hot topic amongst fans who wanted to see Scarlet Witch and Captain America become a real couple.
Unfortunately for fans, their alleged relationship together was only a rumor, which Olsen and Evans directly addressed in their Ellen interview when promoting Captain America: Civil War in 2016.
The two stars joked around that they were dating for years and even went as far as saying they were engaged. Olsen playfully told DeGeneres "well we've been dating for, like, secretly for the last three years. We're actually engaged."
The Captain America: Civil War stars Chris Evans and Elizabeth Olsen told Ellen they've never dated in real life (Credit: Marvel Studios)
But it was evident that the Marvel co-stars were only joking and were never previously in a relationship together.
How They Met
Arnett and Olsen met while on vacation in Mexico in February 2017. However, they did not arrive together!
They met by chance in Mexico while they were both on separate vacations, likely in San José del Cabo, which is a popular place for celebrities to vacation in Mexico.
It appears that their first meeting in Mexico was quite memorable because one month later they were seen for the first time together publicly by the paparazzi walking down the street while holding hands.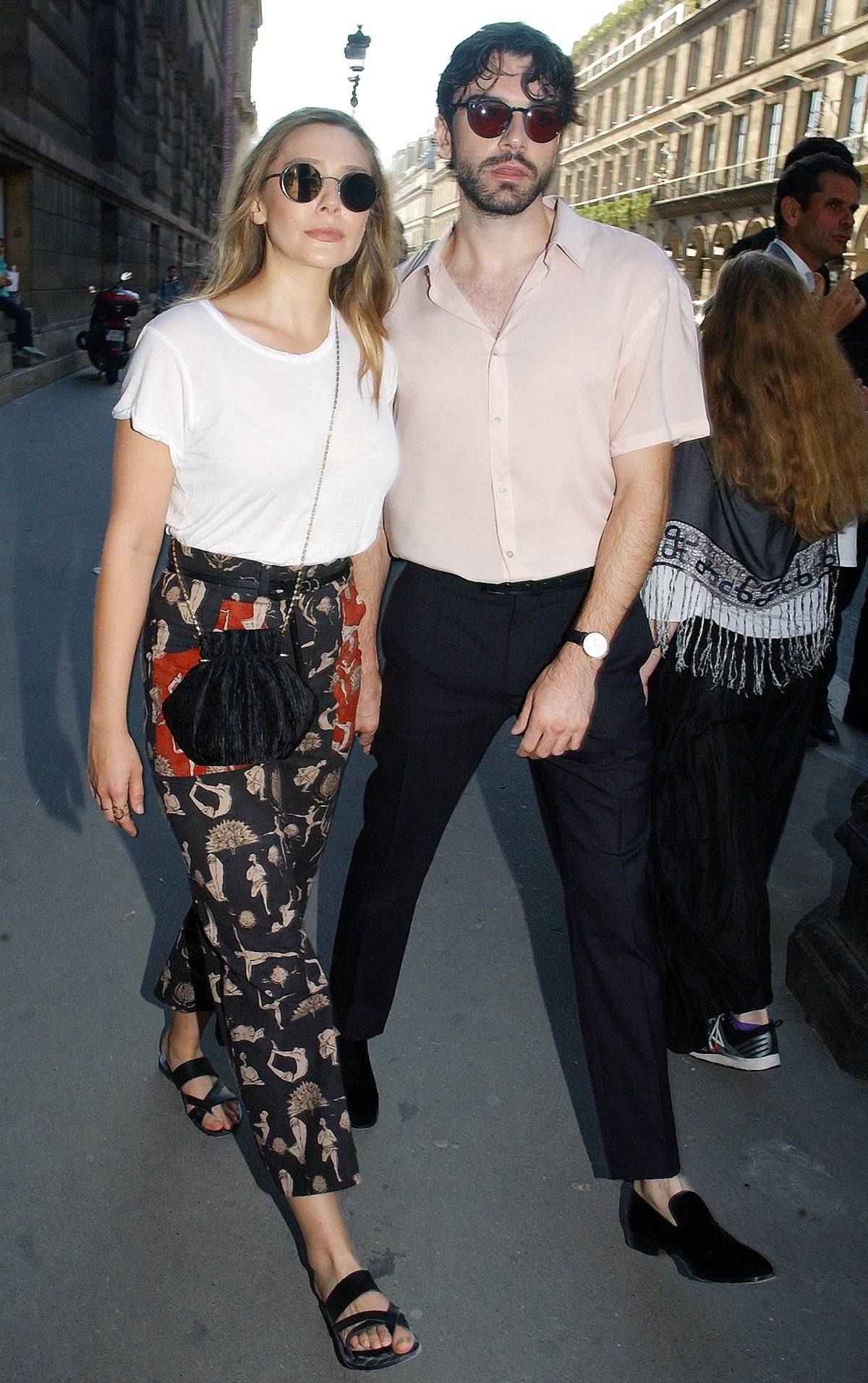 Elizabeth Olsen and Robbie Arnett attend the Christian Dior, Couturier Du Rêve Exhibition Launch celebrating 70 years of creation at Musee Des Arts Decoratifs in Paris on July 3, 2018 (Credit: WENN)
The couple then made their first official public appearance together in September later that same year at the Emmys.
The couple's three-year age difference, with Olsen being the older of the two, does not appear to affect the couple as sources say their relationship ignited quickly and has remained strong since the beginning.
Their Relationship Together
Although the actress has made it clear she prefers to keep her relationship with Arnett private, she has been very vocal and open about her support for him and his band Milo Greene.
In August 2017, Olsen had no trouble bringing up her at-the-time boyfriend in her interview with radio show Sway in the Morning and openly talking about her interest in his band's music.
She states "my boyfriend's in a cool band called Milo Greene… I really like them! And I really like him!"
Arnett has also been very open about his interest in film and cinema, especially on his Instagram account. Previously, he had multiple classic film posters posted on his account.
Elizabeth Olsen takes a long walk with her boyfriend Robbie Arnett in Los Angeles on October 29, 2017 (Credit: WENN)
However, it appears that most of the posts on his Instagram have since been deleted, including his post about his fiancé's film Sorry For Your Loss.
Olsen has been a longtime advocate for charity work and has previously worked with The Latitude Project, which works to help rebuild and support impoverished communities in Latin America.
A year into their relationship, Olsen brought Arnett onto a project with The Latitude Project where they went to Nicaragua in 2018 to help local communities in need.
Later in 2018, the couple decided to take the next step and move in together. Arnett was living in his own apartment while Olsen had her own house but the couple decided to live together in Olsen's Los Angeles home.
Why Elizabeth Olsen Deactivated Her Instagram Account
Olsen talked about her complicated relationship with social media in her interview with Harper's Bazaar UK in 2018 due to her internal struggle with balancing private documentation of her life and promotional work.
"Every day I think I should delete it. I still don't know why I'm on it, then I think well 'I guess I want to promote Avengers' and then I find myself putting something private up there and I think 'this is stupid, why did I do that? I should delete it immediately.' I'm trying to treat that aspect of my life as part of the job. There are ways I can benefit by having it, but I will delete it relatively soon because I'll stop having promotional stuff. It's a distraction more than anything."
Elizabeth Olsen and Robbie Arnett met while were both vacationing in Mexico in February 2017 (Credit: WENN)
Later in mid-2020, the actress deleted her entire Instagram account without explanation. It was rumored that she deleted her account over the controversy and backlash she received for not making a public post about her fellow Marvel co-star Chadwick Boseman who had passed from colon cancer.
Many of her Marvel co-stars had posted immediately on social media about their relationship with the late actor and how much it meant to them to have known and worked with him.
Olsen is assumed to have grieved privately, however, fans were still quick to be upset at her silence despite Olsen's participation in the tribute to Boseman in Chadwick Boseman: A Tribute for a King, which aired on August 30, 2020, 2 days after his passing.
Olsen has not reactivated her Instagram account since and is no longer on any social media platform.
The Engagement
It came as no shock to anyone in July 2019 when the couple officially announced their engagement. With their fast but steady relationship, it seemed clear that the two were very much in love and were looking forward to taking the next steps in their relationship together.
Olsen now sports her engagement ring which has an emerald stone surrounded by small diamonds. Many have been interested in hearing how the actual proposal went down, however, the couple has decided to keep those details private.
They have only revealed that the engagement happened earlier in 2019, months before it was publicly announced.
Where They Are Now + The Future
Arnett and Olsen have been known to be a very laid-back and "normal" but private couple despite both being celebrities in the public eye.
They maintain a typical and down-to-earth Los Angeles resident lifestyle with hiking, healthy eating, and working out.
During the pandemic, Olsen began to record videos of the two in their home together that she posted on her previous Instagram account. The removal of their videos together on her account does not have any indication of the status of their relationship.
In her interview with The New York Times in 2021, Olsen reveals "I really do love my job, and I'm happy doing just that and the charity I do, and being as private as possible."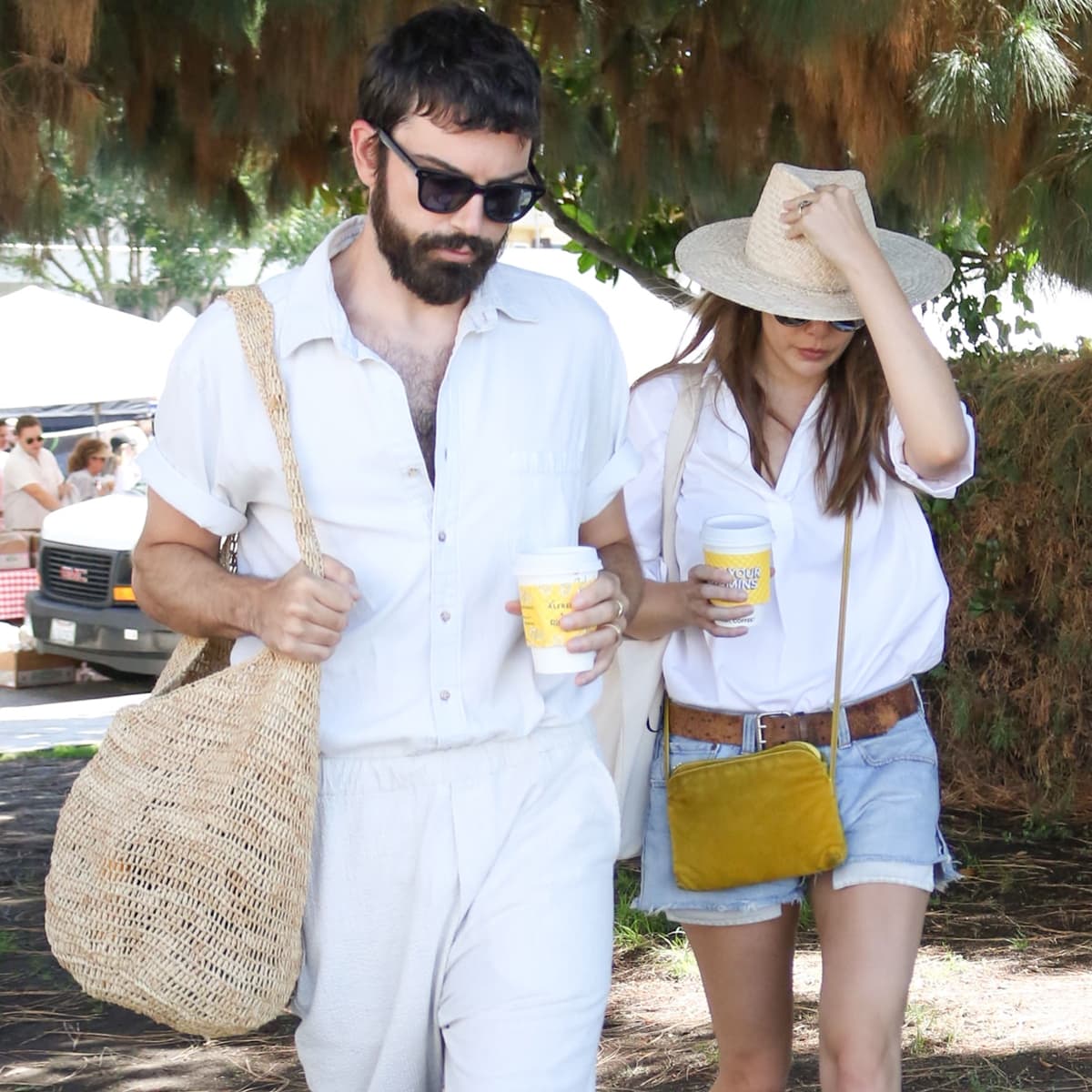 Elizabeth Olsen's boyfriend Robbie Arnett is one-fourth of the indie-pop band Milo Greene (Credit: Instar / WENN)
Despite being public with her fiancé Robbie Arnett, Olsen maintains she wants to keep her personal life private as much as she can while in the spotlight.
From before her claim to fame as Scarlet Witch until now, Olsen has been very adamant about separating her private, personal life from the public eye and wishes to continue so.
In the latter half of 2020, it was revealed that Arnett and Olsen had left their Los Angeles home and temporarily moved to England together.
Olsen revealed on the podcast Table Manners with Jessie Ware her thoughts about living in the United Kingdom compared to the United States.
She says, "Robbie and I both just feel so connected to England" and even admits to wanting to move to England permanently sometime in the future.
The couple continues to move forward strongly in their engagement. Arnett has made few public statements regarding their relationship compared to Olsen.
When asked about the future, Olsen has been very open that they are happy and both she and Arnett are very excited to start a family together down the line. As of mid-2021, the couple has not publicly announced a date or any plans for their wedding.
In March 2013, Elizabeth Olsen showed off dark glamour and sophistication at the Louis Vuitton fashion show during Paris Fashion Week.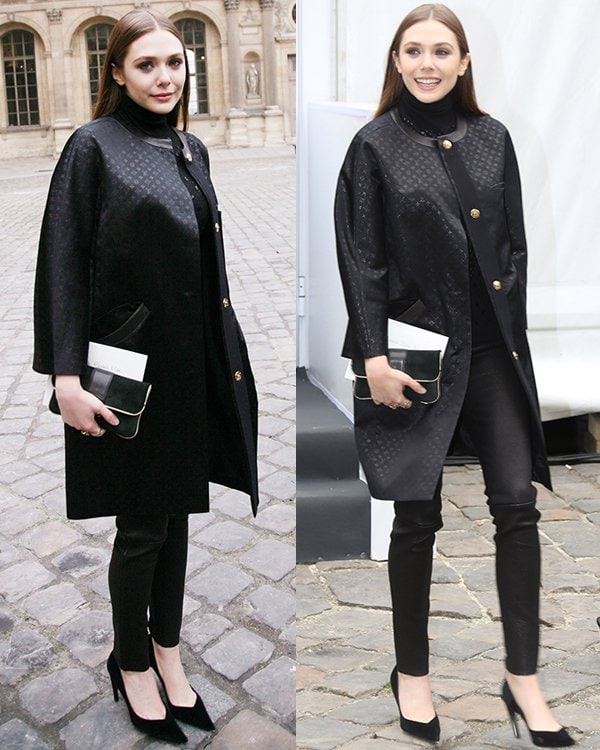 Elisabeth Olsen attends the Louis Vuitton Fall/Winter 2013 Ready-to-Wear show as part of Paris Fashion Week on March 6, 2013, in Paris, France (Credit: Denis Guignebourg / News Pictures / WENN)
Sitting front row with actresses Lily Collins and Jessica Chastain, she rocked a black high-neck top, black textured leggings, and an oversized black monogram coat from the Louis Vuitton Pre-Fall 2013 collection.
Elisabeth Olsen heads into the Louis Vuitton Fall-Winter 2013/2014 Ready-to-Wear Fashion Show during Paris Fashion Week in a pair of black pumps (Credit: Denis Guignebourg / News Pictures / WENN)
Her sexy black pumps also came from the same collection.
Elisabeth Olsen rocks black pumps from the Louis Vuitton Pre-Fall 2013 collection (Credit: Denis Guignebourg / News Pictures / WENN)
Classic black pumps are considered a staple in every woman's shoe closet.
Although there are already a lot of black pumps out there, these Louis Vuitton shoes have features that make them stand out in a sea of black pumps.
Elizabeth Olsen's pointed-toe Louis Vuitton shoes are made of luxurious suede (Credit: Denis Guignebourg / News Pictures / WENN)
This pointed-toe Louis Vuitton heel is made of suede, resulting in a luxurious look. It also has a v-shaped, low-dipped vamp and a curved heel that give a sexy vibe.
One additional eye-catching detail is the satin ribbon-tie ankle strap, which Elizabeth Olsen chose to remove. Here's a red version of the pumps: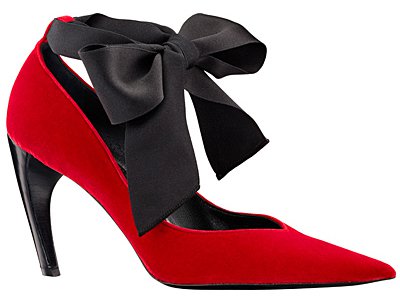 Red Louis Vuitton Pre-Fall 2013 Pump
Love it? Here are some more v-shaped front pumps with curved heels from the Louis Vuitton Pre-Fall 2013 collection.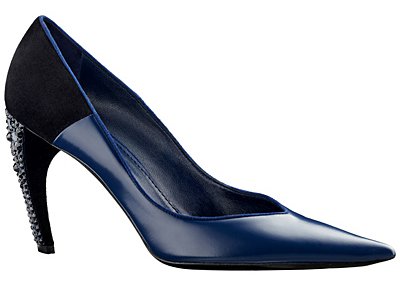 Louis Vuitton Crystal-Embellished Heel Two-Tone Pre-Fall 2013 Pump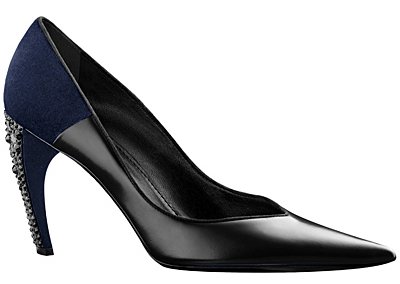 Louis Vuitton Crystal-Embellished Heel Two-Tone Pre-Fall 2013 Pump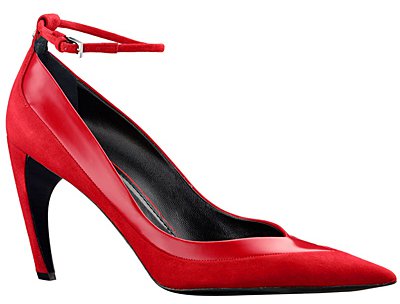 Red Louis Vuitton Red Pre-Fall 2013 Pump with Ankle Strap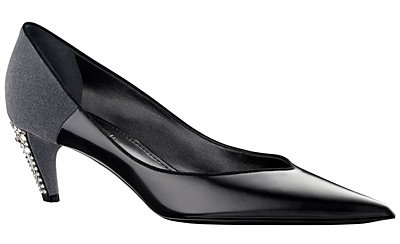 Louis Vuitton Crystal-Embellished Heel Pre-Fall 2013 Pump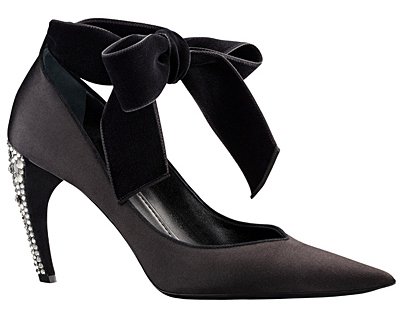 Louis Vuitton Crystal-Embellished Heel Pre-Fall 2013 Pump with Bow Ankle Strap