When Blue Is The Warmest Colour was released in 2013, it was the talk of just about every film critic. It unanimously won the Palme d'Or at the Cannes Film Festival and took the cinematic world by storm.
It wasn't long, however, before the controversy began to shroud the film. Not only was the movie immediately infamous for its graphic sex scenes, but it was revealed that the working conditions on set were brutal and unfair. Director Abdellatif Kechiche was scrutinized for his behavior on set, and allegations of sexual assault were levied against him.
Léa Seydoux as Emma and Adèle Exarchopoulos as Adèle in the 2013 romance film Blue Is the Warmest Colour (French: La Vie d'Adèle – Chapitres 1 & 2) (Credit: Wild Bunc / Quat'sous Films / France 2 Cinéma)
Now, ten years later, the tides have turned on the film. More information has come out regarding the cast and crew's experiences on set, and lead actresses Léa Seydoux and Adèle Exarchopoulos have openly expressed their distaste for the ways they were treated.
Personally, though I understand that art comes with sacrifice, I believe that the way Kechiche approached making this film was grossly unprofessional and just downright cruel. Here's a brief overview of some of the various controversies surrounding the film.
Mistreatment on the set of Blue Is The Warmest Color
Notoriously, this nearly three-hour film had almost 800 hours of footage shot. Kechiche was already known for being a perfectionist on set, requiring multiple takes of various sequences. Both the cast and crew reported that they were run ragged by Kechiche's unattainable standards.
The French Audiovisual and Cinematographic Union harshly criticized the working conditions and investigated the set themselves. They said the crew felt that the atmosphere was "heavy" and that Kechiche's behavior was close to "moral harassment." Multiple crew members quit over the course of filming, tired of the excessive takes.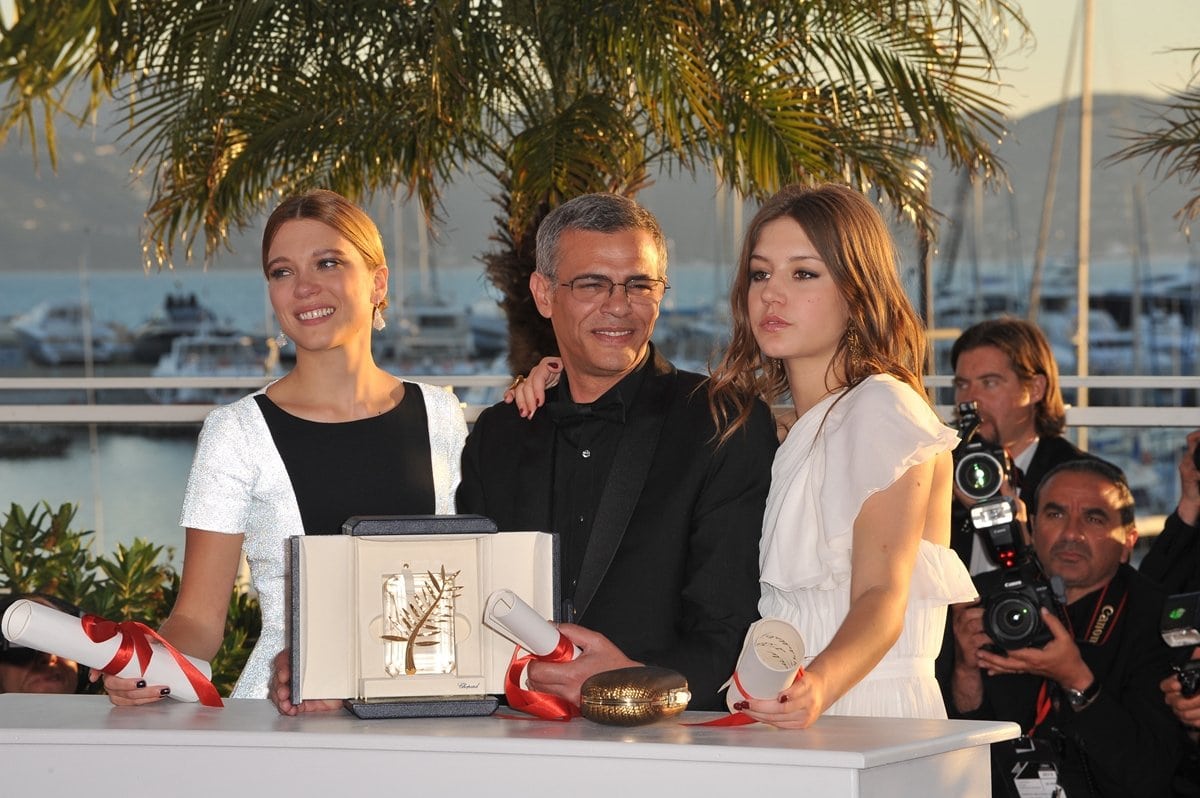 Actress Lea Seydoux, director Abdellatif Kechiche and actress Adele Exarchopoulos pose after 'La Vie D'adele' receives the Palme d'Or at the photocall for award winners during the 66th Annual Cannes Film Festival at Palais des Festivals on May 26, 2013, in Cannes, France (Credit: Shutterstock / Jaguar PS)
On top of that, French news organizations reported that technicians on set were not paid properly for their overtime work, and said that various labor laws were violated over the course of the shoot.
"In the scene where we meet for the first time, it lasts 20 seconds on screen," Seydoux describes. "We spent 10 hours working on this scene, I'm not joking. We did 100 takes, just of the moment that we crossed paths."
Exarchopoulos admitted to The Independent, "At the end of the film, I was very tired." A few months after the Cannes win, she took her criticism a step further, saying, "Abdell loves to take his time. He doesn't like fabrication. He doesn't want to see you act — he wants to take your soul." A director probably shouldn't be making his cast feel like their souls are being stolen, right? Not exactly a glowing review of his on-set practices.
Kechiche responded to this criticism in what I consider a very immature manner. He publicly fired back at Seydoux for complaining about how she was treated on set, telling reporters, "If Seydoux lived such a bad experience, why did she come to Cannes, try on robes and jewelry all day?"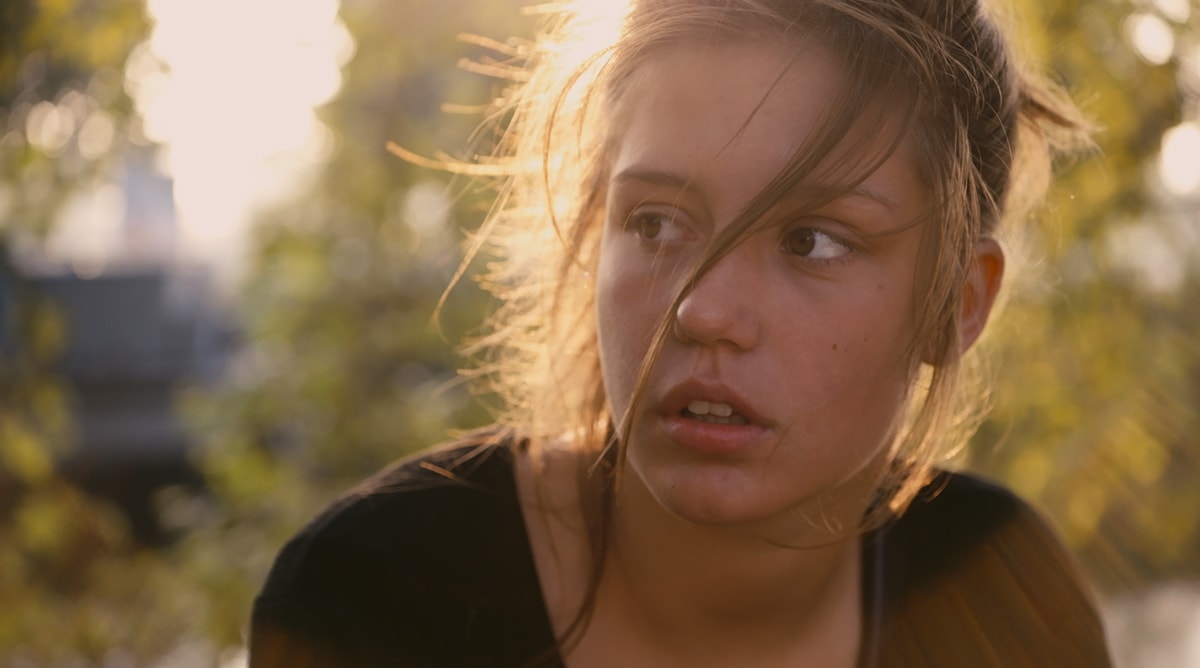 Adèle Exarchopoulos plays an introverted 15-year-old high-school student who becomes troubled about her sexual identity (Credit: Wild Bunc / Quat'sous Films / France 2 Cinéma)
At one Los Angeles press event, it was reported that Kechiche publicly berated Seydoux, exclaiming, "How indecent to talk about pain when doing one of the best jobs in the world!" Some reporters said that the interaction nearly left Seydoux in tears.
Kechiche also went so far as to say that the bad press was humiliating him and that the movie shouldn't even be released because the image has been "sullied."
I say, if you're that worried that people's reactions to mistreatment will ruin your movie, maybe you should just treat them properly in the first place! But I digress.
Exarchopoulos and Seydoux Speak Out About the Graphic Sex Scene
Of course, Kechiche's perfectionist attitude applied to the graphic sex scene present in the film. Naturally, the inclusion of a full-frontal, very long lesbian sex scene was going to spark some controversy, but the backlash to the scene went far beyond that.
"Of course, it was kind of humiliating sometimes, I was feeling like a prostitute," Lea Seydoux said. "He was using three cameras, and when you have to fake your orgasm for six hours…"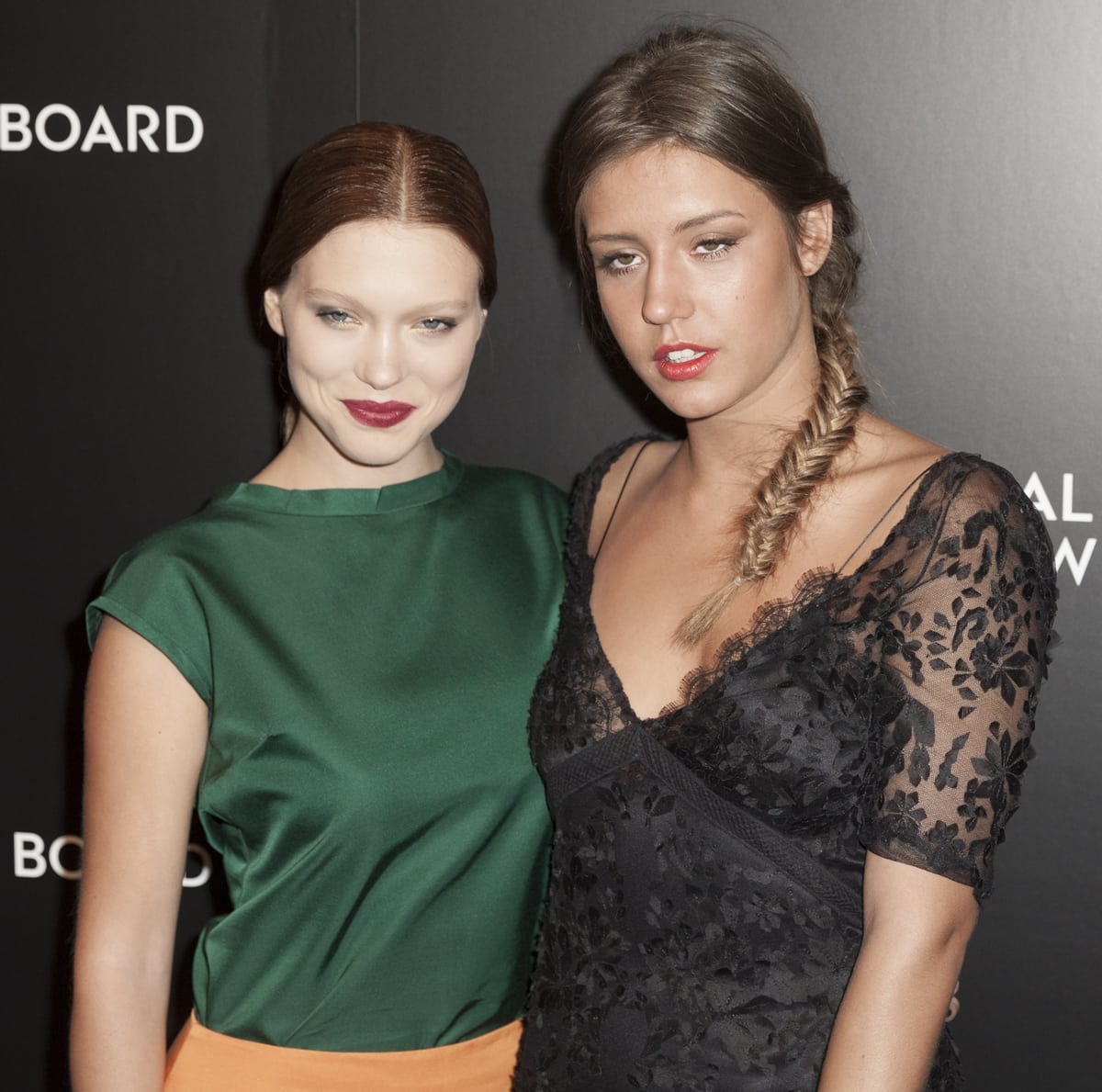 Léa Seydoux and Adèle Exarchopoulos oozed with chemistry on screen and were praised for their performance in Blue is the Warmest Colour (Credit: Lev Radin / Shutterstock)
Though the actresses used prosthetic vaginas and were not actually having sex with one another, the act of repeatedly performing simulated sex is still exhausting. And when you consider that they are doing this in a room full of people, it can certainly get emotionally overwhelming.
Kechiche defended his multiple takes, saying that he "didn't ask for anything other than the expression of a form of passion." He actually felt that the scenes didn't go far enough, and he had actually planned to film a threesome scene with a male actor as well.
Much of the criticism levied against Blue Is The Warmest Color involved discomfort with a man directing a film that graphically centered female sexuality.
Critics, especially female ones, felt that the film was fetishizing lesbians and that it didn't actually treat women with respect. For example, New York Times critic Manohla Dargis described Kechiche as a "self-indulgent filmmaker" and said that she "questioned Mr. Kechiche's representation of the female body."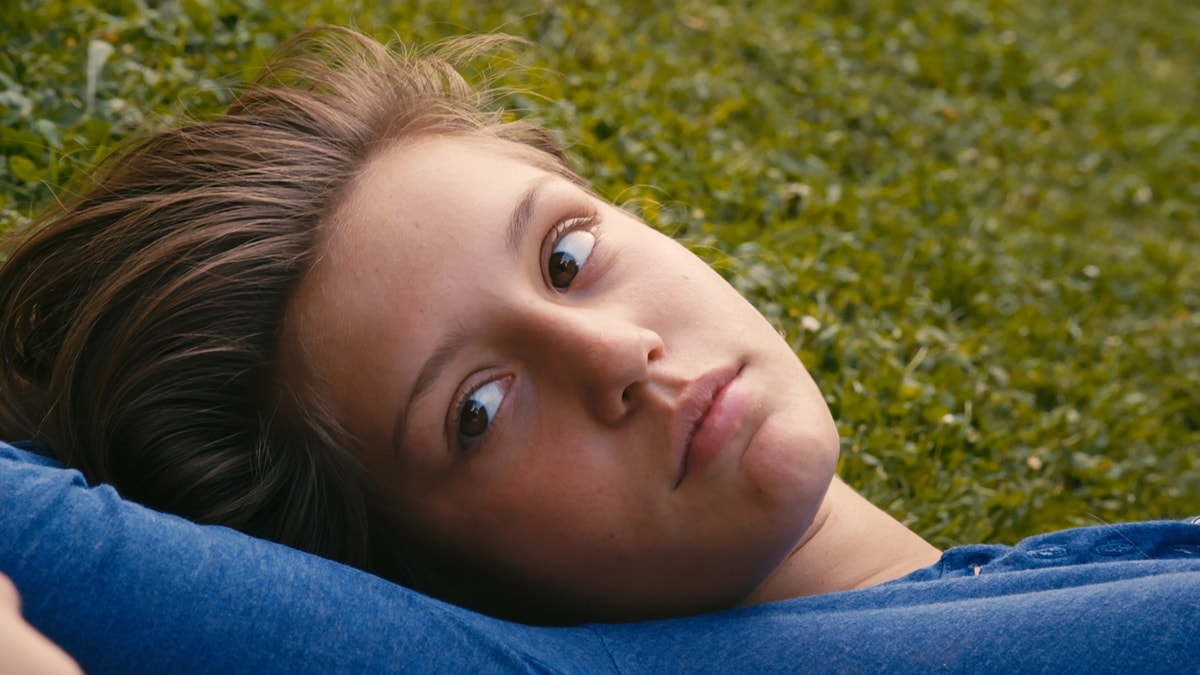 Adèle Exarchopoulos says her sex scenes in Blue Is the Warmest Colour were all simulated (Credit: Wild Bunc / Quat'sous Films / France 2 Cinéma)
Even Julie Maroh, who wrote the graphic novel that the film was based on, was unhappy with the sex scenes. "It appears to me that this was missing on the set: lesbians." She called it a "brutal and surgical display, exuberant and cold, of so-called lesbian sex." And it makes sense, then, that the actresses' performance may turn cold after being forced to simulate sex for SIX HOURS.
It's also worth noting that the extended sex scene also prompted audience members to walk out of the screening at Cannes, feeling that the scene was too pornographic and excessive.
While I don't think directors should shy away from doing sex scenes (not even long, graphic ones), there needs to be care taken when you have performers showing such a vulnerable side of themselves. It definitely seems excessive to require actors to film a sex scene for six hours.
Abdellatif Kechiche Is Accused of Sexual Assault
The cherry on top of all the controversy? In 2018, Abdellatif Kechiche was accused of sexually assaulting a woman he took out to dinner.
Ultimately, the French investigation ended up being dropped due to a lack of evidence in 2020, but the allegations definitely fueled some more controversy surrounding Blue Is The Warmest Color.
Adèle Exarchopoulos in a romantic dress from the Christian Dior Spring 2019 Haute Couture collection at the "Joker" screening during the 76th Venice Film Festival at Sala Grande on August 31, 2019, in Venice, Italy (Credit: Denis Makarenko / Shutterstock)
Sure, you can make a few excuses for Kechiche in terms of perfectionist behavior. There are many who believe that art needs to be that intense and that in order to make art, the people involved need to be willing to suffer a bit. HOWEVER, you can't really make any excuses for alleged sexual assault.
The sexual assault allegations ended up making an even stronger case for the idea that Kechiche was just getting his rocks off humiliating actresses for his own sexual gratification. Now, that might not necessarily be true, but it certainly doesn't help his case!
Did the Ends Justify the Means?
In all fairness, at the end of the day, Seydoux and Exarchopoulos expressed satisfaction with the way the film ultimately turned out. Seydoux did note, though, that she never intends to work with the director ever again. Presumably, that feeling is mutual.
At the end of the day, the film is very raw and realistic. Generally, nothing comes across as manufactured (except for maybe those sex scenes), and there is a poignancy in the performances. However, that may be more because of Seydoux and Exarchopoulos's acting abilities, not necessarily Kechiche's obsessive shooting practices.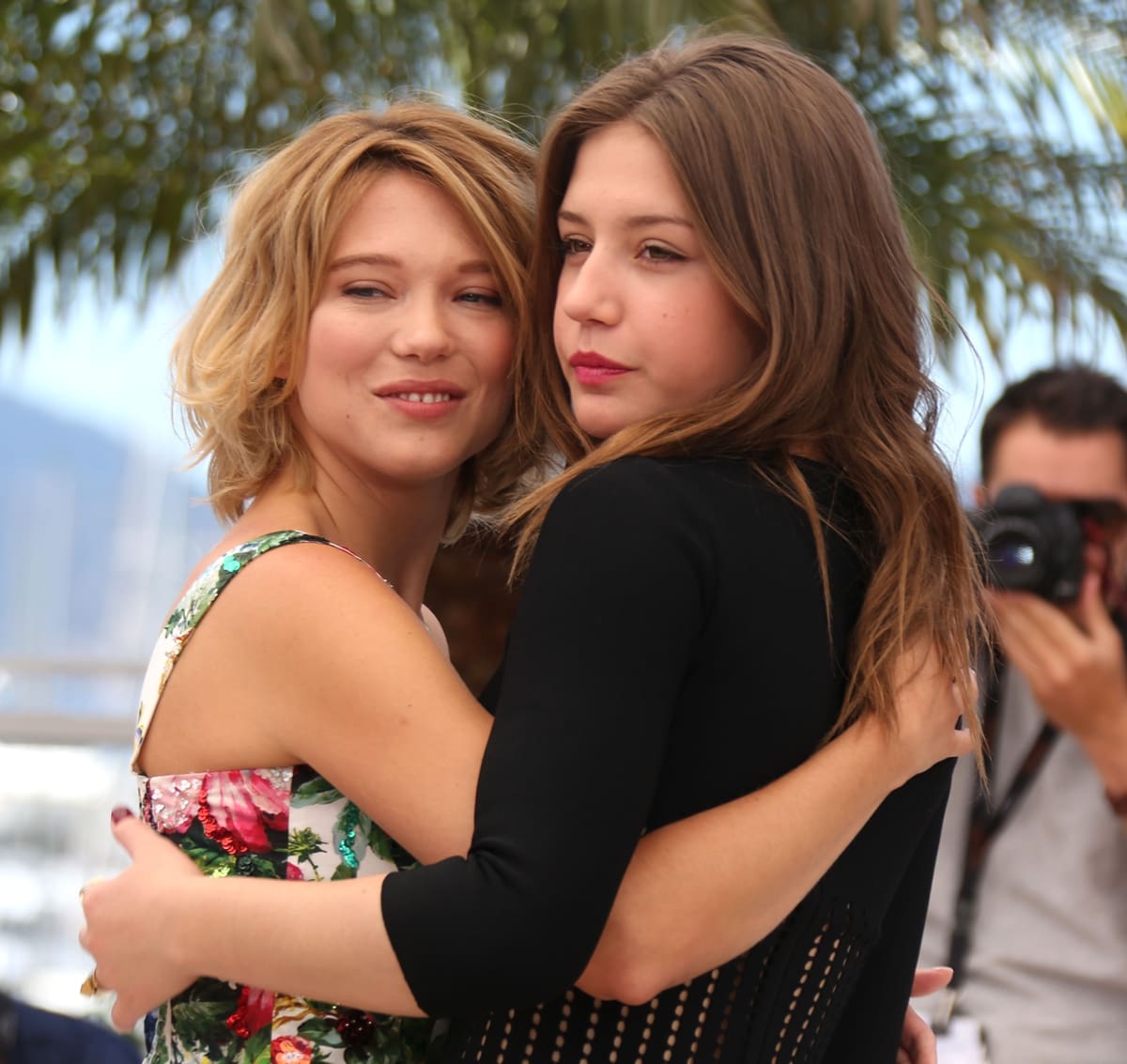 Léa Seydoux and Adèle Exarchopoulos don't regret starring in Blue is the Warmest Colour (Credit: Featureflash Photo Agency / Shutterstock)
"It was very difficult to make… because Kechiche is crazy," Lea Seydoux stated in an interview with Deadline. "He was manipulating us, and that was extremely difficult on a psychological level."
No matter where you ultimately land on the film, the fact of the matter is that the movie won the most prestigious film award and was the topic of international film conversations. It certainly made a huge splash in the entertainment world, regardless of criticisms and controversy.
In 2013, the then up-and-coming French actress Adèle Exarchopoulos became the youngest artist to be awarded the Palme d'Or in Cannes, which she shared with both Lea Seydoux and "Blue Is the Warmest Colour" director Abdellatif Kechiche.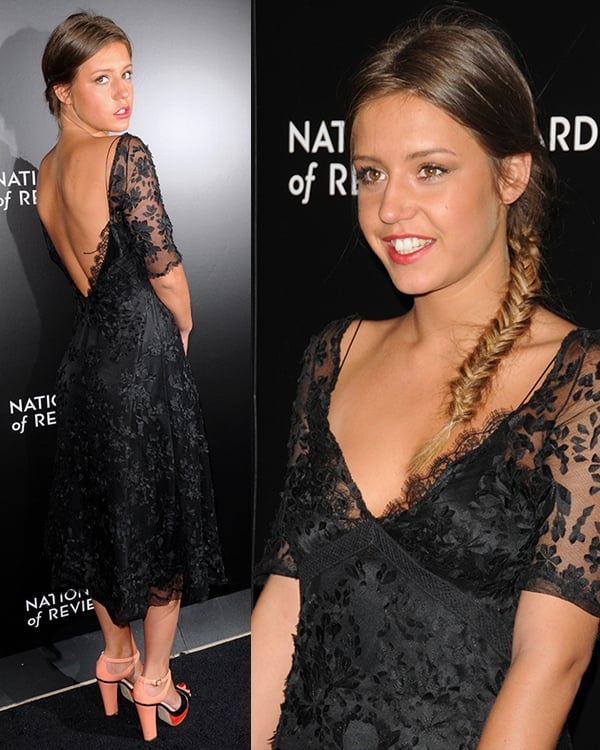 Adèle Exarchopoulos braids her hair for the 2014 National Board of Review Awards Gala held on January 7, 2014, at the Cipriani 42nd Street in New York City (Credit: Ivan Nikolov / WENN)
Adèle received numerous nominations and accolades — including several "Best Actress" awards — for her outstanding performance in the romantic coming-of-age drama.
One of those accolades was the Female Breakthrough Performance Awards, which Adèle was honored with at the 2014 National Board of Review Awards Gala held at Cipriani 42nd Street in New York City.
Aside from her acting career, Adèle was also making a name in the fashion scene. She proved her style credentials at the event by wearing a Louis Vuitton Spring 2014 lace dress that featured a V-neck and an open back.
Adèle Exarchopoulos wears a black lace Louis Vuitton dress (Credit: Ivan Nikolov / WENN)
The French actress also carried a black clutch, wore minimal makeup, and styled her hair in fishtail braids.
Adèle added some color to her ensemble with both red nail polish and a colorful pair of shoes. She opted to wear a pair of tri-tone sandals from Jimmy Choo's Cruise 2014 collection.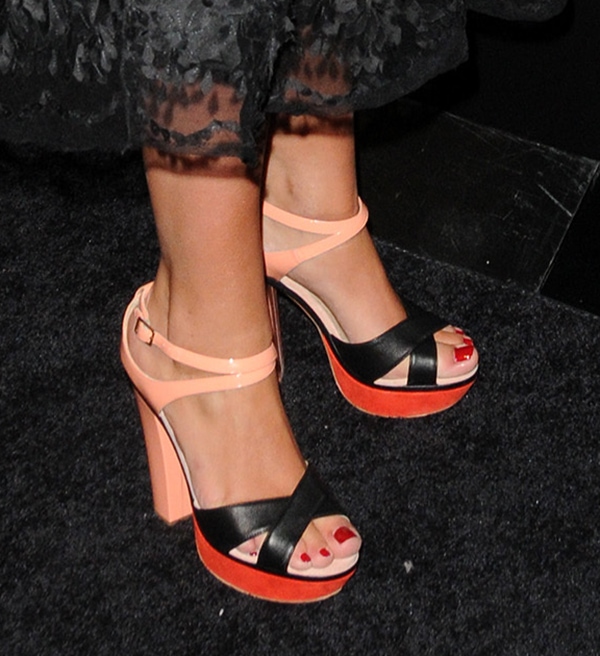 Adèle Exarchopoulos' feet in colorful Jimmy Choo sandals (Credit: Ivan Nikolov / WENN)
These sandals from the popular women's shoe designer are called the "Tiber" and feature crisscross front straps in black nappa leather, buckled ankle straps, 5-inch chunky block heels in apricot patent leather, and 1.25-inch platforms in red suede.
Adèle Exarchopoulos's feet in chunky "Tiber" sandals (Credit: Ivan Nikolov / WENN)
You can purchase these exact Jimmy Choo sandals at Mytheresa and Farfetch.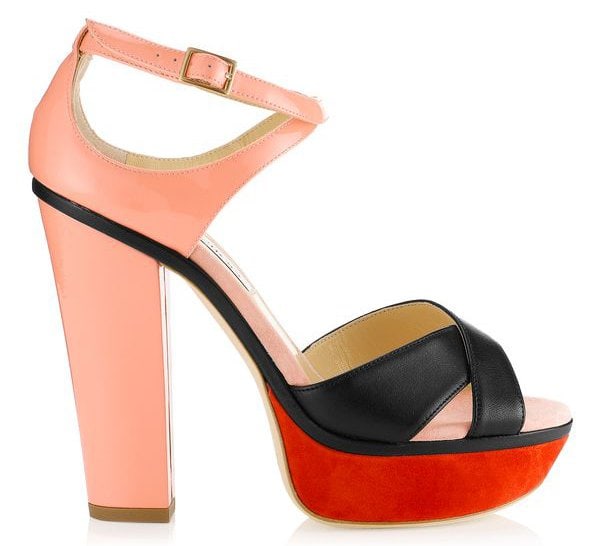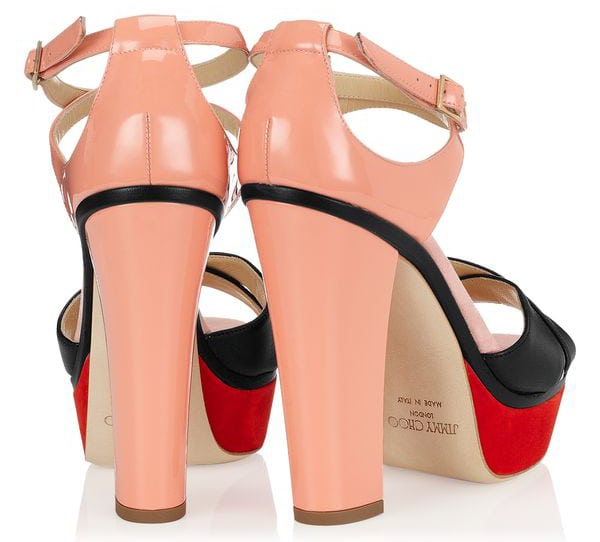 Jimmy Choo "Tiber" Color-Block Suede, Leather and Patent-Leather Sandals, €825