When most of us think of Charlize Theron, I'm sure the idea of beauty is the next immediate thing that comes to mind.
Bursting on to the Hollywood scene in the late 1990s, Theron's Golden Age of Hollywood charm and stunning good looks instantly became iconic, and the South African actress quickly became a mainstay of the Hollywood canon up until the present day.
Charlize Theron as Aileen "Lee" Wuornos and Christina Ricci as her semi-fictionalized lover Selby Wall (based on Tyria Moore) in the 2003 American biographical crime drama film Monster (Credit: Newmarket Films)
Beauty only gets you so far, however. While Theron's undeniable beauty may have helped her get her foot into the door of Hollywood, her legitimate acting prowess has caused her to stick around, as she still manages to maintain her leading actress status, long after many other beauty queens of the 90s have since faded away.
But what happens when you turn a beauty queen into a Monster? Let's find out as we trace the story of the South African starlet, up until her iconic role in Patty Jenkin's 2003 film Monster.
From Humble Beginnings to Household Recognition
Unlike many actresses who manage to find success in Hollywood, Charlize Theron had no connections to Hollywood or the film industry as a whole.
In fact, Theron was born in Benoni, South Africa, on the opposite end of the globe to Hollywood. Born from two road constructionists, Theron's childhood was troubled, as her father was an abusive alcoholic.
Charlize Theron attends the 9th Annual Fire and Ice Ball to benefit Revlon UCLA Women Cancer Center at Universal Studios on December 8, 1998 (Credit: Featureflash Photo Agency / Shutterstock)
After her father threatened her mother and her in a drunken rage, Theron's mother shot and killed him (more on this later).
Always having a flair for arts and creativity, Theron envisioned herself as a dancer. However, these goals shifted as she landed a one-year modeling contract after winning a contest in Italy.
After living in Italy for one year, Theron moved to New York City, pursuing her dancing career by attending the Joffrey Ballet School. After a career-ending knee injury, she fell into a deep depression, seeking a new path in life.
This lead her to Los Angeles, where she enrolled in an acting school. Her first role was a non-speaking role in Children of the Corn III: Urban Harvest, in 1995.
Charlize Theron was 22 years old when the 1997 American supernatural horror film The Devil's Advocate was released on October 17, 1997 (Credit: Warner Bros.)
In 1997, she would be cast in her first breakout role in The Devil's Advocate – starring alongside established stars like Keanu Reeves and Al Pacino.
Theron's success would continue throughout the late 1990s and early 2000s, as she would be cast in a string of films, such as Mighty Joe Young (1998) The Cider House Roles (1999), Reindeer Games (2000), and Sweet November (2001).
Despite being cast in all of these films however, Theron was still unsatisfied with her career, stating "I found myself making really bad movies…".
Bill Paxton as zoologist Professor Gregory "Gregg" O'Hara and Charlize Theron as Jill Young in the 1998 American epic adventure film Mighty Joe Young (Credit: Buena Vista Pictures)
Most of the films she starred in during this period were not critically successful, although they did help to keep her presence fresh in the minds of casting directors and audiences member alike, which would help her gain prominent roles in more critically successful films in later years.
This is evidenced by her roles immediately after this period, as the early 2000s was the era of her career where she would land what is perhaps considered her most iconic role, as serial killer Aileen Wuornos in Monster.
The Making of Monster and how Theron was Cast as Aileen Wuornos
Patty Jenkins, a director from Victorville, California had just landed her first major project in the film Monster.
Initially wanting to get another producer to direct the film, she was encouraged to write and direct the film herself, and the screenplay was completed in seven weeks.
American film director, screenwriter, and producer Patty Jenkins wrote and directed Monster with a budget of $1.5 million (Credit: Kathy Hutchins / Shutterstock)
The film was based on the true story of Aileen Wuornos, an American prostitute who, from the years 1989 to 1990, went on a murder spree, killing seven of her male clients. At the time of the film's development, Aileen Wuornos herself was on death row.
Wuornos herself would not live to see the film's worldwide release, as she was executed in 2002, approximately one year before the film's release in 2003.
In casting the lead role of Wuornos, Jenkins wanted an actress who could portray both the natural beauty and the darkness behind the life of Wuornos.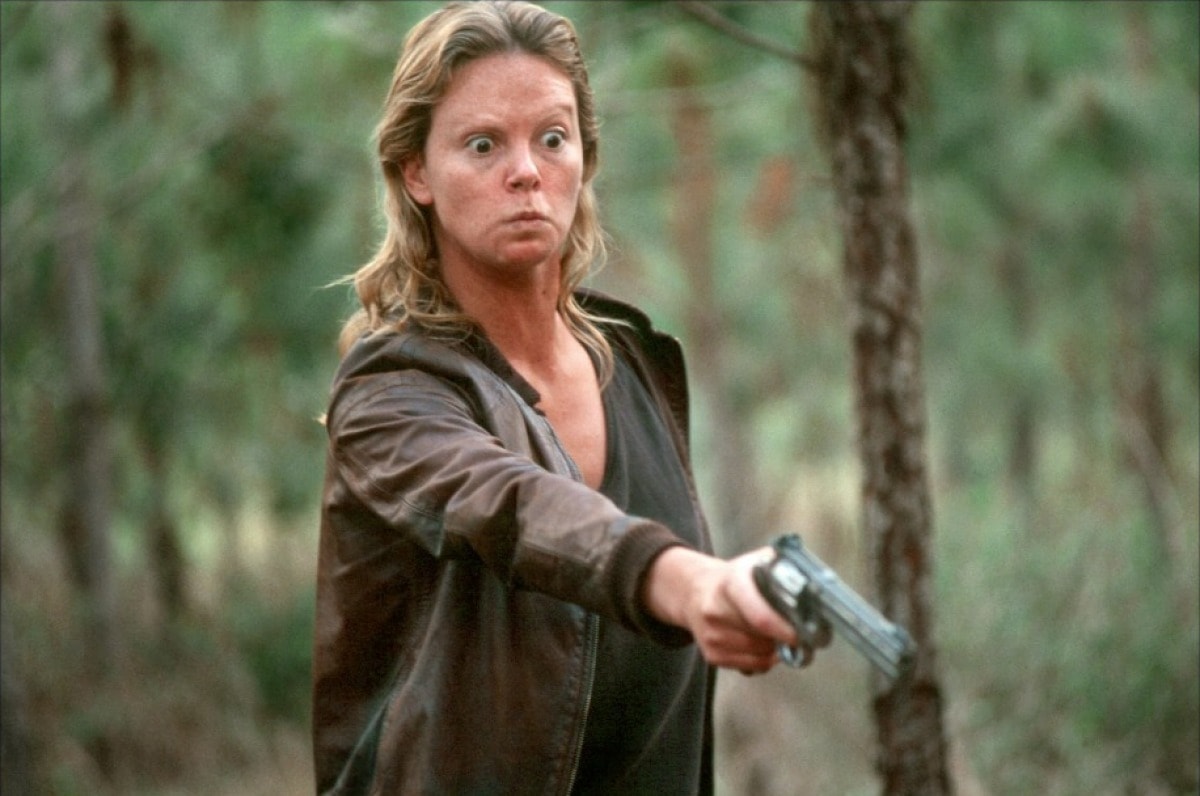 Charlize Theron portrays serial killer Aileen Wuornos who murdered seven of her male clients (Credit: Newmarket Films)
During the audition process, Jenkins screen-tested major Hollywood stars such as Kate Winslet, Brittany Murphy, Kate Beckinsale, and Heather Graham.
Theron was always the preferred choice of Patty Jenkins, as she noticed the darkness in her role in The Devil's Advocate, and desired to replicate that Darkness in Monster.
In an interview, Theron said she was confused that Jenkins wanted to cast her in the role so desperately. Asking Jenkin's "Why me?", Jenkins replied "…I just looked at you, and I looked at everybody else, and I said to myself 'I could kick the other actors' asses. You, I'm not so sure."
In preparing for the role, Theron gained 30 pounds and shaved her eyebrows. The film was shot on location at many locations that the real Aileen Wuornos would frequent, such as The Last Resort, a bar where Wuornos was a regular.
The Release and Reception of Monster
The film was finally released on December 24, 2003, to critical and commercial success.
Although it was produced on a small budget of $1.5 million, the film would go on to gross $64.2 million and received rave reviews from both critics and audiences.
Praise specifically went to Theron for her performance, with many critics being shocked at the fact that the beautiful Theron was willing to portray herself as a mentally deranged homeless prostitute.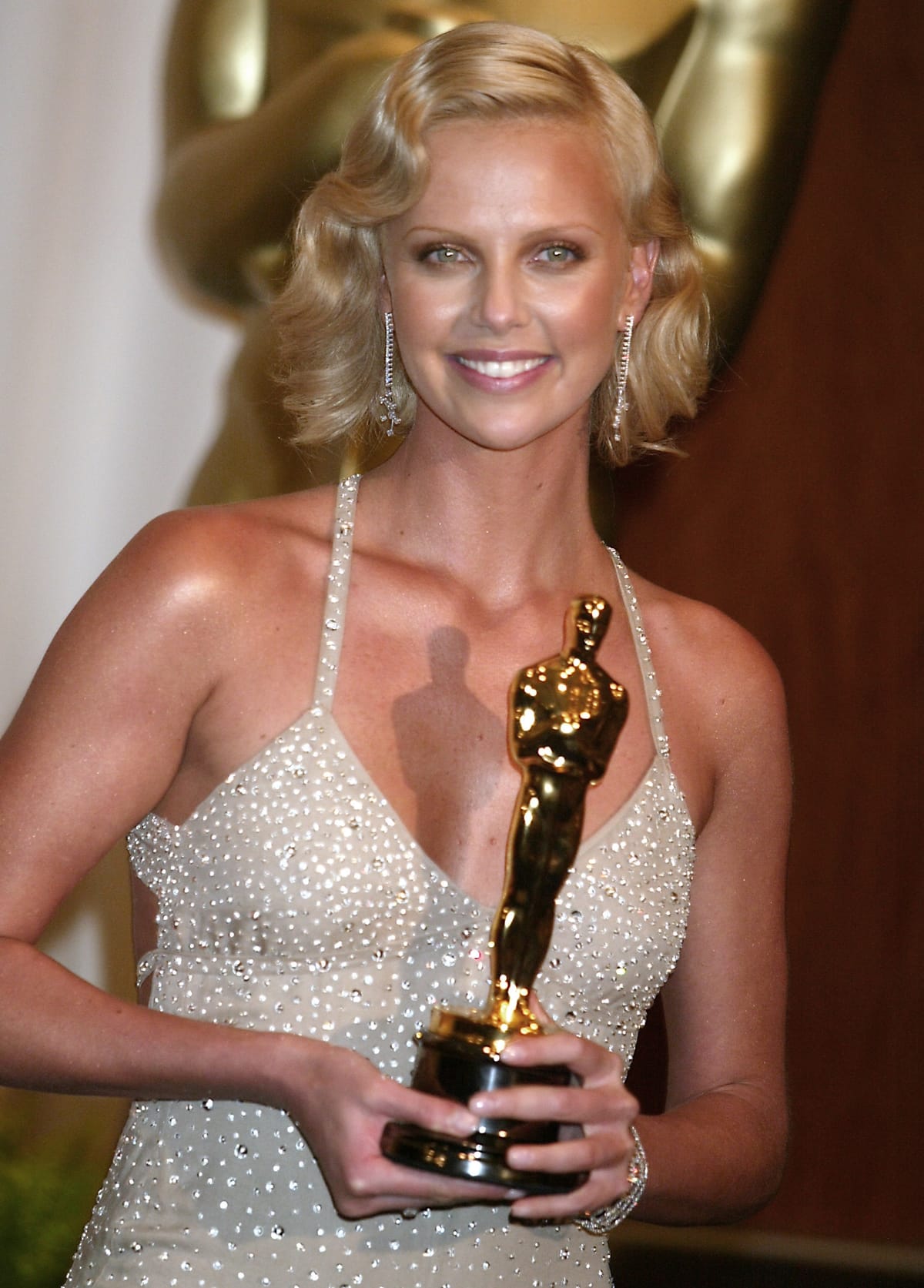 For her portrayal of serial killer Aileen Wuornos in Monster, Charlize Theron won the Academy Award for Best Actress (Credit: Featureflash Photo Agency / Shutterstock)
In fact, famous American film critic Roger Ebert called Monster "the best film of the year" and labeled Theron's performance as "one of the greatest performances in the history of the cinema".
If that isn't high praise (from one of the most prominent film critics of the 21st century), then we don't know what is. Theron's performance was so well-executed that she would win the Academy Award for Best Actress, the only Academy Award nomination that the film would receive.
Theron continued to gain success through a variety of different roles in the film industry, but her role as Wuornos in Monster is still perhaps her most memorable. It is certainly our favorite!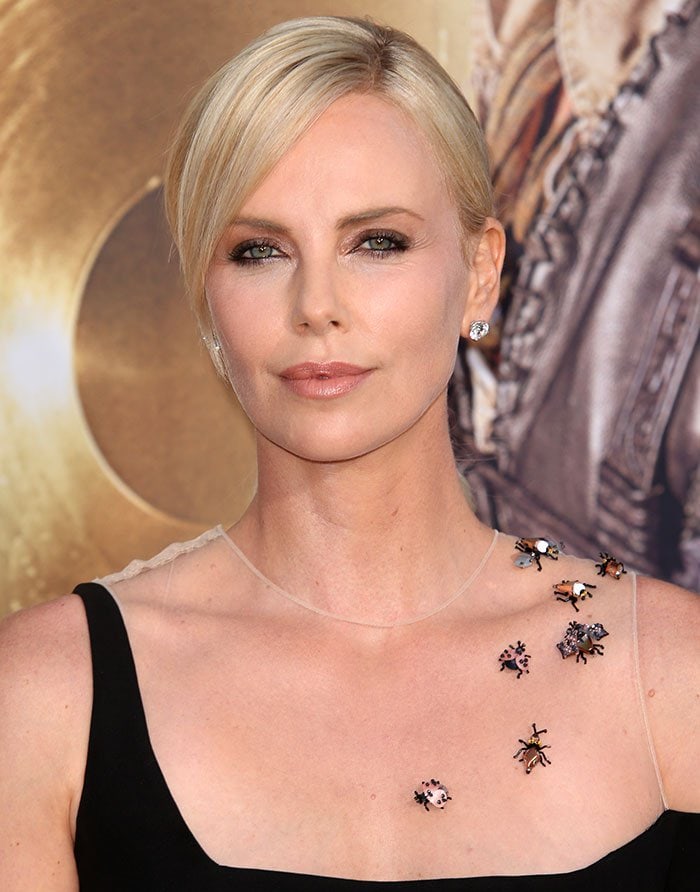 Charlize Theron wears her blonde hair back at the Hollywood premiere of "The Huntsman: Winter's War" held on April 11, 2016, at Regency Village Theatre in Los Angeles (Credit: WENN)
No need to bug out! It's just an illusion. In April 2016, Charlize Theron kept things simple and classy — but, also, a little creepy-crawly — at the premiere of the 2016 American fantasy action-adventure film The Huntsman: Winter's War.
The then 40-year-old actress, who played Snow White's evil stepmother, Queen Ravenna, in the directorial debut of Cedric Nicolas-Troyan, looked stunning on the red carpet in an elegant black dress from Dior's Spring 2016 collection.
Charlize Theron wears an insect-embellished Dior dress to the premiere of "The Huntsman: Winter's War" (Credit: WENN)
The form-fitting one-shoulder illusion frock featured a nude sheer panel that was embellished with insect-shaped jewel appliques.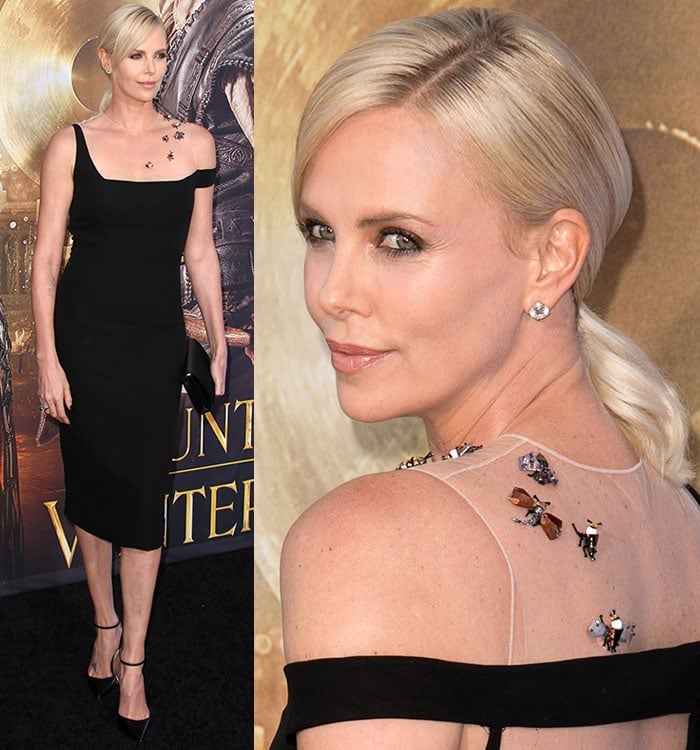 Charlize Theron's interesting black Dior dress featured bejeweled insect appliqués (Credit: FayesVision / Brian To / WENN)
Charlize teamed the dress with a pair of diamond studs and a statement ring, keeping things simple but classy. She carried a black clutch and slipped into a pair of Christian Louboutin pumps.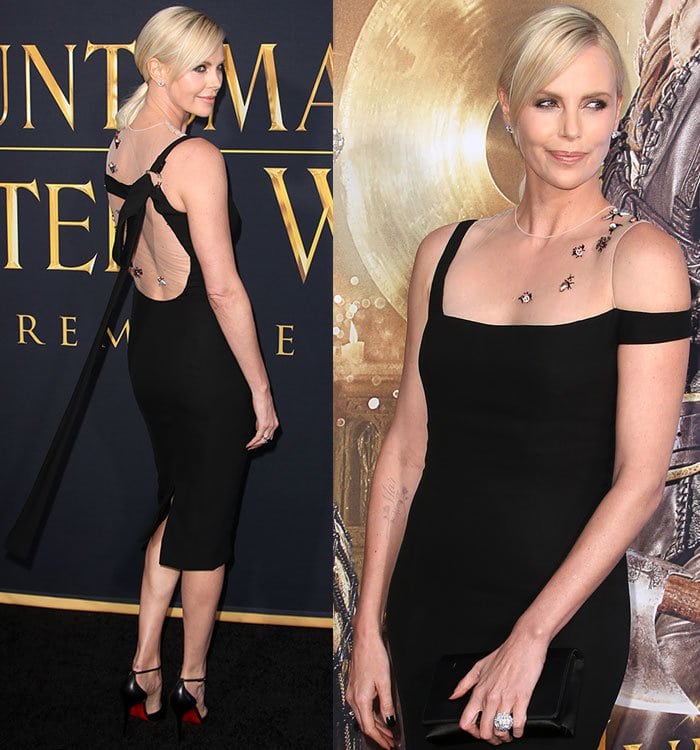 Charlize Theron styles her blonde hair back into a low ponytail and keeps the focus on her interesting Dior dress (Credit: WENN)
Her neat side-parted ponytail and minimal makeup completed her chic and elegant look.
Charlize Theron pairs her Dior dress with black Christian Louboutin pumps (Credit: WENN)
Charlize finished her creepy-crawly ensemble off with a simple pair of black leather Christian Louboutin "Uptown" pumps.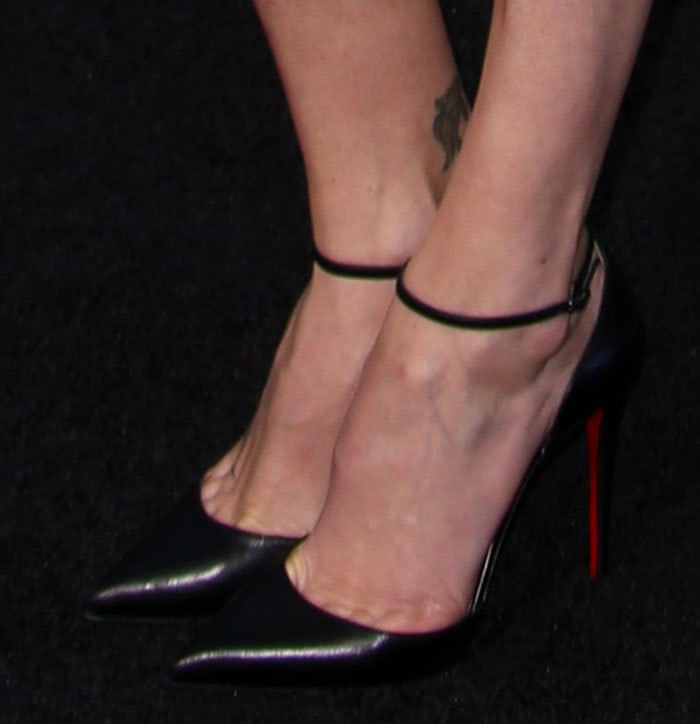 Charlize Theron's feet and ankle tattoo in black Christian Louboutin pumps (Credit: WENN)
These d'Orsay pumps have adjustable ankle straps, pointed toes, and about four-inch heels.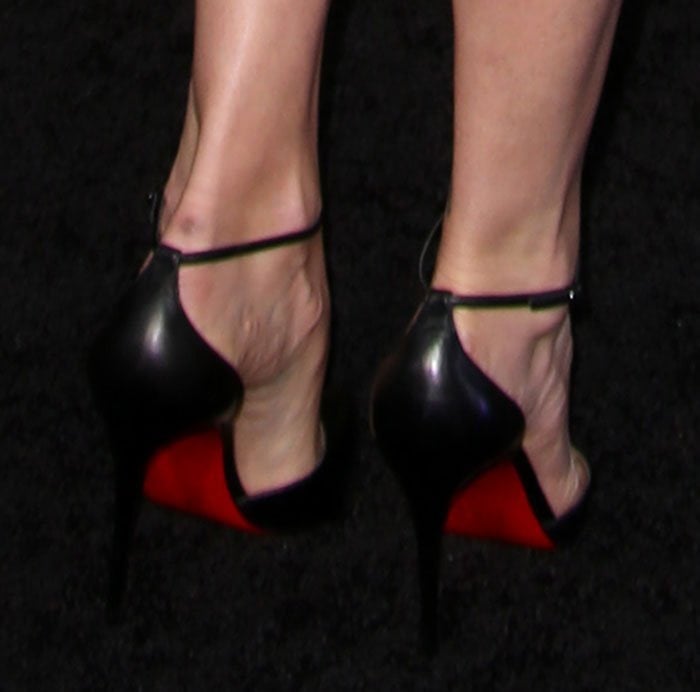 Charlize Theron's feet in red-soled "Uptown" pumps (Credit: WENN)
We can't find these exact pumps online, but similar shoes from the popular women's shoe brand can be purchased at Nordstrom, Matches Fashion, Saks Fifth Avenue, and Mytheresa.
Black Christian Louboutin "Rivierina" Ankle-Wrap Pumps, $745