Heather Graham has worked on a lot of R-rated films, such as "Boogie Nights," "Austin Powers" and "The Hangover."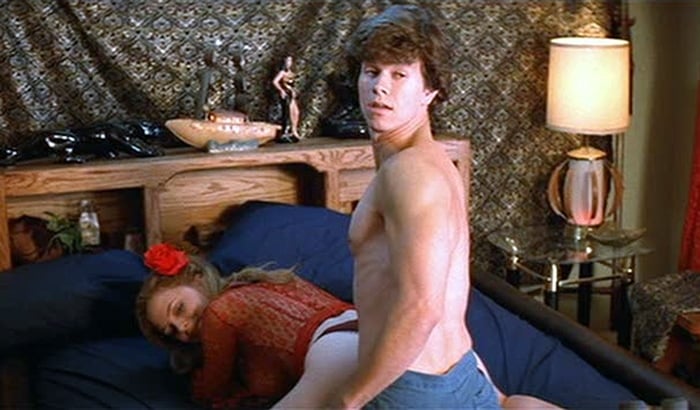 Heather Graham as Rollergirl/Brandy and Mark Wahlberg as Eddie Adams/Dirk Diggler in the 1997 American period drama film Boogie Nights (Credit: New Line Cinema)
In January 2016, the actress had a new movie coming out — an animated children's film — and she was excited to take a quick break from making more mature flicks.
Heather took to the AOL studio to promote her latest project, "Norm of the North." She portrays Vera Brightly, Olympia Brightly's mother (Maya Kay) who was an investor working under Mr. Greene (Ken Jeong).
Heather Graham wears her hair down as she arrives in Manhattan for an AOL appearance on January 12, 2016 (Credit: TNYF / WENN)
"I've always watched them and thought it would be so fun to do," Graham told People about her first-ever voice acting gig for Norm of the North. The computer-animated comedy adventure film was theatrically released on January 15, 2016.
"So it was really fun to work with great actors and comedians. I got to actually work with Rob Schneider and Ken Jeong, who I already knew. I like doing comedy with comedians, it's really fun."
Heather Graham wears a black-and-blue Martin Grant dress out in Manhattan (Credit: TNYF / WENN)
"You don't have to look good, you can just show up looking like a slob," Graham quips of the voice acting benefits. "It really expands the options of what you can play, you don't need to play what you look like, you can play anything."
How old was Heather Graham in Boogie Nights?
While Drew Barrymore and Tatum O'Neal were also up for the part, Heather Graham ended up getting the role of Brandy/"Rollergirl" in the 1997 American period drama film Boogie Nights.
American film director Paul Thomas Anderson and Heather Graham on the set of Boogie Nights (Credit: New Line Cinema)
Director Paul Thomas Anderson had not considered Heather Graham for the part as it required nudity. However, her agent called him and asked if she could audition. The rest is history and she gained critical praise for her performance.
"To get that job at that point in my career was huge," Graham said in an interview with Los Angeles Daily News in October 2017.
"It was really hard to book something great if you weren't famous, so getting that job really was a massive breakthrough for me. And when you read a character and it's named Rollergirl, you just think this is cool. She's such a cool character, never takes off her roller skates! I mean, it's so original and unique. When has anyone ever written a part like that? I just loved Paul Thomas Anderson's brain that came up with that idea. I just knew when I read it that this was super special."
"I tried to wear them all the time except when I was, like, endangering my life," she said of shooting her first nude scenes and skating.
"I was taking classes and I was prepared and I was skating around all the time. But I had a stand-in and she, basically, wiped out immediately because there were all these cables everywhere. It is kind of dangerous."
Born on January 29, 1970, in Milwaukee, Wisconsin, Heather Joan Graham was 27-years-old when the film premiered at the Toronto International Film Festival on September 11, 1997.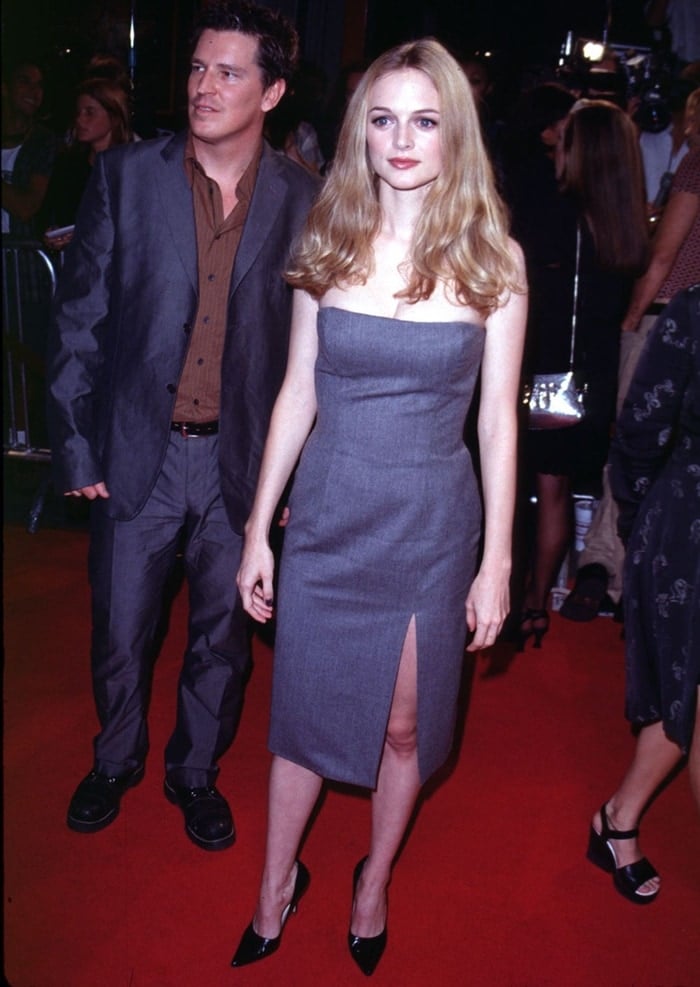 Heather Graham was 27 at the premiere of Boogie Nights in 1997 (Credit: WENN / Hubert Bosl)
To promote "Norm of the North," the blonde beauty wore a dress from the 2016 collection of under-the-radar Paris designer Martin Grant.
Her midi-length frock featured a black top and black side panels with a cobalt blue panel on the front of the skirt.
Heather paired her dress with a pair of black suede caged heels.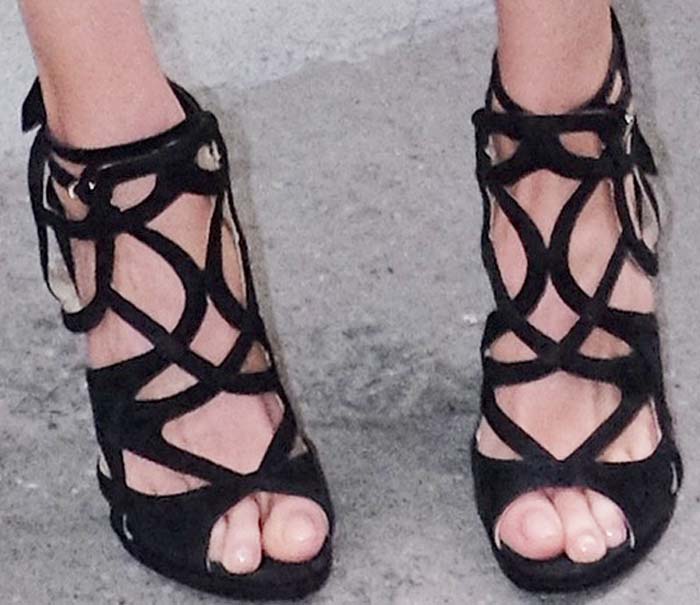 Heather Graham's feet in black cage sandals (Credit: TNYF / WENN)
Heather said that she sponsors children from Cambodia, and they've been asking to see one of her films. However, since most of her films are R-rated, she hasn't been able to give them any material.
The actress said she's enthusiastic about her latest film because she'll be able to share it with the Cambodian children.
"I have a bunch of different kids in my life, it will be fun to show them the movie," Graham revealed.
"Some of my friends' kids and these kids I sponsor in Cambodia through the charity called the Cambodian Children's Fund. One of the kids that I sponsor, because we email to communicate, she sent me the trailer and was very excited. It's fun because I can't really send her The Hangover."
Grab caged heels similar to Heather's by heading over to Zappos and Nordstrom.
Chinese Laundry "Janes Way" High Heels in Black, $24.99 – $111.95
Pour La Victoire "Yermak" Sandal, $325
Steve Madden "Slithur" Caged Sandals, $59.22 – $119.95