English actress and model Elizabeth Hurley is probably most famous for her role as the attractive British agent, Vanessa Kensington, in Austin Powers: International Man of Mystery in 1997.
She also touched the surface of other films and TV shows, including her role as the Devil in Bedazzled, Morgan le Fay in Runaways, and her 3-year role in The Royals. However, read on to learn more about this actress and her role as Vanessa Kensington!
How Hurley was cast as Vanessa Kensington
Aside from Hurley's adoption of acting talent and an attractive face to fit the part of a sexy agent, we can see another reason for Hurley's casting as Pamela Anderson's failure.
Pam Anderson is rumored to have auditioned for Elizabeth Hurley's part in "Austin Powers: International Man of Mystery" (Credit: John Eddy / INSTARimages / Cover Images)
Back in the 1990s, casting directors were starting to distance themselves from Anderson due to the leaking of her scandalous sex tape. Thus, the actress lost out on her dream role of playing Vanessa Kensington to Hurley.
Why Hurley left Austin Powers
Mike Myers initially wanted Hurley to return for the second film as the protagonist lead, Vanessa Kensington, since she had already been in the first film in 1997.
However, Hurley was too busy doing other projects to take on a primary female lead when the second film surfaced. These projects included EdTV (1999) and My Favorite Martian (1999).
Mike Myers as Austin Powers and Elizabeth Hurley as Vanessa Kensington in the 1997 American spy comedy film Austin Powers: International Man of Mystery (Credit: New Line Cinema)
Additionally, Austin Powers is a parody based on James Bond. A trademark of James Bond is that this franchise has a different primary female role in each new film. So, Myers wrote in a new female part for Heather Graham.
In the second Austin Powers film, he explains Vanessa's absence shortly after Vanessa and Austin's marriage. After engaging in intercourse with Austin on their honeymoon, Hurley's character is revealed to be a Fembot when Austin controls her with his TV remote.
Quickly, the Fembot self-destructs, exploding and resulting in an early kill-off.
Mike Myers as Austin Powers holds the fembot hand of Elizabeth Hurley as Vanessa Kensington in the 1999 American spy comedy film Austin Powers: The Spy Who Shagged Me (Credit: New Line Cinema)
Myers went on to ask Hurley if she would return to her role for a cameo early in the film to maintain the movie's continuity. Hurley agreed, making time in her busy schedule to take on this task.
It appears that Hurley also didn't seem to get on with fame. The Austin Powers star admitted she was jealous of the royal family, commenting that they got more privacy than she did as a celebrity.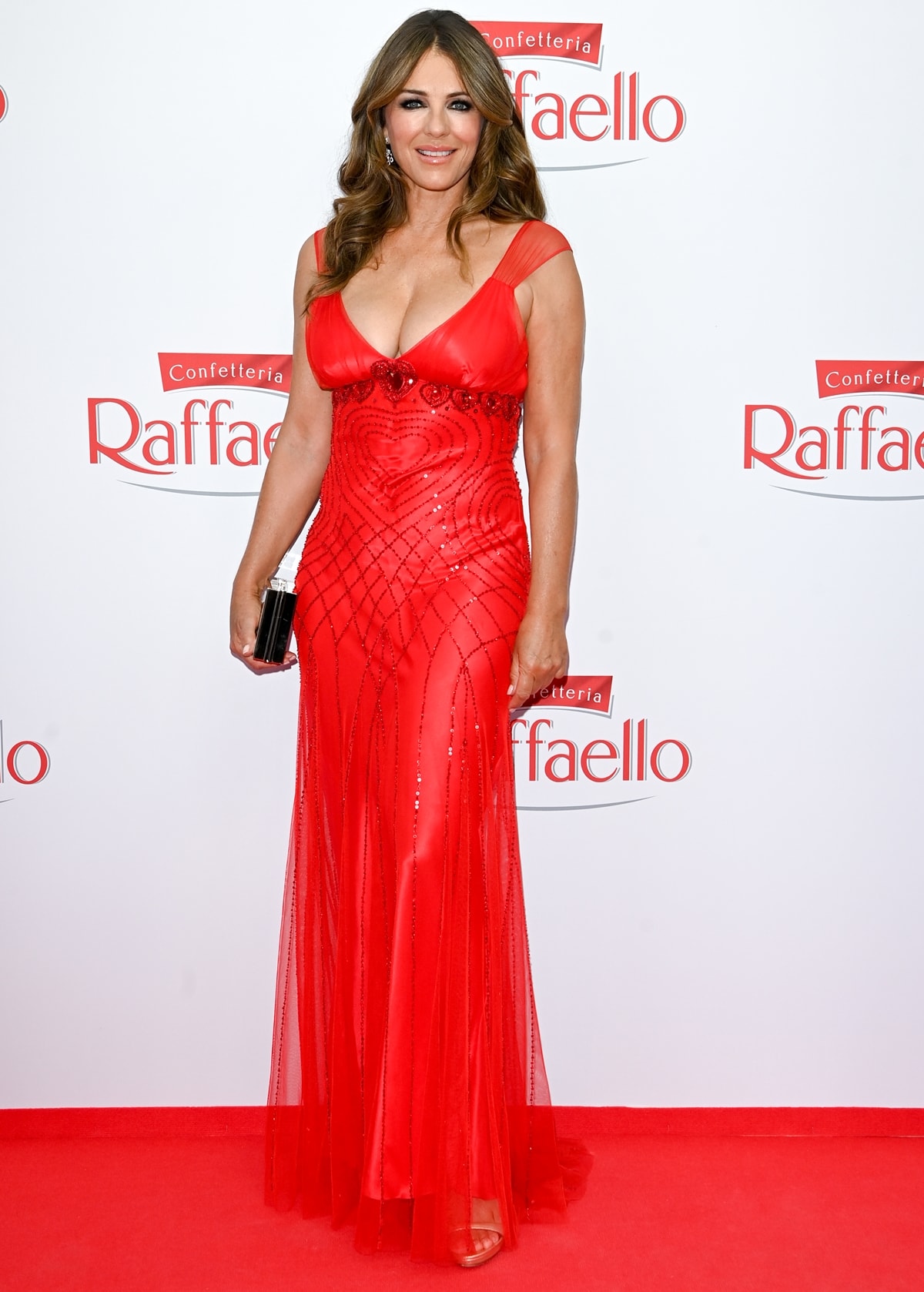 Actress Elizabeth Hurley in a sparkling red Jenny Packham gown at the Raffaello Summer Day party on the grounds of the Royal Porcelain Manufactory in Berlin on June 23, 2022 (Credit: Jens Kalaene / DPA / Cover Images)
She discussed that the public never saw the royal family behind closed doors – unlike her life experiences in show business, where people always seemed to be able to get behind the scenes.
"It made me feel a little jealous because it really made me realize that — on our show, you saw us out and about as royalty bestowing goodness and grace on the public, but then, of course, you went behind closed doors and saw what we were getting up to," she said on BuzzFeed News' AM to DM.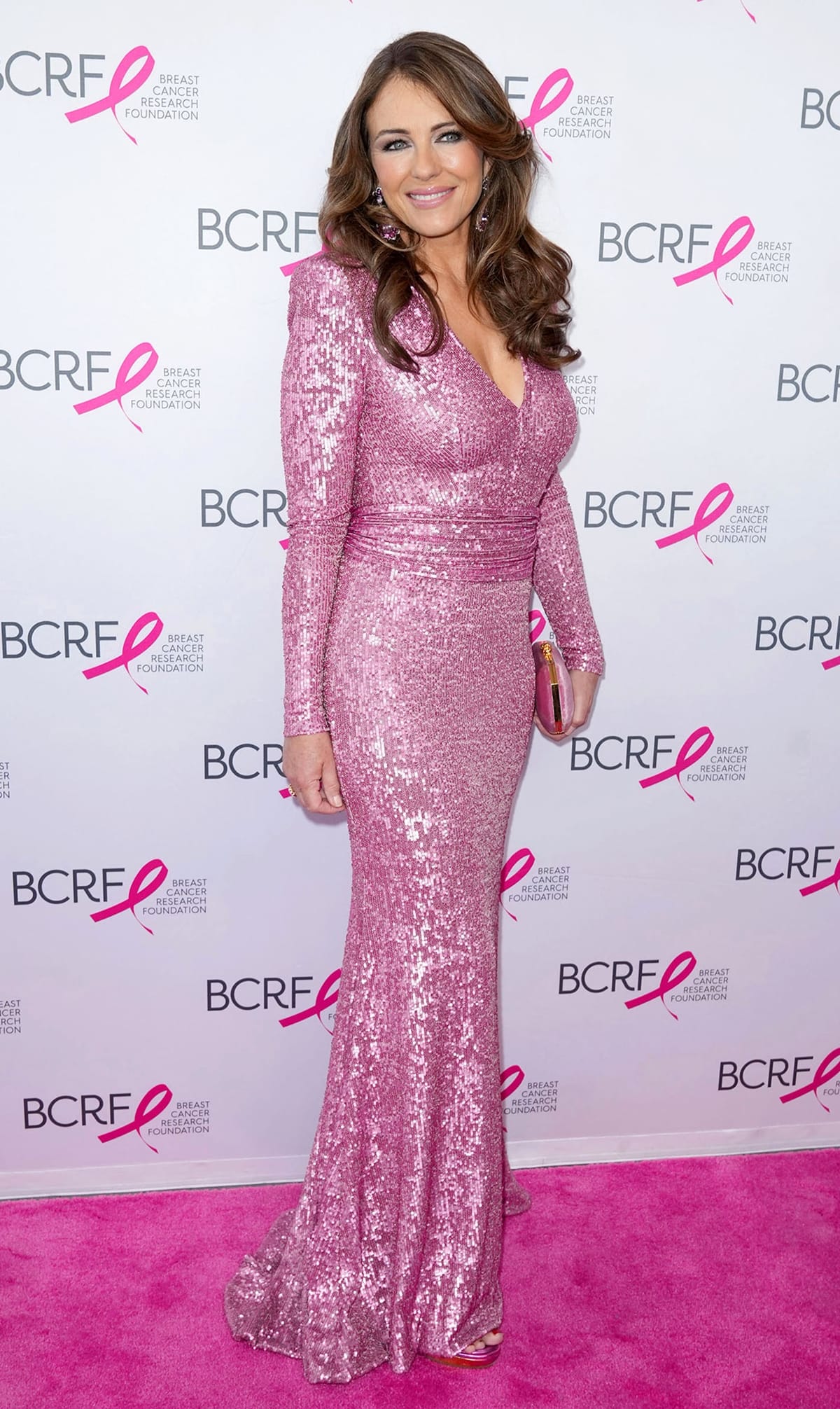 Elizabeth Hurley in a shimmering pink Blumarine gown at the Breast Cancer Research Foundation's Hot Pink Party at The Glasshouse on May 10, 2022, in New York City (Credit: John Nacion / Startraksphoto)
"The real royal family, you never see them behind closed doors ever. We only ever see them bestowing nice things on the outside, and you never see anything else, unlike people in show business where unfortunately pesky people seem to get behind the scenes all the time."
"So actually they're really lucky because I always think of the royal family being sort of like showbiz — really because it is — but with a lot more privacy. Sometimes. Maybe they've lost a little lately!"
Not funny enough?
Aside from Hurley's apparent busy schedule, there were also some rumors that she wasn't funny enough for the role.
Indeed, in 2002, the actress' scenes from the film Austin Powers In Goldmember were cut due to this very problem.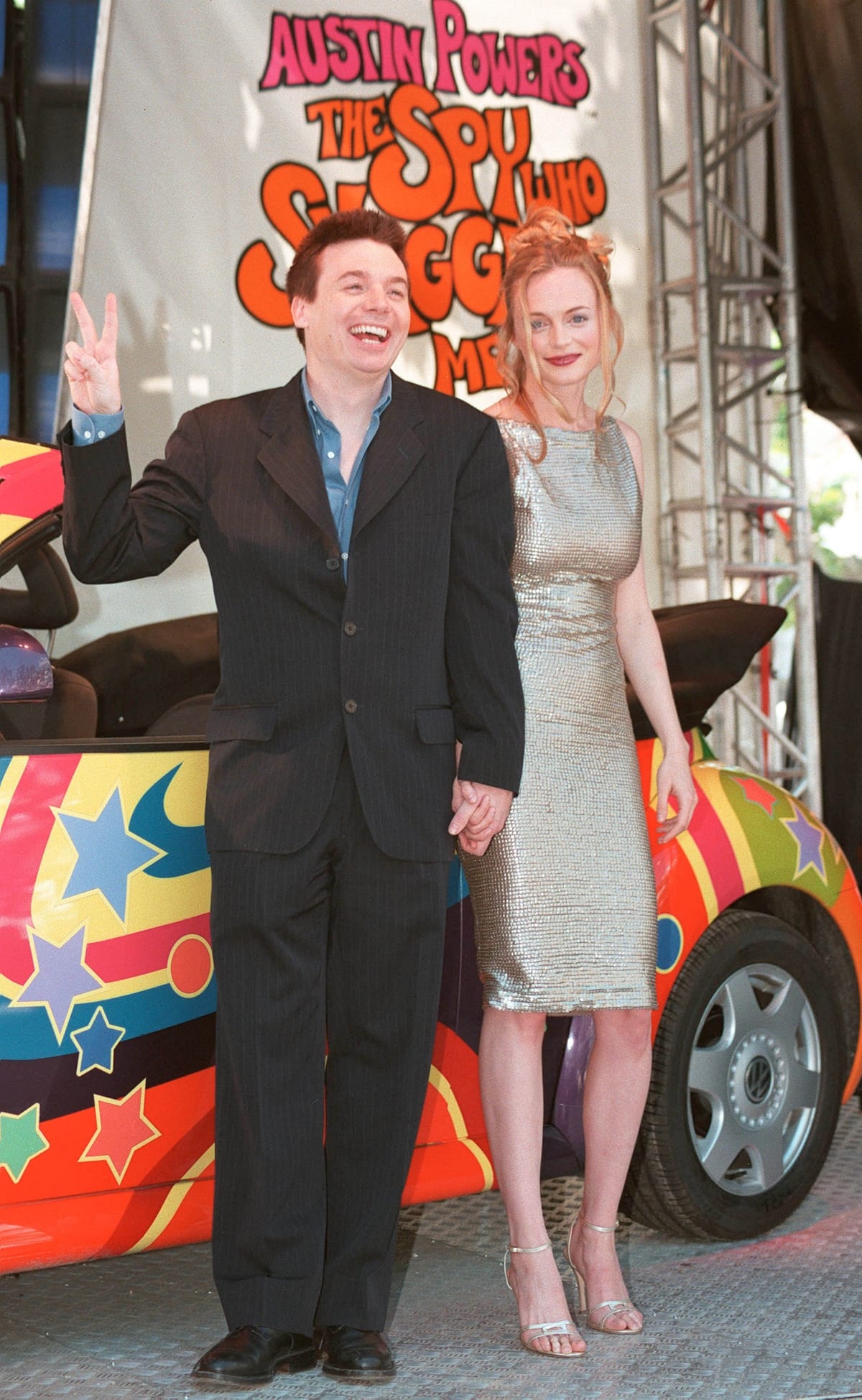 Mike Myers flashing the peace/victory sign with his co-star Heather Graham during a promotional shoot for the film Austin Powers: The Spy Who Shagged Me at the 1999 Cannes International Film Festival, Cannes, France, on May 19, 1999 (Credit: Featureflash Photo Agency / Shutterstock)
According to a source, Hurley's poor performance was triggered by the break-up she was experiencing with Steve Bing, who was also the father of her young son, Damien.
Why Hurley is reluctant to star in a 4th film
While loving her time as Vanessa Kensington, Hurley is reluctant to step back into her shoes in a 4th film, stating that she is hesitant to recreate something when she was 20 years older.
She commented on Austin Powers organically progressing, suggesting that it wasn't an appealing idea to run about in costumes that were being worn two decades earlier.
Saying this, Hurley and Mimi Rogers did indeed ask if they were allowed to keep their tight leather outfits!
A few fun facts
Though Hurley went on to be replaced by Heather Graham, she still made a colossal mark on this franchise.
Elizabeth Hurley flaunts her impressive boobs in a low-cut dress (Credit: Jens Kalaene / DPA / Cover Images)
Her character Vanessa was described as falling in her mid-20s in the movie's screenplay, although Hurley was actually 31 at the time. Furthermore, she commented that Austin Powers was based on British TV and radio personality Simon Dee.
Last but not least, if you're curious about the Fembots, it might be interesting to know that they were voiced not by Hurley but by voice actress Wendee Lee. She is most famous for having the voice of Faye Valentine in the 1998 English version of Cowboy Bebop.
Concluding thoughts
So, there you have it. Hopefully, you now know more about Elizabeth Hurley, how she came to take on the role of Vanessa Kensington, and why she decided to leave this iconic agent character in the past. We can only wonder what work she will take on next!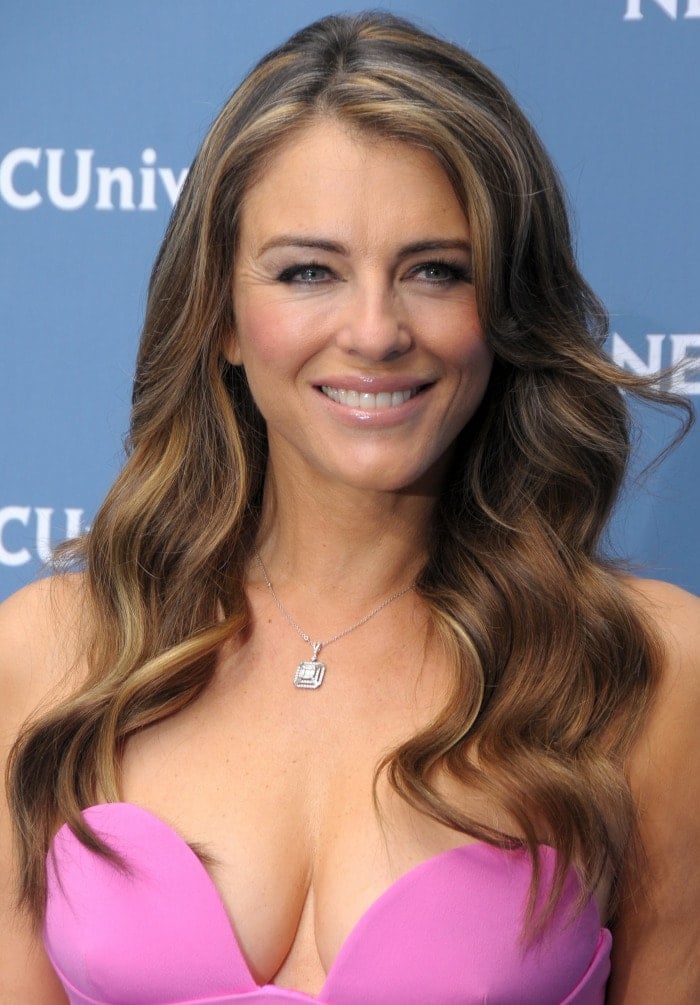 Elizabeth Hurley curls her hair for the NBCU Upfront Presentation held May 16, 2016, at Radio City Music Hall in New York City (Credit: Ivan Nikolov / WENN)
In May 2016, Elizabeth Hurley made a sexy appearance at the NBCU Upfront Presentation held at Radio City Music Hall in New York City to promote her show "The Royals," which was in its third season. The American primetime television soap opera was canceled by E! after four seasons in August 2018.
The then-50-year-old model and actress flaunted her ample assets in a strapless fuchsia midi dress with a daringly low neckline and thigh-high split.
Elizabeth Hurley flaunts her cleavage in a plunging fuchsia dress (Credit: Ivan Nikolov / WENN)
Elizabeth looked gorgeous as ever in the vibrant and sexy dress. You can tell she's had decades of modeling experience.
The popular movie actress wore her honey locks down in soft waves.
Elizabeth Hurley shows off her legs and chest in a daring pinkish-purple midi dress (Credit: Ivan Nikolov / WENN)
She wore a touch of bright blue eyeliner and accessorized with a simple diamond necklace.
The model and actress ensured all eyes went straight to her bright dress and ample assets by choosing a simple pair of nude heels from American fashion designer Tom Ford with which to complete her ensemble.
Elizabeth Hurley's feet in nude Tom Ford heels (Credit: Ivan Nikolov / WENN)
Available at Farfetch, these patent Tom Ford sandals feature a thin toe-strap and a wrapped ankle strap with the iconic gold padlock detail.
Tom Ford Lock Ankle-Wrap Suede 110mm Sandal, $990.00