In October 2014, the then 49-year-old Bedazzled actress Elizabeth Hurley lit up the Empire State Building for Breast Cancer Awareness month.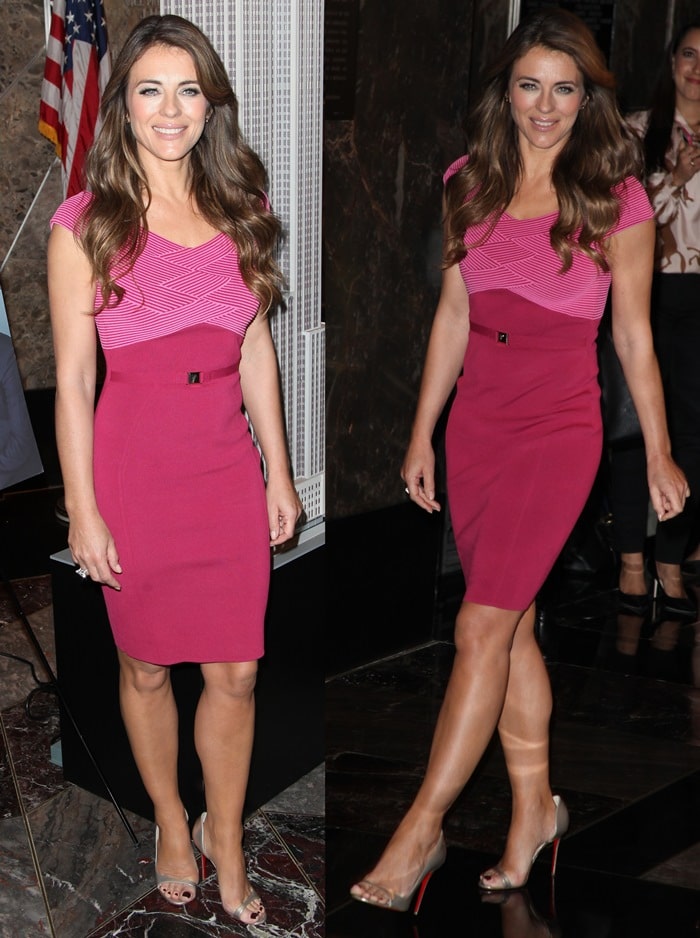 Elizabeth Hurley wears her hair down as she lights the Empire State Building pink on October 1, 2014, to honor the 22nd anniversary of The Estee Lauder Companies Breast Cancer Awareness Campaign in New York City
14 years earlier, she starred as the Devil in the 2000 American comedy film "Bedazzled," which is a remake of the 1967 film of the same name.
Praised for her performance, the film did reasonably well at the box office. However, her attendance at the movie's premiere in October 2000 was met with backlash from the Screen Actors Guild who had singled her out as a strikebreaker.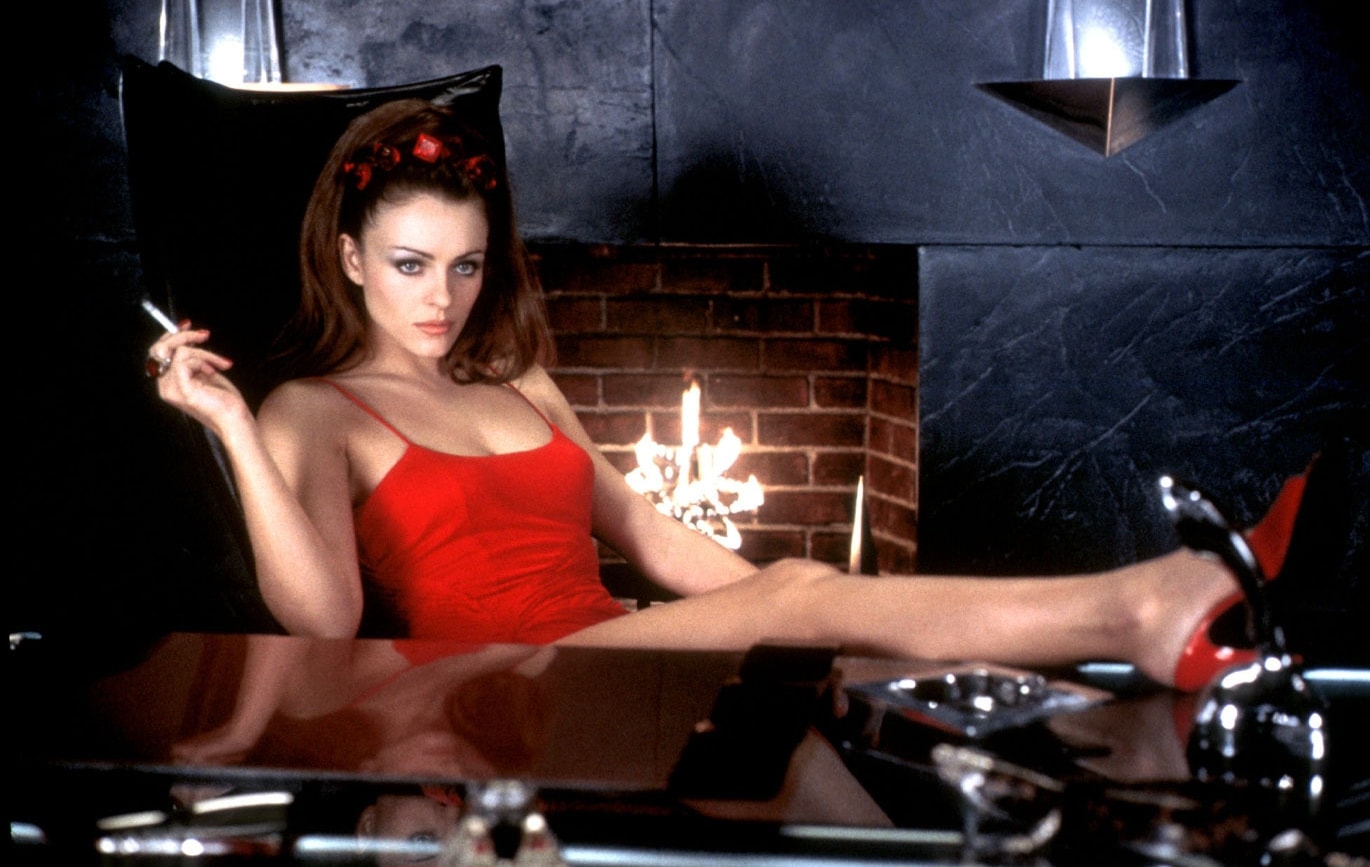 Elizabeth Hurley wears a sexy red dress as the Devil in Bedazzled
Protesters demonstrated outside the movie theater in Hollywood with banners reading "Elizabeth Scably, You Make Me Hurl," "I Want to Hurl Liz Out of the Union," and "Beauty Fades, Honor Doesn't."
Hurley filmed an Estée Lauder perfume ad in the middle of the commercial actors' strike. Despite her repeated apologies and a $25,000 contribution to the Screen Actors Guild, she was met by dozens of protestors at the Mann Village Theater.
Elizabeth Hurley was met by protesters from the Screen Actors Guild at the premiere of Bedazzled at the Mann Village Theater in Hollywood
In an interview with American television and radio host Lary King the same month, she was asked if she was typecast to play the Devil.
"I like to think not. I was sort of horrified when my agent first rang me about it. And they said, you know, Harold Ramis has got this fabulous new project. And he said, you'd be great for it. I'm like, oh, cool. What is it? And she's like, the devil. And I was like, what do you mean? And she said, oh, darling, everyone thinks you'd be perfect. My mother said exactly the same thing. Darling, you won't have to act at all," she responded.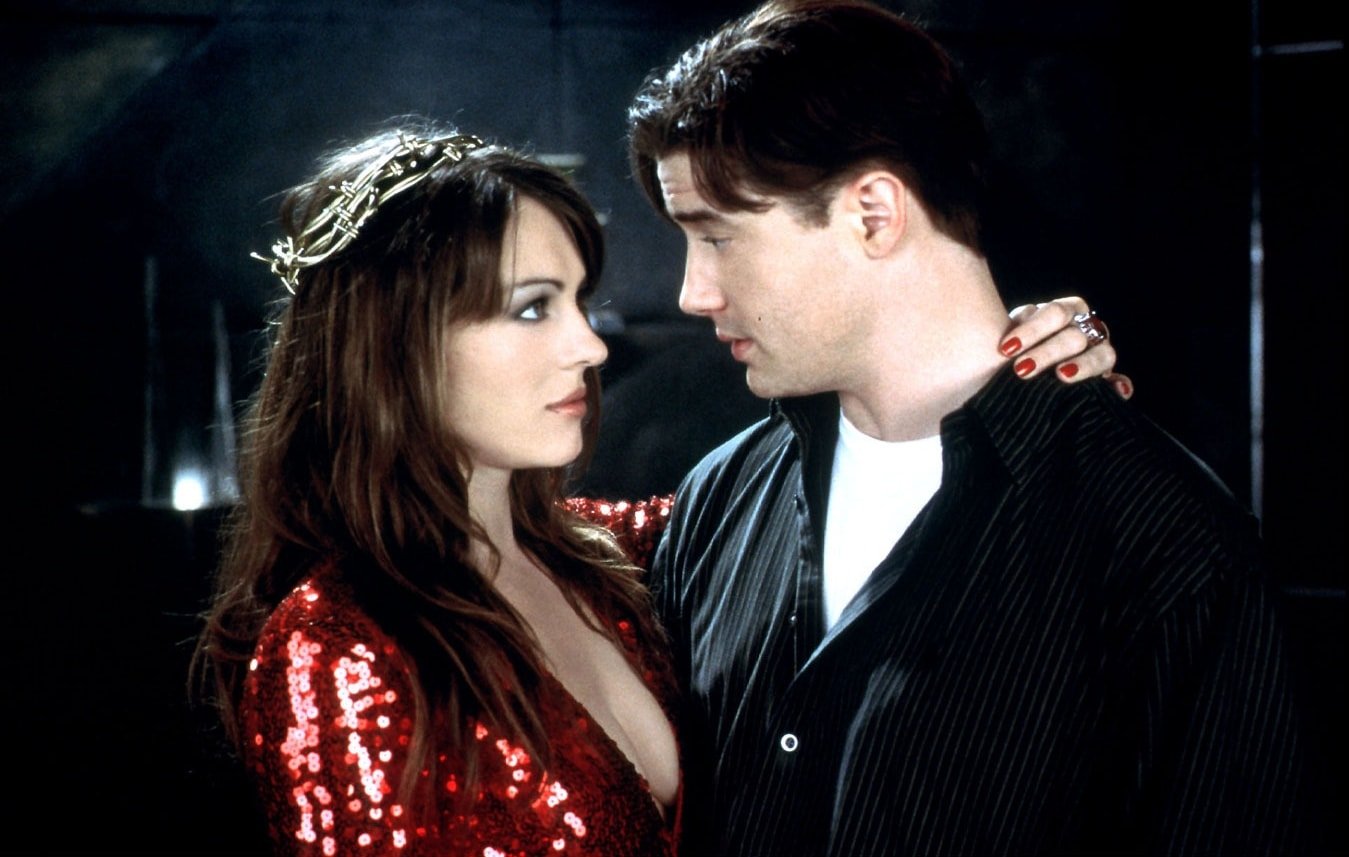 Bedazzled is a 2000 American comedy film directed by Harold Ramis and starring Brendan Fraser and Elizabeth Hurley
Released on October 20, 2000, Elizabeth Hurley was 35 years old when the movie premiered. Bedazzled was filmed in early 2000 when she was 34 years old. Born on June 10, 1965, in Basingstoke, United Kingdom, she turned 35 on June 10, 2000.
Her Canadian-American co-star Brendan Fraser was born on December 3, 1968, in Indianapolis, Indiana, and turned 32 on December 3, 2000. He was 31 while filming Bedazzled as the geeky tech-support worker Elliot Richards.
Brendan Fraser was 31 and Elizabeth Hurley 34 years old when filming Bedazzled
"Every 15 seconds, somewhere in the world, a woman is diagnosed with breast cancer. In one way or another, we're all drawn together by this disease," Elizabeth wrote on Instagram in honor of Breast Cancer Awareness month.
"Grab your favorite pink lipstick and help us fund life-saving research. Draw a pink ribbon on your hand, post a photo, and share why it's #TimeToEndBreastCancer."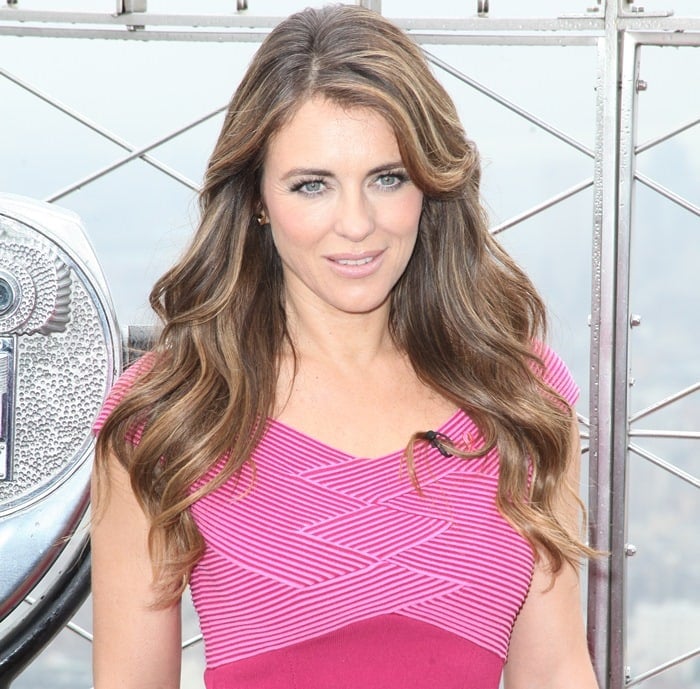 Elizabeth Hurley wears a bright pink dress to a breast cancer awareness event
The British beauty has been an ambassador of The Breast Cancer Campaign for Estée Lauder since 1995.
For the event, Elizabeth donned a tight-fitting berry-colored Dolce & Gabbana dress that featured cross-over detailing in a lighter shade at the top.
Elizabeth Hurley carries a berry-pink clutch in New York City
The Austin Powers actress carried a matching pink clutch and completed the outfit with a pair of strappy silver open-toed sandals.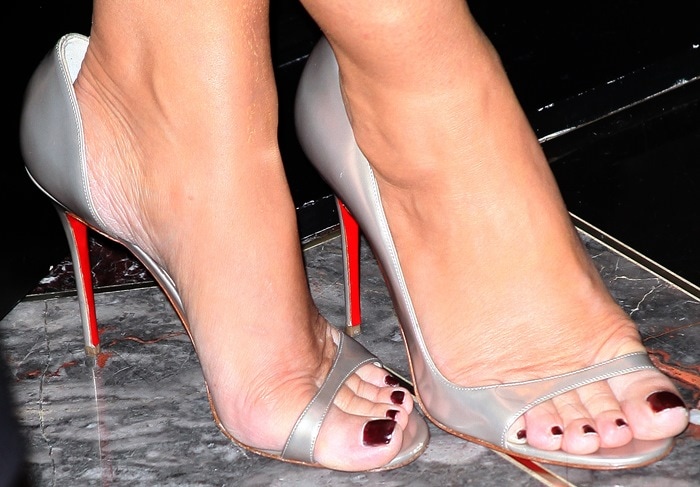 Elizabeth Hurley's feet in strappy silver open-toed sandals
Don't you think her sandals looked a little too big? Unfortunately, we haven't been able to identify the exact pair, but those red soles have us thinking that they're from Christian Louboutin.
Credit: PNP / WENN