Elizabeth Hurley first broke out onto the scene in 1987 when she starred in her first movie, the British anthology film Aria. Originally a punk rebel, the English actress became one of the world's most well-known actresses and continues to stun the internet with her beauty and talent.
Even though Elizabeth has starred in 46 films — including several critically acclaimed movies — she received her only acting award for her appearance in the spy spoof "Austin Powers: International Man of Mystery."
We're sure that you have your favorite Elizabeth Hurley movies — but what do the critics have to say?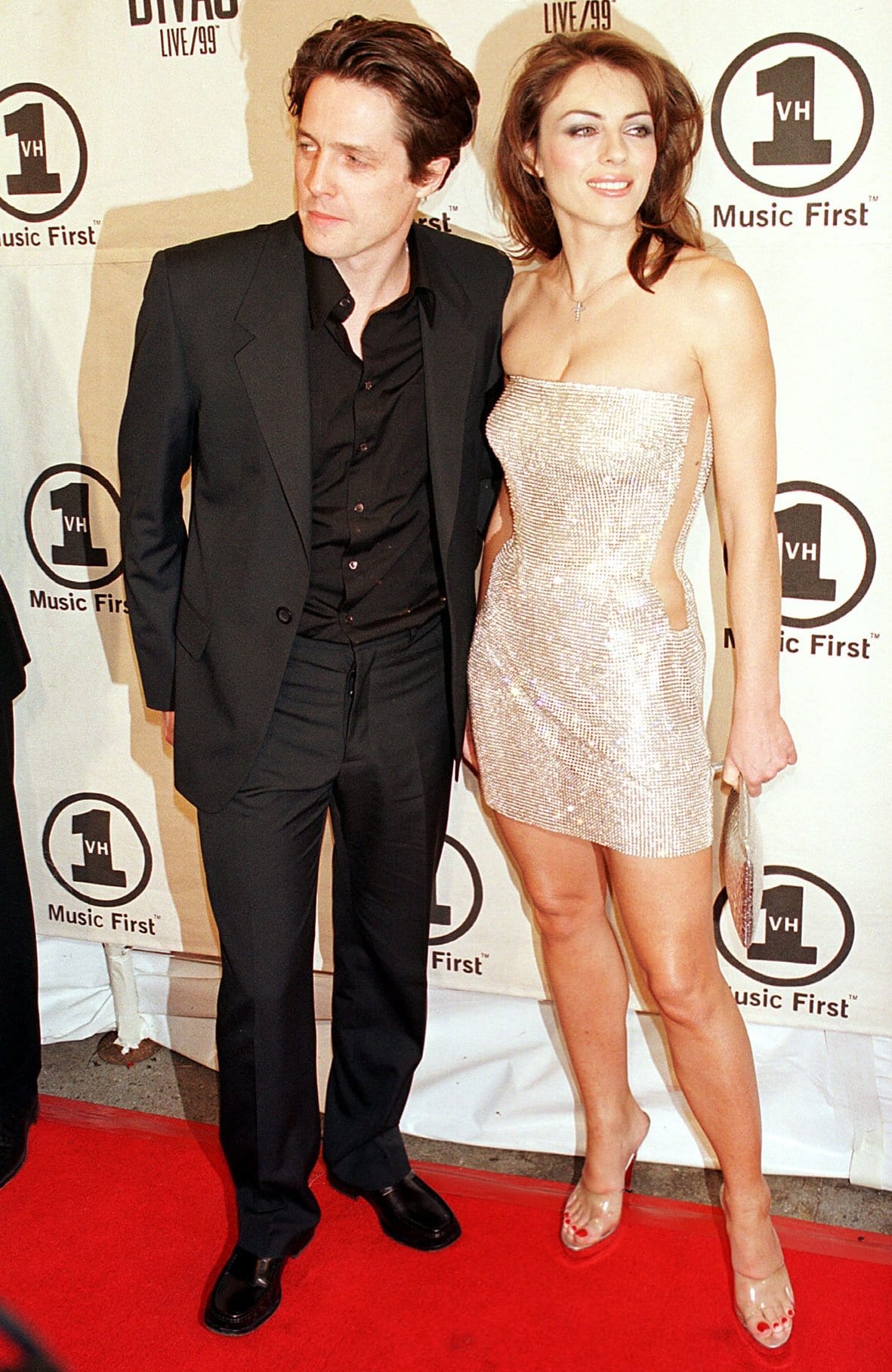 Elizabeth Hurley and Hugh Grant met in 1987 and dated for 13 years until amicably splitting in May 2000 (Credit: WENN / SIDEWALK)
When it comes to the critics, there are two types: The paid professionals and the general viewers.
The general public and the paid critics are looking at a film through entirely different lenses. While the average person watches a movie to enjoy the plot, characters, and dialogue, critics are looking for the art, the societal breakthroughs, and the acting performances that might shape the industry.
We all know the Rotten Tomatoes Tomato-Meter isn't always accurate. Some cult-favorite movies have been deemed rotten by the professionals, while other works that should have been scrapped in the idea stage receive outstanding scores. Things don't add up.
Regardless, here are the top eight Elizabeth Hurley movies as picked by Rotten Tomatoes.
8. Passenger 57 (1992) – 24% Rating
Elizabeth Hurley was only 27 years old when she picked up this role.
"Passenger 57" is about a veteran law-enforcement-official-turned-airline-security-expert (Wesley Snipes as John Cutter) who is flying to start his new job in Los Angeles.
Coincidentally, the plane is also transporting a known terrorist in custody being transferred by the FBI. The terrorist escapes, killing the FBI agent, and he and his associates take the plane hostage.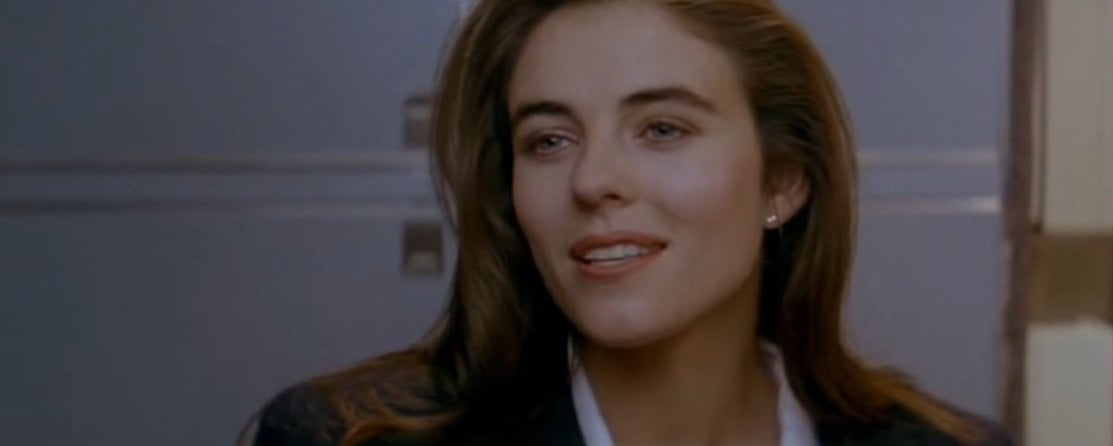 Elizabeth Hurley as sole henchwoman Sabrina Ritchie disguised as a flight attendant in the 1992 American action thriller film "Passenger 57" (Credit: Warner Bros.)
What was Elizabeth's role in this flick? She was the terrorist's partner disguised as a flight attendant.
Rotten Tomatoes took a pretty harsh stance on this film, giving it a whopping 24 percent. Elizabeth was fairly young when she filmed this movie and was prominently known as Hugh Grant's girlfriend.
It would be some time before she had her breakout role, and everyone would know her name.
7. The Weight of Water (2001) – 35% Rating
Elizabeth starred in "The Weight of Water" when she was 36 years old. Considering that she gave birth to her son Damian Hurley immediately after the release of the movie, we think it's safe to say she was pregnant during filming. Impressive.
The movie follows a newspaper photographer (Catherine McCormack as Jean Janes) as she digs into an old cold case from the past. She finds her life paralleling the life of one of the surviving witnesses, and her life spirals out of control trying to solve the mystery.
Elizabeth Hurley as Adaline Gunne and Catherine McCormack as Jean Janes in the 2000 mystery thriller film "The Weight of Water" (Credit: Lions Gate Films)
She ends up packing up her family, including Elizabeth Hurley's character Adaline Gunne, and taking them to an island to continue the research.
Rotten Tomatoes gave this movie a slightly higher rating than "Passenger 57."
"The jarring jumps between disconnected stories and watered-down sensationalism make for a soggy experience," The Dallas Morning News wrote in its review.
6. Double Whammy (2001) – 36% Rating
When she was 36, Elizabeth managed to film "Double Whammy" at the same time she was participating in the documentary miniseries "The Human Face."
Elizabeth took a more significant role in this comedy/drama than in the previous two films we've listed. In "Double Whammy," Elizabeth plays a sexually aggressive chiropractor putting a disgraced cop through the wringer during their sessions.
Between her advances and the dangers surrounding him, the officer is at his wit's end.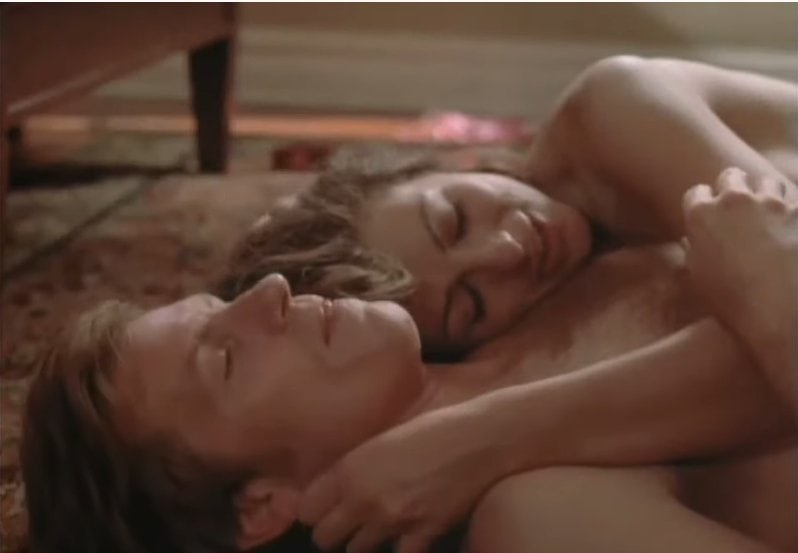 Denis Leary as Ray Pluto and Elizabeth Hurley as Dr. Ann Beamer in the 2001 comedy/drama film "Double Whammy" (Credit: Lions Gate Entertainment)
This movie wasn't viewed favorably at all by the tomato-meter. The critics compared it to the director's previous films and decided that it just fell flat in comparison.
5. Bedazzled (2000) – 50% Rating
2000 was a big year for Elizabeth. Not only did she call it quits with long-term boyfriend Hugh Grant after 13 years, but the 35-year-old also released this film, which she starred in alongside Brenden Fraser.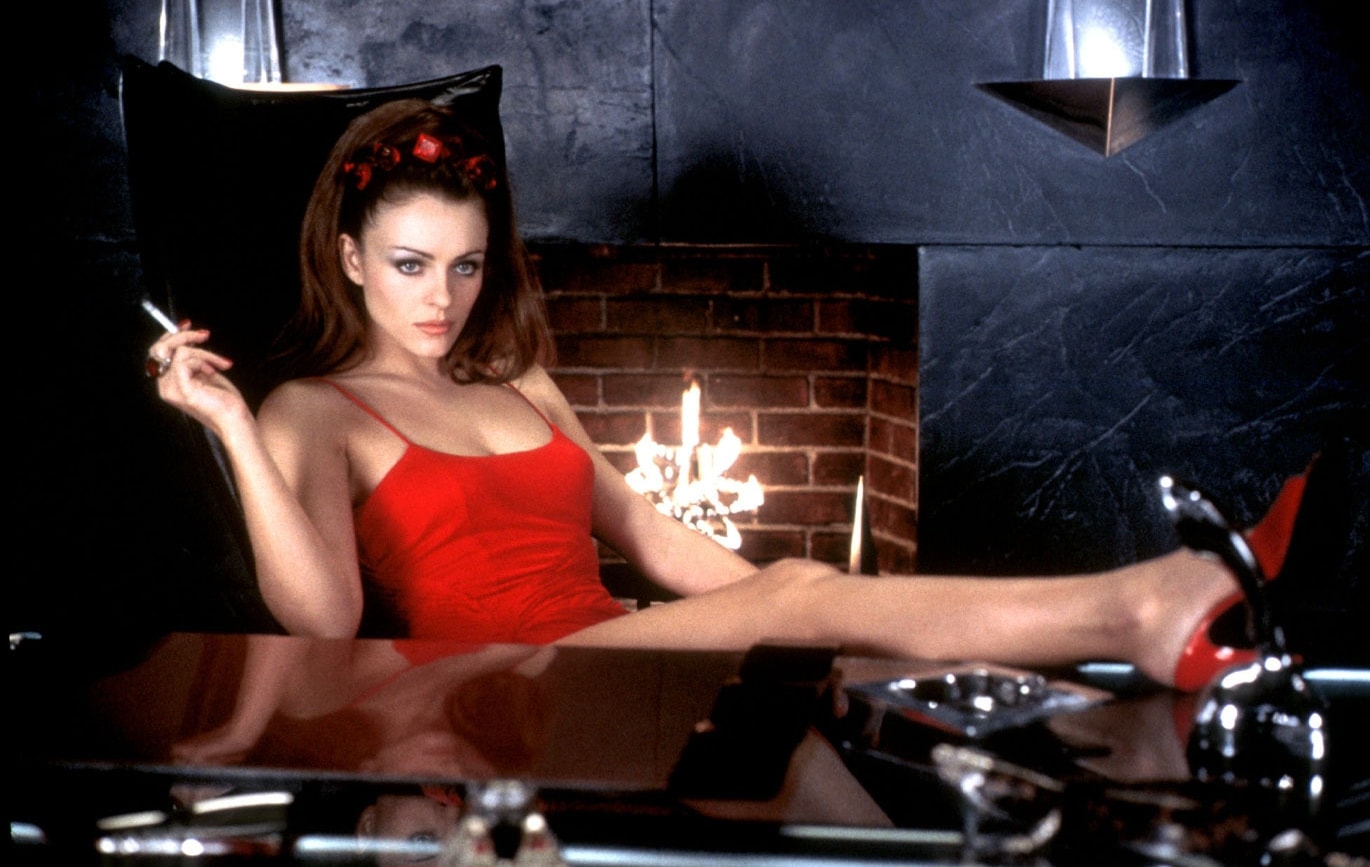 Elizabeth Hurley as The Devil in the 2000 American comedy film "Bedazzled" (Credit: 20th Century Fox)
In "Bedazzled," Elizabeth portrays a seductive devil who makes a deal with Brenden Fraser's character. In an ill-fated attempt to gain the affection of his coworker, he gives his soul to the devil in exchange for seven wishes.
Rotten Tomatoes was significantly more generous with its ratings here. We personally think that Brenden Fraser and Elizabeth Hurley's comedic performances deserved a higher rating, but alas, the critics know best. Right?
4. Austin Powers: The Spy Who Shagged Me (1999) – 52% Rating
In the first of multiple Austin Powers movies on this list, Elizabeth's character Vanessa Kensington is a fembot controlled by Dr. Evil.
Since Bond girls normally only get to appear in one film — and since this is the second installment of the Austin Powers series — Elizabeth's character self-destructs at the beginning of the film. Genius.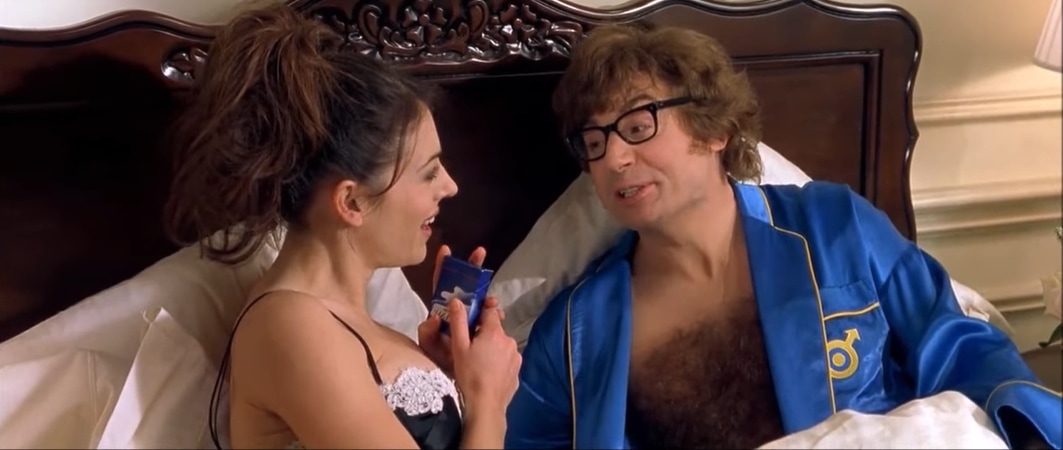 Elizabeth Hurley as Vanessa Kensington and Mike Myers as Austin Powers in the 1999 American spy comedy film "Austin Powers: The Spy Who Shagged Me" (Credit: New Line Cinema)
The critics give this one a 52 percent, which lands "Austin Powers: The Spy Who Shagged Me" the No. 4 spot on this list.
3. Permanent Mindnight (1998) – 58% Rating
Elizabeth, 33 in this film, plays a producer that is desperate to get her green card. To make this happen, she marries Ben Stiller's character: a drug addict trying to turn his life around. He ends up moving in with a friend before meeting Elizabeth's character, Sandra Stahl.
Unfortunately for him, the friend is also an addict, and they enable each other. Eventually, he connects with Elizabeth's character, and they help each other.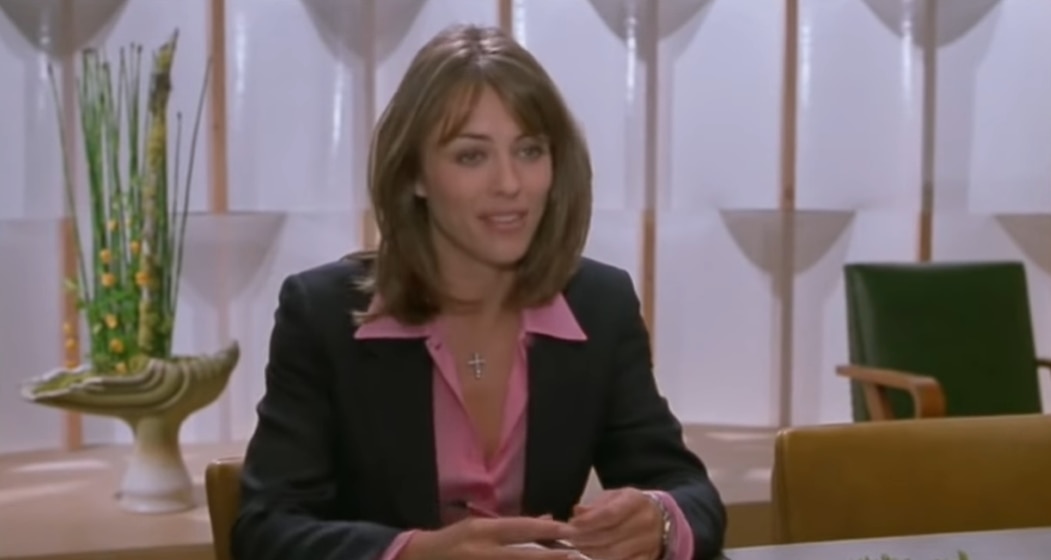 Elizabeth Hurley as Sandra Stahl in the 1998 independent drama film "Permanent Midnight" (Credit: Artisan Entertainment)
The artistic development and acting set the movie apart from the previously listed, which means critics gave it a fairly good rating.
2. EDtv (1999) – 64% Rating
Elizabeth had a busy 1999. Not only did she turn 34, but she also starred in three films: "Austin Powers and The Spy who Shagged Me," which we rated above, "My Favorite Martian," and "EDtv."
The plot of "EDtv" is similar to the hit Jim Carrey movie "The Truman Show," but with one key difference. Edward "Ed" Pekurny (Matthew McConaughey) is aware of the documentary crew filming his everyday life in an attempt to boost ratings.
Unfortunately, Ed became an instant celebrity and had to deal with the ramifications of losing his anonymity.
Elizabeth Hurley as the beautiful model and actress Jill in the 1999 American satirical comedy film "EDtv" (Credit: Universal Pictures)
Thanks to the unique concept of "EDtv," the critics give this movie a favorable rating.
1. Austin Powers: International Man of Mystery (1997) – 73% Rating
Another Austin Powers movie! In "Austin Powers: International Man of Mystery" — which happens to be the prequel to No. 4 on our list, "Austin Powers: The Spy Who Shagged Me" —Elizabeth plays an international spy working for British intelligence.
She is one of the agents tasked with assisting Austin Powers when he takes on the criminal mastermind that stumped him in the past, Dr. Evil.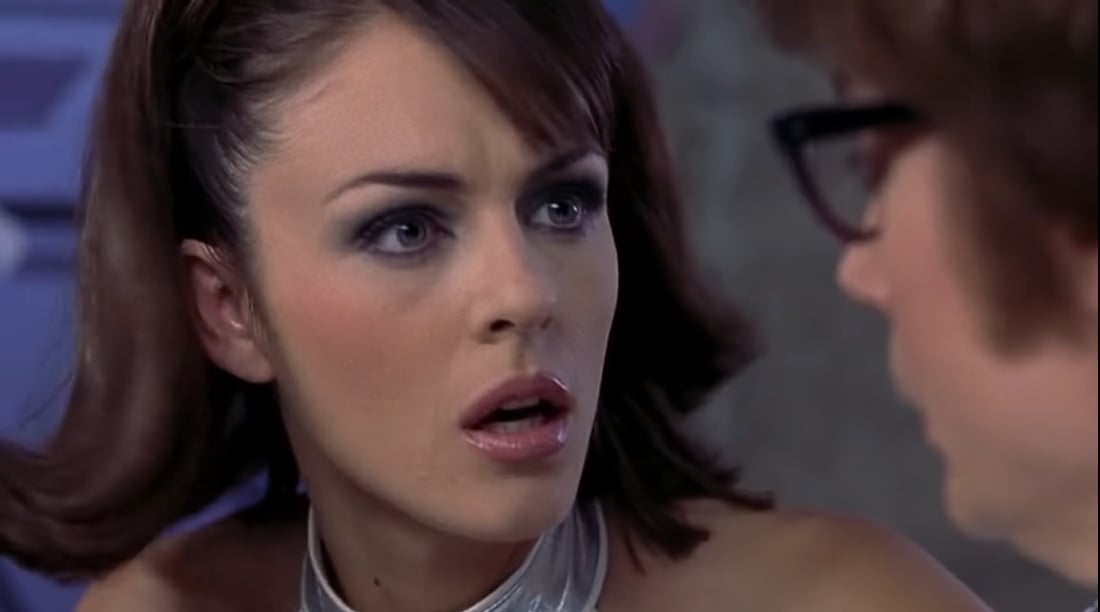 Elizabeth Hurley as Vanessa Kensington in the 1997 American spy action comedy film "Austin Powers: International Man of Mystery" (Credit: New Line Cinema)
This movie was creative, ahead of its time, and downright funny. The critics recognized the creative genius that went into the film and gave it a very favorable rating. The high ratings reflect the actors and the art.
Elizabeth, who was 32 at the time, also starred as Karen in "Dangerous Ground" the same year.
We hope Rotten Tomatoes can keep up, considering Elizabeth is still pumping out movies. The actress most recently released "Then Came You," in which she plays a character named Clare. Her heart and passion for acting have not waned over all the years.
In addition to her film presence, Elizabeth has also been making herself known on social media. The actress recently showed off her amazing physique in bikini-clad images posted on her Instagram.
"Far be it for me to suggest the tabloids get their facts muddled, but these pics were in fact taken by my 80-year-old mother," she wrote." Not entirely sure if that puts minds at rest or not."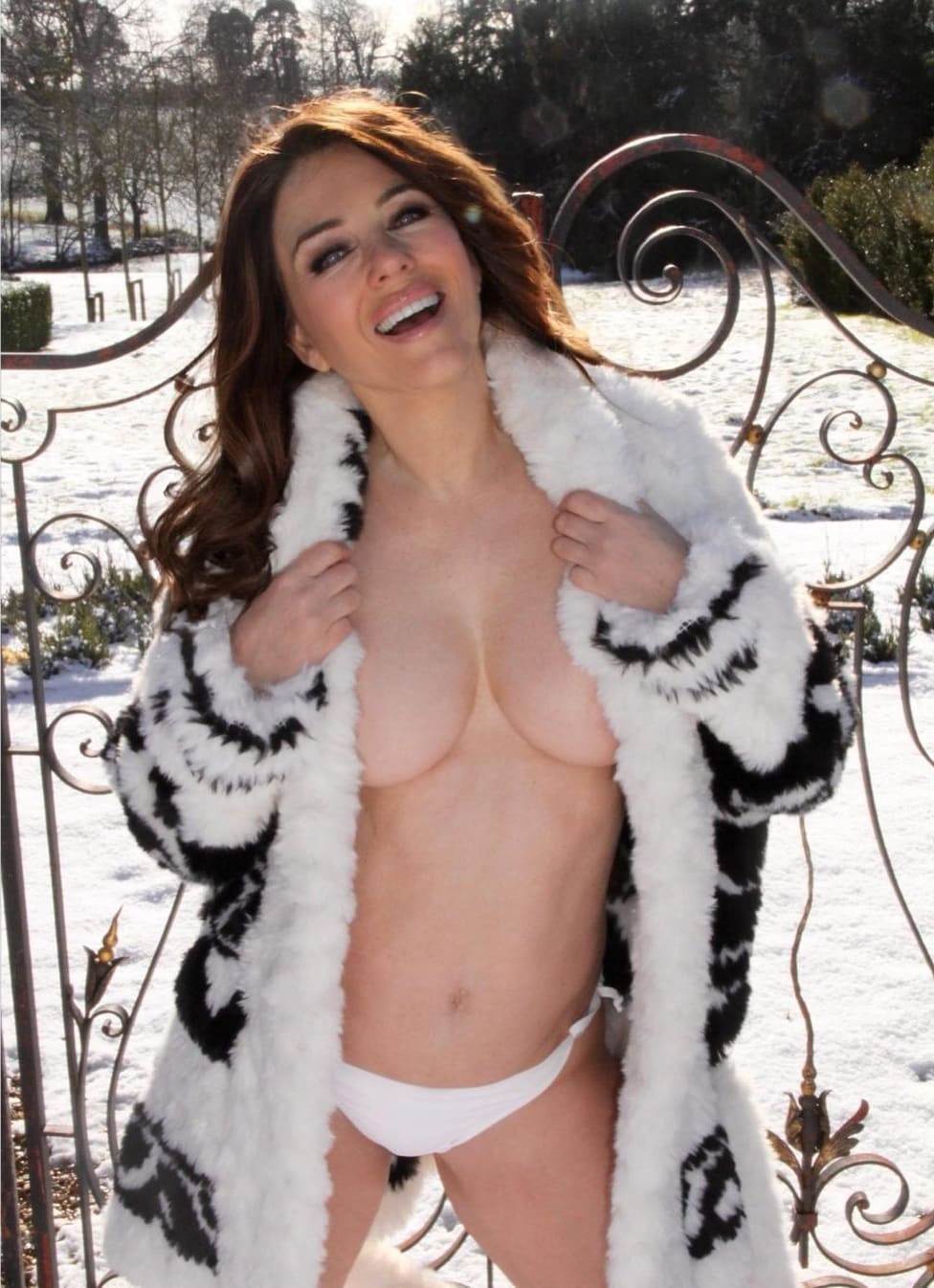 Via Elizabeth Hurley's Instagram: Elizabeth Hurley poses topless in the snow while promoting her Elizabeth Hurley Beach swimwear line
Elizabeth's racy, shirtless, snowy photos were taken to promote her clothing and accessory company, Elizabeth Hurley Beach, which sells swimwear, beachwear, and accessories.
Elizabeth Hurley wears her hair in curls at the 2016 People Style Awards held March 7 at Hotel Vier Jahreszeiten Kempinski in Munich, Germany (Credit: Sebastian Gabsch / Future Image / WENN)
When she's not wearing bikinis and posing for promotional materials, Elizabeth is known for her polished look. She often pairs bodycon dresses with heels and the occasional coat.
We're not the only ones to notice her styling prowess. The actress bagged the Style International Award at the 2016 People Style Awards in Munich, Germany.
Elizabeth Hurley wears a red Versace dress on the red carpet of the People Style Awards (Credit: Sebastian Gabsch / Future Image / WENN)
For the awards, Liz wore a red lace dress with an asymmetrical hem over the pleated skirt by Versace. The actress paired her delicate reds with the Jimmy Choo "Jane" Sandals.
Ironically, considering Elizabeth was being honored for her style, this was one look we weren't very fond of.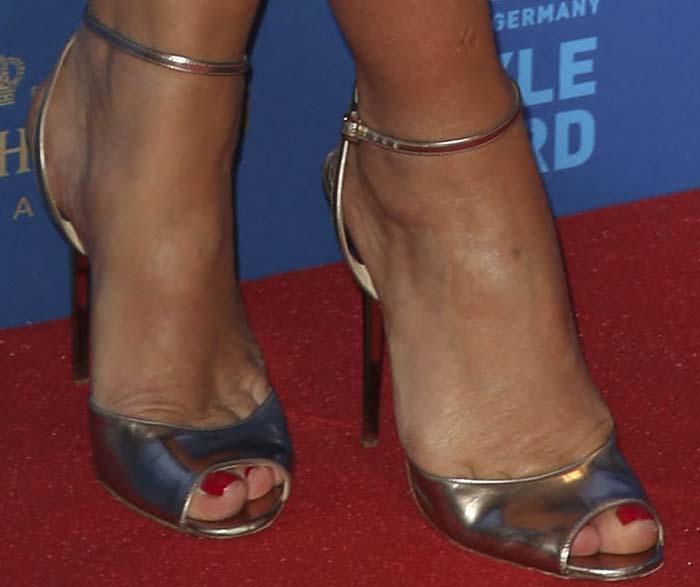 Elizabeth Hurley's feet in silver Jimmy Choo sandals (Credit: Sebastian Gabsch / Future Image / WENN)
We don't quite understand the pairing of the lace with the metallic peep toes, and even less the gold clutch with the silver heels.
Nonetheless, Liz went on to receive her award alongside Bar Refaeli and Patrick Schwarzenegger, who were also honored. Why Germany has a particular interest in the three, we're not so sure.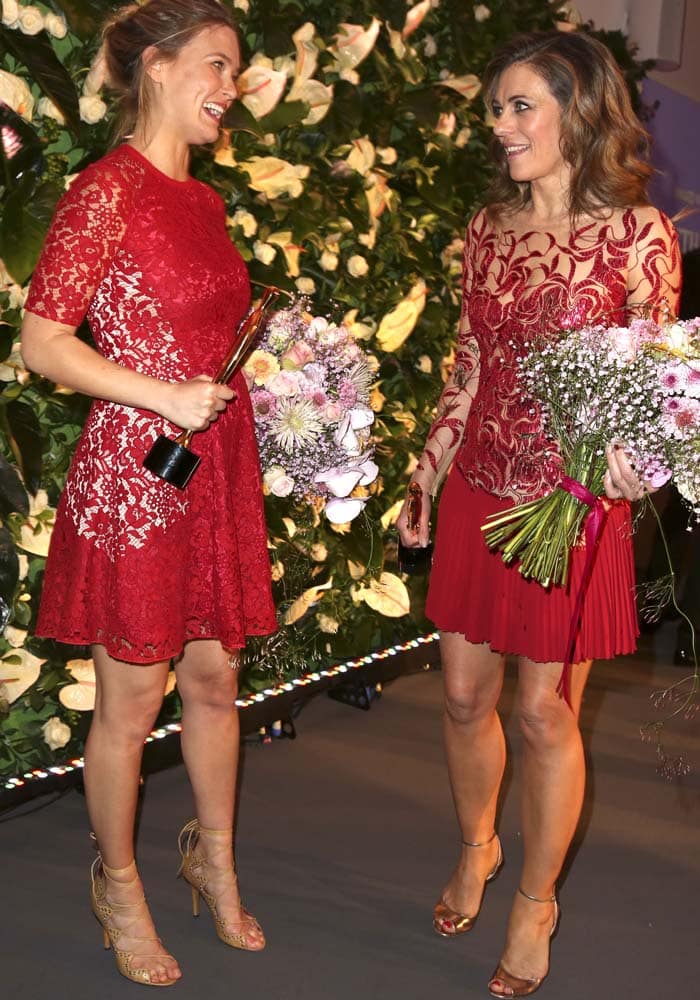 Elizabeth Hurley and model Bar Refaeli pose for photos at the 2016 People Style Awards in Munich, Germany (Credit: Sebastian Gabsch / Future Image / WENN)
The Jimmy Choo "Jane" sandals are no longer available online, but we did find some similar alternatives.
Go all out on the chunk or go for a more formal glitter by grabbing a pair at Farfetch and Zappos.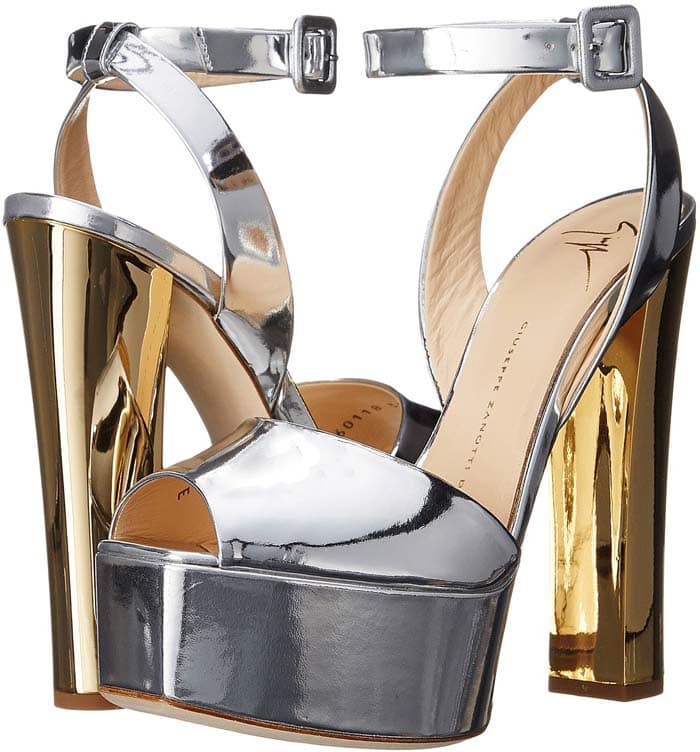 Giuseppe Zanotti Metallic Leather High-Heel Sandal in Argent, $795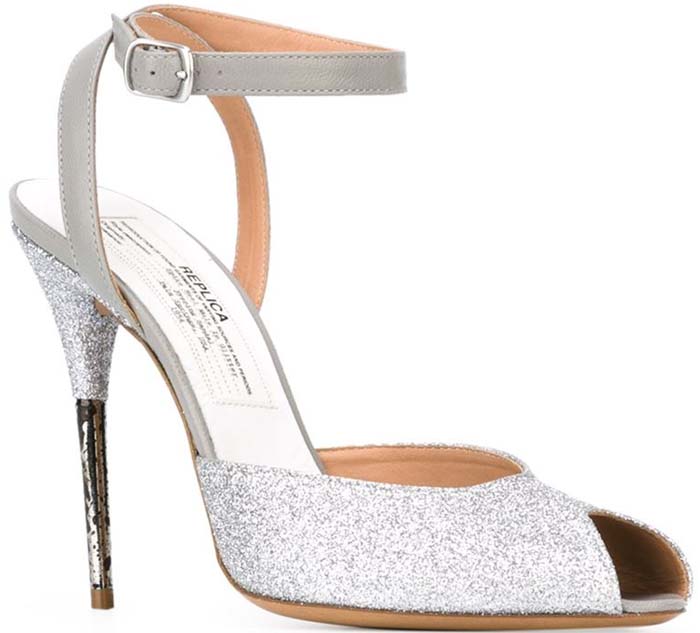 Maison Margiela Glitter Embellished Sandals, $895
Sam Edelman "Kayde" Metallic Platform Two Part Heeled Sandals, $120 – $253