From Selling Sunset to. . . falling in love? Costars of the real estate reality show Terrina Chrishell Stause and Jason Oppenheim revealed that their on-screen chemistry has led to off-screen romance, debuting their coupledom this year.
Chrishell Stause and Jason Oppenheim are two stars of the Netflix series, Selling Sunset. The show revolves around the Oppenheim Group, a high-end real estate firm in Los Angeles, led by Jason Oppenheim and his twin brother, Brett Oppenheim. The show also features Heather Rae Young, Maya Vander, Christine Quinn, and Mary Fitzgerald.
Selling Sunset stars Chrishell Stause and Jason Oppenheim started dating in 2021 (Credit: MEGA / WENN)
Selling Sunset is unlike the more traditional real estate television shows that you might see on HGTV. Instead of solely focusing on the professional aspects of the real estate firm, Selling Sunset also delves into each of the realtor's personal lives, taking notes from other workplace reality dramas like Vanderpump Rules.
There is no shortage of drama on Selling Sunset, and unfortunately, this has transferred into the personal lives of the new couple. Join us as we explore the timeline and dramatic events of Chrishell Stause and Jason Oppenheim's relationship.
Before Selling Sunset (2016-2018)
Actress-turned-realtor Chrishell Stause had no idea how much her life was going to change after she got her real estate license in 2016.
In 2018, Stause met her future beau, Jason Oppenheim, his twin, Brett Oppenheim, and the rest of the crew when she joined their real estate firm, the Oppenheim Group.
Justin Hartley filed for divorce from Chrishell Stause in November 2019 after two years of marriage (Credit: Avalon / WENN)
Sparks did not immediately fly between Stause and Jason Oppenheim. At the time, Stause was married to This Is Us actor Jason Hartley — so we know she was no stranger to the limelight. Additionally, Oppenheim had a prior relationship with another coworker, Mary Fitzgerald.
The show starts streaming and the drama begins (2019)
The first season of Selling Sunset premiered on Netflix in March of 2019. The show was a quick hit with reality television fans, who were keen to know every detail about every member of the Oppenheim Group's love lives.
During season one, Stause was still married to Hartley (who never made an appearance on Selling Sunset) so there was not much conjecture about a relationship between her and Oppenheim.
Mary Fitzgerald dated the firm's President Jason Oppenheim for four years before the premiere of Selling Sunset (Credit: Netflix)
However, fans found out about Oppenheim and Mary Fitzgerald's history between one another and had a lot of questions — thinking that the exe's working relationship would bloom into something more. Some fans even "shipped" them together and hoped that Oppenheim and Fitzgerald would get back together! Oppenheim said that there was nothing strange about their working relationship, though.
"I don't give her special treatment," Oppenheim told Good Housekeeping about Fitzgerald in 2020. "I understand that there can be frustrations from other agents because they see that Mary is being involved in and brought on to many of my listings. While I don't share the financials with everyone because that's confidential, I think that everyone would admit based on just the obvious work that she's done, that she's bringing more money into this brokerage and selling more properties than anyone else."
Even more drama ensues (2019-2020)
Netflix must have been prepared for Selling Sunset to be wildly successful, because in November 2019 — only eight months after the show's premiere — the cast was already filming the show's third season. Around this same time, Chrishell Stause and her husband, Justin Hartley, were in the midst of a nasty split.
Justin Hartley with his daughter Isabella Hartley (L) and his wife Chrishell Stause (R) attend the premiere of NBC's 'This Is Us' Season 3 at Paramount Studios on September 25, 2018, in Hollywood, California (Credit: Adriana M. Barraza / WENN)
39-year-old Stause revealed in season three of Selling Sunset (which eventually aired in 2020) that she was made aware of her own impending divorce proceedings by way of a text message.
"I found out because he text[ed] me that we were filed," Stause said tearfully to co-star Mary Fitzgerald in an episode of Selling Sunset. "Forty-five minutes later, the world knew."
"If that's really what you wanted, there are better ways to go about [it]," Stause said, admitting that she did not initially think that her now-ex Hartley was serious about the divorce.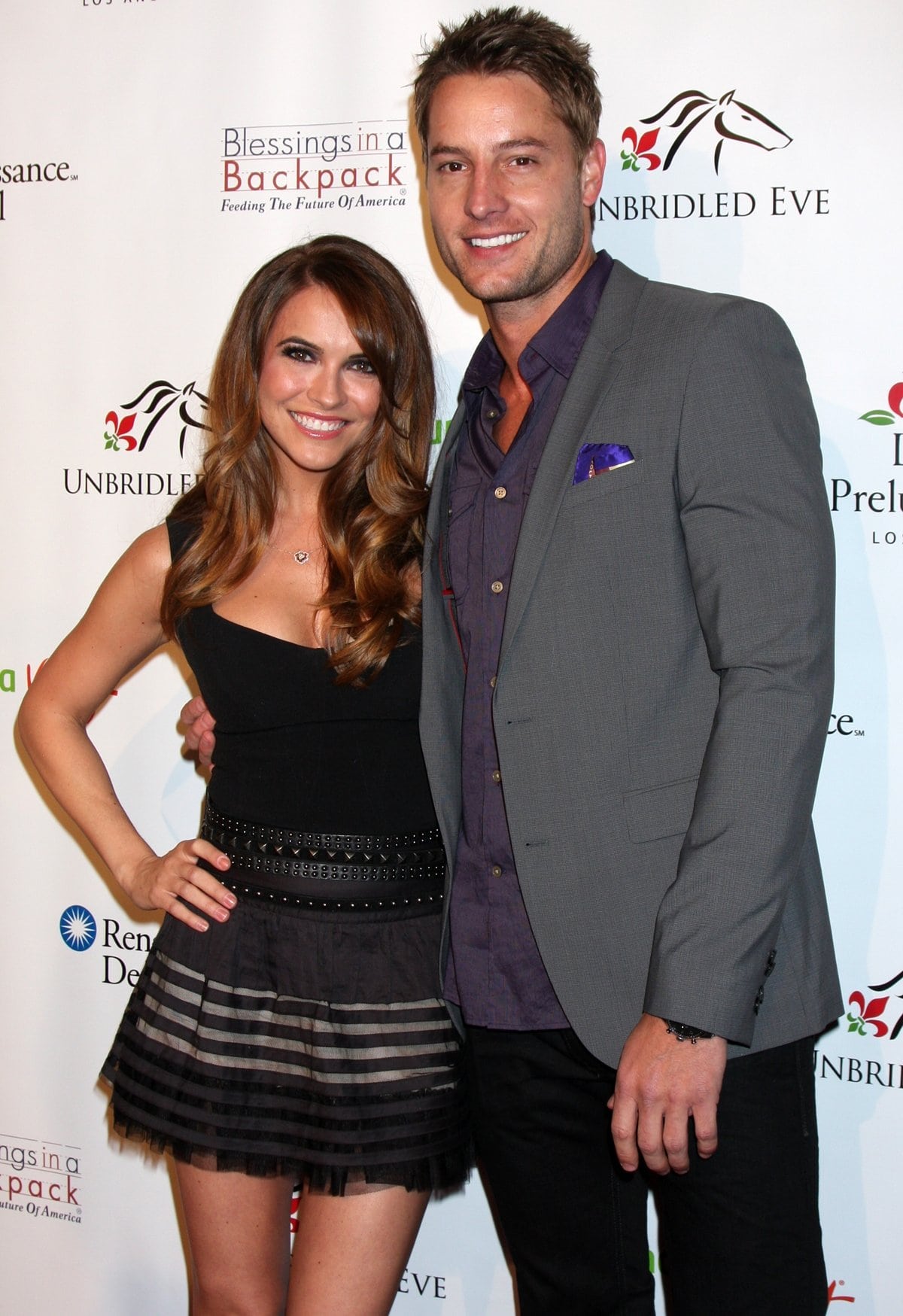 Justin Hartley met Chrishell Stause for the first time when she was working with Justin's ex-wife, Lindsay Hartley, on the set of All My Children (Credit: Nikki Nelson / WENN)
"I talked to him right after, 'cause I thought that must be a joke, but that was kind of the end of the communication. What am I supposed to say? What do you say after that? It's like, now I have to find a place to live. Now I have to scramble and figure this out, you know?"
Chrishell Stause admitted in another clip that her fans were invested in her breakup, but then again, so was she. "Because of the crazy way in which this went down, people want answers, and I f—king want answers," she said. "I know people are saying we were only married two years, but it's like, we were together for six years. … In a fight, that's his go-to, you know? Like, 'I'm out, I'm out.' I hate that kind of impulsive stuff, but I always just thought, you know, that's just an issue that we work through it."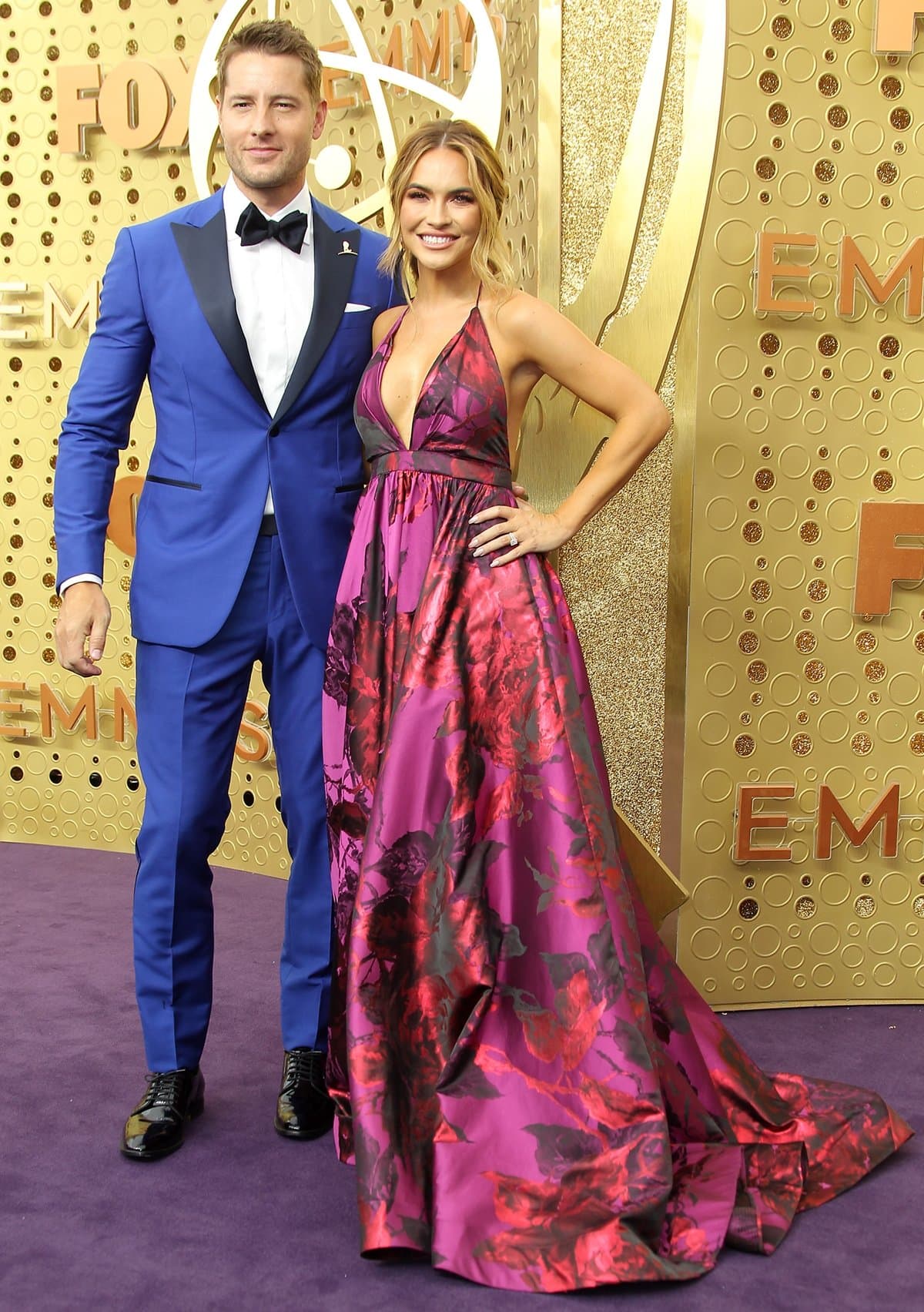 Justin Hartley sent Chrishell Stause a text message to let her know he'd filed for divorce (Credit: Adriana M. Barraza / WENN)
Stause was now single, but that did not stop her from being dragged into even more relationship drama!
In 2020, Chrishell Stause capitalized on her newfound Selling Sunset fame by competing on a season of Dancing With the Stars. Her dancing partner, Gleb Savchenko, was going through a rather messy and very public split with his former flame, Elena Samodanova during the time.
Rumors were flying that Stause was the reason for Savchenko and Samodanova's split, but the dancing partners insisted that their relationship was entirely professional.
Though Stause was not dating Savchenko, she did have a short fling with another dancer, Keo Motsepe. The pair eventually broke up in 2021, due to what one source called "a web of lies".
In 2021, Keo Motsepe told Entertainment Tonight, "Everything that happens in life, people deal with things differently, and I deal with things differently. So I think for me personally, with everything in my life, I [turn to] music or dance, it just depends on the feeling at the moment."
Justin Hartley moves on. . . perhaps a bit too quickly? (2020-2021)
Chrishell Stause's ex, Justin Hartley, was also on the prowl during this time. Less than six months after his split with Stause, he was spotted canoodling with fellow actress Sofia Pernas.
Hartley and Pernas had known each other for years prior to the beginning of their relationship, as the two had appeared together on the long-running soap opera, The Young and the Restless.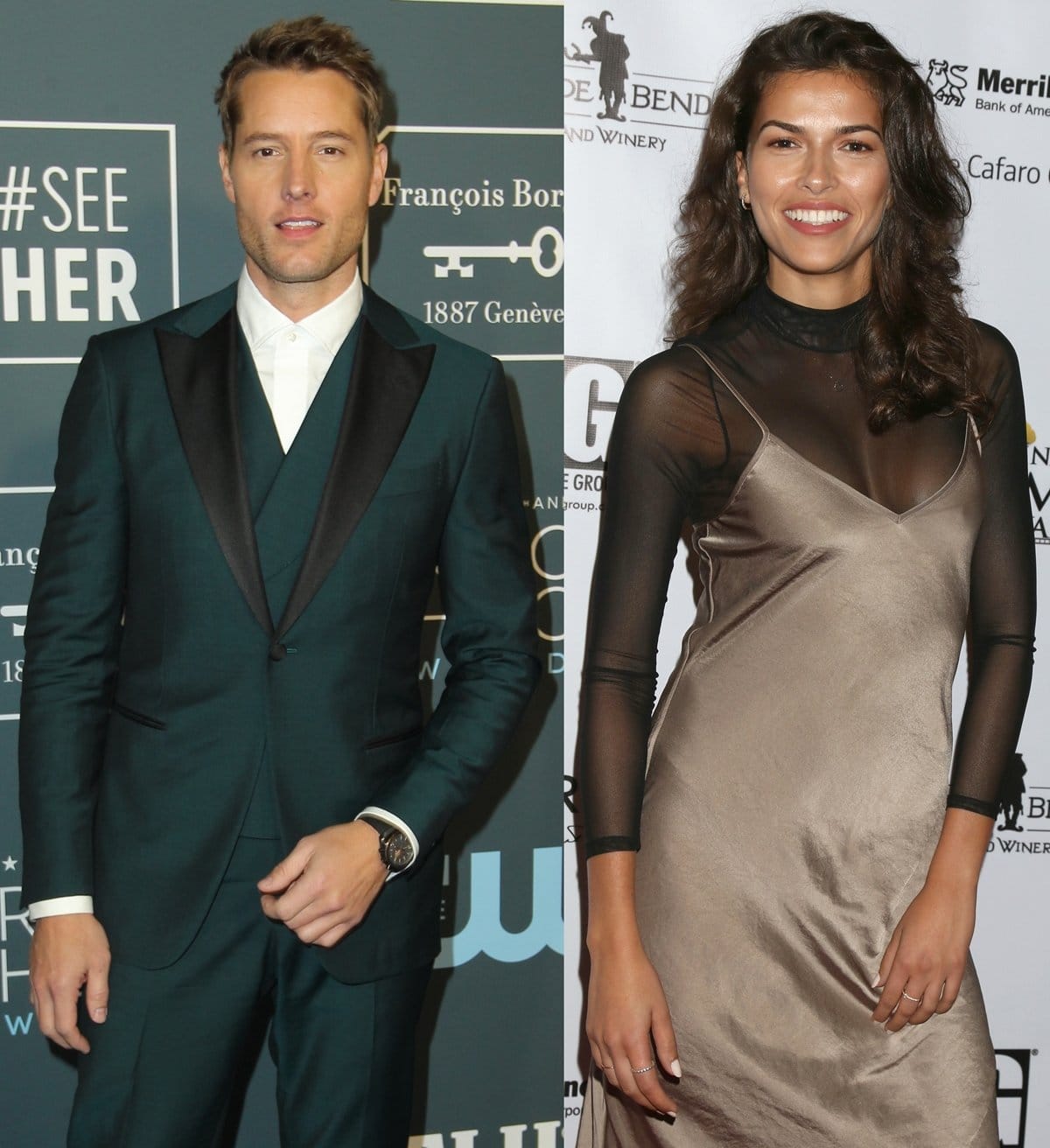 Justin Hartley and Sofia Pernas began dating in early 2020 and married in May 2021 (Credit: Nicky Nelson / WENN / Adriana M. Barraza)
Hartley was on the show from 2014 to 2016, while Pernas joined the cast for only a year, in 2015. Chrishell Stause was also on the cast of The Young and the Restless during this time, which likely added insult to injury when she found out that her ex-husband was now dating her former costar!
In August of 2020, Hartley and Pernas shared sneaky photos of one another, hinting at their relationship. They did not officially confirm their coupledom until January of 2021 when the soap stars revealed that they had been quarantining together during the pandemic and were ringing in the new year together.
In May of 2021, Pernas and Hartley attended the MTV Movie & TV Awards together. Keen eyes were quick to point out that the couple were both wearing matching diamond bands on their ring fingers, fueling rumors that Hartley and Pernas had been married in secret.
While matching wedding rings seems like pretty blatant evidence, the couple has not yet confirmed if they have tied the knot.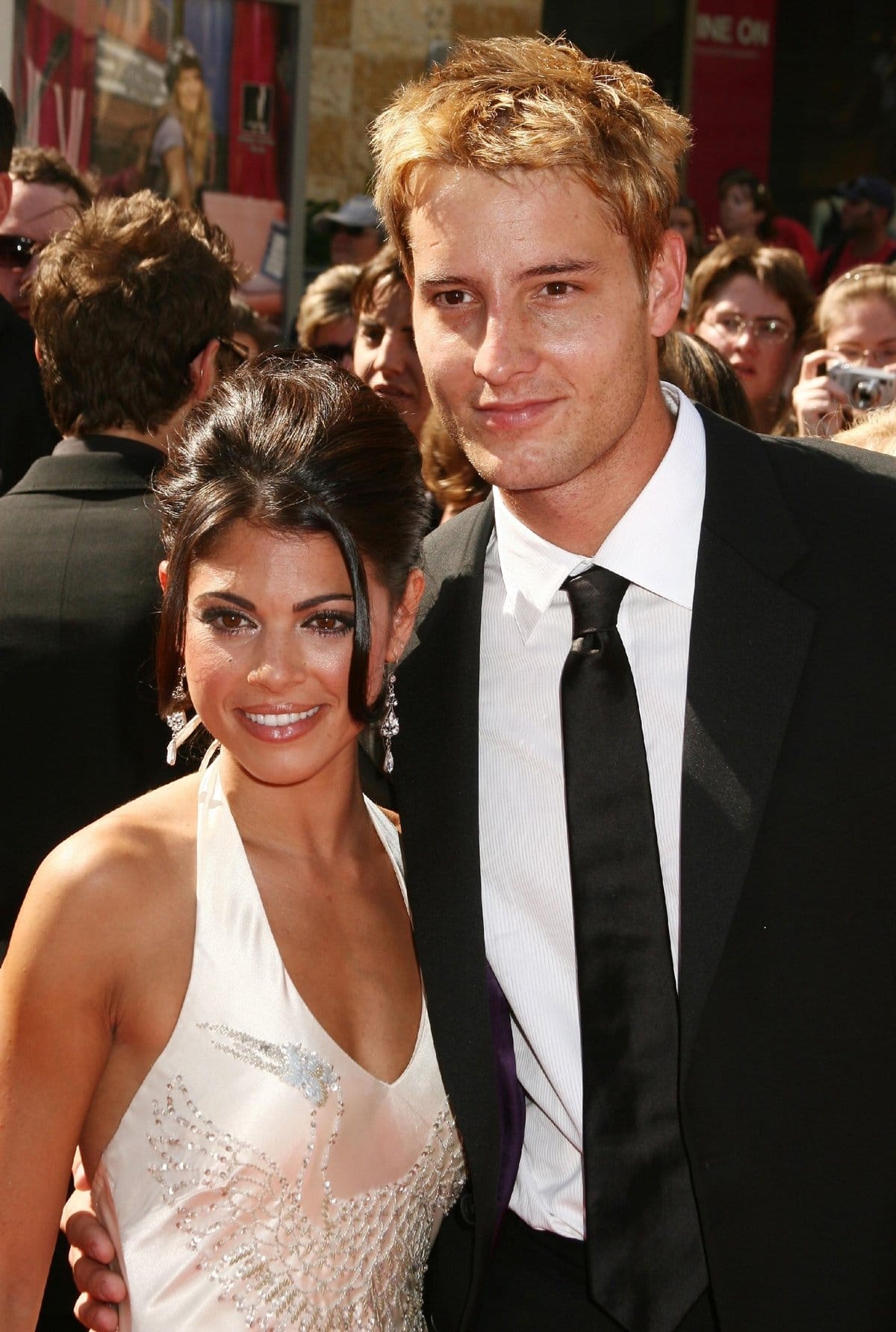 Lindsay Korman and Justin Hartley married in May 2004 and divorced in 2012 citing "irreconcilable differences" (Credit: Adriana M. Barraza / WENN)
Before his two-year marriage with Chrishell Stause, Justin Hartley was married to (yet another) soap star, Lindsay Korman. Korman has been seen on soaps such as Passions, All My Children, and Days of Our Lives. Hartley and Korman were married for eight years, from 2004 to 2012, and had one daughter, Isabella Hartley, together in 2004.
Their marriage ended due to the same reasons as many marriages, as the pair cited "irreconcilable differences". They share joint legal and physical custody of their daughter.
Hartley's daughter, Isabella Hartley, is seventeen now, and we sure would love to hear what she thinks about Sofia Pernas, her dad's rumored new wife!
Apparently, she has a mischievous side, as Justin Hartley claims that she once locked he and Pernas out of the house while it was raining.
Born on July 3, 2004, Isabella Justice Hartley (L) is the daughter of Justin Hartley and his Passions co-star, Lindsay Korman (Credit: Adriana M. Barraza / WENN)
"This was the night before my birthday," Hartley recalled to Entertainment Tonight. "I kind of look at my girlfriend, it's late at night, and I'm like, 'Let's swim, why not? It's raining in California. It's kind of romantic. It's my birthday tomorrow.' So we go swimming and we get in the hot tub. We're having a great time."
It was around 3 A.M. when Hartley and Pernas packed up and tried to make their way back inside — the key word here is 'tried'.
"So now it's raining and now I'm getting cold, and I had to walk all the way to the front of the house. We had just watched the documentary The Night Stalker but here I am at three in the morning, knocking on my daughter's bedroom window and I'm like, 'This is going to scar her for life,'" he said. "So finally she wakes up, she answers the front door. She opens the door, she looks at me, and she goes, 'Why are you here?'"
Actress Lindsay Hartley, daughter Isabella Hartley and husband actor Justin Hartley attend Ringling Bros. & Barnum and Bailey & Starlight Children's Foundation's premiere of "Fully Charged" at Staples Center on July 21, 2011, in Los Angeles, California (Credit: FayesVision / WENN)
Though Hartley later realized that his daughter, Isabella, must have locked the sliding door without knowing that her father and his girlfriend were still outside, he initially thought that her question meant that Isabella had ulterior motives.
"I was replaying the events . . .locking me out in the rain, and she's 16, I was like, my daughter, she's trying to kill me," Hartley laughed. "I thought, now I'm going to sleep with one eye open."
Maybe it really was an accident! Or maybe Hartley's daughter is not a fan of Sofia Pernas? Either way, we could not blame her for being miffed that her 44-year-old dad was possibly, er. . . canoodling with his girlfriend in a hot tub for all hours of the night! Get a room — preferably in a house that your 16-year-old daughter is not staying in — you two!
From 'no way' to 'heck yes' (2021)
Because Jason Oppenheim's previous relationship with Mary Fitzgerald was now public knowledge, the real estate mogul was receiving lots of questions about whether he would be dating again.
However, he said that his love life was "pretty much nonexistent" due to his busy schedule.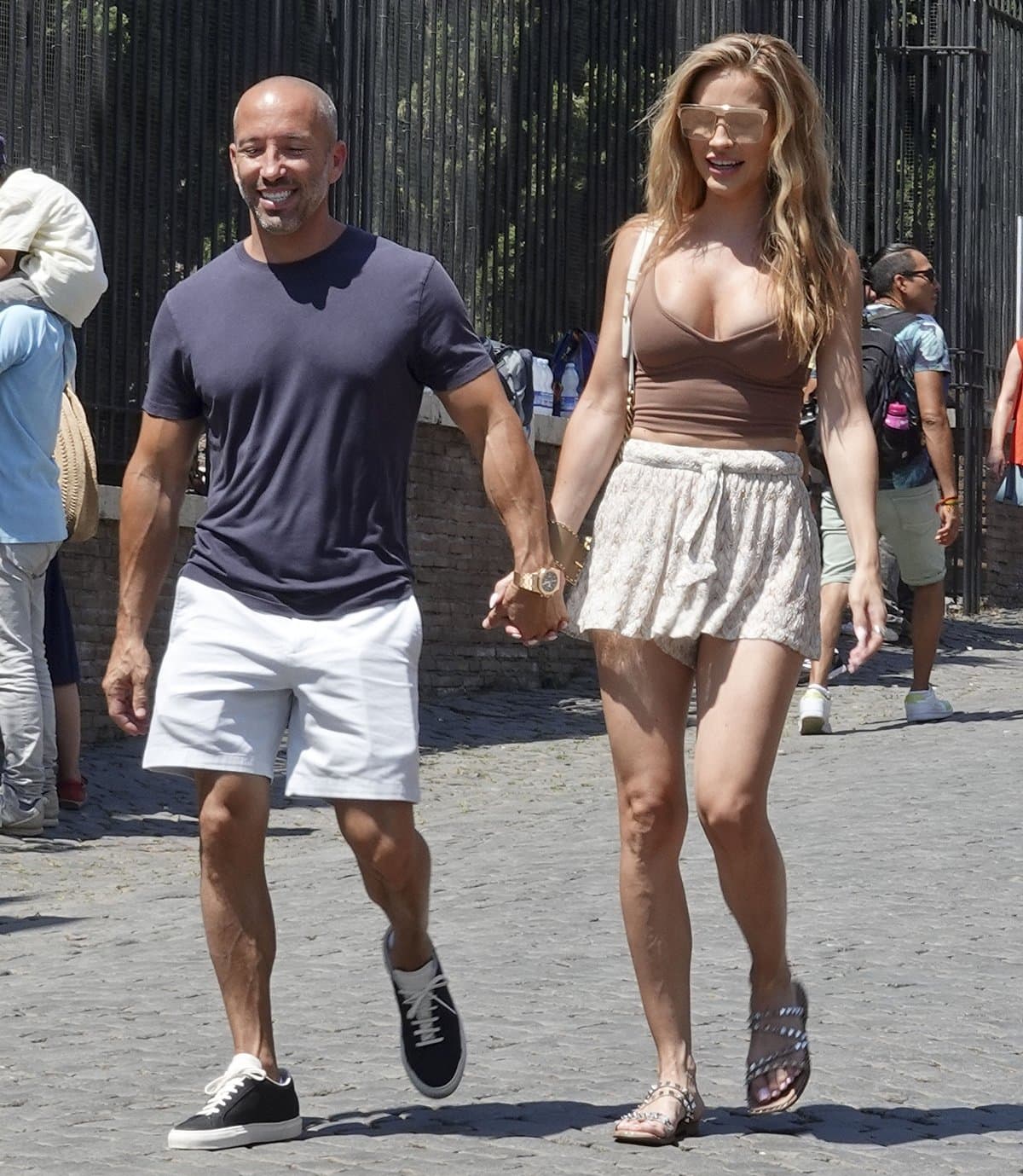 Chrishell Stause and Jason Oppenheim walk hand in hand while visiting the Colosseum and the Roman Forum in Rome, Italy, on July 30, 2021 (Credit: MEGA / WENN)
In May of 2021, Oppenheim told Page Six that he was against dating another coworker or costar, saying that it "probably wouldn't be an epic idea."
"It's not that I've taken a step back from dating — it's not on my priority list to be honest," he continued. "And no, that wouldn't be a priority for me. I think that would be complicated."
Despite Oppenheim's insistence that he was remaining single and that he was not going to date another costar, it didn't last.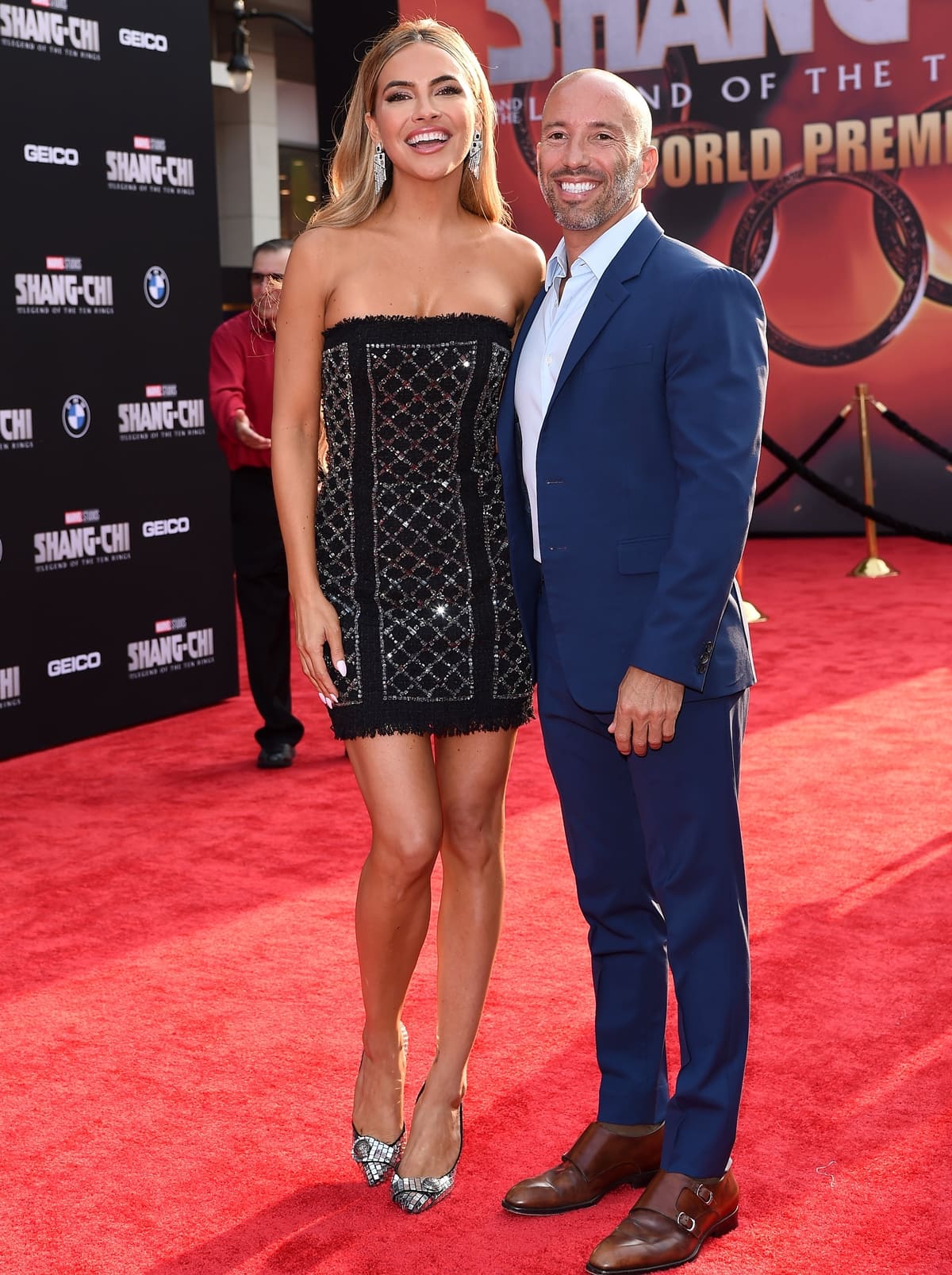 40-year-old former soap opera actress Chrishell Stause and 44-year-old real estate broker Jason Oppenheim walked the carpet at the premiere of the new Marvel movie Shang-Chi and the Legend of the Ten Rings at Disney's El Capitan Theatre in Hollywood on August 16, 2021 (Credit: MEGA / WENN)
In the summer of 2021, Jason Oppenheim and Chrishell Stause announced that they were officially dating. "Chrishell and I became close friends and it has developed into an amazing relationship," Oppenheim said to Us Weekly. "I care about her deeply and we're very happy together."
In an interview with E! News, Chrishell revealed that they dated two months before they went public.
"It's just one of those things. You don't want to share with everybody and get all their opinions before you really know what it is," she said about keeping their relationship private. "We really were really private and secretive for as long as we could until we realized the walls were closing in."
"People were getting a little savvy to it. We made it to a point where we're really happy to share it because we knew exactly what it was, so it's all good," she continued and added that her co-worker Mary Fitzgerald was the first person to be informed.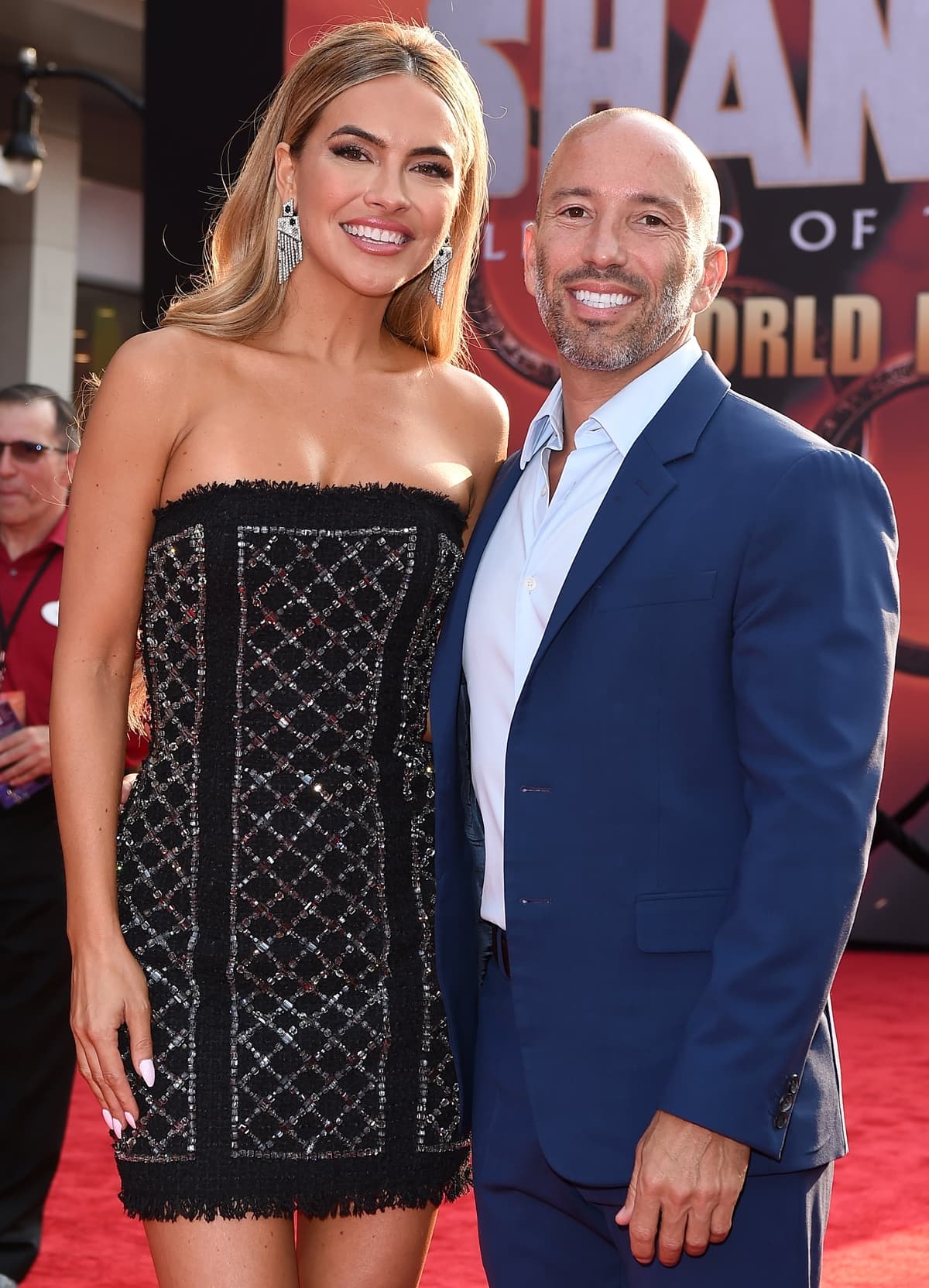 Chrishell Stause and Jason Oppenheim managed to keep their relationship secret for two months (Credit: MEGA / WENN)
"We're all just so close and we all work just so close together, and there's no hiding it from Mary," Chrishell explained. "We work together constantly. She's our best friend."
"That was so many years ago," she added about Mary Fitzgerald's previous relationship with Jason Oppenheim. "I just feel like, we're all best friends at this point. Her and Romain [Bonnet] are so happy. It just feels like a family business…In fact, it was fine that she knew because she could kind of detract any [attention] because Mary's there, so we're all just hanging out as a group."
"It's so funny how the show twists things, the real dynamics in the office because they don't go around giving us listings," she said of rumors that Mary gets preferential treatment.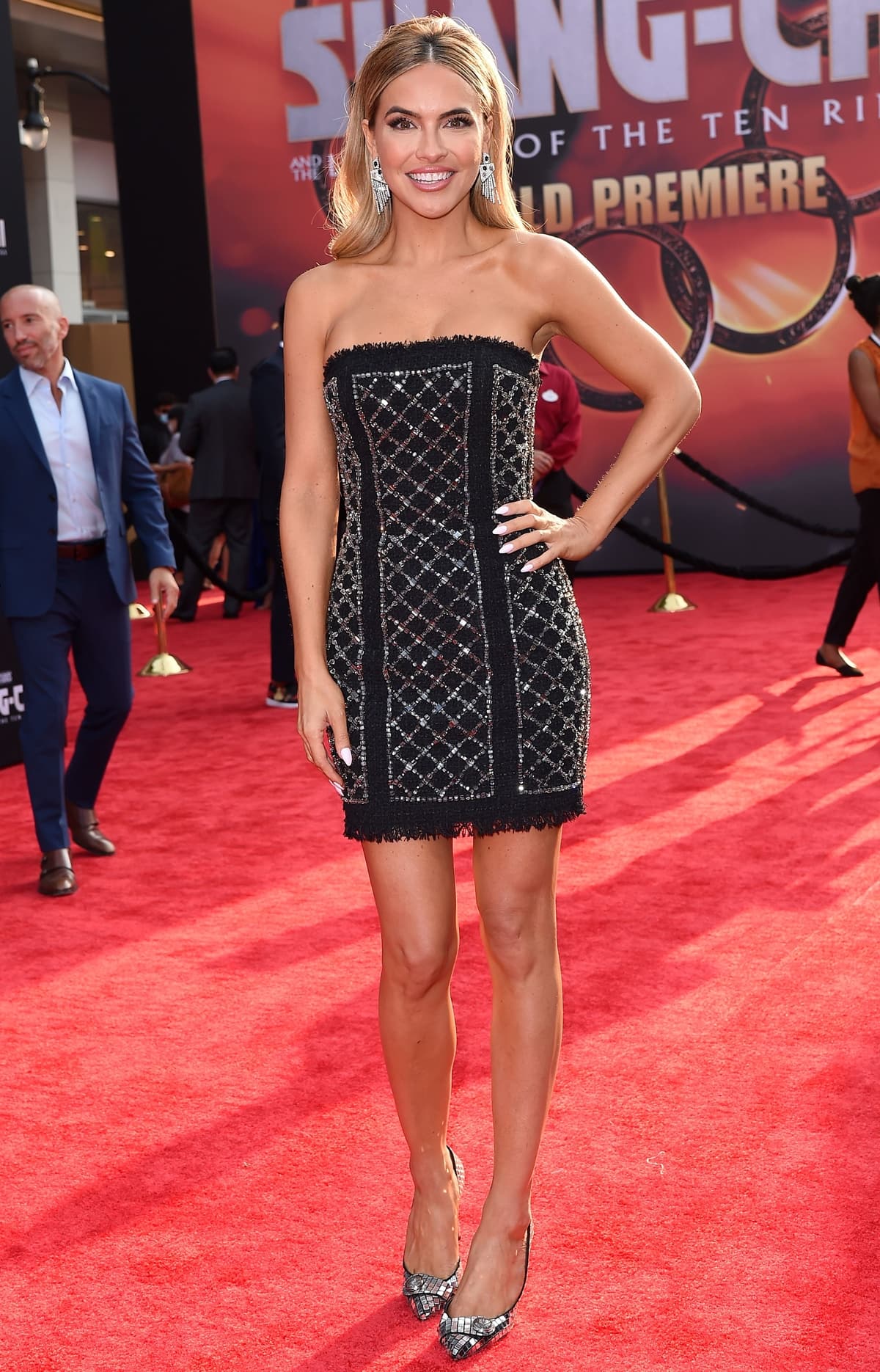 Chrishell Stause flaunts her legs in a black glittering strapless Balmain mini dress (Credit: MEGA / WENN)
"If anyone knows real estate, you have to go out and get your own listings. Mary's always going to be the rock in the office, somebody we all lean on and go to when we need advice."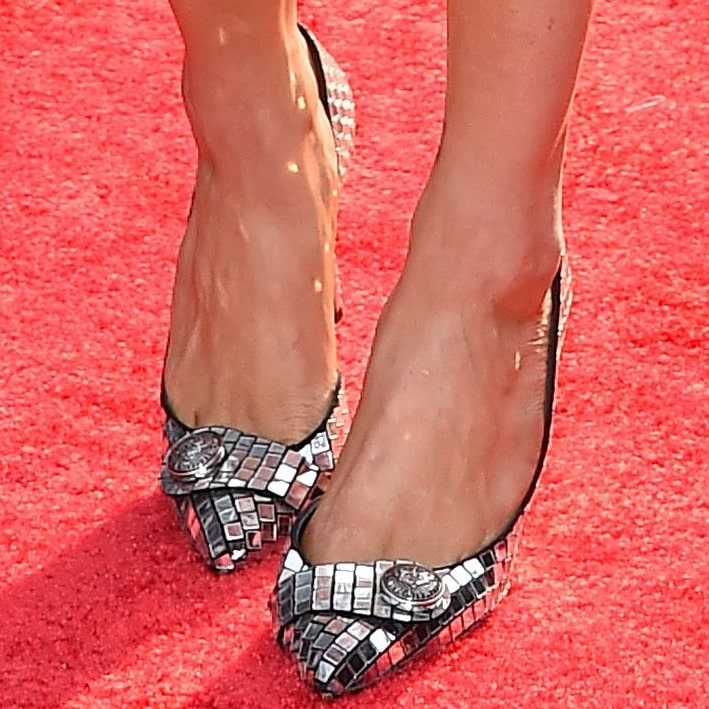 Chrishell Stause shows off her size 8.5 (US) feet in silver disco-ball shoes (Credit: MEGA / WENN)
The pair have been dating happily ever since. Good luck, you two!