The news that legendary director Zack Snyder decided to step away from the original production of Justice League shocked fans.
However, after the release of Zack Snyder's Justice League, the director's reworking of the original film (lovingly dubbed the "Snyder Cut") it became clear to fans why Snyder stepped away and why it was so important to him that he did.
At the end of Zack Snyder's Justice League, there is a dedication, reading simply "For Autumn".
View this post on Instagram
Zack Snyder's daughter, Autumn Snyder, died on March 20, 2017, after committing suicide. Understandably, the details of her untimely passing were not released to the public, and fans were asked to give the Snyders room to grieve.
Covered by Canadian singer and songwriter Allison Crowe, Leonard Cohen's "Hallelujah" was chosen for the end credits as it was Autumn Snyder's favorite song. She also performed it at Autumn's funeral in 2017.
Zack and Deborah Snyder's daughter Autumn committed suicide at the age of 20 in Los Angeles, California (Credit: Apega / WENN)
"He let me know that it was Autumn's favorite song. We wanted to do this in tribute to Autumn. This whole project really is a tribute to Autumn, and to the family," Allison Crowe told Billboard.
"It's so beautiful. I just know that they've been through so much — I'm gonna get emotional — and that they are such incredible people. He did let me know how much it means," she added.
"Here's the thing, I never planned to make this public," Zack Snyder said, explaining the woes of a fandom that is sometimes more obsessed with the characters on screen than the people creating them.
"I thought it would just be in the family, a private matter, our private sorrow that we would deal with. When it became obvious that I need to take a break, I knew there would be narratives created on the internet. They'll do what they do. The truth is… I'm past caring about that kind of thing now."
Deborah Snyder and Zack Snyder first met in 1996 and married on September 25, 2004, at the St. Bartholomew's Episcopal Church in Manhattan, New York (Credit: Adriana M. Barraza / WENN)
After Autumn's death, the production of Justice League was halted and put on a two-week hiatus so that Zack Snyder and his wife, Deborah (who is also a producer on the film) could focus on their family.
Zack Snyder said that at first, he was looking forward to returning to set, but soon realized that two weeks was not enough time to heal from the loss of his daughter.
"In my mind, I thought it was a cathartic thing to go back to work, to just bury myself and see if that was the way through it," Snyder said in an interview as his wife, Deborah, comforted him.
"The demands of this job are pretty intense. It is all-consuming. And in the last two months, I've come to the realization … I've decided to take a step back from the movie to be with my family, be with my kids, who really need me. They are all having a hard time. I'm having a hard time."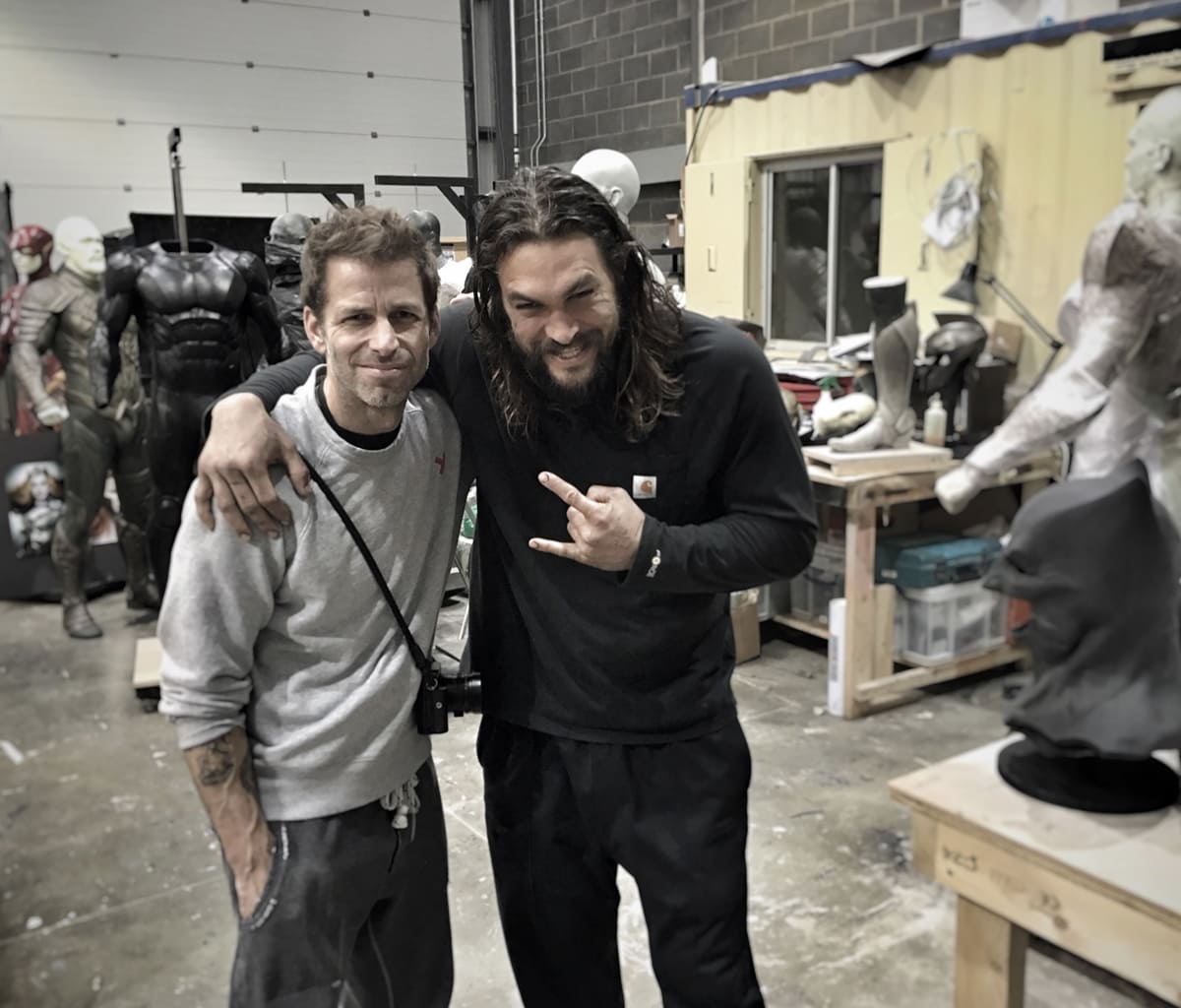 Jason Momoa and director Zack Snyder on the set of the 2017 American superhero film Justice League (Credit: WENN)
The cast and crew, which included Gal Gadot, Ezra Miller, Jason Momoa, and Ben Affleck, fully supported Zack and Deborah Snyder's decision to take a break from the film. Toby Emmerich, president of Warner Bros. Pictures, said in a statement, "What they are going through is unimaginable, and my heart — our hearts — go out to them."
The work Zack Snyder had already done on Justice League was not to be scrapped, though. There were still quite a few scenes that needed to be shot, so the studio brought in Joss Whedon, of Buffy the Vampire Slayer notoriety, to write and film the remaining scenes.
Snyder explains that, at first, he was frustrated as Warner Bros. Pictures gave co-director Joss Whedon more directing influence. He felt as if the studio was abandoning him and his hard work only six months before the film's release, and only two months after the loss of his daughter.
Batman v Superman: Dawn of Justice co-stars Gal Gadot, Ben Affleck, Amy Adams, Henry Cavill, Jesse Eisenberg, and Holly Hunter took to social media to show their love and support for Deborah Snyder and Zack Snyder (Credit: Andres Otero / WENN)
"We just lost the will to fight that fight in a lot of ways," the director explained. "All of us, the whole family, were just so broken by [losing Autumn] that having those conversations in the middle of it really became… I was like, 'Really?' Frankly, I think we did the right thing because I think it would've been either incredibly belligerent or we just rolled over."
"The directing is minimal and it has to adhere to the style and tone and the template that Zack set," said Warner Bros. Pictures president, Toby Emmerich. "We're not introducing any new characters. It's the same characters in some new scenes. He's handing the baton to Joss, but the course has really been set by Zack. I still believe that despite this tragedy, we'll still end up with a great movie."
And it was a great movie. Justice League was released in 2017 with a box office revenue of $657.9 million. However, fans — and Snyder himself — were both eager to see him revisit the film that he had built.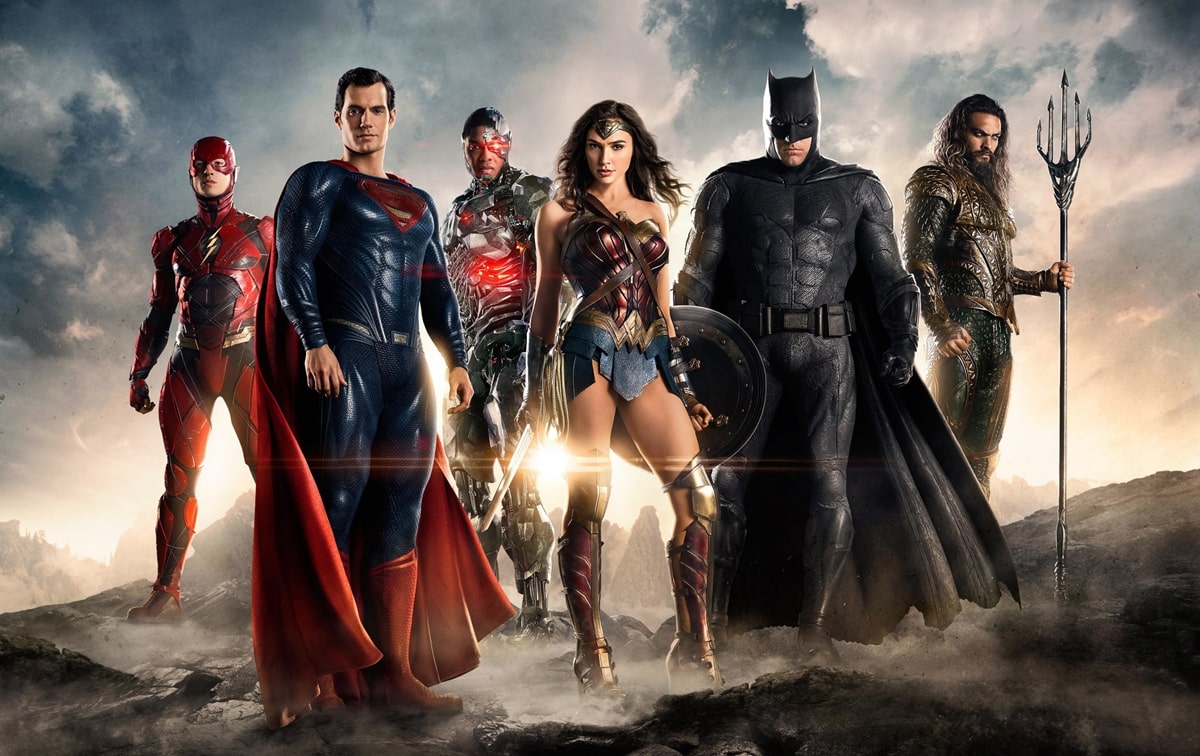 Zack Snyder's Justice League ends with a touching tribute to his daughter, Autumn, who died by suicide on March 12, 2017 (Credit: Warner Bros. Pictures)
Eventually, Snyder did return back to his beloved project, and Zack Snyder's Justice League was released on HBO Max earlier this year. With a runtime of over four hours long, the "Snyder Cut" garnered rave reviews from fans. As grateful as the director is for the success of the film, he says he owes it all to one person.
"At the end of the movie, it says 'For Autumn,'" Snyder said in an interview with Vanity Fair. "Without her, this absolutely would not have happened."
Though his daughter's death was the reason he initially stepped away from the film, she was also his inspiration to return.
Zack Snyder's Justice League' ends with Autumn's favorite song "Hallelujah" and the words "for Autumn" (Credit: Warner Bros. Pictures)
"It's such a lightning strike in the center of this whole saga," Snyder says about Autumn's passing. "And in a lot of ways, it has informed everything we've done since."
"She's super creative," Snyder said. "She was a writer. She was at Sarah Lawrence to be a writer."
The director frequently speaks fondly of Autumn and her talents, but he has also been candid about her struggles with depression. "She was always wondering about her worth. 'What is my worth? What am I supposed to do? What am I about?'" Snyder remembers to Vanity Fair.
"The conversation was like, 'Of course you're amazing! What do you mean your worth? You're worth more than anything in the world!' And she would just be like, '…yeah.'"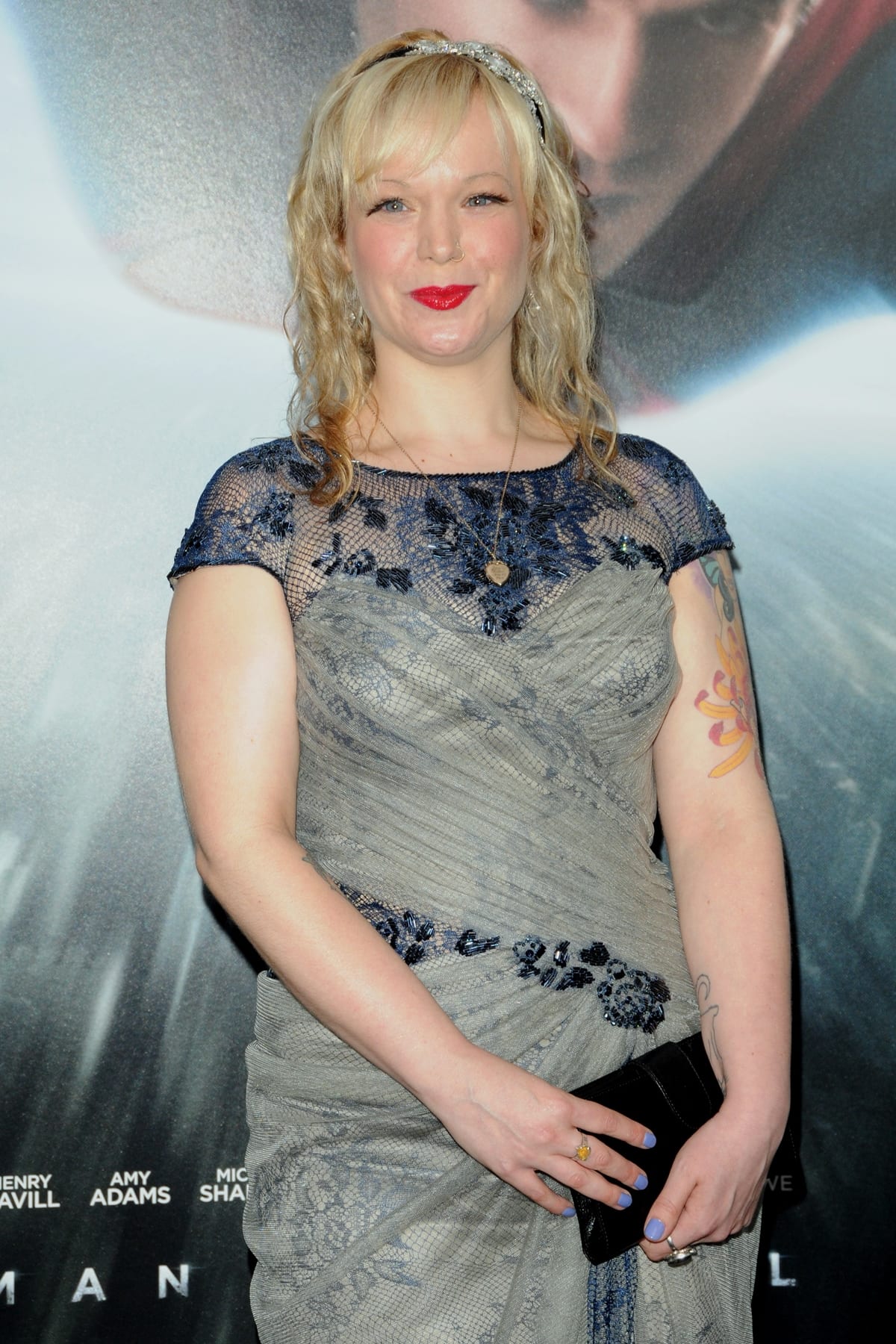 Zack Snyder's Justice League closes with Allison Crowe's piano cover of Leonard Cohen's Hallelujah (Credit: Ivan Nikolov / WENN)
Zack Snyder says Autumn was the only one of his children who had the same passion for superheroes that he does. "She's the only dork," he laughs. "She was the only fan."
Autumn was one of the main reasons he felt he needed to revisit Justice League, but this time, he did it in her honor.
In January 2013, our favorite strawberry blonde actress, Amy Adams, arrived at Heathrow Airport, along with other cast members of 'Man of Steel', for the UK premiere of the Zack Snyder film.
Amy Adams wears sunglasses and carries a bright yellow satchel (Credit: WENN)
Amy Adams, who plays Lois Lane opposite Henry Cavill as Clark Kent in this latest Superman interpretation, seemed to have done away with travel fatigue with her casual but chic getup.
Amy Adams styled her jeans with a button-down shirt at Heathrow Airport in London on June 12, 2013 (Credit: WENN)
It was simple enough: a button-down shirt, jeans, and a bright yellow satchel. Then, the 'pièce de résistance': a pair of high-heeled gray booties.
And just like that, Adams had our attention as a potential Katie Holmes figure to be reckoned with — in terms of fashion, of course.
Amy Adams added some edge to her outfit with a pair of high-heeled gray ankle boots (Credit: WENN)
In case you're inspired to do this look for your own airport sighting, here are two gray boot styles that we found at Amazon from two sides of the price spectrum.
Hinge "Jody" Booties With Western-Inspired Stitching, $99.95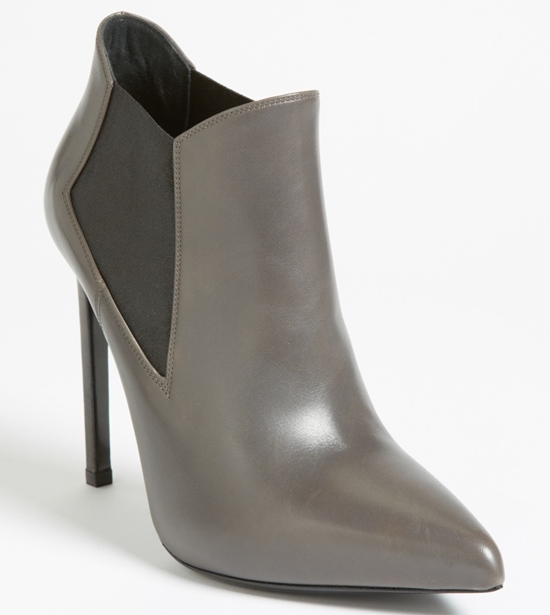 Saint Laurent "Gored" Leather Ankle Booties, $950
To the actual movie premiere, Amy donned a gorgeous Valentino Spring 2013 Couture strapless nude dress paired with black Casadei pumps.
Amy Adams and Henry Cavill attend the UK Premiere of 'Man of Steel' at Odeon Leicester Square on June 12, 2013, in London, England (Credit: WENN)
"What I like about Lois and Clark, too — and what I think we've preserved — is that there is this sort of throwback, gal Friday feel to her, that she exists in a man's world and she's still extremely feminine. It was important to me because I do believe that you don't have to act like a man to be strong. You can still be feminine. I've always really loved action films, but I don't see myself as a superhero girl, so my Lois is a mere mortal — full of imperfections. She's someone I identify with. So this was an opportunity to be in a genre film without having to train — which was a positive thing," Amy said in the 2013 June/July issue of Interview.
Amy Adams wore a bun and thick, tight headband combo (Credit: WENN)
"I always want to defeat supervillains — it's just the chicken-and-broccoli diet that I'm not into. I have a small child, so the idea of getting up at 3 a.m. to train before a day of shooting . . . I just don't have it in me, although I have so much respect for people who do," she added about her appearance.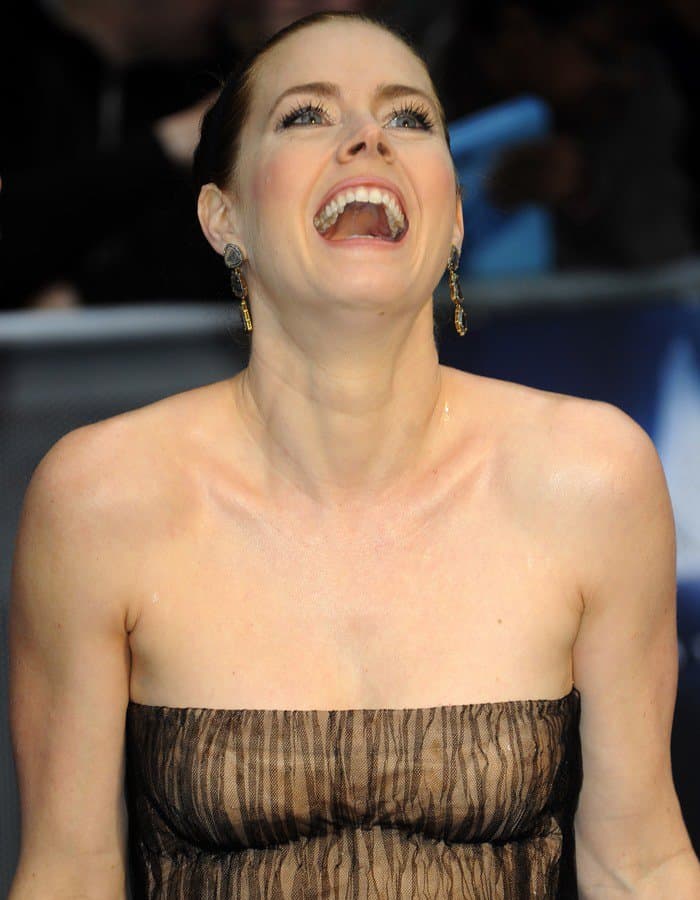 Amy Adams shows off her teeth and rosy lips (Credit: WENN)
Zack Snyder told Comic Book Debate about casting for the part of Lois Lane. He considered giving the part to Guardians of the Galaxy's Zoe Saldana for 2013's Man of Steel.
Deborah Snyder (née Johnson) and her husband Zack Snyder at the London premiere of Man of Steel (Credit: Daniel Deme / WENN)
"Amy actually inspired that opening scene in Batman v Superman. She mentioned journalists who have been in war zones and we went along with it. At a time, it was between her and Zoe Saldana. They're totally different, but their presence is super strong," he revealed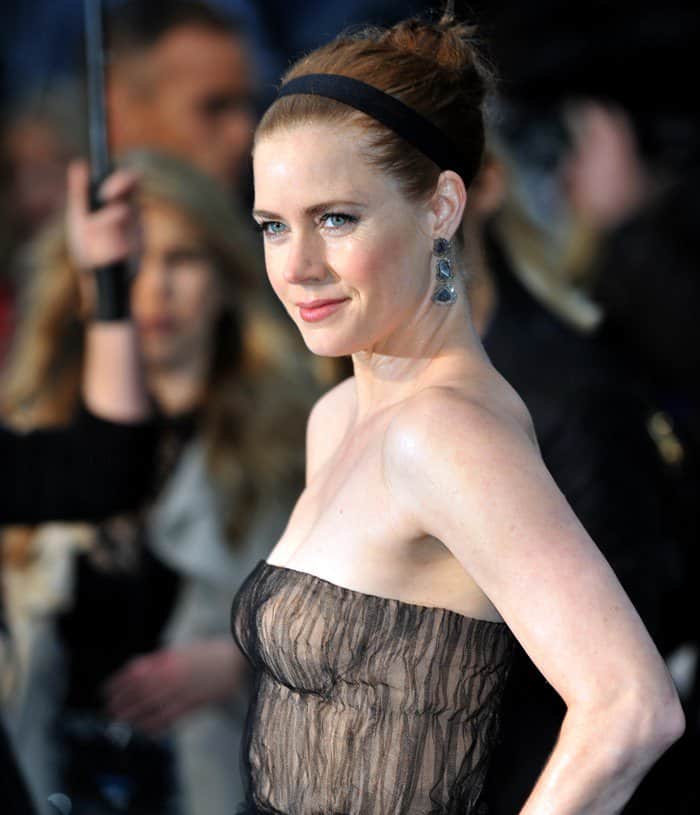 Amy Adams rocked a headband and wore her red hair tied back in a simple bun (Credit: WENN)
Amy unsuccessfully auditioned twice for the role of award-winning journalist before finally landing the part of Superman's love interest in the 2013 reboot of the Superman film series.
"The first time there was a version that never got made with Matt Bomer, who's amazing… and then there was the (director) Bryan Singer version (Superman Returns); I auditioned for that one and I didn't get cast… and then, this one, I auditioned and I got cast," she explained.
"You'd think I would have learned… but I have enough Lois in me that I was like, 'I'm gonna keep trying…' I would have been, like, 75 and still auditioning."
Amy Adams flaunts her legs in a Valentino Spring 2013 Couture strapless nude A-line dress (Credit: WENN)
In the 2006 American superhero film Superman Returns, Kate Bosworth played the role of Lois Lane.
Amy Adams shows off her feet in Casadei heels (Credit: WENN)
We believe Dionne Bromfield wore the most stunning shoes at the London premiere of Man of Steel.
Dionne Bromfield in a red leopard-print dress (Credit: WENN)
The then 17-year-old British soul singer-songwriter and TV Presenter sported a red leopard-print dress and bright Kandee high heels.
Dionne Bromfield flaunts her legs at the 'Man of Steel' European Premiere held at the Empire Leicester Square in London, June 12, 2013 (Credit: WENN)
Dionne Bromfield wearing bright Kandee Shoes high heels (Credit: WENN)
Dionne Bromfield in high heels from Josh Wayman's Kandee Shoes (Credit: WENN)