Amy Adams had her first major success as a leading lady in Enchanted, a 2007 American musical fantasy romantic comedy film. She played the role of Giselle, a singing and dancing princess-to-be who ends up almost having her dream of meeting her prince a reality.
The initial script of Enchanted was bought by Disney's Touchstone Pictures and Sonnenfeld/Josephson Productions for a reported sum of $450,000 in September 1997.
Amy Adams on the set of 'Enchanted' in May 2006
Disney considered offering the role of Giselle to Kate Hudson or Reese Witherspoon but agreed to give Adams the part thanks to her Oscar-nominated supporting performance in the 2005 American comedy-drama film Junebug.
Actress Amy Adams at the Los Angeles Premiere "Enchanted" at the El Capitan Theater on November 16, 2007, in Hollywood, California
One of 250 actresses who auditioned for the high-profile part, director Kevin Lima told MovieMaker Magazine why he wanted Amy Adams to play the highly optimistic and joyous Disney Princess.
My first conversations with the studio had to do with the esthetic of casting a star verses an unknown, or in Amy's case (she hadn't been nominated for Best Supporting Actress for Junebug when I first met her) a relative newcomer. My thought was that I wanted the audience to experience Giselle's purity of heart unhampered by the personal life of the actress playing her. I felt that the character should live first.

I had seen probably 250 girls by the time Amy walked into her audition. I was sick as a dog, with a high fever, on that day, [but] Amy walked into the room and for the next 45 minutes, I forgot I was ill. From the moment I first laid eyes on her, I was struck by how much she looks like a Disney princess, her round eyes and fair skin. But looking like a princess was but a scratch on the surface of what she brought into the room that day. Her commitment to the character, her ability to escape into the character's being without ever judging the character was overwhelming. Honestly, I knew in that moment that I could make the film I was envisioning.

The discussions with the studio after that audition were quite easy: Amy's audition tape was all that was needed to convince them that Giselle had arrived.
Amy Adams was 32-years-old when filming Enchanted
Filming commenced on location in New York City in May 2006, when Amy was 31-years-old. She turned 32 on August 20, 2006. The film premiered on October 20, 2007, at the London Film Festival, when she was 33.
Did Amy Adams actually sing in Enchanted?
One of Amy's first stage roles was in a community theater production of Annie. With a background in musical theater, it should come as no surprise that she did her own singing.
Amy sang three songs for the film's soundtrack—"True Love's Kiss", "Happy Working Song", and "That's How You Know".
In December 2013, Amy Adams looked hot and elegant at the Los Angeles premiere of her latest movie, American Hustle, at the Directors Guild of America.
Amy Adams wears her hair down at the premiere of "American Hustle" held December 3, 2013, at Directors Guild Theatre in Los Angeles
In the 2013 American crime film directed by David O. Russell, she portrays Sydney Prosser/Lady Edith Greensly (based on Evelyn Knight).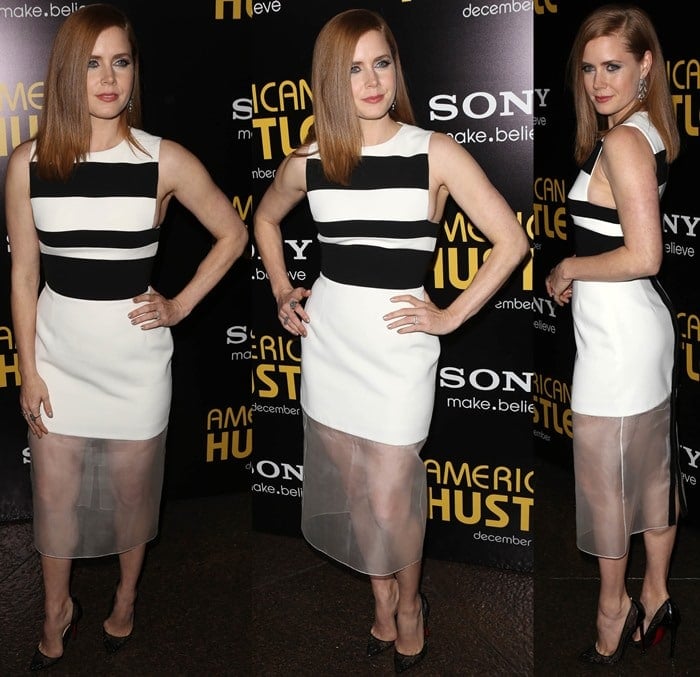 Amy Adams wears a David Koma dress at the premiere of "American Hustle"
The "Junebug" actress was spotted wearing a black-and-white neoprene-and-jersey striped dress from David Koma. Its square-cut bodice gave us a peek of Amy's side boob and its sheer-paneled skirt displayed the actress's legs.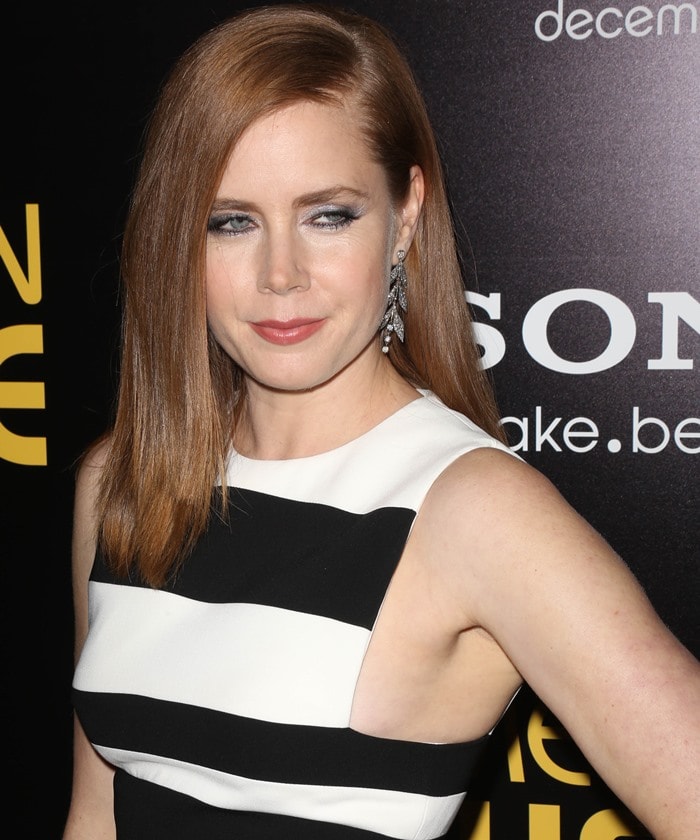 Amy Adams wears a David Koma dress to the premiere of "American Hustle"
Amy completed her look with a pair of Christian Louboutin pumps from the designer's Fall 2013 collection.
These pointed-toe Louboutins are called "Body Strass" and are made from sheer mesh material and feature leather trimming and shimmering mini crystals.
Amy Adams's feet in Christian Louboutin pumps
The "Body Strass" pumps also come in glittery grenadine. Check them out at Nordstrom or Mytheresa and tell us which pair you would purchase.
Christian Louboutin "Body Strass" Pumps, $1,195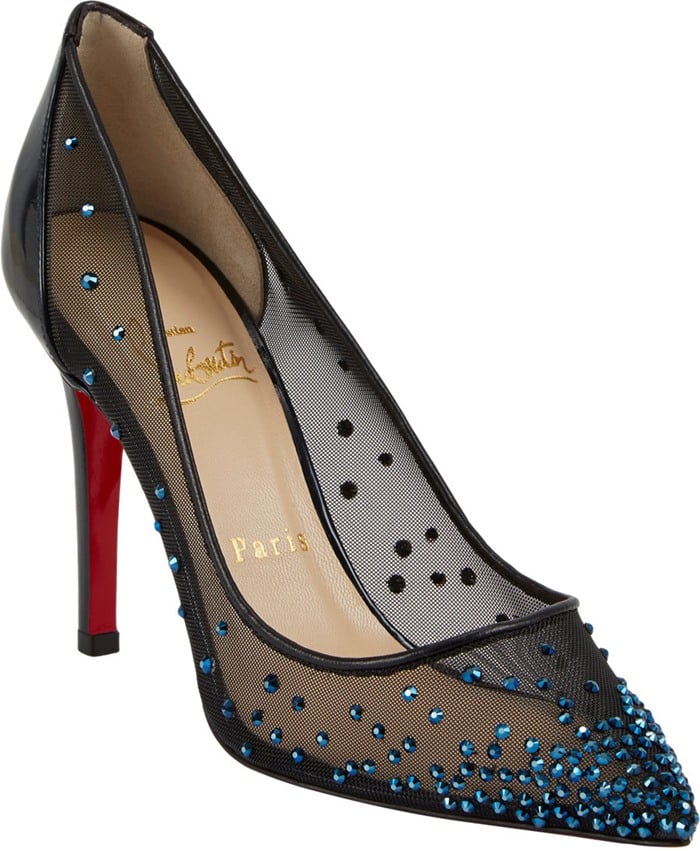 Credit: FayesVision / Apega / WENN / Patricia Schlein / Starbux