Elizabeth Hurley, the 57-year-old actress, is undoubtedly a style icon, and this season she's effortlessly embracing the hottest color trend of the summer: Barbie pink.
Her appearance at the Breast Cancer Research Foundation Hot Pink Party in New York City showcased her impeccable fashion sense and left everyone mesmerized.
"What a night! $10.3 million raised for life saving breast cancer research. Research is the only way we will help end breast cancer, and it is why I was honoured to once again host the @bcrfcure #HotPinkParty in NYC and so proud to be the Global Ambassador of @esteelaudercompanies Breast Cancer Campaign. It's #TimeToEndBreastCancer #ELCambassador," she wrote on Instagram.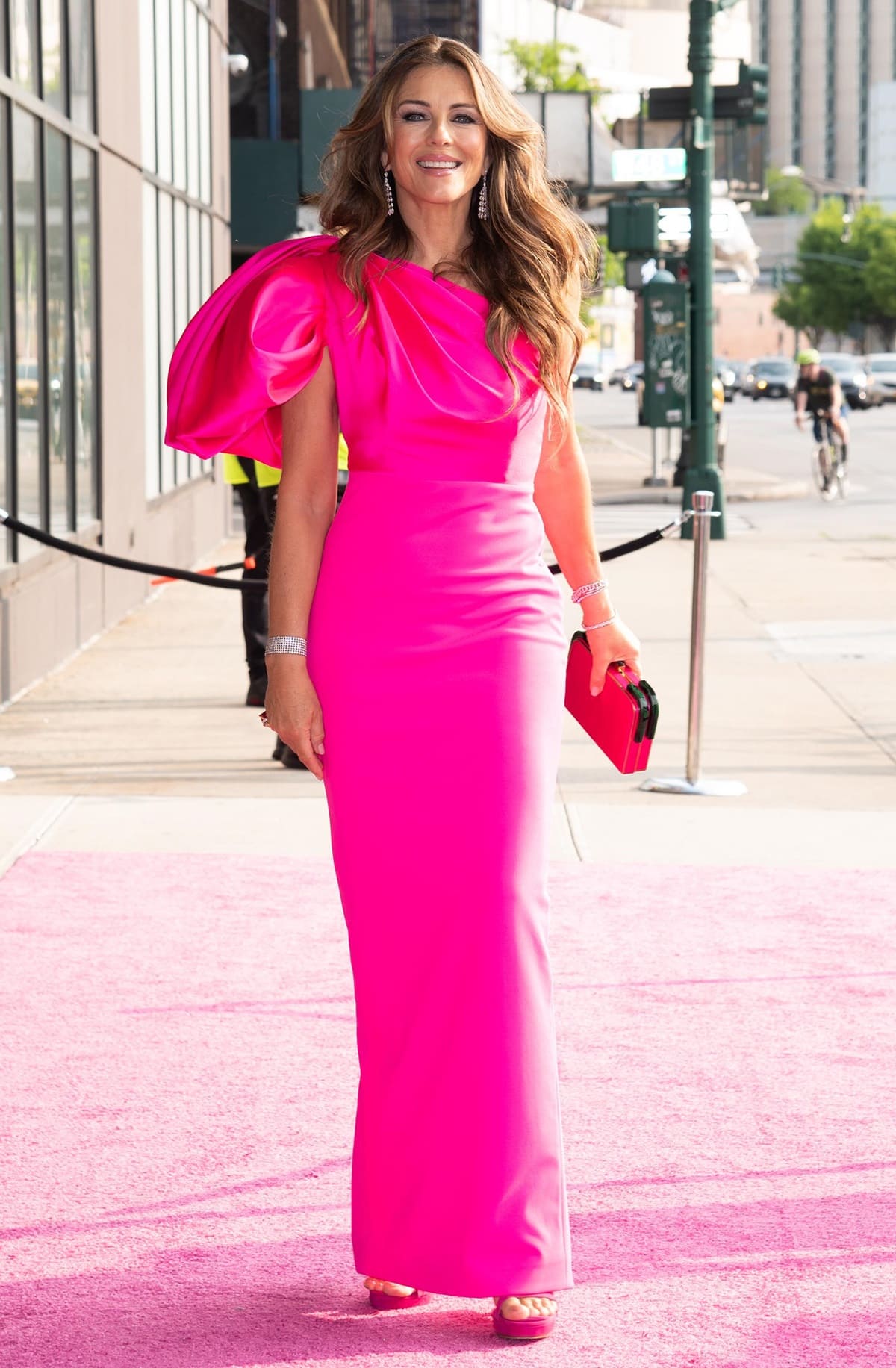 On May 9, 2023, in New York City, Elizabeth Hurley made a striking entrance to the Breast Cancer Research Fund Event, gracefully walking in a captivating pink ensemble designed by Solace London (Credit: Janet Mayer / Startraksphoto)
The event raised a record-breaking $10.3 million to support BCRF's global legion of 255 scientists that are pursuing high-impact, breast cancer research.
Hurley has been a global ambassador for The Estée Lauder Companies' Breast Cancer Campaign for nearly 30 years.
Approached by Estee Lauder's daughter-in-law, Evelyn, in 1995, Hurley was asked to help with the campaign as a global ambassador. During an appearance on Loose Women, Hurley candidly expressed how, back then, there was a lack of open conversation and awareness surrounding breast cancer.
She recounted the absence of symbols like the pink ribbon or dedicated awareness months. Sadly, her grandmother, who she lost to breast cancer, didn't seek medical help due to fear and embarrassment, resulting in the disease advancing considerably before being detected.
"It is a bittersweet event," she told Hello! at the Breast Cancer Research Foundation Hot Pink Party in New York City. "It's bittersweet for most people here because almost everybody here has been touched by breast cancer in some way.
"It's hard not to feel a little sad when you think about the people you've lost. Or people who today might be going through treatment, and think about people who've lost loved ones."
Elizabeth Hurley and William Lauder have been working together for over 20 years to raise awareness and funds for breast cancer research (Credit: Udo Salters / Startraksphoto)
Hurley looked absolutely stunning in a captivating ensemble designed by Solace London, which flawlessly captured the essence of the iconic Barbie doll's wardrobe. Her gown exuded elegance and sophistication while incorporating the popular Barbiecore trend elements.
The column silhouette of the dress was beautifully balanced by a delightful bow that gracefully emerged from the right shoulder, adding a touch of whimsy.
The ensemble's asymmetrical neckline and the choice of voluminous silk fabric perfectly accentuated Hurley's enviable physique, serving as an ideal canvas to showcase her beauty.
To complement her look, she accessorized with sparkling chandelier earrings that added a touch of glamour to the ensemble. Her soft, gently waving hair gracefully framed her face, completing the overall picture of timeless elegance.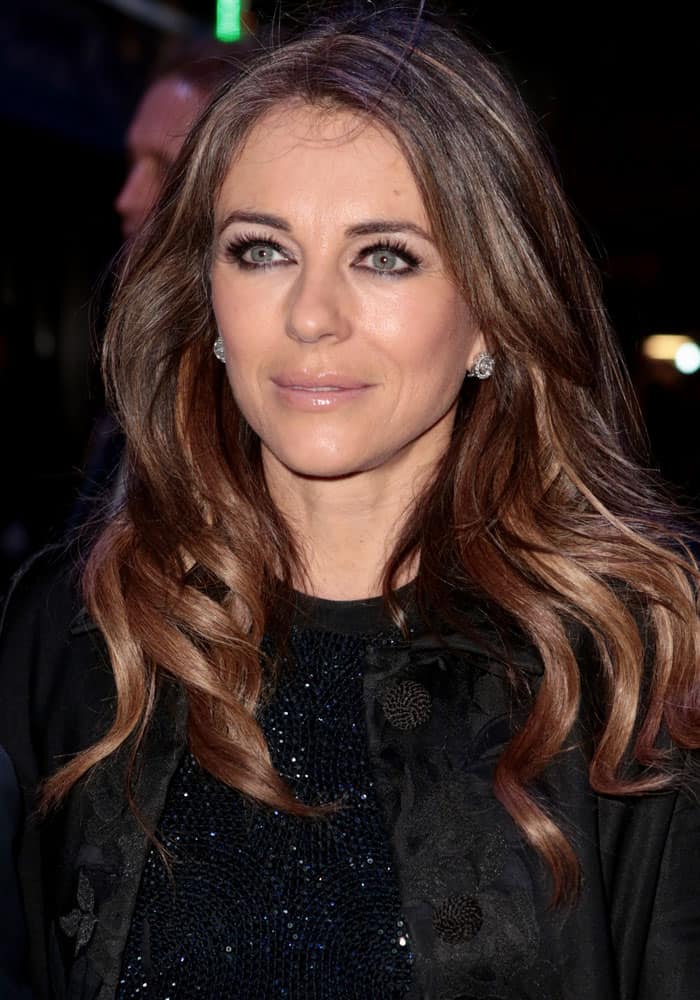 Elizabeth Hurley attended the press night for the musical "An American in Paris" in London on March 21, 2017 (Credit: Phil Lewis / WENN)
Elizabeth Hurley is a proud stage mom. Ever since her son Damian landed his first major acting gig on the E! series "The Royals," she has given him all the exposure he needs to succeed.
In March 2017, the Austin Powers actress was spotted taking her son to another high-profile event: the London premiere of "An American in Paris."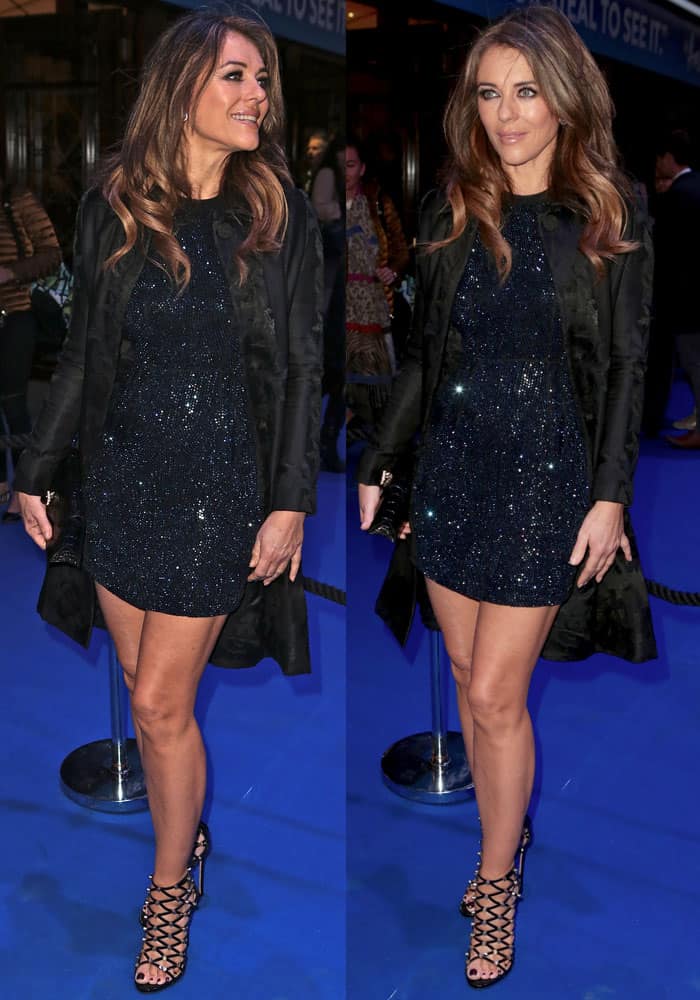 Elizabeth Hurley looked stunning in a black Versace minidress adorned with sequins and accessorized with a simple black coat and a pair of black heels (Credit: Phil Lewis / WENN)
"An American in Paris" is a musical based on the 1951 film of the same name. It tells the story of a young American artist who falls in love with a French girl in post-war Paris. The show has been praised for its beautiful music, stunning choreography, and heartwarming story.
The two looked dapper on the red carpet, with Damian in a classic tuxedo and Elizabeth in a stunning gown.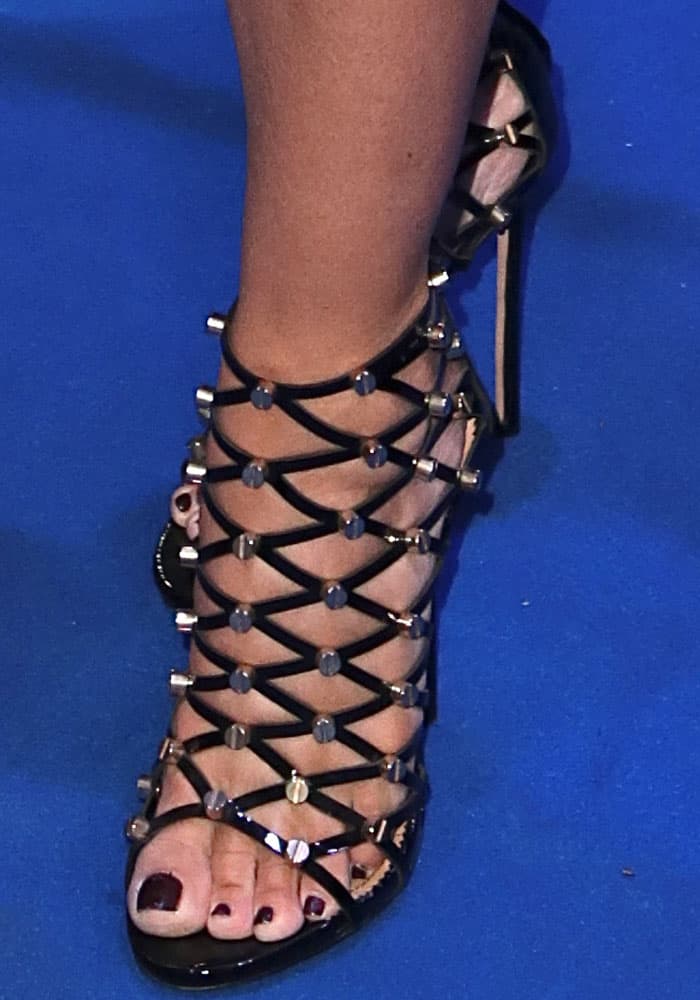 Elizabeth Hurley shows off her feet in sexy studded cage sandals by DSquared2 (Credit: Phil Lewis / WENN)
Elizabeth wowed on the blue carpet in a gorgeous glittery little black dress by Versace. The then-51-year-old protected herself from the cold London air by layering her dress underneath a long embossed jacket.
Elizabeth Hurley carries a croc-effect clutch from her go-to designer Ethan Koh (Credit: Phil Lewis / WENN)
The Bedazzled actress finished her look with a jeweled croc-effect clutch by Ethan Koh and a sexy pair of studded cage sandals by DSquared2.
Elizabeth Hurley poses with her son Damian Charles Hurley and Mr. Valentino Garavani himself (Credit: Phil Lewis / WENN)
Not only did Damian have the hottest date on the carpet that night, but he was also spotted rubbing elbows with Mr. Valentino Garavani. Elizabeth has been known to have a close-knit relationship with the designer.
Don't get us wrong — it's not like Damian needs much help from his celebrity mom. His genes alone speak volumes of his limelight potential. Nonetheless, seeing the two on their adorable mom-and-son outings is fun.
You can shop Elizabeth's gorgeous DSquared2 studded cage sandals on Farfetch.
DSquared2 Studded Patent Cage Sandals, $1,550