Canadian fashion is a growing niche within the luxury fashion industry. While it doesn't have the same glamour as European fashion or draw as American brands, Canadian brands such as Sorel, Canada Goose, and DSQUARED2 are increasingly making a name for themselves within the fashion industry.
The brainchild of two Canadian fashion designers and twin brothers, Dean and Dan Caten, their Milan-based fashion house has become one of the most popular fashion brands by any Canadian designer. Their double D's make up the brand's name.
Naomi Campbell is the face of the Dsquared2 Icon FW21 campaign shot by Giampaolo Sgura (Credit: MEGA / WENN)
DSQUARED2 is famous for its high-quality tailoring meets contemporary designs. If you're a fan of streetwear, you'll be familiar with their celebrity following and extravagant runway shows.
We're looking at how DSQUARED2 rose to fame, where their products are made, and how to spot fake DSQUARED2 products. If you're a fashion follower, DSQUARED2 is one Canadian-founded brand that you want to have on your radar.
Meet DSQUARED2
DSQUARED2 is a luxury fashion brand in a league of its own. Dean and Dan Caten established the fashion brand in 1994 after graduating from the prestigious Parson's School in New York.
The designers quickly developed a relationship with some of the most successful celebrities in the entertainment industry, with the brand becoming a go-to choice for pop stars and celebrities during public appearances. In 2001, DSQUARED2 designed over 150 pieces for Madonna's 'Drowned' world tour, putting the brand on the global stage.
Canadian identical twin brothers Dean and Dan Caten are the founders and owners of the Italian luxury fashion house Dsquared² (Credit: Lu Chau / WENN)
With the tagline, "born in Canada, made in Italy', DSQUARED2 has almost 2 million followers on Instagram. DSQUARED2 became an instant trendsetter after its launch, becoming the first brand to showcase a dedicated menswear collection. Their early collections focused on minimalistic basics, launching it into the early streetwear scene.
Before launching DSQUARED2, the twin brothers worked at Gianni Versace and Diesel, as well as launching several other fashion brands without much success.
What made DSQUARED2 so successful was its ability to merge Canadian fashion with a European sensibility – it's effortlessly chic by edgy, with distinctive tailoring.
Designers Dean and Dan Caten of Dsquared² at Out Magazine honors 100 most influential people in gay culture at Out 100 Awards in New York City on November 10, 2006 (Credit: PNP / WENN)
DSQUARED2 describes itself as having a philosophy of "edgy mix of Canadian iconography, refined Italian tailoring, and playful sensuality".
You'll find seamless contrasts amongst their collections as the Caten brothers juxtapose the sporty and the glamourous, feminine features with masculine, and laidback with the extravagant.
Part of DSQUARED2's success comes from its ability to create a new concept of alternative luxury for the contemporary streetwear age.
Where to buy DSQUARED2
You'll find DSQUARED2 products anywhere that offer contemporary luxury brands or streetwear fashion. As a contemporary designer brand with an international following, you'll find DSQUARED2at some of the most iconic department stores in the world.
Popular e-commerce luxury stores carrying DSQUARED2 products include Matches Fashion, Ssense, Farfetch, and Saks Fifth Avenue. You can also purchase DSQUARED2 through the brand's official website.
Lila Moss, Stella Jones, Iris Law, Georgia Palmer, AJ, Finley Williams, Keone Pillay, Oliver Rice, Oisin Murphy, and Sam Majka in a Dsquared2 fashion campaign (Credit: MEGA / WENN)
DSQUARED2 has 113 stores throughout the world, including flagship stores in Milan, Dubai, Greece, and Saint Moritz. As one of the most popular Canadian designers, it is easy to find DSQUARED2 pieces for sale pre-loved. Websites like Vestiaire Collective have an extensive collection of pre-owned DSQUARED2 clothing and accessories.
Where DSQUARED2 products are made
With a motto like 'born in Canada, made in Italy,' it's no surprise that DSQUARED2 keep their fashion manufacturing located within Europe.
While other brands shift their product to Asia and cheaper factories, DSQUARED2 continues to manufacture within Europe.
The brand capitalizes on its 'made in Italy' credentials as a streetwear brand, putting them in a unique position within the fashion industry to pitch SQUARED2 as a fresh streetwear approach to classic fashion.
How to spot fake DSQUARED2 products
Like any popular luxury or streetwear brand, DSQUARED2 is no stranger to counterfeit items. The best way to guarantee that you're purchasing a genuine DSQUARED2 product is by buying directly in-store or online from DSQUARED2 or a registered stockist.
If you're shopping pre-loved for DSQUARED2 products, you want to brush up on your authenticating skills to know which tell-tale signs to look for.
It's important to know how to spot a fake DSQUARED2 product so that you don't get scammed on fraudulent Chinese websites or pre-owned websites like Depop and Vinted.
1. Just because it says so doesn't make it true
Often people own counterfeit items without even realizing it, primarily if the item is a gift. Just because someone lists an item as an authentic DSQUARED2 item, it doesn't guarantee the authenticity of the item.
You want to look out for descriptions that include statements like '1:1 bag'. Always approach pre-loved listings with a pinch of salt and don't automatically believe everything that you read online.
You also want to be skeptical of the price. While DSQUARED2 products don't maintain – or appreciate – their value after use, they won't be sold at a 99% discount. If it seems like a deal is too good to be true, it probably is.
2. Errors in the branding
One of the most common mistakes that you'll find in counterfeit DSQUARED2 items is that they incorrectly spell the brand name or make errors with the branding.
Occasionally, counterfeiters do this to avoid copyright issues, but it's also due to the nature of the counterfeit item being mass-produced in Asian warehouses.
Dsquared2 Run DS2 drawstring lace-up sneakers with signature logo branding
Look out for mistakes in the brand's font, typeset, and logo placement. Familiarise yourself with the fashion label's branding so that you know what to expect to see on a genuine DSQUARED2 product.
3. Disappointing quality
DSQUARED2 is a fashion brand that trades on its Italian manufacturing and 'made in Italy' credentials.
If an item feels as though it's cheaply made or that there hasn't been paid care to the manufacturing of the item, alarm bells should start ringing. Disappointing quality is one of the tell-tale signs of a counterfeit designer item.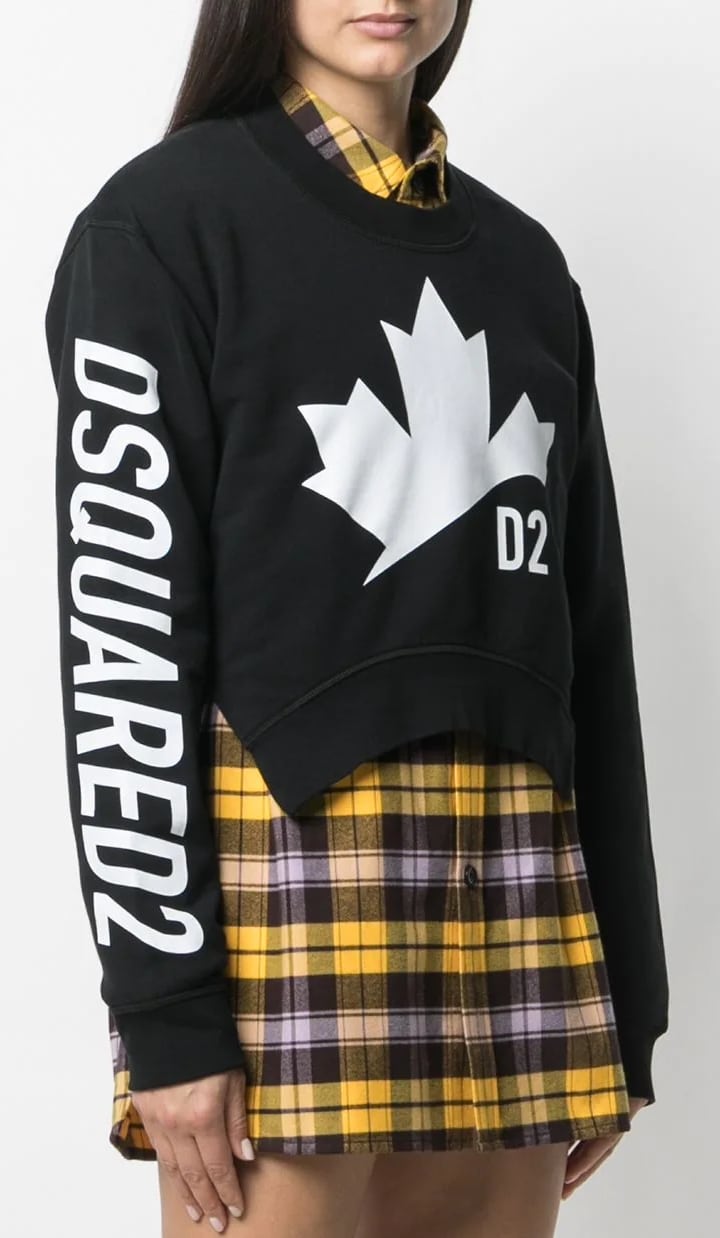 This black Dsquared2 D2 Leaf asymmetric sweatshirt pays homage to the symbol of the designers' home country
Look out for cheap fabrics, unusual labels, and incorrect stitching. Attention to detail is at the heart of DSQUARED2's Italian manufacturing.
If the time doesn't look or feel like something you'd see on the shelf in Holt Renfrew, it's counterfeit.
What do you think of DSQUARED2, and why do you think it's become one of the most popular Canadian fashion brands?