They are finally red carpet official!
Jacob Elordi and Kaia Gerber have remained relatively private about their relationship since they began dating a year ago. Last week, the couple surprised many when they made their red carpet debut at the Academy Museum of Motion Pictures Opening Gala.
Kaia Gerber and her super tall boyfriend Jacob Elordi make their red carpet debut in Celine ensembles at the Academy Museum of Motion Pictures Opening Gala on September 25, 2021 (Credit: Mega / WENN)
Walking their first red carpet together, Jacob and Kaia dressed to the nines in Celine ensembles. Measuring 6'5″ (196 cm), he's even taller than his girlfriend. Kaia Gerber's height is believed to be 5'9″ (175 cm).
"I was super nervous about telling people my height. I used to try and pass for 6'2″ or 6'3″ but I'm actually 6'5″," he told GQ about his height in a July 2020 video interview.
"I used to be so sensitive about my height. Because when I first started acting, literally everybody would tell me that I'd never work because they wouldn't be able to partner me with people, and they wouldn't lift the camera up high enough. I basically got told that I was too tall to be an actor. So to all of those people… nice."
"I'm 5-foot-9 on a good day. These shoes probably make me 6-foot-4," Gerber told The Los Angeles Times in May 2017. "I'm taller than most of the boys in my grade."
"Tonight I'm taller than my brother, so I can look down to him," she added about her big brother Presley Gerber. He is normally taller with his height of 6'0″ (183 cm) but doesn't measure up when his little sister is wearing high heels.
Jacob Elordi previously dated Joey King, whom he met while filming the Netflix film The Kissing Booth in 2017. He split from his much shorter girlfriend at the start of 2019. Joey King's height of 5′ 3" (160 cm) is just below the average for a woman raised in the United States.
Joey King dated much taller Jacob Elordi from 2017 to early 2019 (Credit: FayesVision / WENN)
At the opening gala for the Academy Museum of Motion Pictures, The Kissing Booth actor looked dapper in a classic black tuxedo suit with a white shirt and a pair of patent black oxfords.
Highlighting her model figure, Kaia slipped her curves into a slinky asymmetric champagne gown that features delicate shoulder straps and a low-cut neckline.
Kaia Gerber showcases her supermodel height in a slinky champagne asymmetric gown (Credit: Mega / WENN)
Cindy Crawford's daughter added sparkle to her classy evening look with jewelry from Tiffany & Co. She wore a pair of stud earrings and a single-strand diamond necklace from the Victoria collection, along with Tiffany's Soleste and Embrace rings.
Staring lovingly at her man, the American Horror Story star tied her brunette tresses into a low bun with long strands framing her face.
Kaia Gerber styles her hair in a low bun with loose strands framing her minimally made-up face (Credit: Mega / WENN)
She accentuated her features with neutral makeup that included a swipe of nude lipstick and mascara for a glamorous look.
To complete her minimalist outfit, Kaia showed off her toes in a pair of open-toe metallic gold sandals with studded asymmetrical straps.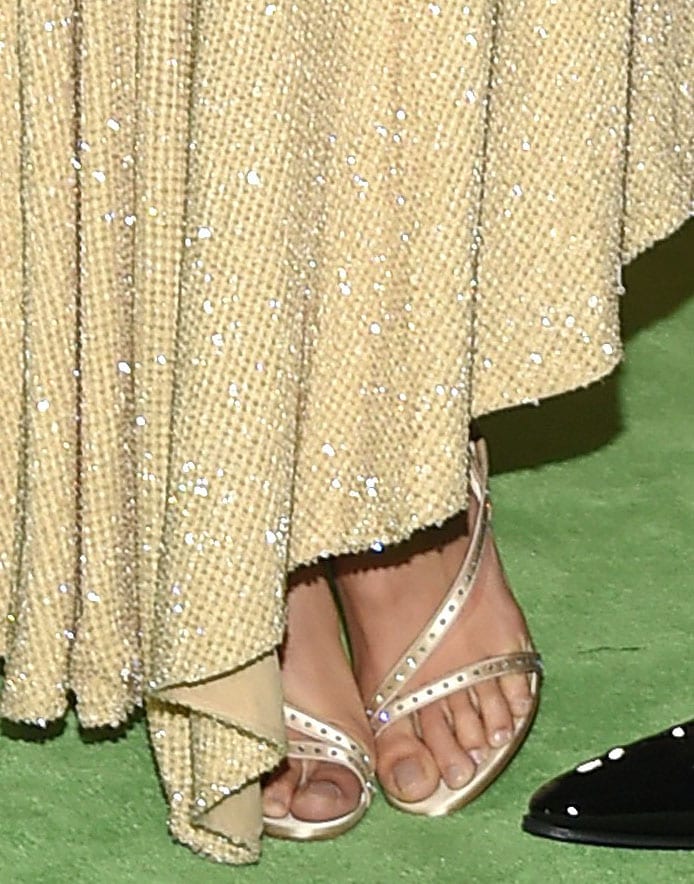 Kaia Gerber shows off her feet in open-toe metallic gold studded sandals (Credit: Mega / WENN)