The most anticipated night in fashion is back and better than ever. The 2022 Met Gala conquered the first Monday in May, with this year's theme being Gilded Glamour, a homage to the Gilded Age.
While it is quite simple to look up the fashion that owned America between 1870 and 1900, many of the A-list celebrities who attended this year's festivities fell disastrously short.
Donatella Versace and Cardi B attend The 2022 Met Gala Celebrating "In America: An Anthology of Fashion" at The Metropolitan Museum of Art on May 2, 2022, in New York City (Credit: Jennifer Graylock / INSTARimages)
This was an era in history where income inequality was as prevalent as ever, and gold ruled the country.
So, when interpreting the theme for the 2022 Met Gala, is any attire more on theme than attending the event literally dripping in gold? One thing is for sure; Cardi B understood the assignment.
If you were an onlooker at the event or perhaps lucky enough to get past the ironclad Met Gala security and onto the red carpet, you may have noticed the Barocco print-wrapped convertible making its way to the entrance point.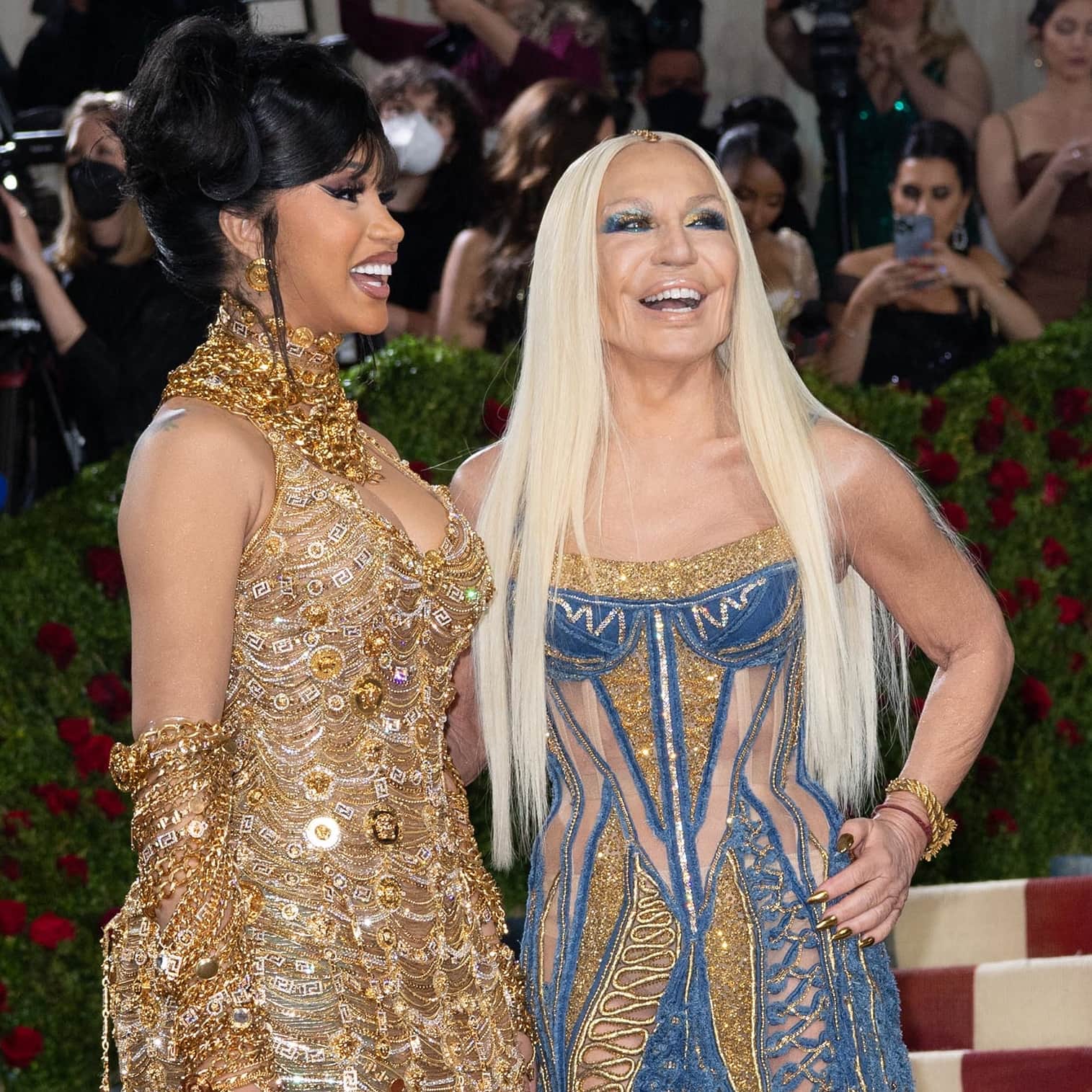 Cardi B was joined on the red carpet by Gianni Versace's sister Donatella Francesca Versace (Credit: ABACA / INSTARimages)
The car itself was a showstopper and stood out from the sea of black Escalades and limos dropping off the night's A-list guests. And when those Versace-clad convertible doors opened, the queen of rap herself emerged.
Cardi B stole the show at the 2022 Met Gala, dressed in a customized Atelier Versace column gown. The rapper dazzled in the ornate gown and represented the high voltage take to the Gilded Age.
Taking over 1,300 hours to construct, the dress was created specifically for Cardi and was hand-stitched by 20 of the Atelier's most renowned craftspeople.
Cardi B stunned in a custom gold jewelry-covered gown by Versace featuring gold bracelets and necklaces (Credit: John Nacion / Startraksphoto)
At first glance, you may believe that Cardi's accessories included a choker and chunky bangles around her arms, but that would be far too simple.
Around her wrists were layers of single chains that stacked up to her elbows and around her neck laid multiple wrapped chains creating a Medusa-like gold detailing.
Cardi dripped in gold from head to toe and it was estimated an entire kilometer of gold chain was used to achieve her incredible Met Gala look.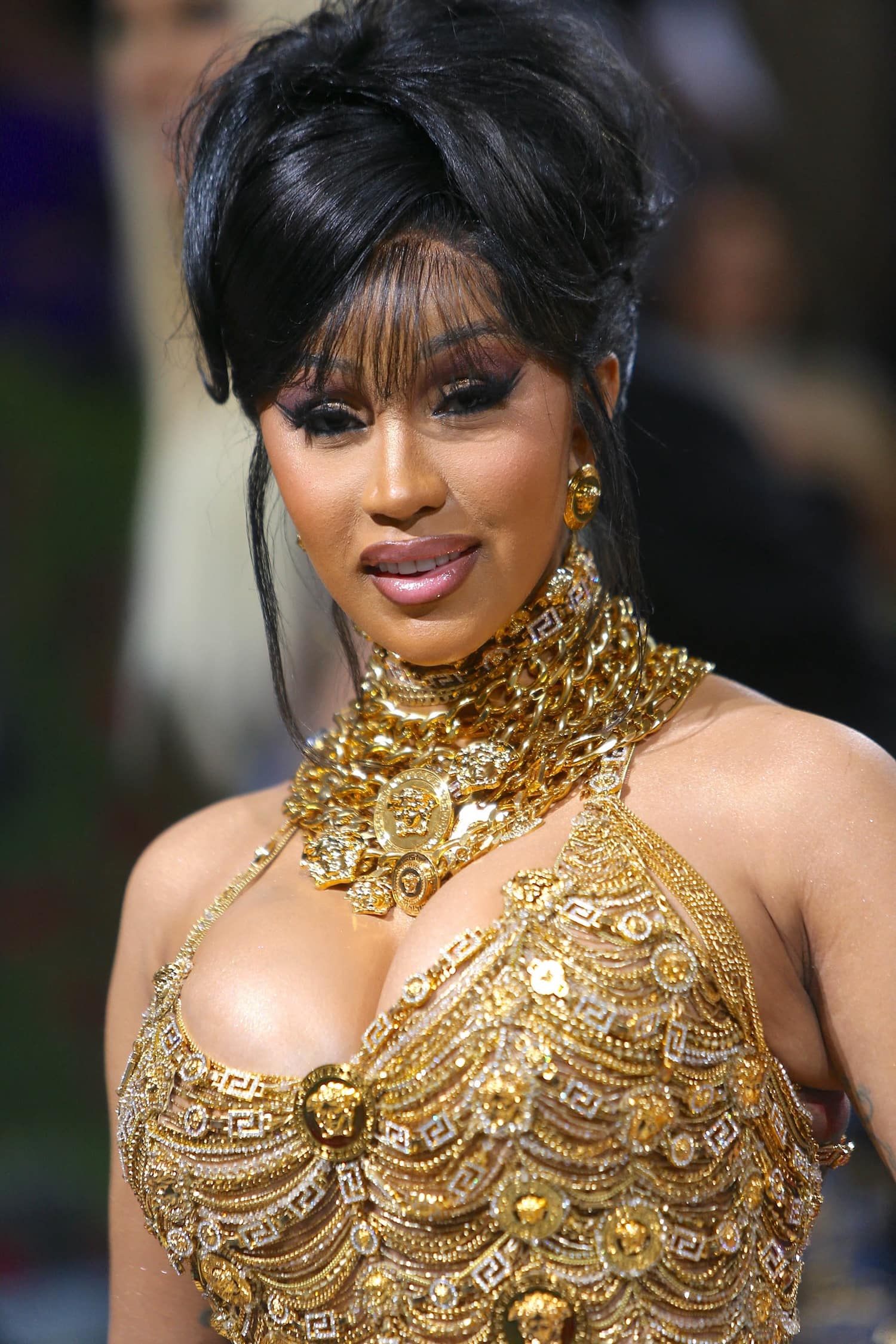 Cardi B wore a Versace dress embroidered with gold chains that took 20 craftsmen 1,300 hours to complete (Credit: ABACA / INSTARimages)
Her hair was swept up in an elegant updo with tendrils framing her face, allowing for every detail on the dress to shine under the lights of the Met Gala red carpet.
While many guests at the 2022 Met Gala wore designs from Versace, only Cardi B arrived at the event perched on the back seat of a Barocco printed convertible next to Donatella Versace herself.
The two walked the red carpet together, and Donatella worked directly with the rapper to bring the Atelier gown to life.
Italian fashion designer Donatella Versace celebrated her 67th birthday on May 2, 2022 (Credit: ABACA / INSTARimages)
Dawning her signature blonde mane and a gorgeous blue and gold gown that was a subtle complement to Cardi's attire, Donatella celebrated her 67th birthday on the steps of the Met.
Donatella complemented Cardi's bravery for wearing such a heavy gown to an event where so much movement was required and thanked her for the perfect birthday present that was being her guest on the red carpet.