In an interview with Ellen DeGeneres, Kim Kardashian wasn't afraid to get serious with the comedian about what it's like trying to co-parent with her now-ex, Kanye West.
With four children together, it can't be easy for Kim to shield the kids from their daddy's drama — Kanye has made a number of hurtful remarks about his ex-wife and her new boyfriend, SNL cast member Pete Davidson — but Kardashian tries her best, as she doesn't want her kids to think badly about their dad.
In the interview, DeGeneres commended Kardashian for her efforts to "protect" Kanye, at least in their children's eyes.
In a vulnerable moment, Kim explained, "I think that's just who I am, and I always had such a good example in my mom and my dad and their relationship. So I'm always just hopeful, and no matter what goes on, it's the father of my kids. I'll always be protective. I always want my kids to just see the best of the best. I just try to — as hard as it can be sometimes — I do try to ignore it and try to do whatever's best for the kids. Take the high road."
Kim Kardashian explained why she's "taking the high road" when it comes to her relationship with Kanye West (Credit: Jaguar PS / Shutterstock)
More than that, Kim revealed that she believes that there may be a larger purpose to all of this, even if it feels difficult at the moment.
"I also think sometimes these are lessons," Kim said during her Ellen appearance.
"This was put in my life for a reason, and these challenges and I just think… I try to really, as hard as it is, I try to sit still sometimes and be like, 'Okay, what is this lesson, what am I meant to learn from it, and how can I just get through it, and what is this challenge placed here in my life?'"
Though Kim Kardashian may have made some questionable choices in the past (like spending over $150,000 to paint her cars to match her mansion) it is evident that she works hard to be the best mom to her kids, no matter the circumstances.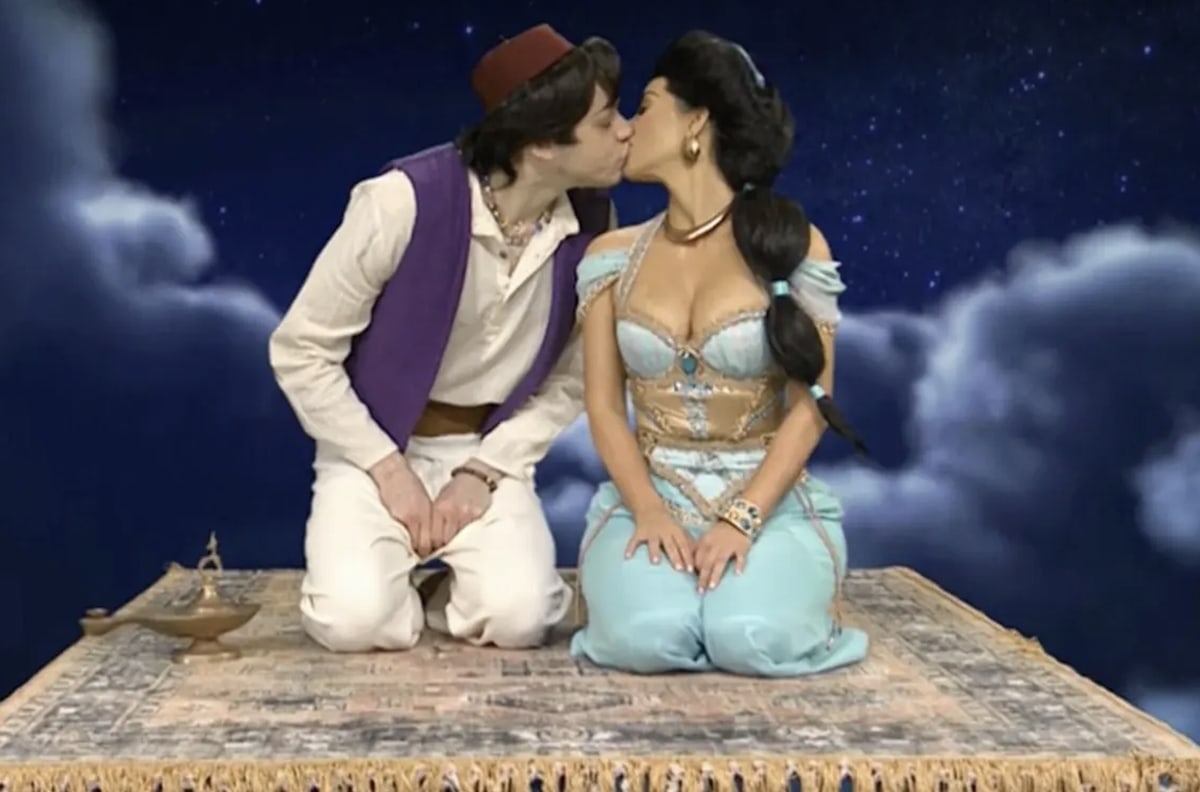 Kim Kardashian kissed Pete Davidson in a Disney's Aladdin sketch on Saturday Night Live (Credit: Saturday Night Live / YouTube)
In March 2013, Kim Kardashian flaunted her legs in a very glitzy and bedazzled ensemble while out and about in New York City.
We had previously spotted Kim in these metallic pointy-toe pumps with a pristine all-white outfit and dark gray skinny jeans.
Pregnant Kim Kardashian in a Lanvin dress outside The Derby restaurant and departing her NYC hotel on March 27, 2013 (Credit: Alberto Reyes / WENN)
While I love her heels, I can't say the same about her grey long sleeve dress from the Lanvin Fall 2012 collection.
Kim should have invested in some super chic maternity outfits instead of squeezing into larger sizes of various designers.
Kim Kardashian styled her grey long sleeve dress with metallic pointy-toe pumps (Credit: Alberto Reyes / WENN)
Her heels were the "Anouk" from Jimmy Choo in shiny pewter leather. They're really glam, and I feel like they'd be really versatile if you styled them well.
They'd look great with a pair of flared maternity trousers and a chambray denim shirt, but Kim was stuck in a pencil skirt and a skin-tight dress rut during this pregnancy.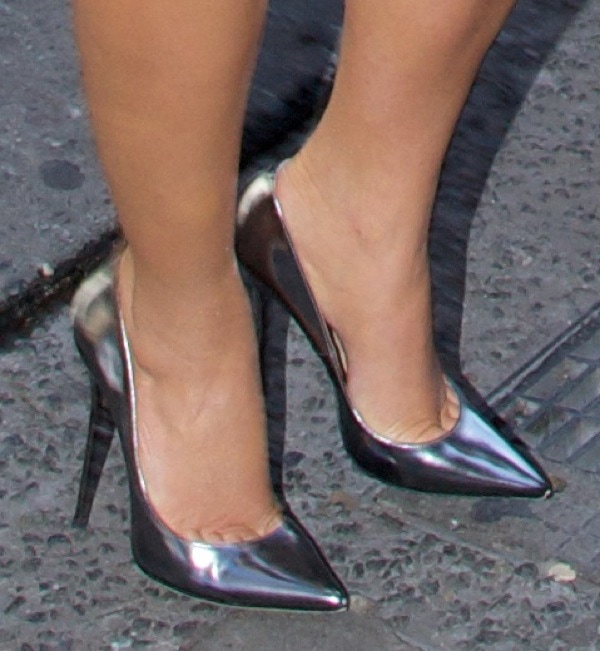 Kim Kardashian displays her feet in Jimmy Choo Anouk metallic leather pumps (Credit: Alberto Reyes / WENN)

I'm all for showing off your growing baby bump, but I feel like there are more stylish ways of doing it than Kim was exemplifying. Nonetheless, her heels are fabulous and available at Farfetch:
Jimmy Choo 'Anouk' Pumps in Silver, $650
So, what's your verdict, shoe lovers? Do you agree that Kim's heels are hot but the dress is not?