At the beginning of May, Kim Kardashian dyed her hair to complement Marilyn Monroe's iconic "Happy Birthday, Mr. President" dress, which she wore to the Met Gala.
A month later, her boyfriend Pete Davidson dyed his hair a matching shade bleached blonde shade. In an episode of The Kardashians that aired on June 2, the Skims founder implied that Pete Davidson is the best sex of her life.
Talking to her sisters, Khloe and Kourtney Kardashian, Kim said, "When I turned 40, everyone said it's the best sex of your life. And grandma kept on telling me, '40 is the best sex,' and I was like 'OK. I'm ready."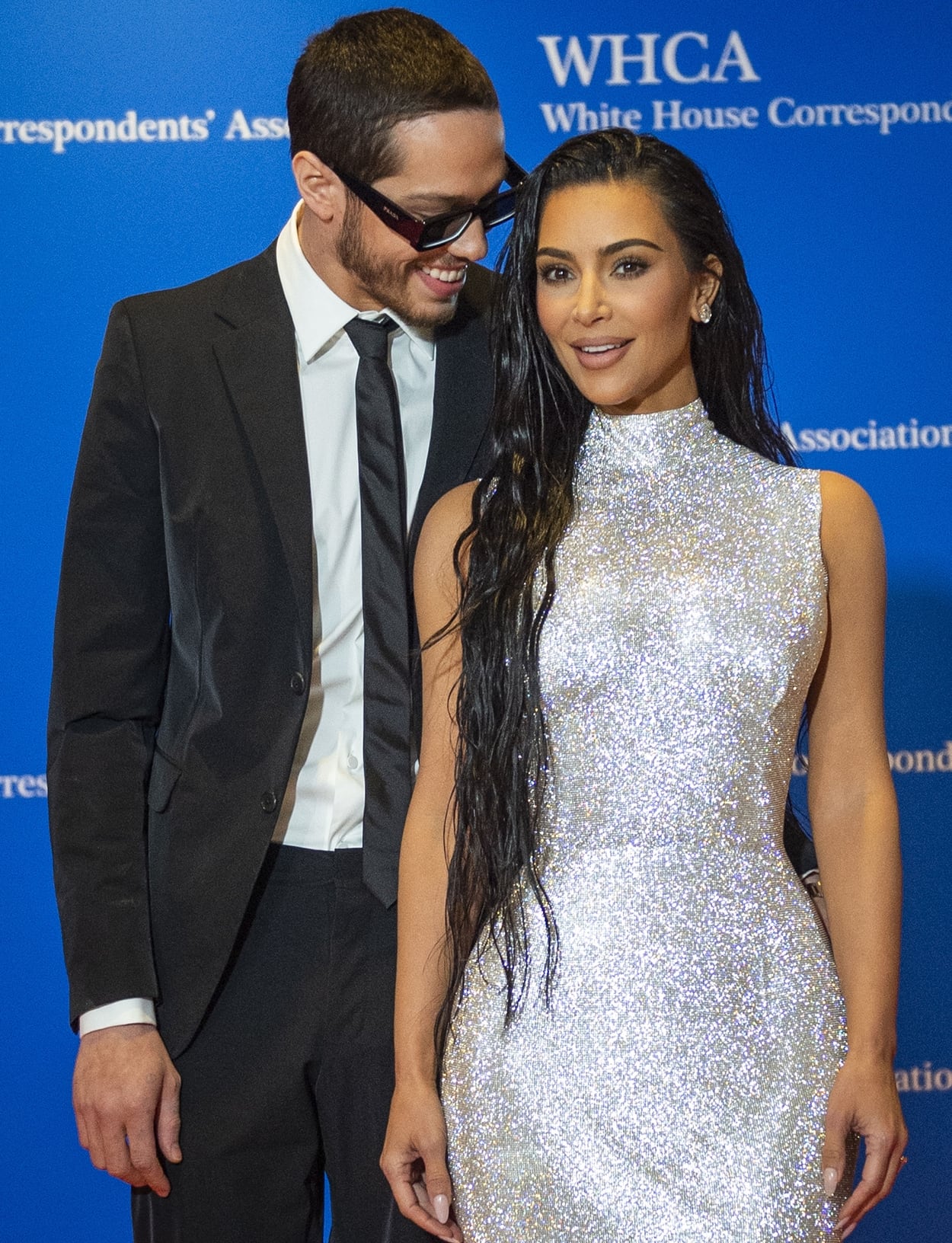 Kim Kardashian implies she and her boyfriend Pete Davidson are having great sex (Credit: Rod Lamkey / CNP / Startraksphoto)
"And so far…," Kim added before winking at her sisters and laughing without completing the sentence. Let's hope Pete feels the same way about sex with his older girlfriend.
Pete's Freshly Dyed Do
The 28-year-old comedian was seen wearing a shower cap covering his freshly bleached blonde hair earlier this past weekend. Kim later shared a loved-up video on her Instagram Stories, showing off Pete's dyed 'do.
The video shows the couple in matching black clothing, with Pete sporting a pair of dark sunnies. The couple shows their affection with Pete giving Kim a sweet kiss on the lips and whispering in her ear while she gazes at the camera.
The second black and white video shows the couple sporting black sunglasses and sticking their tongues out for the camera rock star style.
The couple has been dating since October 2021 and appears happy together. Kim says that Pete is "truly the sweetest, nicest human being on the planet."
Pete Davidson dyed his brunette hair platinum blonde to match his girlfriend Kim Kardashian's bleached hair (Credit: Kim Kardashian's Instagram)
"I did 'SNL' and then when we kissed in scene it was just a vibe," Kim said about meeting the young comedian while hosting SNL. "…but Pete does not come to my afterparty — everyone was at my afterparty. He does not give me the time of day."
"I wasn't even thinking like, 'Oh, my God. I'm going to be in a relationship with him,'" she added about getting Davidson's number from an SNL producer. "I was just thinking like heard about this BDE ("big d–k energy"), I need to get out there I just need to jumpstart…I was just basically DTF [down to f–k]."
The tension between Kim and her ex-husband, Kanye, appears to have simmered down after a few public and heated exchanges.
Kim Kardashian shows how to wear jeans with Jimmy Choo Anouk metallic leather pumps (Credit: WENN)
In October 2012, Kim Kardashian wore a pair of Jimmy Choo Anouk pumps to go shopping at the Christian Louboutin store in Miami.
She paired her heels with dark gray skinny jeans and a black leather peplum top by Christian Dior featuring asymmetrical draping. The outfit was completed by a Hermès black croc Birkin bag and a bib necklace.
Kim Kardashian styled her black leather peplum top with a Venessa Arizaga Twinkle Twinkle necklace (Credit: WENN)
While Kim stuck to her usual dark neutral color palette and body-hugging fit, pairing these slightly unexpected pieces together worked really well and felt a bit more interesting than her typical ensembles.
I think that these metallic heels finished the look perfectly as they added a welcome dose of edge and glam.
Kim Kardashian wears Bleulab Detour reversible denim legging jeans in Miami on October 24, 2012 (Credit: Mrpixx / WENN / Kadena Press)
The metallic finish of the shoes is very modern and complemented the mix of denim and leather in the rest of Kim's outfit.
We found the 'Anouk' in the same metallic silver shade as Kim's pair at Farfetch and Mytheresa.
Silver Metallic Jimmy Choo Anouk Pumps, $650