After giving birth almost one year ago in May 2021, 51-year-old supermodel Naomi Campbell felt it was finally time to debut her daughter to the world in the way only a supermodel can… on the cover of British Vogue.
The cover is absolutely gorgeous. Naomi sports a simple black co-ord and glamorous, voluminous hair that nearly obscures the magazine's title.
Naomi Campbell holds her daughter close on the cover of British Vogue's March 2022 issue (Credit: British Vogue / Steven Meisel)
Her nails are perfectly manicured in a delicate, baby pink that accentuate the enormous diamond on her ring finger. In her arms, Campbell holds the most important accessory of all — her beautiful nine-month-old baby girl.
In the accompanying British Vogue article, Campbell gives a bit of insight into her super-private pregnancy, which many felt was shocking considering the model's age, but she simply says, "She wasn't adopted – she's my child."
Apparently, Campbell is saving the juicy details for the book she plans to write.
View this post on Instagram
"She's a good girl: she sleeps very well, she hardly ever cries and I'm told she's very alert for her age. She's just started waving, which is fun. She laughs a lot. She's almost talking," Campbell continues in the interview.
"I think she might walk before she crawls. And she's got six teeth already."
The model and her daughter are truly a sight to behold, as Campbell lovingly notes about her baby, "… she is the biggest blessing I could ever imagine. It's the best thing I've ever done."
In November 2014, Naomi Campbell showed off her toned legs at the 2014 Accessories Council ACE Awards held at Cipriani 42nd Street in New York City.
Naomi Campbell and Kerry Washington flaunt their sexy toned legs at the 2014 Accessories Council ACE Awards held at Cipriani 42nd Street in New York City on November 3, 2014 (Credit: Derrick Salters / WENN / C. Smith / Joel Ginsburg)
The 44-year-old wealthy model sported a silver flock printed dress from the Proenza Schouler Fall 2014 collection featuring an asymmetrical hem and an open back.
She styled the sleeveless halter-neck dress with a few rings, glittering bangles, and pointy-toed black patent leather stiletto pumps.
Naomi Campbell's sleeveless halter-neck dress (Credit: WENN)
Do you agree that Naomi knocked it out of the park with this look, or would she have looked better in a different colored dress?
Naomi was joined on the blue carpet by Kerry Washington, who flaunted her legs in a diagonal check Prada dress.
She styled her crystal-embellished dress with glittering Christian Louboutin pumps and a purple satin Prada clutch.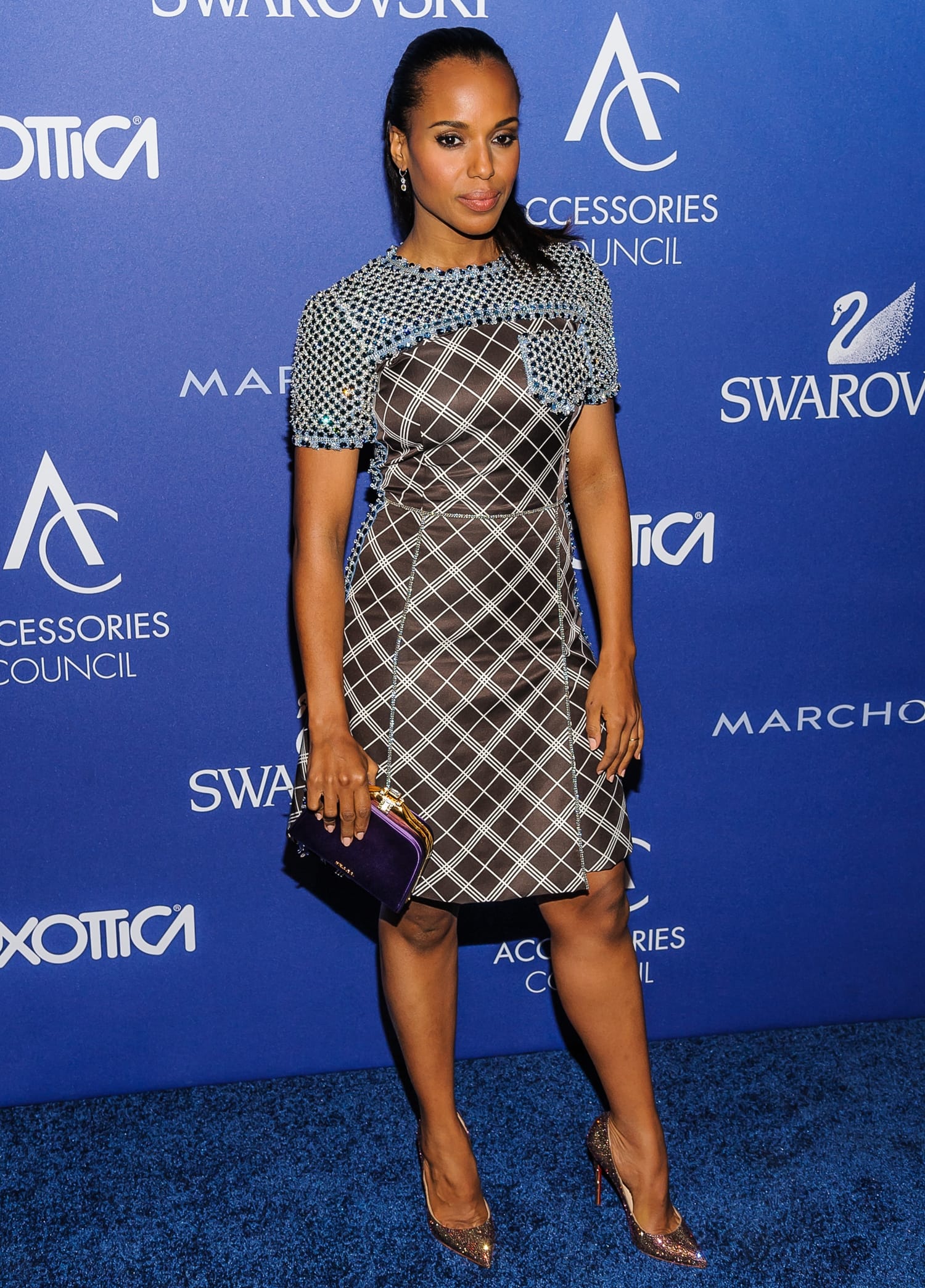 Kerry Washington rocked a Prada dress and clutch, Christian Louboutin shoes, and Tiffany's earrings (Credit: WENN)