This past Tuesday, March 22, was World Water Day, and Salma Hayek chose to take her celebration to Instagram.
The House of Gucci star posted an alluring photo of herself taking a dip amongst some stunning scenery.
Hayek donned a beautiful dark blue swimsuit which showed off her voluptuous chest and let her natural brunette locks flow by her sides, wet from the serene blue-green waters she was swimming in.
View this post on Instagram
The area is enclosed by large, statuesque rocks which allow beams of sunlight to stream through them and glisten across the calm waves.
While it's hard not to focus on Hayek's spectacular body (I mean who looks that good at age 55!?) it is clear that her intention was not to be the star of this photo.
Hayek is placed off-center, with her face slightly blurred, presumably from emerging out of the water moments before.
Hayek has no issue showing off her physique, as she's already posted multiple bikini photos in 2022 alone, but this post served a higher purpose than just displaying her alluring curves.
View this post on Instagram
The glowing water is truly the focal point of this image, which is most likely why it was chosen as her "World Water Day" celebration post.
World Water Day is a day of awareness for the 2.2 billion people across the globe living without access to clean, safe water. It is also a day of appreciation for those of us who tend to take water for granted. Hayek said it best in her Instagram caption,
"Today is #nationalwaterday but let's not forget any day how precious water is. Hoy es el #dianacionaldelagua pero que no se nos olvide ningún día, que el agua es un tesoro"
View this post on Instagram
The Mexican-American actress wrote the caption in English and Spanish, so her entire audience could understand the importance of World Water Day.
We appreciate Hayek for being passionate about her activism and look forward to more enthralling Instagram posts in the future!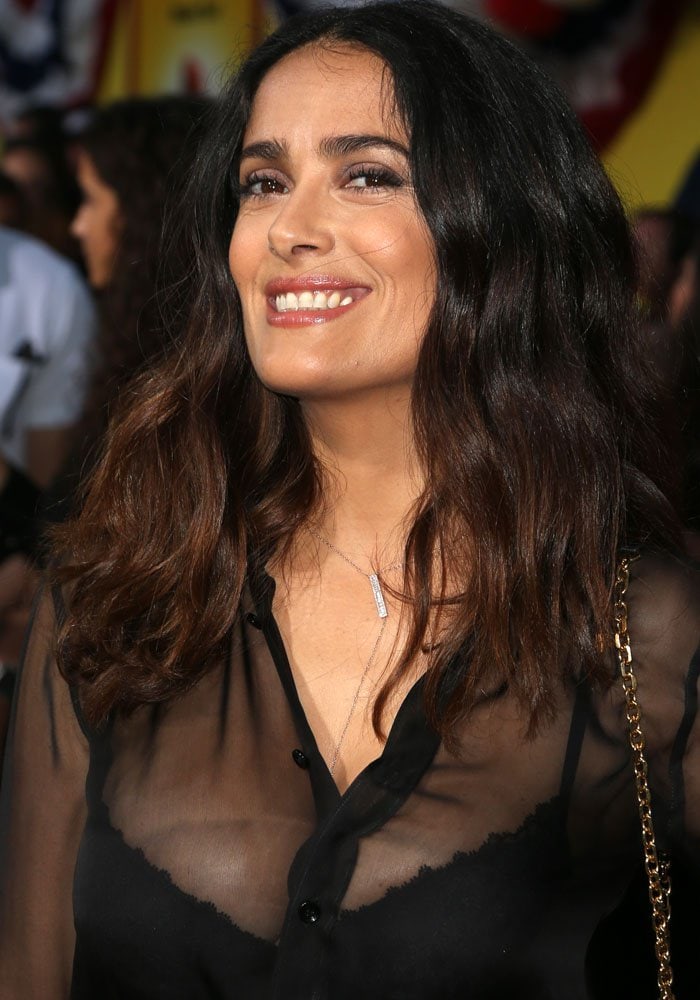 Salma Hayek rocks a black see-through Saint Laurent top (Credit: WENN)
Keeping a secret from a spouse can be a complicated matter. In August 2016, Salma Hayek revealed that she kept a small secret from her husband — French businessman François-Henri Pinault — during the filming of her latest movie "Sausage Party."
The Dusk Till Dawn actress hit the Los Angeles premiere of the animated film and let us know that she kept her role a secret from her husband until the trailer came out. The reason? She played a lesbian taco.
What a time to be alive, folks.
Salma Hayek in sequin wide-leg pants at the Los Angeles premiere of Sony's "Sausage Party" at the Regency Village Theatre in Westwood, California on August 9, 2016 (Credit: Apega / Dave Bedrosian / Future Image / Michael Boardman / WENN)
It was pretty surprising to see Salma trading in her usual YSL platform heels for a Brian Atwood satin platform peep toe.
Salma Hayek shows off her feet in iconic satin platform heels by Brian Atwood (Credit: WENN)
However, the actress didn't stray too far from her go-to brand. Both her sheer top and fully-sequined wide-legged pants are from Saint Laurent.
Salma finished her look with jewelry from Beth Miller.
Salma thought her role as a lesbian taco, Teresa del Taco, was so "outrageous" that she wanted to surprise her husband with it. Salma showed him the trailer and told him that the film is definitely not for children.
Salma Hayek cuddles up to Brenda the hotdog bun from her latest animated film "Sausage Party" (Credit: WENN)
The short actress claimed that she will probably never get to play a lesbian taco ever again (we think so, too), and the role was so outrageous that it was funny, so she decided to give it a go.
You can order a Brian Atwood platform pump similar to Salma's, only with a golden applique at the back, at Amazon.
B Brian Atwood "Raja" Embellished Suede Platform Pumps, $160