Reality star and makeup mogul Kylie Jenner and rapper Travis Scott recently welcomed their second child.
Four years ago, the businesswoman gave birth to their first child, a daughter named Stormi, after a very private pregnancy.
View this post on Instagram
Now, the family has four members, and there's already been lots of media coverage surrounding the birth of their child, despite having yet to share a photo.
Let's take a closer look at all there is to know about Jenner and Scott's newest bundle of joy.
Inside Her Pregnancy
For this pregnancy, Jenner was much more public than she was with her first.
While pregnant with Stormi, Jenner was only seen out in public a handful of times, always in baggy clothing to conceal her growing belly, as she had not made a formal announcement.
View this post on Instagram
In fact, she did not announce her pregnancy until after she had given birth, although rumors swirled about her family status for months.
Jenner shared on Instagram that she was expecting a second child, and did share some pregnancy photos along the way.
The reality star also made some public appearances while pregnant, but largely stayed out of the public eye.
View this post on Instagram
Much of Jenner's pregnancy was also during a time of controversy for her partner Travis Scott, as he was dealing with the aftermath of multiple fans' hospitalizations and deaths while attending his performance at his Astroworld festival.
The Baby's Name Change
Jenner announced via Instagram that she had given birth on February 2, 2022, sharing a photo of her daughter holding her newborn son's hand.
Aside from that, the two have not shared any photos of their son, and have not given many details about him.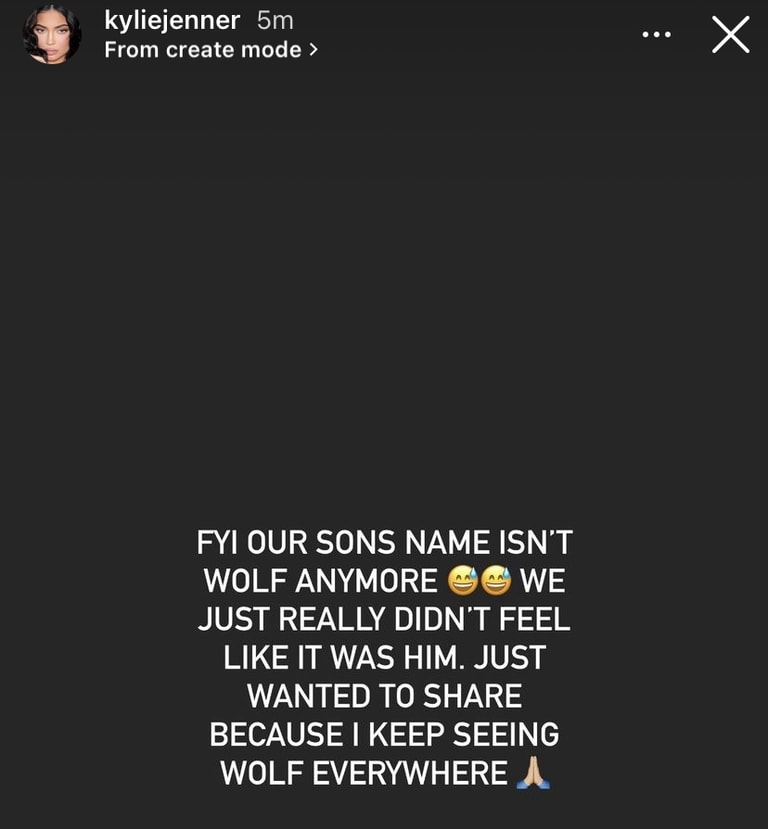 Kylie Jenner announces she has changed her son's name from Wolf (Credit: Kylie Jenner's Instagram)
One detail they did share was his name. Originally, the child was named Wolf, but over a month after his birth, Jenner shared on Instagram that they have since changed his name, but they have yet to announce what to.
"FYI our son's name isn't Wolf anymore 😅😅 We just really didn't feel like it was him. Just wanted to share because I keep seeing Wolf everywhere," she wrote on Instagram.
The Couple's Sweet Video to Their Son
Although the couple has yet to post much footage of their son, they have released a video on YouTube entitled "To Our Son" that shows an intimate look into Jenner's pregnancy, including sharing the news with her mother Kris Jenner, her baby shower, messages from her family to the baby, and a sweet moment where she discloses to her daughter that she and her brother share a due date, and that he could potentially be born on her birthday.
The video also gives a glimpse of the baby's nursery, as well as Jenner preparing to deliver, and it ends with audio of the baby's birth.
Kylie Jenner's Postpartum Experience
Jenner has opened up some about her postpartum experience, noting that her recovery from pregnancy with her son has been much different than with her daughter.
Jenner added that she wants other women who've just given birth to know it's okay if they are struggling, too.
The Kardashians and Jenners will be returning to the silver screen in mid-April with their new reality show "The Kardashians" on Hulu, and fans are hoping to get further details on her pregnancy, and perhaps the name of the baby.
Kylie Jenner wears a Free People ruched asymmetrical skirt paired with a Topshop quilted leather jacket (Credit: WENN)
In 2014, Kylie Jenner was quickly climbing the ranks of Young Hollywood's most fashionable elite.
The youngest of the Kardashian Klan had found her niche in edgy head-to-toe black ensembles, and onlookers had taken notice.
Kylie Jenner and a friend leaving a hair salon in Los Angeles, California, on January 31, 2014 (Credit: WENN)
On the last day of January 2014, Kylie showed us yet another fab outfit while leaving a salon with freshly dyed ombre locks.
In a thigh-exposing wrap skirt from Free People, a biker jacket, a Balenciaga classic leather bowling bag, and oversized aviators, the then 16-year-old was the very definition of city chic.
Kylie Jenner's Chanel pull-on leather Chelsea boots (Credit: WENN)
To top off the urban vibe, she completed the look with a pair of very masculine but on-trend Chanel ankle boots.
Even though Kylie had a very distinct personal style, we couldn't help but notice how much she was beginning to look like her older half-sister Khloe!
Kylie Jenner rocks black Chanel ankle boots (Credit: WENN)
How do you feel about Kylie's style?
Not surprisingly, her Chanel boots come with an insane price tag, so we've included a significantly cheaper alternative from Nordstrom.
Chanel Pull-On Chelsea Ankle Boots, $1,150

Dune Paddy 'Chelsea' Ankle Boots, $145