Salma Hayek looked amazing for 49! In June 2016, the Septembers of Shiraz actress gave us a little insight into her fitness regimen, and we have to say, she left us wanting more. Her plan? It's a no-exercise routine.
Salma Hayek curls her hair for the premiere of Momentum Pictures' Septembers Of Shiraz held on June 21, 2016, in Los Angeles (Credit: FayesVision / WENN)
Not based on a true story, Septembers of Shiraz is a 2015 American drama film directed by Wayne Blair and based on a 2007 novel by Dalia Sofer that you can buy on Amazon.
It stars Poker Face actor Adrien Brody as wealthy Jewish Iranian gemologist Isaac Amin and Salma Hayek as Farnaz. The film was released on June 24, 2016, when Adrien Brody was 43 and Salma Hayek was 49.
Adrien Brody as Isaac Amin, Salma Hayek as Farnaz, and Ariana Molkara as Shirin in the 2015 American drama film Septembers of Shiraz (Credit: Momentum Pictures)
The film tells the story of a wealthy Jewish family in Iran before the Iranian revolution who must abandon everything as they are caught up in the turmoil of the revolution.
Salma Hayek wears a tiger-print Saint Laurent dress on the red carpet (Credit: FayesVision / WENN)
Salma clued us in on how she stays in shape without hitting the gym at the premiere of "Septembers of Shiraz" in Los Angeles.
The Dusk Till Dawn star turned to her go-to brand, Saint Laurent, for her premiere night outfit. She slipped into a cleavage-baring tiger print dress with dainty ruffles around the bust area.
Salma finished her look with a multi-stone necklace and a pair of Saint Laurent "Jane" sandals in gold.
Salma Hayek's feet in gold Saint Laurent sandals (Credit: FayesVision / WENN)
Upon arriving on the red carpet, a photographer asked Salma to "smile big," to which she jokingly responded it would reveal her wrinkles since she didn't have Botox.
She revealed that she also battles with all sorts of insecurities, even though we think she looks fantastic at almost 50.
The actress also shared that she practices her no-exercise regimen without divulging what it was.
You can order Salma's Saint Laurent "Jane" sandals in crackled gold leather at Farfetch.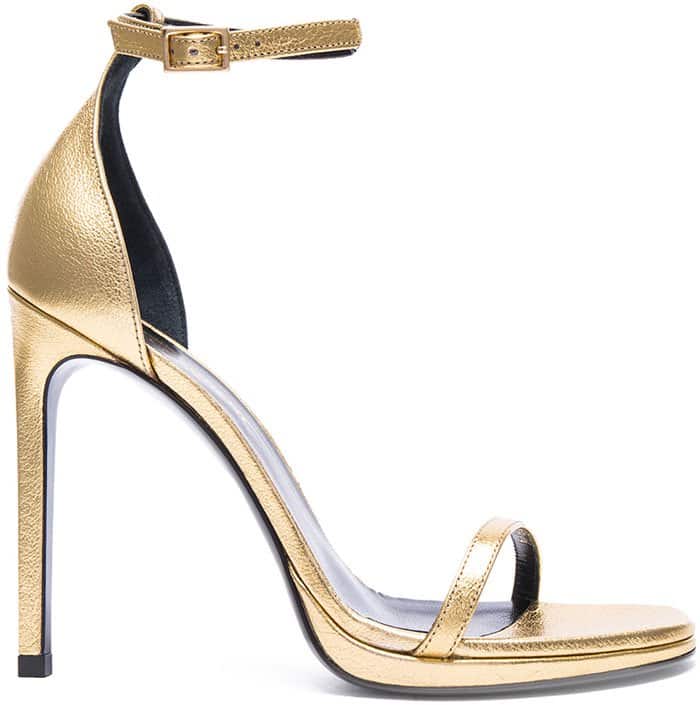 Gold Saint Laurent "Jane" Metallic Sandals, $695