Poker Face is a thrilling murder mystery series that has captured the hearts of audiences everywhere.
With its unique blend of character-driven storytelling and case-of-the-week format, the show has become a must-watch for fans of the genre.
The series revolves around the character of Charlie Cale, portrayed by Natasha Lyonne, a casino worker with a remarkable talent for detecting lies.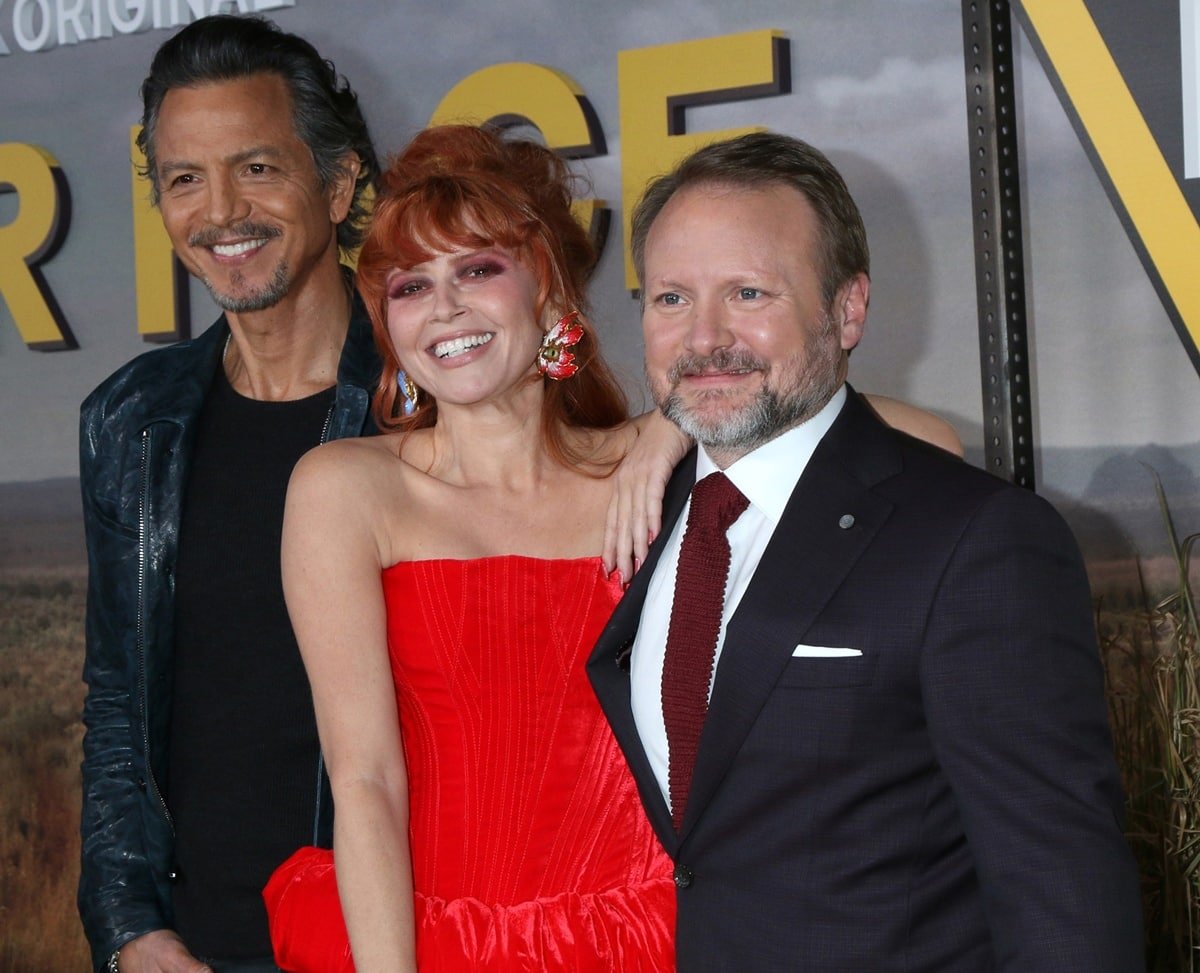 Benjamin Bratt, Natasha Lyonne, and Rian Johnson attend the Los Angeles premiere for the Peacock original series "Poker Face" at Hollywood Legion Theater on January 17, 2023, in Los Angeles, California (Credit: Kathy Hutchins / Shutterstock)
On the run from her former boss, she travels across the country in a fastback 1967 Plymouth Barracuda, meeting and assisting a wide range of exciting characters while solving murders in several unique and engaging locations.
Whether you're a fan of murder mysteries, character-driven dramas, or just a good old-fashioned whodunit, Poker Face will keep you on edge.
Rian Johnson's Poker Face
It's Rian Johnson's first foray into television, and his first series, Poker Face (not to be confused with the 2022 Russell Crowe picture of the same name). Not based on a true story, the film is directed, written, and produced by Rian Johnson.
Glass Onion: A Knives Out Mystery director Rian Johnson is one of the most well-known filmmakers working today, and he has a reputation for being both beloved and reviled.
Lisa Katz, President of Scripted Content at NBCUniversal, Kelly Campbell, President of Peacock, Susan Rovner, Chairman, Entertainment Content, NBCUniversal, Rian Johnson, Ram Bergman, and Nena Rodrigue attend the Los Angeles premiere for the Peacock original series "Poker Face" at Hollywood Legion Theater on January 17, 2023, in Los Angeles, California (Credit: Ryan Hartford / Startraksphoto / Cover Images)
As a writer, director, and producer, Rian Johnson relishes that his films range from low-budget indies like Brick to high-concept sci-fi flicks like Looper to the blockbuster behemoth that is Star Wars: The Last Jedi, are universally polarizing.
Before directing Knives Out, a star-studded murder mystery, he helmed Breaking Bad and Terriers episodes.
How Was the Poker Face Developed?
In March 2021, it was reported that Rian Johnson would be creating, writing, directing, and executive producing the film. As Rian put it, the show would explore "the type of fun, character-driven, case-of-the-week mystery goodness I grew up watching."
The show was a "howcatchem," or ripoff, of the popular Columbo television series. He also drew inspiration for the show's tone from shows like Magnum P.I. and The Rockford Files, as well as movies like Highway to Heaven and The Incredible Hulk.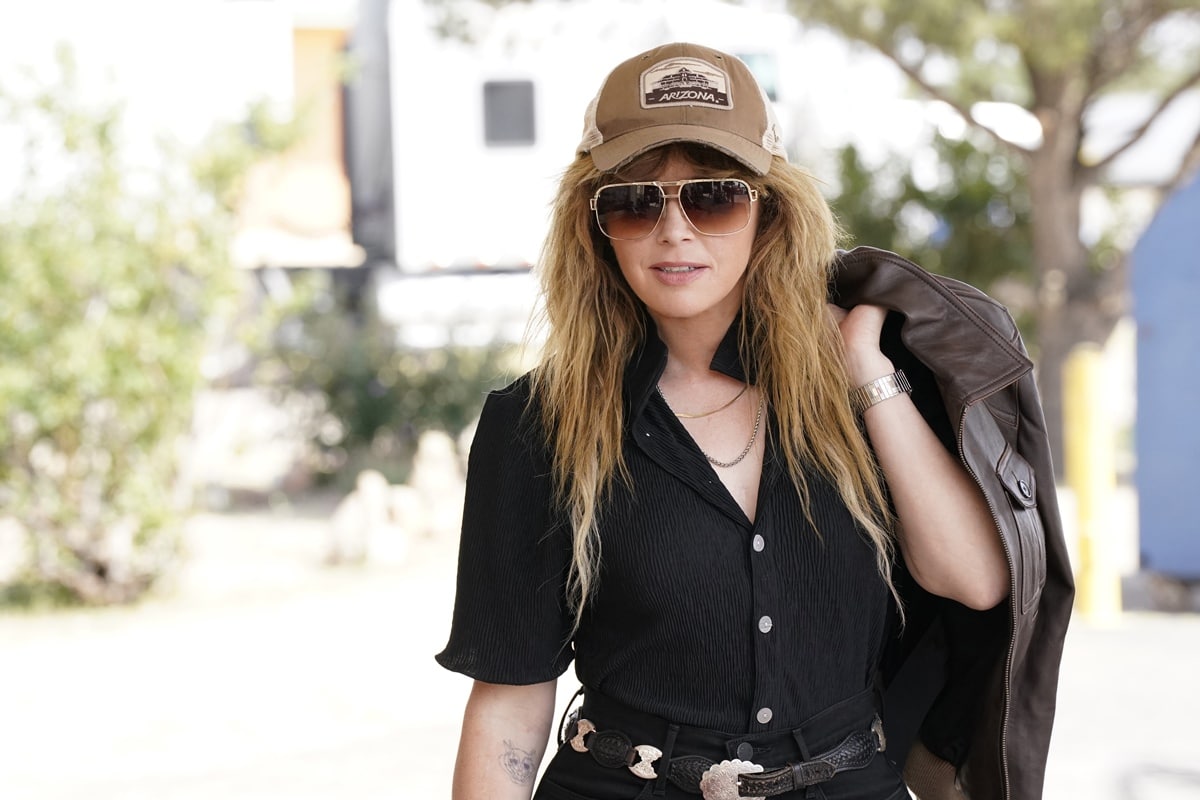 Poker Face is a murder mystery series on Peacock featuring Natasha Lyonne as a casino worker on the run who becomes involved in mysterious stranger deaths (Credit: Peacock)
Rian Johnson wanted to "do that Columbo or Quantum Leap thing" by making each episode an anthropological deep dive into a little area of America that you may not see elsewhere.
Even though Poker Face is being marketed as a mystery, Rian Johnson's involvement in the project should be enough to pique viewers' curiosity. But the show has also attracted a superb cast that grows with each new episode.
Let's take a closer look at the talented cast of this popular show, how tall they are, and explore what makes the actors so unforgettable.
1. Natasha Lyonne (Charlie Cale) – 5ft 1 ½ (156.2 cm)
Natasha Lyonne stars as the series' main protagonist, Charlie Cale, a no-nonsense investigator with a knack for recognizing a liar.
She is a hardworking ex-poker player who is not a cop and doesn't emphasize her innate ability to detect deception.
Natasha Lyonne is reported to have a height of 5ft 1 ½ (156.2 cm). Compared to the average height of American women, which is approximately 5ft 4in (162.6 cm), she is slightly shorter.
Natasha Lyonne sported a stunning red carpet look, featuring a red velvet Schiaparelli Spring 2023 jumpsuit with a corset top, a buoyant peplum hem, and red platform block heels styled with a voluminous beehive updo with a wavy fringe and matching diffused red eye makeup for the Los Angeles premiere of her new mystery series Poker Face (Credit: Jeffrey Mayer / Media Punch / INSTARimages / Cover Images)
In an interview with Rolling Stone, Lyonne said she feels like she has smaller lungs because she is shorter than 5 feet 5 inches. She said that she feels like real cigarettes are made for people who are taller than her.
"I'm, like, five feet two or something, so I feel like I probably have smaller lungs; real cigarettes are made for a person five-five or taller."
Charlie may not always be able to tell when someone is intentionally dishonest with her. Still, she can think quickly on her feet, making it a valuable asset for a lady hoping to stay out of trouble with the seedy gamblers she once frequented.
She is satisfied spending her afternoons waiting tables at a local casino managed by Sterling Frost Jr. and avoiding the unsavory types who tend to gravitate around her boss after her ability to recognize lies gets her barred in poker-playing circles.
In Poker Face, Natasha Lyonne stars as Charlie Cale, a casino worker who goes on the run, while Benjamin Bratt portrays Cliff LeGrand, the head of security at the casino who sets out to chase Charlie across the country (Credit: Peacock)
Charlie finds herself embroiled in the world of amateur detective work when a trusted friend and coworker is suddenly murdered, sparking her intuition.
Fearing for her own safety, she must flee town and delve into a dangerous journey to uncover the truth behind the killing and protect herself from those who want to keep it hidden.
Natasha Lyonne's career began in 1986 when she made many appearances on Pee-wee's Playhouse. However, the 43-year-old actress is now more recognized for her parts in films including American Pie, But I'm a Cheerleader, Orange Is the New Black and Russian Doll.
2. Benjamin Bratt (Cliff Legrand) – 6ft 1 ¾ (187.3 cm)
Cliff Legrand, portrayed by Benjamin Bratt, is a Frost Casino fixer and the casino's head of security who has been an employee for 25 years.
He tries to conceal evidence of a murder mystery and is the one chasing Charlie across the country.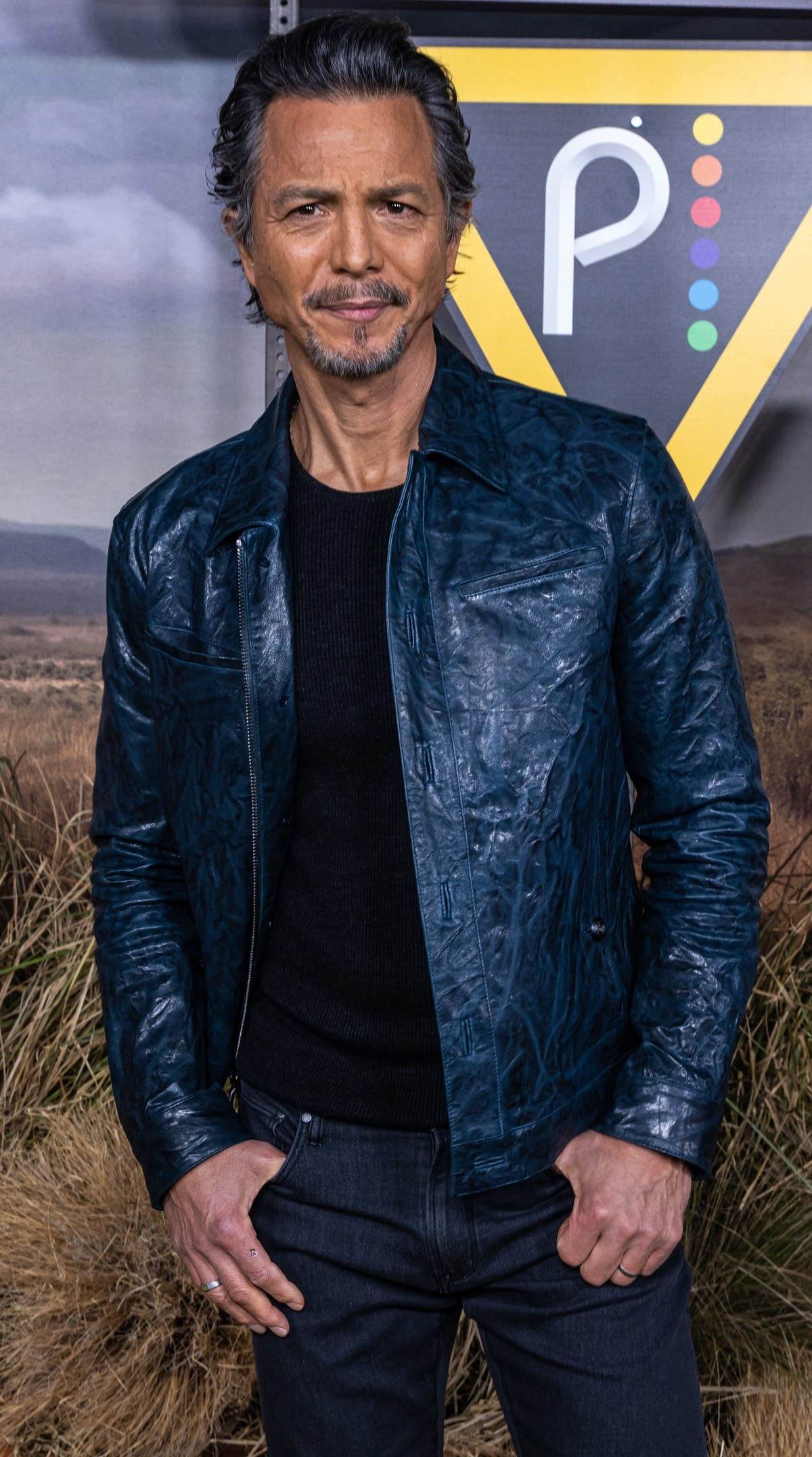 Benjamin Bratt is a talented American actor and producer known for his roles in films like "Demolition Man," "Law & Order," and "Despicable Me 2," as well as TV series like "Private Practice" and "Star" (Credit: Ryan Hartford / Startraksphoto / Cover Images)
Benjamin Bratt is not a stranger to the acting industry, as he has several credits. He is taller than the average American man with a reported height of 6ft 1 ¾ (187.3 cm). The average height for adult males in the United States is around 5ft 9in (175.3 cm).
The 59-year-old actor is best known for his roles as Detective Rey Curtis in Law & Order, Eric Matthews in Miss Congeniality, Dr. Jake Reilly in Private Practice, and Jahil Rivera in Star.
Benjamin Bratt had a long-term relationship with actress Julia Roberts that ended in 2001, and he later married actress Talisa Soto and has two children with her.
Benjamin Bratt began dating actress Talisa Soto in 2002 after meeting during the filming of Piñero (2001), got married in April 2022, and have two children together, a daughter named Sophia and a son named Mateo (Credit: BauerGriffin / INSTARimages / Cover Images)
Actor Benjamin Bratt credits the longevity of his marriage to actress Talisa Soto to mutual respect, shared values with their children being the center of their universe, and a great sense of humor.
3. Adrien Brody (Sterling Frost Jr.) – 6ft 0 (182.9 cm)
Sterling Frost Jr., portrayed by Adrien Brody, is the manager of Frost Casino. In the first episode, he recruits Charlie for an internal scheme but then freaks out when everything goes wrong.
Adrien Brody and Rian Johnson previously worked on the 2008 American caper comedy-drama film The Brothers Bloom (Credit: Peacock)
Acting credits for Adrien Brody include Pat Riley in Winning Time: The Rise of the Lakers Dynasty, Jack Starks in The Jacket, Dmitri in The Grand Budapest Hotel, and Wladyslaw Szpilman in The Pianist.
The 49-year-old actor and the American filmmaker Rian Johnson collaborated in 2008 for The Brothers Bloom.
Adrien Brody and Georgina Chapman attend Universal Music Group's 2023 GRAMMYS after-party celebration at Milk Studios Los Angeles on February 5, 2023, in Los Angeles, California (Credit: Xavier Collin / Image Press Agency / ABACA / INSTARimages / Cover Images)
Adrien Brody and Georgina Chapman have been dating since the fall of 2019 and were confirmed to be a couple in February 2020, with a source stating that they share "many of the same interests" and Chapman finds Brody "unusual and interesting" with a "deep passion for his work."
Incredible Guest Stars of Poker Face
Joining the talented cast of Poker Face is Dascha Polanco, who plays Natalie Hill, a Frost Casino maid constantly anxious about her relationships. After her death, Charlie starts looking into the management of the casino.
Dascha Polanco and Natasha Lyonne starred in Russian Doll and Orange is the New Black.
Poker Face stars Dascha Polcano and Natasha Lyonne also starred together in Orange is The New Black (2013) and Russian Doll (2019) (Credit: Peacock)
Noah Segan also joins the ensemble of actors as Sheriff Parker. He once played the character of Trooper Wagner in Knives Out in 2020, which Rian Johnson directed.
You can also catch Chloë Stevens Sevigny as Ruby Ruin, the lead vocalist for Doxology, where she hides a murder while employed at Build Box.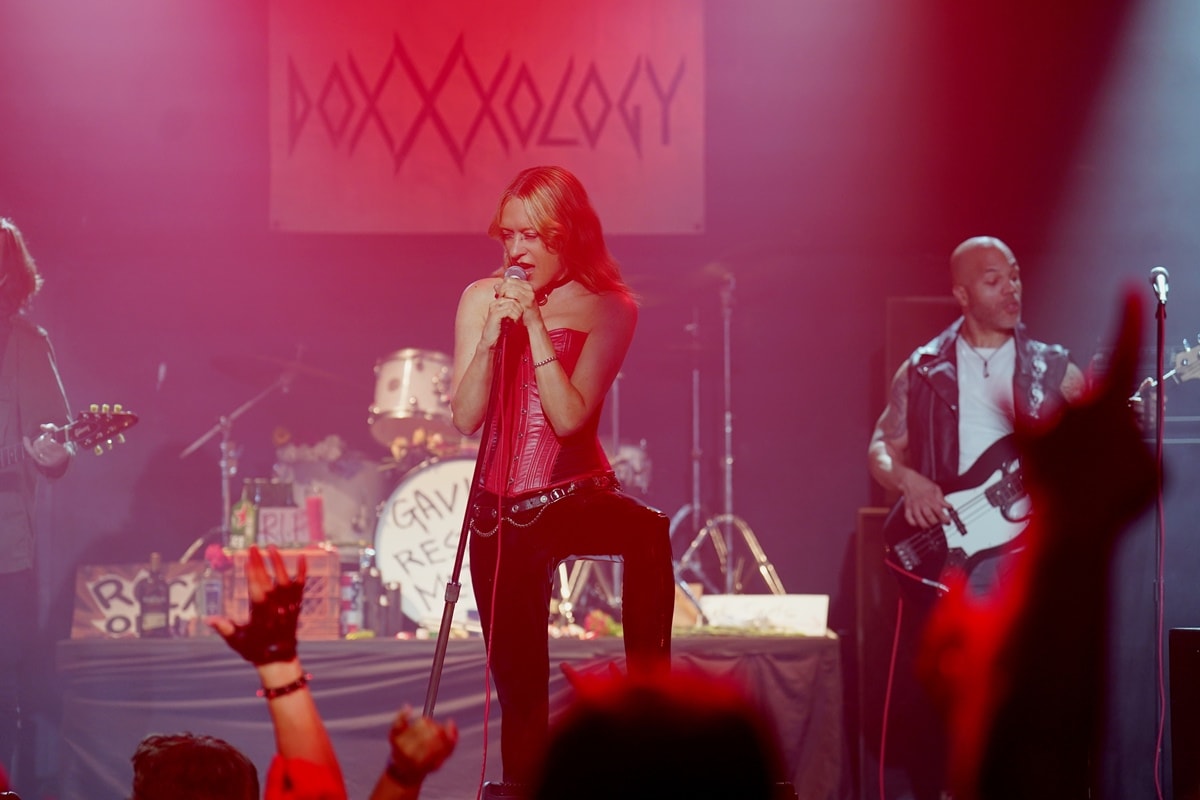 Chloë Sevigny, who portrays Ruby Ruin in Poker Face, also starred with Natasha Lyonne on the Netflix show Russian Doll, where Sevigny plays Lyonne's mother (Credit: Peacock)
Chloe Sevigny co-starred with Natasha Lyonne in the Netflix series Russian Doll in which Chloe portrays Natasha's mother. The two actresses are known to have been close friends for a very long time and have collaborated on a few projects.
Natasha Lyonne is also joined by Hong Chau (The Whale) as Marge, Colton Ryan (The Girl from Plainville) as Jed, Megan Suri (Never Have I Ever) as Sarah, Nicholas Cirillo (Stranger Things) as Gavin, and Danielle Macdonald (The Tourist) as Mandy Boyle.
Poker Face is a must-watch for fans of crime and mystery genres. With a talented cast and a gripping storyline, this series will keep you on the edge of your seat from beginning to end.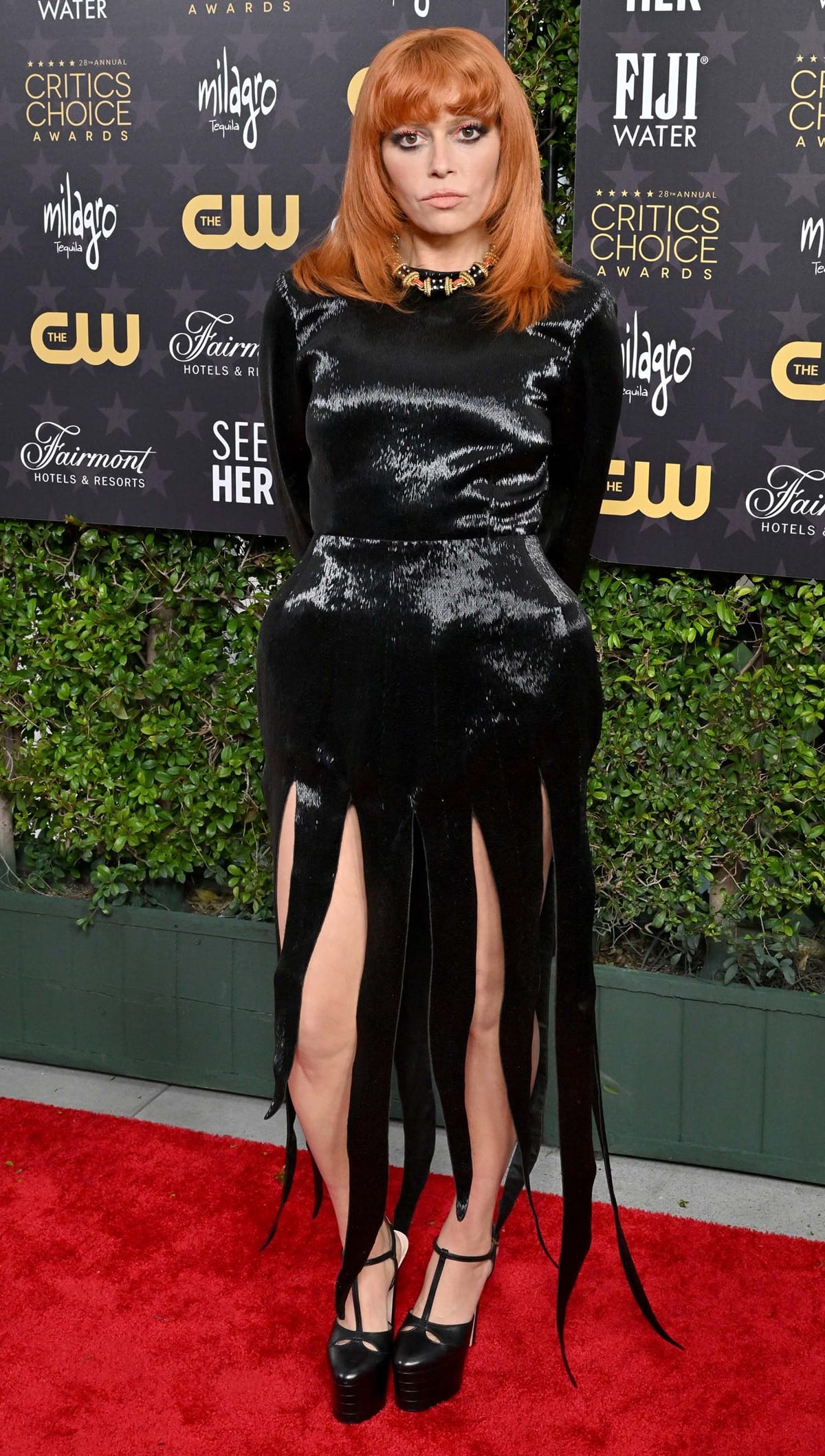 At the 2023 Critics' Choice Awards, Natasha Lyonne wore a gothic black dress with a shredded hemline, accessorized with statement jewelry, sleek blowout hair, and coral pink makeup, paired with black platform pumps (Credit: BauerGriffin / INSTARimages / Cover Images)
The show cleverly blends elements of psychological drama, intense investigation, and thrilling action, making it a standout in its genre.
Whether a seasoned fan of crime dramas or a newcomer to the genre, Poker Face captivates you and leaves you wanting more. So get ready to be thrilled and entertained as you immerse yourself in the world of Poker Face.