Julia Roberts is one of the most famous actresses in the world, but her relationship with her husband Daniel Moder is notoriously private.
Though the two don't often open up about their life, we do have some information about the couple. Here's what you need to know about Roberts and Moder:
Individual Backgrounds and Relationship History
Julia Roberts is a Southern gal, growing up in a suburb of Atlanta, Georgia. She knew fairly early in her life that she wanted to become an actress and dropped out of college to move to New York City.
Roberts has been romantically linked to a variety of other famous men, including Liam Neeson, Dylan McDermott, and Matthew Perry.
Lyle Lovett and Julia Roberts met n the set of Robert Altman's 1992 film The Player and married in 1993 after just a few weeks of dating (Credit: Frank Olsen / Startraksphoto)
Her major previous relationships include an engagement to Kiefer Sutherland and a marriage to country singer Lyle Lovett. Before meeting Moder, Roberts had a relationship with Benjamin Bratt.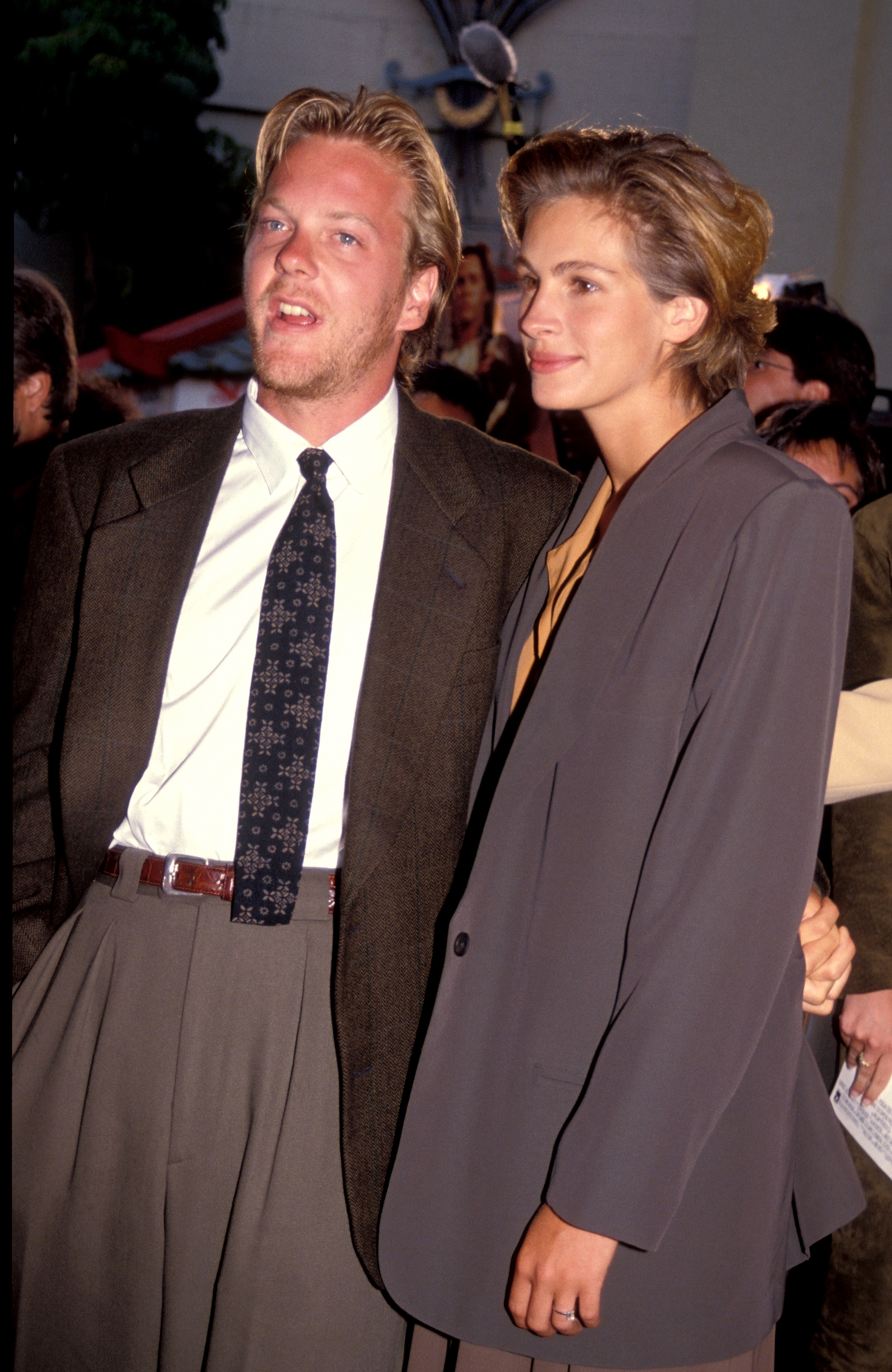 Kiefer Sutherland and Julia Roberts met filming the 1990 American psychological horror film Flatliners and were engaged for 10 months (Credit: Bart Sherkow / Shutterstock)
Daniel Moder is a cinematographer who grew up in Los Angeles, California.
His relationship history is not quite as publicized, as his life is, quite literally, behind the camera, but he was married for about five years to Vera Steimberg, a makeup artist.
Roberts and Moder's Relationship Background
Julia Roberts and Daniel Moder met on the set of the movie The Mexican, as the two are both in the film industry.
They each were in relationships when they met, Roberts with Benjamin Bratt and Moder with his ex-wife Vera Steimberg.
Julia Roberts met Benjamin Bratt in a Manhattan restaurant in 1997 and they dated for nearly 4 years before splitting in June 2001 (Credit: Everett Collection / Shutterstock)
A couple of years after meeting, rumors circulated that Roberts was the reason Moder and Steimberg's marriage ended.
The rumors were never substantiated, but on July 4, 2002, Roberts and Moder married in New Mexico in a surprise ceremony after asking guests to come to celebrate America's Independence Day.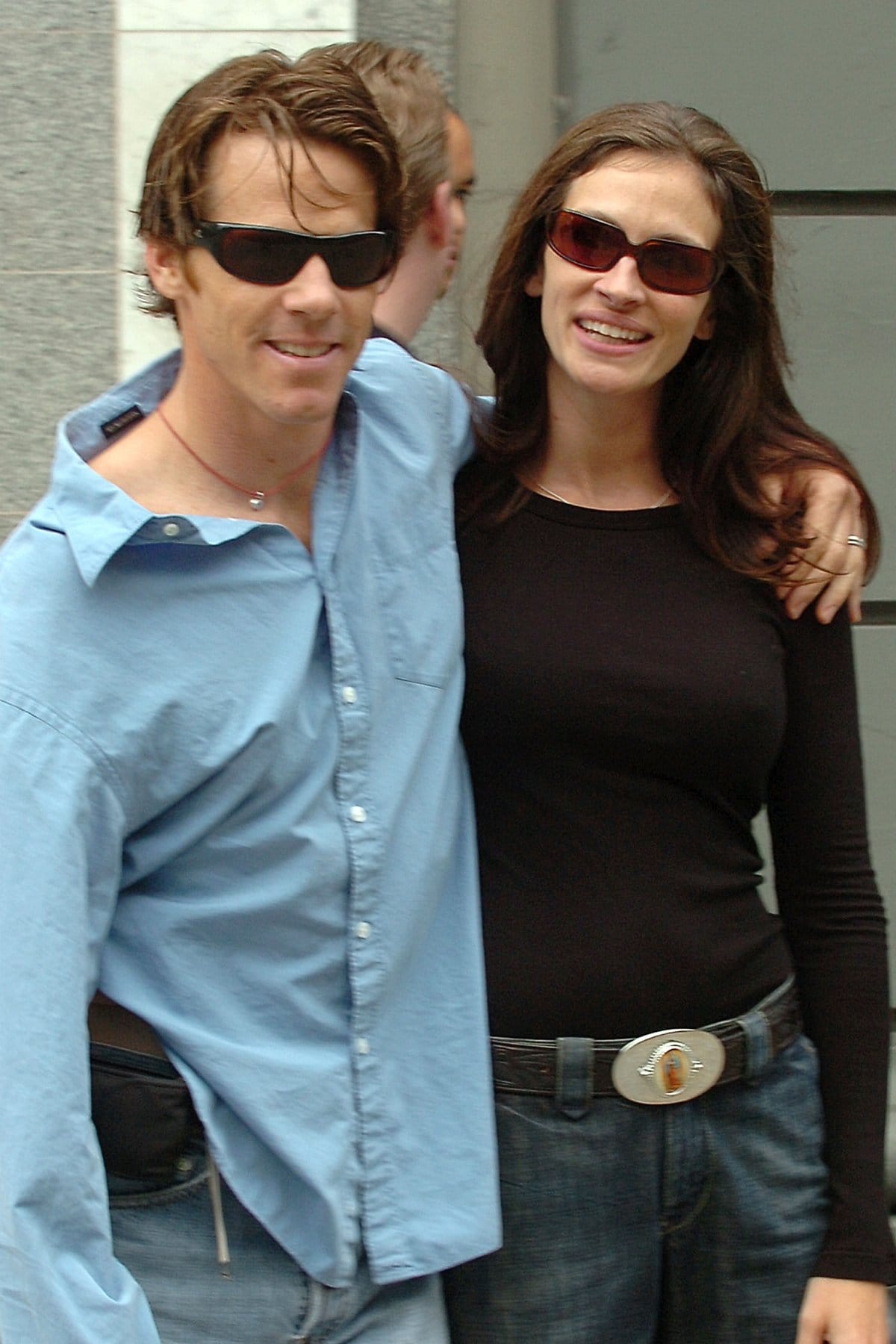 Daniel Moder and Julia Roberts met on the set of her 2001 film The Mexican (Credit: Steve Connolly / Startraksphoto)
Just two years after marrying, Moder and Roberts had twins, a boy and a girl, and three years after that had another boy.
Their Relationship Today
Today, the couple is approaching their 20th wedding anniversary.
Although the couple does not often share information about each other, Roberts did take to Instagram to gush about her husband on his 53rd birthday.
View this post on Instagram
Per the photo's caption, the two seem to be as in love as ever.
Roberts also spoke to the Wall Street Journal about her and her husband's relationship and family time, noting that she's glad she waited until she had success in her career to start a family, as that allowed her to be present for her children.
Their Individual Careers
As noted, Julia Roberts is one of the most successful actresses of all time. For most of the 1990s, she was one of the highest-paid actresses in Hollywood, and she has racked up her fair share of nominations and awards over the course of her career.
Roberts began her career in modeling and television acting, and she quickly found roles on the big screen.
Her breakout role in Mystic Pizza led to other opportunities like Steel Magnolias, and one of her most well-known roles to this day, Pretty Woman.
Julia Roberts was 20 years old when the American romantic comedy-drama film Mystic Pizza premiered on October 18, 1988 (Credit: The Samuel Goldwyn Company)
Roberts became known for her many roles in romantic comedies, such as Notting Hill, and went on to earn an Academy Award for her titular role in Erin Brockovich. Some of her other major roles include Eat Pray Love and My Best Friend's Wedding.
Because of the nature of his job, Daniel Moder's work isn't quite as storied as his wife's, but he does have plenty of his own stellar credentials.
The cinematographer has worked in both film and television and is known for his work in projects like Deja Vu and Crimson Tide. In 2015, he was nominated for a Primetime Emmy Award for his work on The Normal Heart.
Roberts and Moder's Collaborations
Though the two are best known for their work separately, they have collaborated multiple times. Their first time working together was, of course, on the set of The Mexican, the movie where they met, but their work together didn't end there.
One of their collaborations was for Secret in Their Eyes, where Moder worked as director of photography and Roberts acted alongside Chiwetel Ejiofor and Nicole Kidman.
Daniel Moder and Julia Roberts take a break from working on the spy thriller Duplicity in Rome on May 26, 2008 (Credit: Ciao Pix / INFphoto)
Another project they worked on together is Mona Lisa Smile. Roberts starred with Kirsten Dunst and Julia Stiles, while her husband Moder was the director of photography for the film.
Their Individual Net Worths
With two incredible careers come two incredible net worths. Daniel Moder is worth an estimated $10 million, most of which comes from his camera work in films and television.
Some of his most high-profile projects include Mr. & Mrs. Smith, Fun with Dick and Jane, and Spider-Man 3.
Though Moder's net worth is certainly nothing to sneer at, his wife's is far more impressive. The stunning actress is worth an estimated $250 million, most of it coming from her acting projects.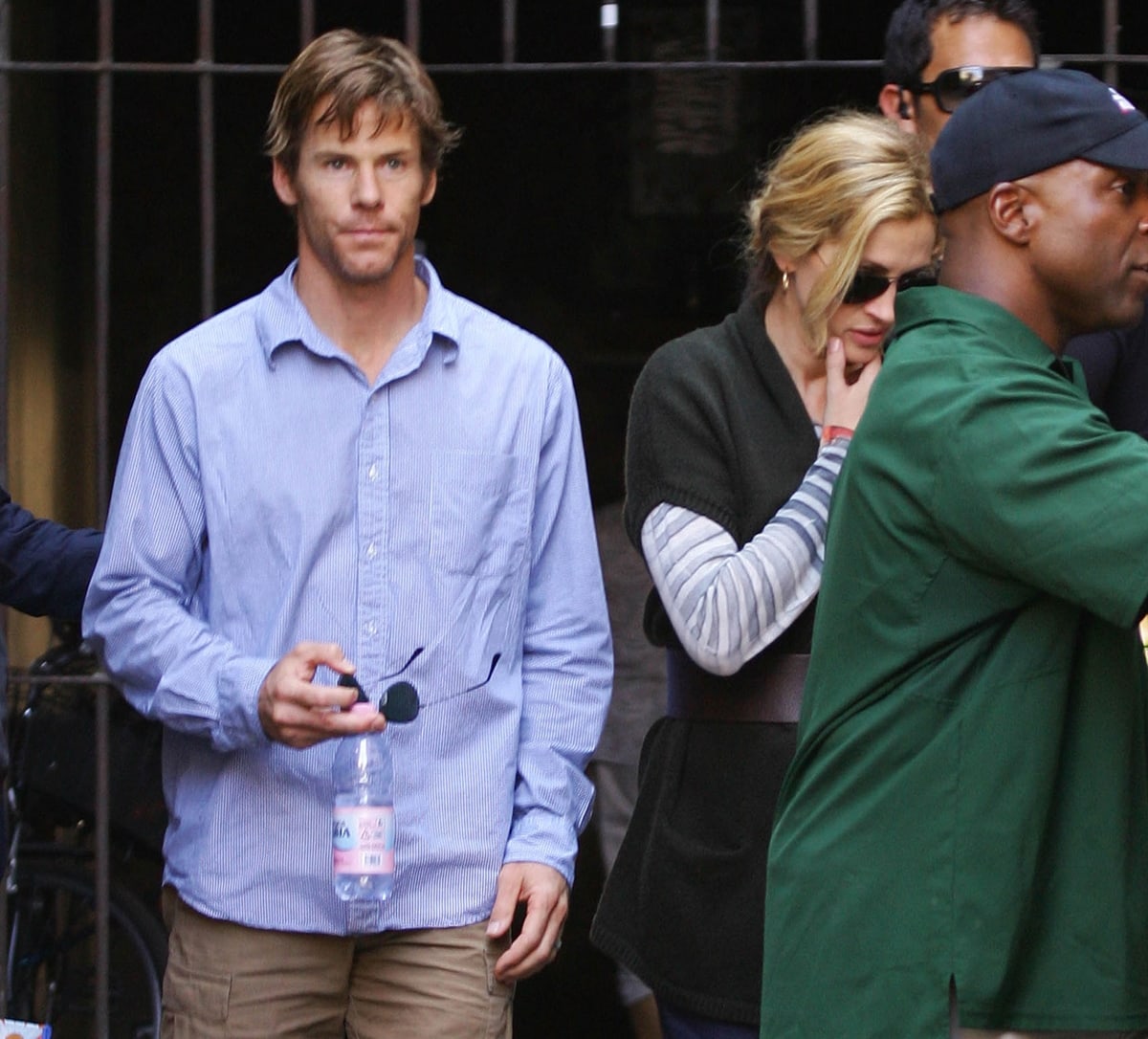 Daniel Moder and Julia Roberts on the film set of the American biographical romantic drama film Eat Pray Love in Rome on August 31, 2009 (Credit: Ciao Pix / INFphoto)
Being such a good actress certainly comes with its perks, a high fee being one of them. Over the course of her career, Julia Roberts's films have earned nearly $3 billion at the box office.
In addition to her work in the entertainment industry, Roberts earns additional income through her production company and various endorsements with brands such as Lancome.
Where They Live
Roberts and Moder have multiple places they and their kids can call home.
Not only do they have two homes in Malibu, California, but they also own have a ranch in New Mexico, which doubled as their wedding venue.
View this post on Instagram
The couple also owns a home in Hawaii, apartments in Manhattan, and a place in San Francisco. Though they don't share what are they use their real estate for, we assume they spend a fair amount of time at each one
Fun Facts
Age difference – The two are very close in age, but Julia Roberts is just a little bit older than her husband. She and Daniel Moder are just months apart.
Height difference – The two are not only close in age, but also in height. Roberts stands at 5'9" while her husband towers her just slightly at 5'10".
Aerial view of Julia Roberts's luxurious home in Malibu, California (Credit: WENN)
Married to a true beauty – Though Daniel Moder is not reported on often, his wife is quite the person of interest.
She graces the covers of magazines quite frequently, and she has been named People Magazine's Most Beautiful Woman in the World five separate times.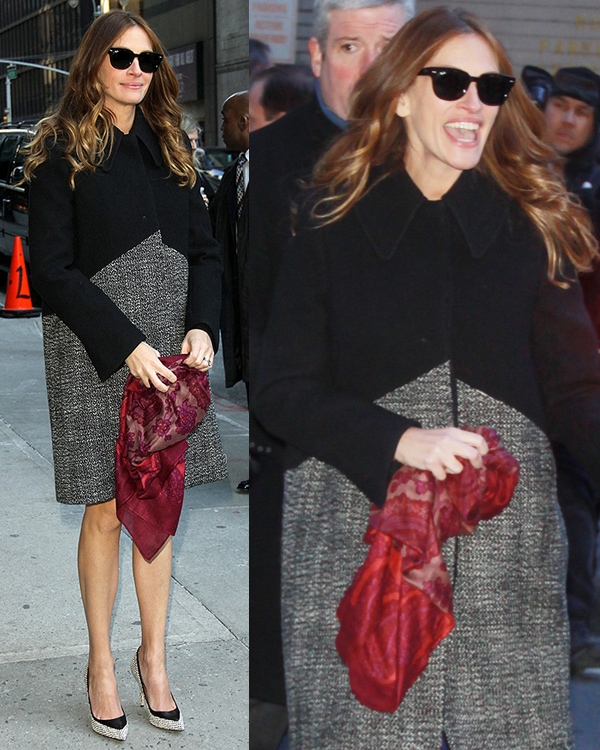 Julia Roberts for an appearance on Late Show with David Letterman outside the Ed Sullivan Theater in New York City on December 12, 2013 (Credit: WENN)
In late December 2013, Julia Roberts was very busy promoting her American tragicomedy film August: Osage County, which premiered at the Toronto International Film Festival on September 9, 2013.
On December 12, she stopped by the Ed Sullivan Theater for an appearance on Late Show with David Letterman. The Gaslit actress arrived in a Stella McCartney tweed coat with a red scarf to add a pop of color to her rather neutral number.
Julia Roberts' shoes with speckled snakeskin were classic in black and white. Their design, though, was very modern.
Black patent leather trims the collar and the pointed toes, and it provides a polished finish. Stiletto heels measuring about 4 inches complete this pair.
Julia Roberts shows off her feet in Rachel Roy's "Ayce" pumps (Credit: WENN)
Aside from the black-and-white version, these Rachel Roy "Ayce" pumps can also be purchased in an all-natural color on Amazon.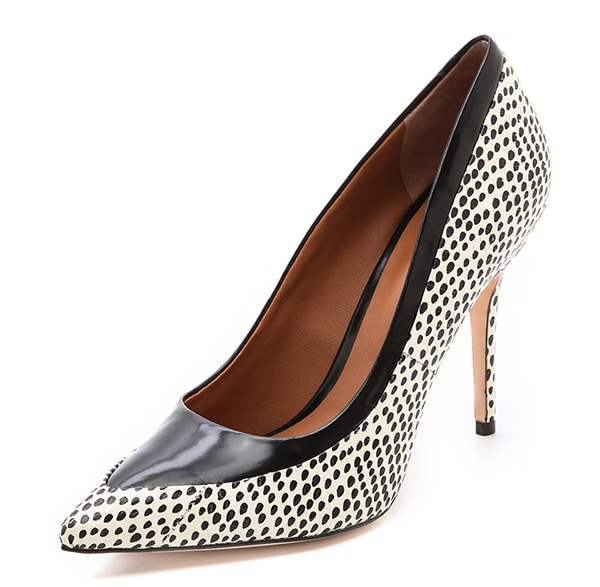 Rachel Roy "Ayce" Pumps in Black/White, $250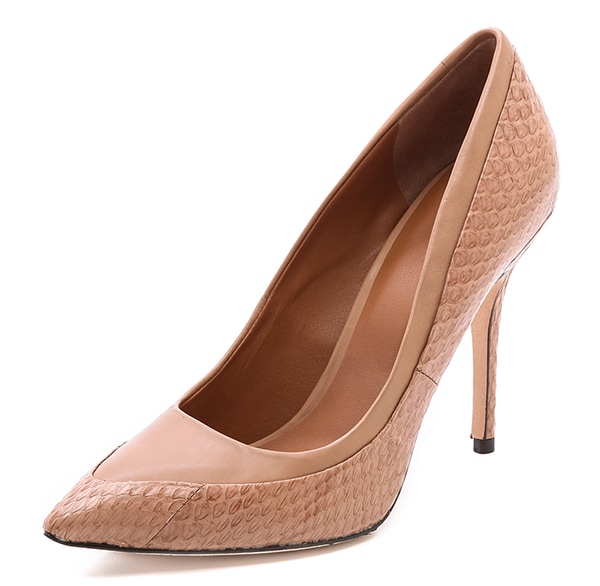 Rachel Roy "Ayce" Pumps in Natural, $250
Just right after taping her guest appearance on the late-night talk show earlier in the day, Julia Roberts was spotted at the red carpet premiere of her comedy-drama film held at the Ziegfeld Theatre in New York City.
The award-winning actress looked absolutely fresh and radiant when she strutted her stuff in a purple Proenza Schouler dress with V-neck and a wrap-effect asymmetrical layered skirt.
Her accessories seemed perfect, too! And her nude lip shade and center-parted wavy tresses made her all the more gorgeous!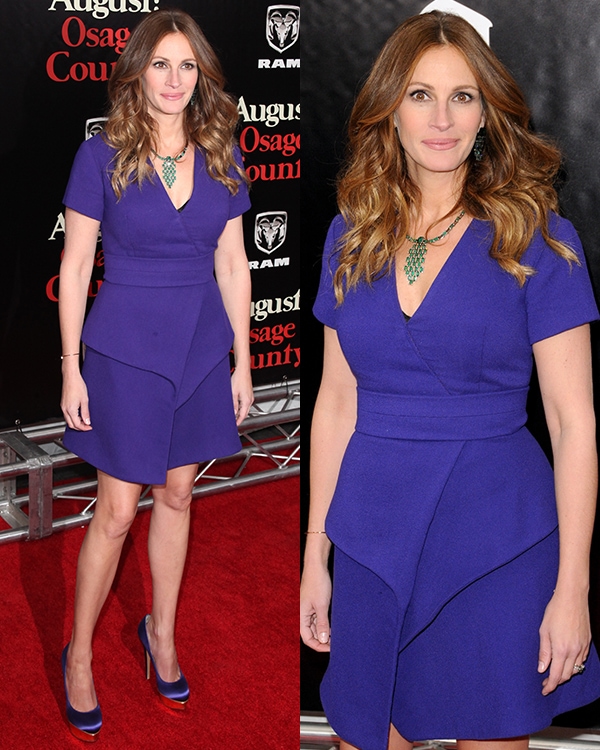 Julia Roberts flaunts her legs in a blue dress at the premiere of 'August: Osage County' at the Ziegfeld Theatre in New York City on December 12, 2013 (Credit: WENN)
For her shoes, Julia Roberts decided on a pair of purple Charlotte Olympia "Dolly" pumps to match her frock.
Julia Roberts boosted her height with a pair of purple Charlotte Olympia "Dolly" pumps (Credit: WENN)
Aside from the satin upper, these pumps also feature the brand's island platforms in a mirrored gold shade. Julia definitely gained 5 more inches to her height with the pumps' towering heels.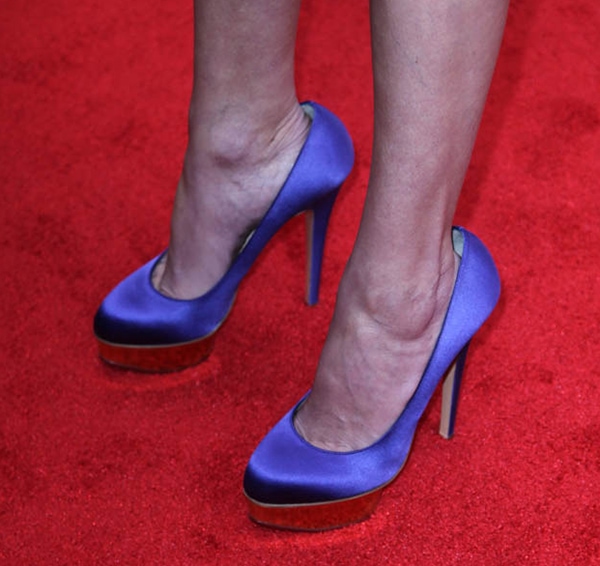 Julia Roberts shows off her feet in Charlotte Olympia's "Dolly" pumps (Credit: WENN / David Cardiff)
These celebrity-favorite pumps can be purchased in different versions at Net-a-Porter.
Charlotte Olympia "Dolly" Pumps in Black Suede, $928.70